Guide to Work Preferences
Remote Working & Freelancing

Samantha Taylor
· 3 min read
As an Independent, it's common that your workload and schedule can be inconsistent. With constant changes, it's important for your potential clients to know when you are available for new work.
"Work Preferences" on Contra allow you to showcase if you're accepting new clients, and preferences on the type of work opportunities that are the perfect fit for you. 👏
Accepting New Clients
If you're open to new work, the first step you should take is toggling on your "accepting new client" status. Clients are actionable; they want to hire people who are ready to get to work. Having your availability turned on gives clients a green light to reach out.🚦
If you don't have this toggle turned on, a client may overlook your profile and go in a different direction. Aka: stop missing out on new work coming your way!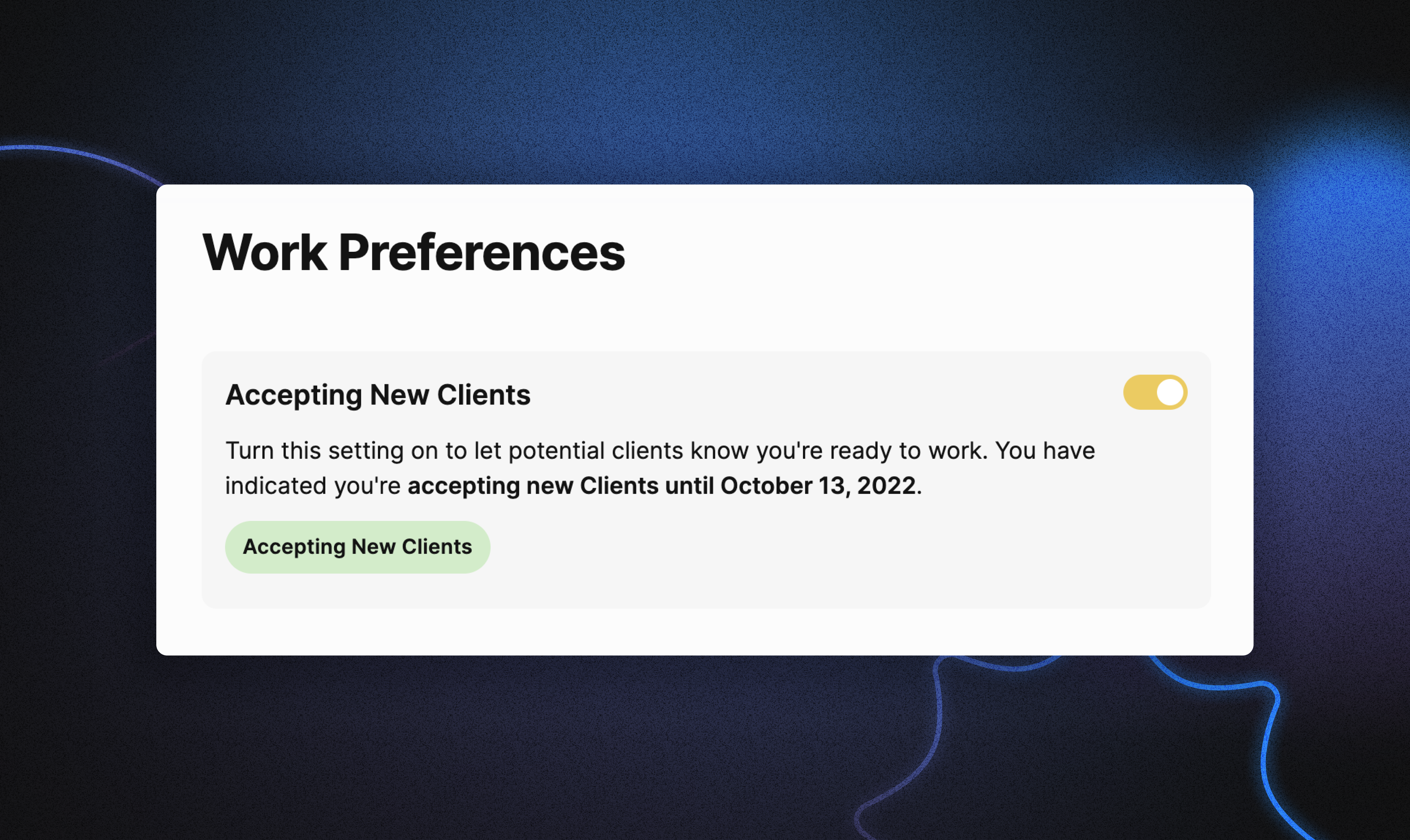 Turning on "Accepting New Clients"
This will take less than 30 seconds 👇
In the "Work Preferences" tab
Navigate to your Contra profile settings

Choose "Work Preferences"

If not already, turn on the "Accepting New Clients" toggle.

Your availability automatically expires 14 days after it is turned on.
Your clients can also view your status on your profile underneath the "Get in Touch" button. You can toggle your status on and off from this view as well!
Pro Tip: if you are available to get hired, always have your "Get in Touch" button turned on. This allows clients to send inquiries your way!
Work Preferences
To get matched to opportunities made for you, adding in your work preferences is the place to start!
Here, you can customize:
Tools:

platforms/resources you know how to use best

Project duration:

how long you want to work on a project

Hourly Rate:

the amount of money you charge per/hour for your work (these are shown in ranges)

Time Zone + Extended Hours:

the time zone you are available for work in → make it flexible by adding extended hours!

Ex: Pacific Standard Time (PST) +1 hour

Languages + Proficiency:

the languages you speak




Setting your Work Preferences
Setting your availability will take under a few minutes 👇
In the "Work Preferences" tab
Navigate to your Contra profile settings

Choose "Work Preferences"

Navigate to Work Preferences

Begin adding in your details!

Make sure to click "Save Changes"
And that's it! If you're ready to update your profile, navigate your profile settings today. We can't wait to see the work headed your way 🚀



Hi, I'm Sam -- community builder 👋 My skills in community management, social media marketing, copywriting and influencer management can be the game-changer for your brand. Let's connect!