Connecting your Custom Domain on Contra
Remote Working & Freelancing

Kaitlyn Arford
· 8 min read
If you're running a freelance business, you need to have a professional portfolio to show clients. Contra makes it easy to launch a high-quality portfolio that underscores why clients should hire you.
By default, your portfolio by Contra is named yourname+numbers.contra.com. But when you're using your portfolio to attract new clients and grow your business, it's really nice to have one that owns your professional identity. Adding a custom domain name brands your portfolio and makes it your own. Launch your Portfolio by Contra to unlock custom domain capabilities.
Whether you have an existing domain or have never purchased one before, this guide is for you! We'll walk you through the following:
Why you should connect a custom domain to your Portfolio by Contra

How to purchase a domain name

How to connect a custom domain to a Portfolio by Contra
Sound complicated? It's not! Let's dive in 👇



What is a Website Domain?
A website domain is part of the universal resource locator (URL) attached to your website that people can type into their search bar to visit your portfolio.
When you share your portfolio, you'll really share the website domain attached to it. An example of a website domain name is www.contra.com.
Domain names have different types of extensions. These very important letters punctuate the end of your URL and include popular options like .com, .co, .io, .org, and .net. The most common choice is .com (with more than 78% of businesses using it), and it's the one we suggest going with.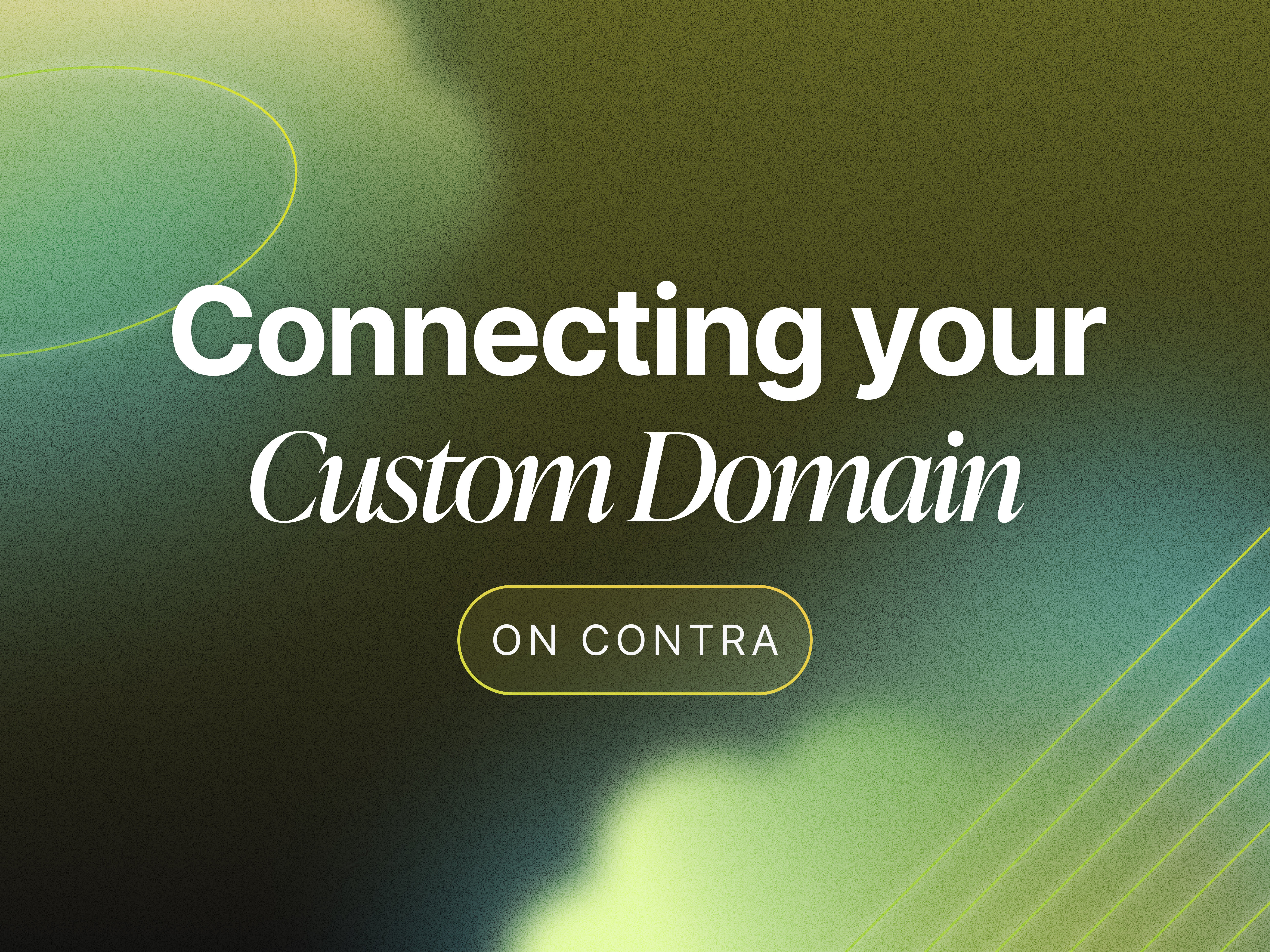 Why You Should Connect a Custom Domain to Your Portfolio by Contra
While you don't have to have a custom domain name to make your Portfolio by Contra shine, connecting your own domain comes with a few distinct advantages:
It boosts your personal branding.

Your domain is what you'll share on your social profiles, with potential clients, and on your business cards. A personalized domain name makes you easily identifiable and gives your clients a reliable way to find you.

It makes you look more credible.

Your clients want to work with a professional. A website with a custom domain name looks more authoritative, and shows that you've invested in your business.

It will help with search engine optimization.

Your domain name may factor into your SEO as it can help you target your audience and increase memorability. Visitors can click on your custom domain from a search engine results page, depending on what they're searching for.
Ready to advance your career? Launch your Portfolio by Contra and connect it to a custom domain today.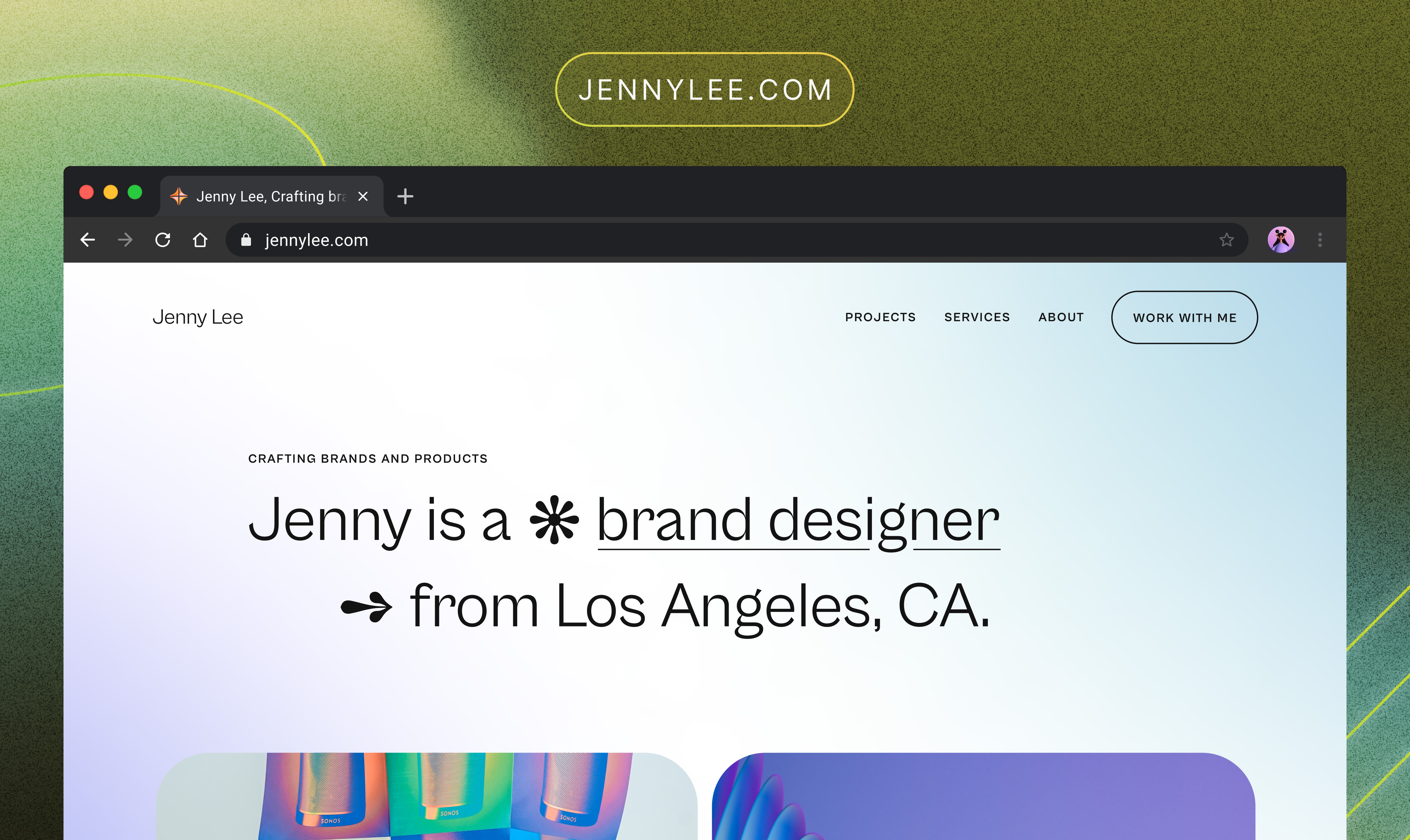 How to Purchase a Domain Name
Domain name registrations have increased by 1.6 million every year, according to Verisign. There's still plenty of domain names available, but selecting the perfect one takes a little thought.
Consider using your name.

If you are running your freelance business under your name, why not use it in your domain? After all, your name is what people will search for before hiring you. Using your name as your domain name is an easy way to make sure it shows up in searches.

Consider your domain length.

The best URLs are easy to understand and should be simple and short. Consider this: you may have to put it on a business card or use it in marketing materials. A shorter URL is easier to remember and easier to work with.

Use a domain name generator.

If you're unsure of what you want your domain to be, consider drawing inspiration from a domain name generator. Just plug a keyword or two into domain name generators from

GoDaddy

and

Namecheap

. You'll also need to check domain availability. If you discover that your preferred domain name is taken, try brainstorming a new option.

Think about the future.

The domain name you select now will be the one you use for years to come. Choose a professional domain name and avoid including a year in it. Think about where your freelance business will be in the future.
Once you have your domain name picked out, you must purchase your custom domain name from a domain registrar. A domain registrar is a company that manages selling available domain names.
We recommend these registrars:
GoDaddy

Google Domains

Namecheap

Squarespace

Wix
We also support other registrars. It doesn't matter where you buy your domain name, but you need to choose one that's accredited with the Internet Corporation for Assigned Names and Numbers (ICANN).
How to Connect a Custom Domain to a Portfolio by Contra
It's easy to connect your custom domain to Contra at any time. Once you've created a Portfolio by Contra, you will need to either purchase a domain name or already have a custom domain name.
1. Enter your custom domain address
The first time you launch your portfolio, you'll see the following message: Congrats! Your portfolio is now live! Right underneath, you'll see a prompt asking you if you want to connect a custom domain. Press the yellow button that says Connect Domain.
If you're not ready to connect your domain when you launch your portfolio, don't worry about it! You can connect a custom domain at any time. Just press the Connect Custom Domain button in Contra's navigation bar.
Type your existing domain address into the search bar. Your domain address should include http://www. and the rest of your unique URL.
2. Select your provider from a drop down menu
Now, select your registrar's name. You'll see a dropdown menu of different registrars, including GoDaddy, Google Domains, Namecheap, Squarespace, and Wix. If you purchased your domain outside of those five registrars, click Other.
3. Connect your domain to your portfolio
This should automatically populate with the information you need to copy into your domain registrar. Copy and paste your hostname, record type, and value into your registrar. Once you've done that, check the box that confirms you've copied your record type into your registrar.
Hit the Connect Domain button.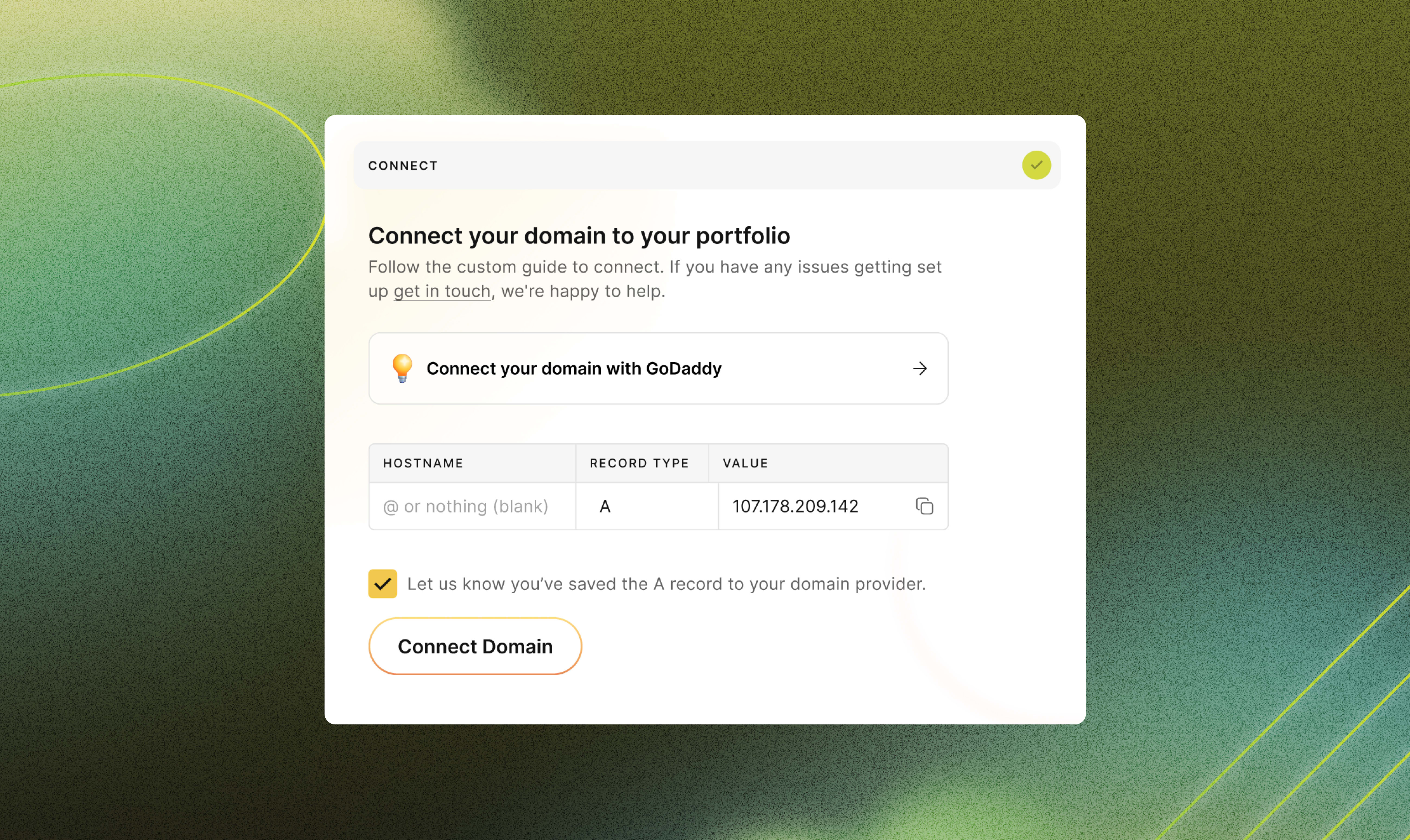 4. Check your status
Once you've clicked the Connect Domain button, you'll automatically be directed to your account information. There, you'll see information about your default portfolio domain, your custom portfolio domain, and any domain you connect to Contra!
You'll see one of two statuses for your custom portfolio domain: Not Connected or Connected. Click the Check Status button to be up to date on your status.
Not Connected: It can take a few minutes for your domain to connect to your portfolio. It shouldn't take longer than five minutes for the domain to connect.
Connected: Yay! Your domain has been officially connected. Check it out and share it with the world!
To note: Contra automatically generates an SSL certificate so no need to purchase or configure when setting up! This will cause connection issues to your Contra Portfolio. If you did connect a secondary SSL certificate, simply revert your settings so it is DNS only.
Guide to Google Domains (

docs

)

Guide to GoDaddy (

docs

)

Guide to Wix (

docs

)

Guide to Squarespace (

docs

)

Guide to Namecheap (

docs

)
If you're having issues connecting your custom domain, please visit your domain provider's troubleshooting guidelines for more information.
Additional Tips for Troubleshooting:
Allow some time before checking back, changes to DNS records can take a couple of hours to propagate to all DNS servers.

Double check your DNS system to make sure any previous records connected to your host have been deleted. There should only be one A record pointing to Contra.

Flush the DNS cache on your system – we recommend the following the steps in this resource 

here

.
if you're having trouble connecting the domain, don't hesitate to reach out to your support team at hello@contra.com. We'd be happy to help you get set up.
Domain Registration FAQs 🙋‍♀️
I have a Contra profile. How do I connect a custom domain to it?
To connect a custom domain, you must first launch your Portfolio by Contra. It's easy to turn your profile into a Portfolio by Contra with the press of a button. Once you've launched your portfolio, follow the steps above to connect a custom domain to it.
Can I buy a domain through Contra?
Not right now, but we're always adding features to better serve you. In the future, you'll be able to buy a domain directly through Contra.
Does a domain name registration expire?
When you register a domain name, you'll see both your registration and expiration date. Most registrars give you the option of paying for one year or for multiple years at a time. Regardless of how long you pay for, your domain will eventually expire.
If you forget to renew your domain name before it expires, you may be able to reactivate it. This depends on how popular your domain name is. As long as no one else has claimed your domain name, you will be able to reactivate it after it expires.
Can I cancel my domain name registration?
You can cancel your domain name registration directly through your domain registrar. By cancelling your registration, the domain name you choose will become available to other users.
Cancelling your domain name registration will mean that your Portfolio by Contra will no longer be connected to a custom domain and will revert back to the default portfolio domain.
What is the difference between a domain name and a portfolio?
A domain name is used to find your portfolio. People can type your domain name into their browser to discover your portfolio.
What if I'm having problems connecting my domain?
We're here to help! If you need assistance at any stage of the process, shoot us an email at help@contra.com. We're happy to help you resolve any issues!









I'm a full-time freelance writer specializing in writing features, profiles, and news stories. Every story matters. Let me tell yours. Contact me here or at kaitlyn.arford@gmail.com.