Guide to Services 💸
Remote Working & Freelancing




Contra is a commission-free independent community that matches top talent with flexible opportunities. With services, it's easier than ever to showcase and get paid for your best skills. In this guide, we go over what services are and how to price your service with the three different methods we offer.
What are services on Contra?
Services are your best skills, monetized. With services on Contra, clients can see what skills you're offering and send an inquiry with one click, without the back-and-forth hassle of negotiating your rates. Your services act as a menu of the skills you want to work on and get paid for. On Contra, a service is made up of four key parts 👇
Title

⚡️
The purpose of services is to quickly get new paid projects to work on, so it's best to be straight to the point with the title of your service.
ex. "60-Minute Product Strategy Call" — this clearly outlines the service in the title without having to expand the service details.
Services Provided 🤝
Think of these as your role within your service.
ex. Copywriter, 3D Designer, or Product Manager
Tools 🛠
These are the programs that you'll utilize during the duration of your service.
ex. Notion, Figma, or Loom
Fee Type 💸
Fee type is how much you will be charging for the given service. There are three different fee types:
Fixed Price —

ex. $1000

Rate —

ex. $1000/week

Contact for pricing — If your rate fluctuates or if you're unsure of how to price a project, you can have a client or independent get in touch with you.
Timeline (optional)

🗓
The service timeline should be the amount of time it is going to take you to complete your service. Since services are something you can consistently replicate, you should be able to give an accurate timeline for completion.
Add your deliverables 💪
While working on a service, there will always be an end product at the end of a project, AKA your deliverable! Title your deliverable(s), and provide a description of what you'll do to achieve that deliverable. Want to learn how to write the perfect deliverable? Check out our guide!
It's all in the details 🔍
To wrap up your service, provide a detailed description of your service. Some questions you can answer in this section can include:
What's the scope of your service?

What does the timeline of completion look like?

What do you need from a potential Client to get the ball rolling smoothly?

What does project success look like to you?
Link preexisting projects 🔗
At the end of your service, link relevant projects that already live on your Contra profile to match a service to a project! 🙌 If you don't have any projects yet, check out our Guide to Projects to learn more. ✨
How do you price a service?
Remember, services are your best skills, monetized. Like any other platform, it's necessary to research the market value of your skills and compare how each person prices their service to find what works most comfortably for you. On Contra, we offer three different options for pricing your services. 👇
Fixed Price
A fixed price is a one-time fee a client pays in exchange for a service.
Fixed pricing is best for someone who has been working independently for at least a year, and knows how long a project will take and how much value they can deliver.



Rate
A rate is an ongoing price for the amount of time spent. An example of a rate is $50/hour or $1000/week.
Rate pricing is best for independents who are just starting out on their journey, and is a great pricing method to use for projects where it is hard to estimate the total time to completion, or tasks that require a lot of moving parts.
We recommend tracking the amount of time spent for different services, so you can eventually move to a fixed price once you've performed this service multiple times and are able to standardize this offering.



Contact For Pricing
If your rates are negotiable or vary often, contact for pricing is a great way to work out a pricing model with clients individually. Your price can be finalized by identifying the specific needs of your client and their total budget for the project.



Ready to start your next opportunity?
Sign up for Contra
Start now


🚀 ✨
And that's it! If you need help pricing your services, feel free to reach out to us! 📩
Now that you've learned all you need to know about services, it's time to learn about how to get discovered on Contra! 🤝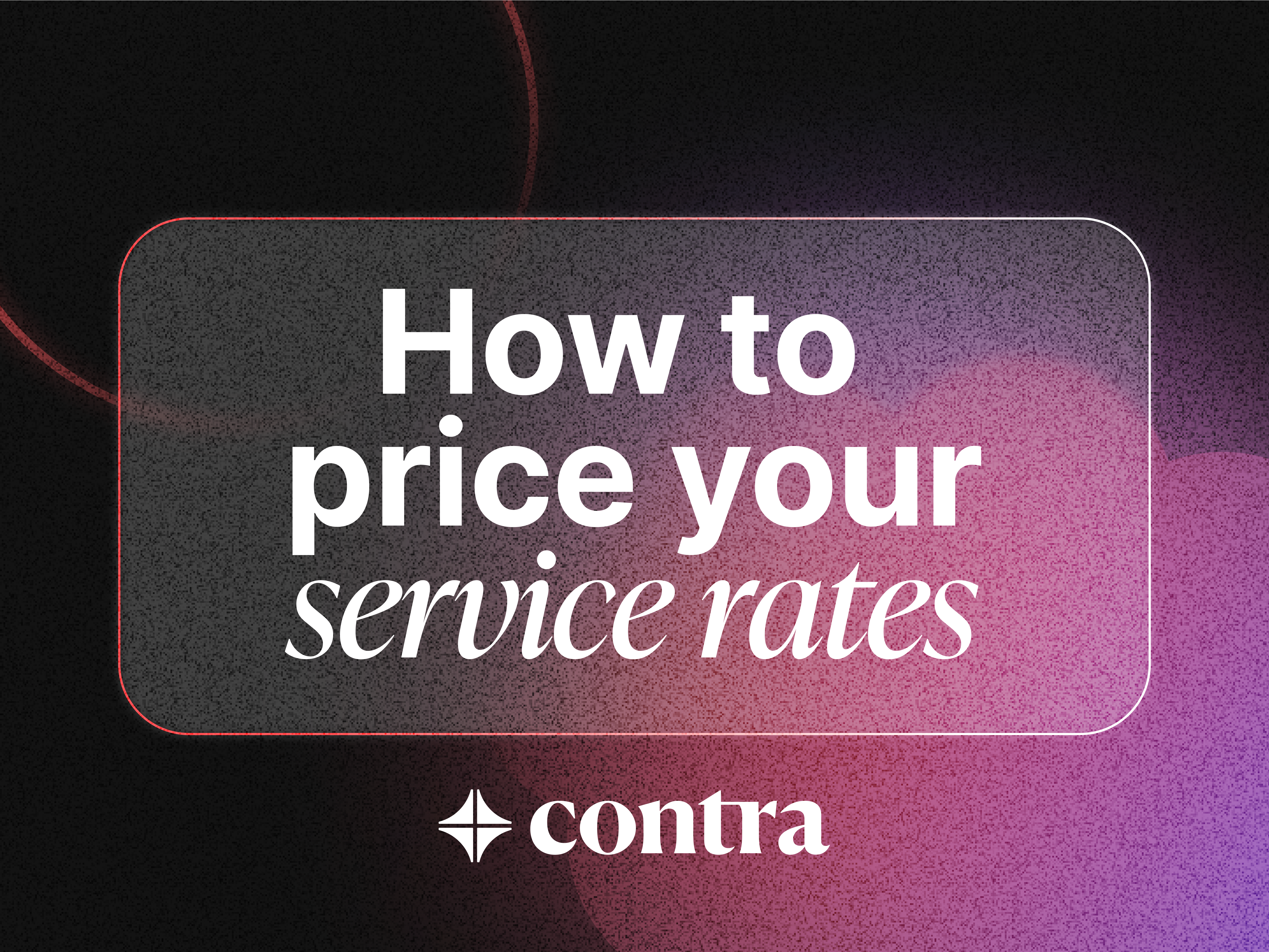 Hi, I'm Madi ✨ I connect independents with resources + support to take control of their independent career! 🚀 In my free time, you can usually find me reading or exploring a local cafe ☕️