How to Find Freelance Jobs on LinkedIn
Remote Working & Freelancing

Kaitlyn Arford
· 10 min read
Let's be real, LinkedIn is not the most exciting social network. It doesn't have cool dances. It doesn't have funny tweets. But it would be a big mistake to disregard the 850-million strong network. LinkedIn is one of the most powerful social networks: it's the 17th most visited website in the world and the only one where 6 people are hired every minute.🧍
Clients often use the site to look for freelancers (or as we like to call them, Independents). To find freelance opportunities and potential clients on LinkedIn all you need is a dynamite profile and a little bit of time.
We're here to help you get discovered on LinkedIn so you can get more clients on Contra!
Optimize your LinkedIn headline 👋
A LinkedIn headline is the brief one-liner beneath your profile photo that explains what you do. LinkedIn headlines naturally default to your last job title but you won't want to leave it that way. Distill your experience into a well-written headline that attracts prospective clients.
Brainstorm searchable keywords.

If your potential client is looking for someone to edit social media videos, they might search "freelance videographer" or "freelance video editor." It's okay to include multiple titles here!

This isn't the time to say you're a "ninja" or a "guru."

Terms like these mean nothing and are confusing. What does a "word guru" even do? You have 220 characters to explain your purpose. Make them count.
Optimizing your profile with keywords is the difference between popping up when business owners, companies, Clients and entrepreneurs are looking for an independent with your skills, or never being seen at all. Don't skip this important step!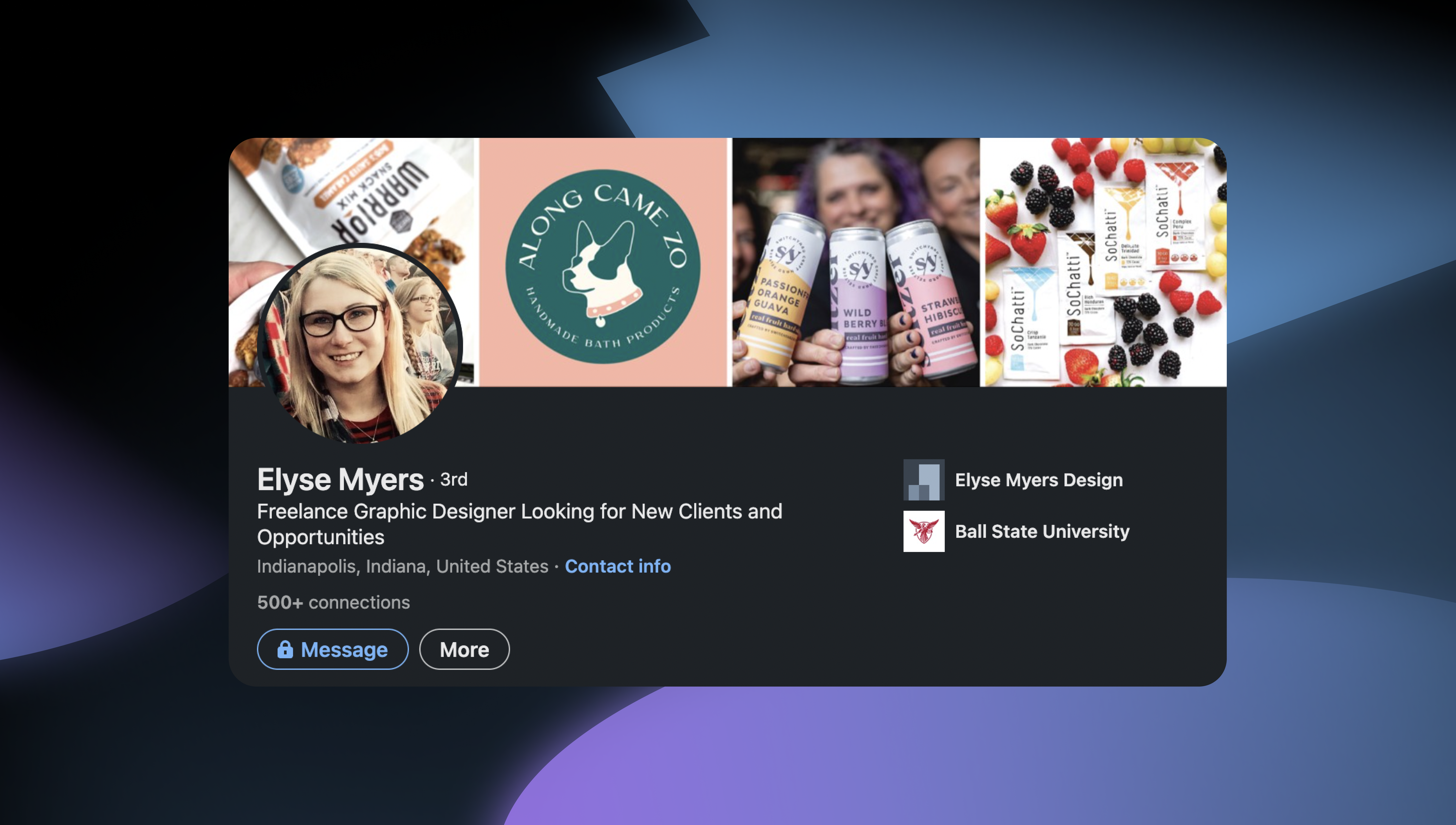 Show off your expertise in your summary section📝
Your LinkedIn summary sits at the top of your profile so it's one of the first sections clients see. It's worth spending some time crafting a well-written summary that includes an elevator pitch and. Here's what you need to include:
Sum up your services with an elevator pitch.

Here's an easy way to sum up your expertise: "Hi! I'm an independent [title] who works with [type of clients] to solve [problem area]."

Include a few bullet points on services you have to offer.

This is the time to highlight a few of the services you provide! Your summary section can be quite lengthy, so don't be afraid to include multiple specialties.

End with a call to action.

What action do you want clients to take next? Tell them exactly what to do if they want to work with you. You could write something as simple as "set up a free consultation on my Calendly" or "email me at X if you want to work together."


Share your work and expertise in LinkedIn posts 🙌
Don't forget the social part of LinkedIn! As you publish new work that you're proud of, share it with your network! Unlike Twitter and Instagram, LinkedIn supports long-form content — you can write up to 3,000 characters in a post. That doesn't mean you should use all of them, but it does mean that you can add valuable context, statistics, and sentences that don't fit in a tweet.
Create and publish individual posts.

Share your recent work and how you created it, advice and news that's relevant to your industry, or cool resources like blog posts, free webinars, and tools.

Tag the client you worked with in your LinkedIn post

. If you're posting about a recent project, tag the company or individual you worked with. This boosts your post in LinkedIn's algorithm. Your post will be seen by people who follow you and the company, which can lead to more people checking out your profile.

Promote your independent freelance business.

There's nothing wrong with a little! Post that you're looking for new clients with this simple template: "Hello! Starting [date], I'm available to work with [type of clients]. I can create [types of services]. Take a look at my portfolio [Contra link].

Use appropriate hashtags in your posts.

Add a few niche hashtags related to your work to any LinkedIn post you publish. For example, if you made a website for your local animal rescue, add relevant hashtags like #dog, #AnimalRescue, and #AnimalShelter to help your post pop up in search results. You can always brainstorm a few hashtags, but LinkedIn will naturally suggest relevant hashtags as you write your post.


Group together freelance projects in your experience section 🤓
If you work with many freelance clients on a wide variety of projects, you need to group them all under one experience header. Adding multiple clients as separate job listings under the experience section gets unwieldy and confusing. Instead, create a listing with your business title and include the following:
Again, use keywords.

When you add a position in your experience section you have to include your job title and company name. As an independent worker, you should use one or two relevant titles, like "freelance designer" or "independent writer." Your company name can be just your name.

Explain exactly what you do.

What kind of clients do you work with? What services do you provide? What results have you achieved?

Name brands you've worked with.

You don't have to mention specific clients you've worked with, but including them does establish more credibility for your business.

A link or two to your published work.

Experience entries on LinkedIn allow you to add a few links. I suggest linking to your website or Contra profile and directly to any published work you're proud of.

Add your best stuff to your featured section.

Your featured section introduces potential clients to a curated list of content. Add the published samples you're most proud of, a link to your Contra profile or portfolio, or showcase some of your LinkedIn posts.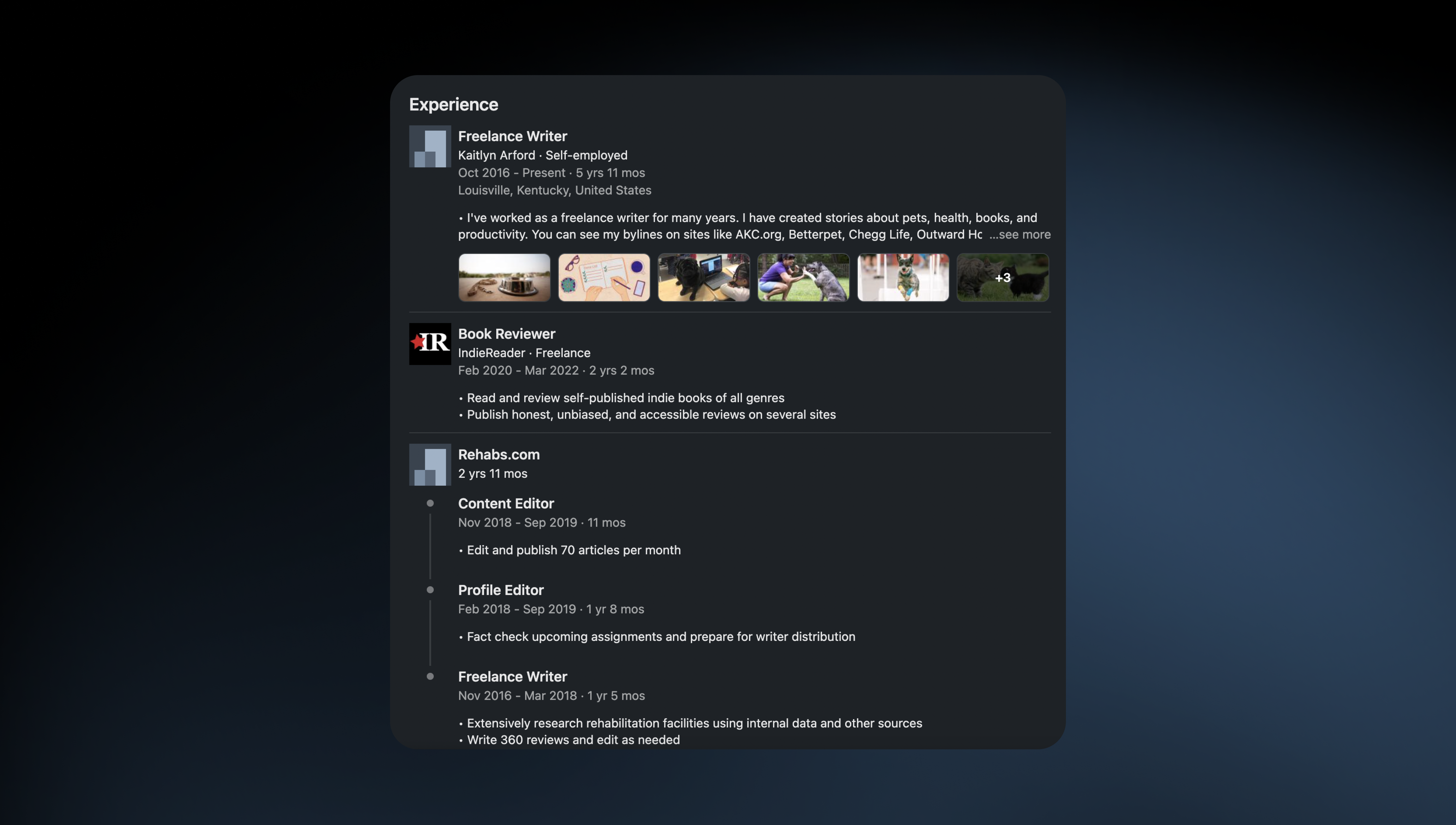 Ask for testimonials through the recommendations section 🥂
Persuade prospective clients to hire you by asking satisfied clients for written testimonials through LinkedIn recommendations.
Click the "ask for a recommendation" button and type in your client's name. (One important caveat here: to request a recommendation, you must be connected with your client on LinkedIn first.) Include a short personalized message thanking your client for their time, noting how much you've enjoyed working with them, and a specific request.
Try one of these templates:
Hey [name]! I loved working with you on [project], and would really appreciate if you would leave a kind word or two about the quality of my work. Thank you so much for your time!

Hello [name]. As you know, I've loved working with you on [project]. Could you please write a short blurb about what working with me was like? I'll feature your words both here on LinkedIn and on my website. Thank you!

Hey there!👋I've loved working on [project] and really value your feedback. Could you write a few sentences about [specific skill set]? Thank you for your time!
Clients can also leave recommendations on your Contra profile after working together!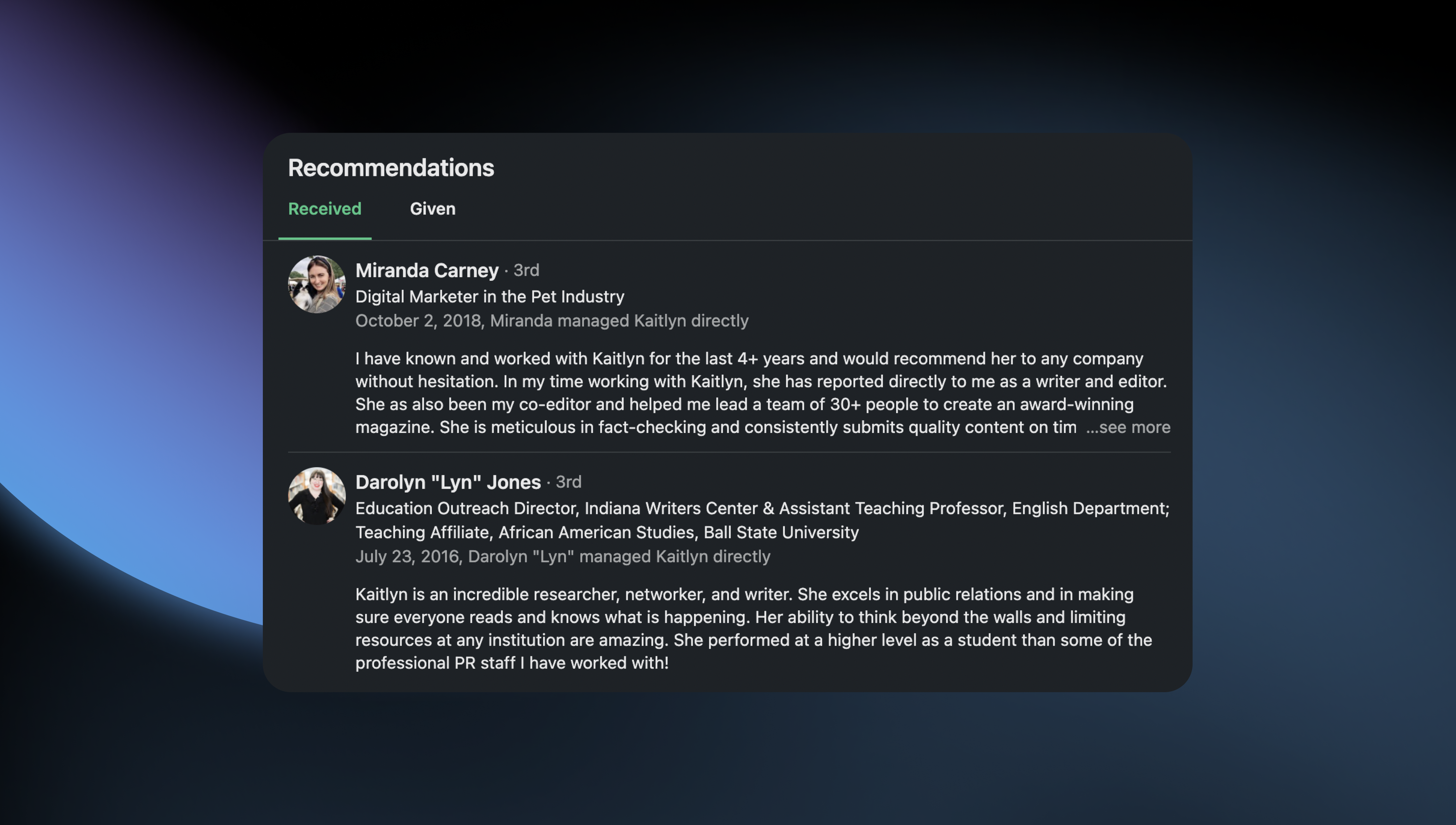 Create a compelling and complete profile 🔥
Your LinkedIn profile is not the place to be shy about your skills and accomplishments. Complete the rest of your profile by doing the following:
Use a professional profile photo.

You don't need to hire a professional photographer but you do need to take care with what kind of photo you choose — LinkedIn's research shows that having a profile picture makes you more likely to be viewed. Select a profile photo with a clean background that isn't distracting.

Create an effective banner image.

It's really easy to make a basic and professional banner image with a tool like Canva.

Build up your LinkedIn skills section.

Add any relevant skills to your section that you want to be known for. Then ask coworkers and other connections to endorse these skills.

Add additional sections.

If you have a college degree, have taken courses, or the ability to speak multiple languages, you should totally add them to your profile!


Say that you're "Open to Work" 💻
As an independent looking for freelance clients, you need to do everything in your power to get your LinkedIn profile noticed. That means marking your profile as "Open to Work" so potential freelance clients see that you're ready to take on more work.
All you have to do is click "Show recruiters you're open to work" in your profile section under your follower count and fill in what you're looking for and your location.


Create a Contra profile 🎯
Independents should show off their business offerings with a Contra portfolio. A Contra portfolio perfectly complements your LinkedIn profile. With a Contra portfolio, you'll have a hub for your client work and a special place to show off your services.
Creating your very own Contra profile just takes a few minutes.
Sign up as an independent with your email, Google, or TikTok account.

Fill out the "about" section. Since you already wrote a bio for your LinkedIn profile, feel free to use some of those details here. This is the time to describe what you do and how to reach you!

Showcase the best samples of your work under the project section. Include your best links, videos, and photos, and add how you made that project shine!

Add the services you provide along with the tools you use and how you charge!

Publish your new portfolio page and start using the "Opportunities" tab to find new clients!


Search for freelance clients 🏡
Now that you've optimized your LinkedIn profile, it's time to search for clients! There's no one perfect way to find new freelance clients, so try a few of these methods:
Research companies you'd like to work with

. LinkedIn is amazing for finding new clients in your field, or figuring out who to contact at a specific company.

Use Boolean terms to search through posts.

You may find your next client just by searching through LinkedIn's posts. Try typing inlike "freelance writer," "freelance strategist," or "freelance AND video." If you discover someone looking for a freelancer to work with, don't be afraid to comment on their post with your experience and contact information.

Comment on other people's posts.

Build genuine relationships with people by commenting on posts. There's no reason to be shy! Add value whenever you can with tips and advice.

Make connections.

Send connection requests to clients, coworkers, friends, family members, and other freelancers and independents. As you get to know other people on the platform, you'll virtually meet other people who will want to connect with you. Always send a personal note in your invitation request.


Send a proposal with Contra ✍️
Now that you've made an amazing profile and connected with amazing people, it's time to move the conversation to Contra. With Contra, you can send a proposal to potential clients in minutes. It's easy to get Clients to Contra, and all you have to do is add a few details about the deliverable you're providing clients with. The best part: We will never take a commission from any project. Ever.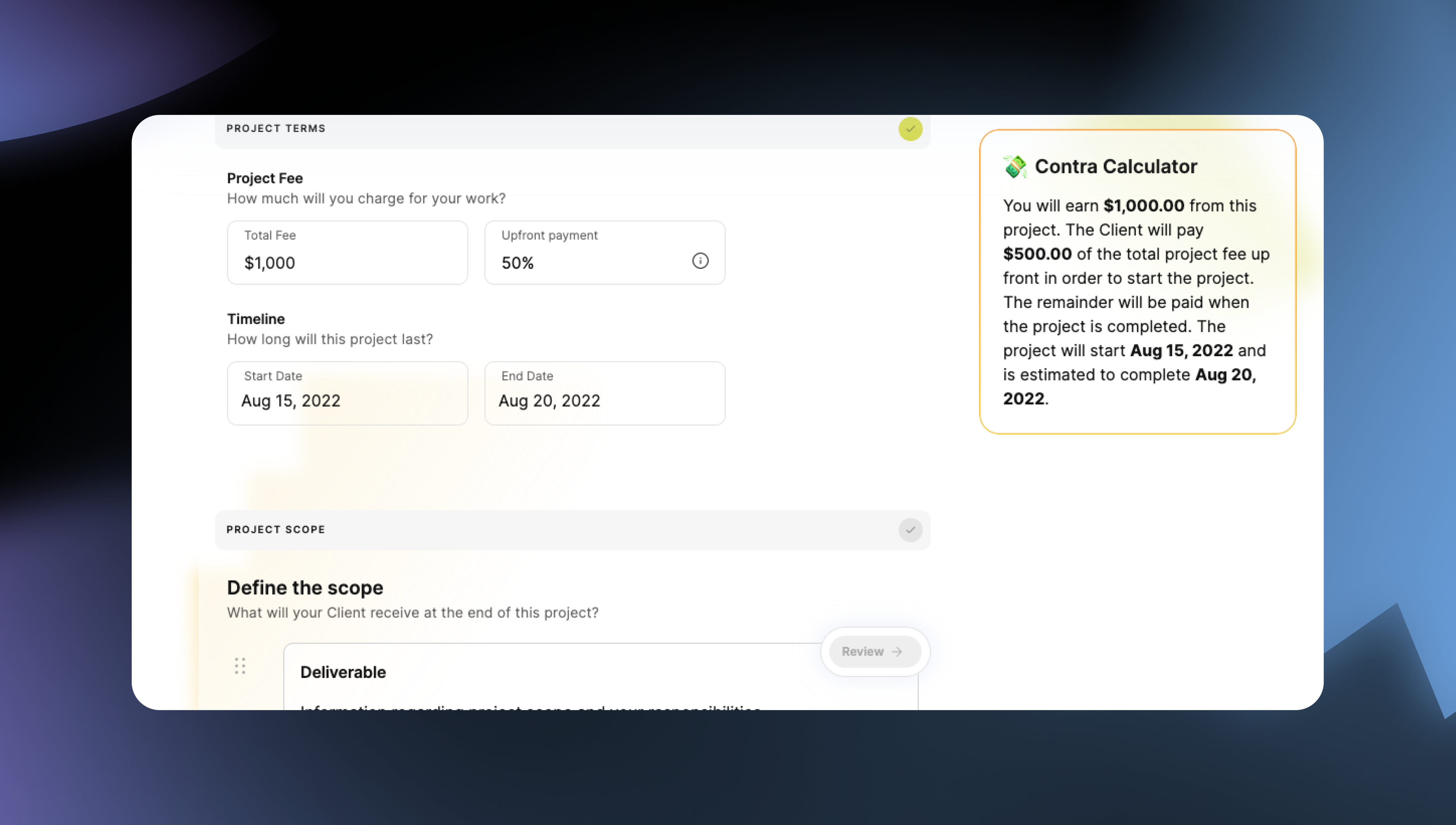 I'm a full-time freelance writer specializing in writing features, profiles, and news stories. Every story matters. Let me tell yours. Contact me here or at kaitlyn.arford@gmail.com.