How to Get Freelance Clients: 15 Tips to Win Business in 2023 🔥
Remote Working & Freelancing

Kaitlyn Arford
· 10 min read
You're ready to be your own boss. You want to go all in on self-employment and maybe even work from coffee shops. You're not alone. The number of independent workers grew by 34 percent in 2021, according to a 2021 MBO Partners report.
But how do you get in front of the right people and land freelance clients? To be honest, there's no magic bullet. The good news is there's a lot of methods you can use to build your own business.
You don't need to use all of the following tips to find new clients, but they're a great way to start getting clients. Regardless of what kind of Independent you are, you'll find a new idea of how to land high-quality freelance clients on this list.



Identify your target client 🕵️
Professional freelancers at the top of their game generally have an idea of who their ideal client is. Think about your values and who you want to work with. Make a list of your ideal clients. Consider the following:
Are there any industries that you want to stay away from?

What kind of clients do you want to work with?
As you look for your first client, you're probably just hoping to work with companies or local businesses where you can build your freelance career. You have to get started somewhere!
Don't get too focused on defining your ideal client if you're just starting out. The most important thing is finding clients and starting your freelance career.
Improve your portfolio and share it widely 🤩
Guess what hiring managers are going to look at before hiring you? Your portfolio.
There's a good reason why freelance writers, graphic designers, and web developers all have a personal website set up. Hiring managers and editors look at portfolios to vet the freelancers they work with.
Drive prospective clients to hire you based on your portfolio by clearly speaking about your services and projects. Better yet, make it look professional with a custom domain name.
Show off your valuable experience in your portfolio:
A collection of your best work.

Your portfolio should always feature projects you've worked on. Your past work, more than anything else, will show clients what you offer.

A list of your services.

Be specific with the services you provide. Briefly describe what services you offer and the deliverables you create.

Testimonials.

Recommendations from satisfied freelance clients will show prospective clients your value.

Your contact information.

Make it easy for clients to contact you! Always include your email.
Portfolios by Contra are completely customized specifically for Independents. They're powered by your Contra profile, so your portfolio will work as both your digital storefront and as a client magnet.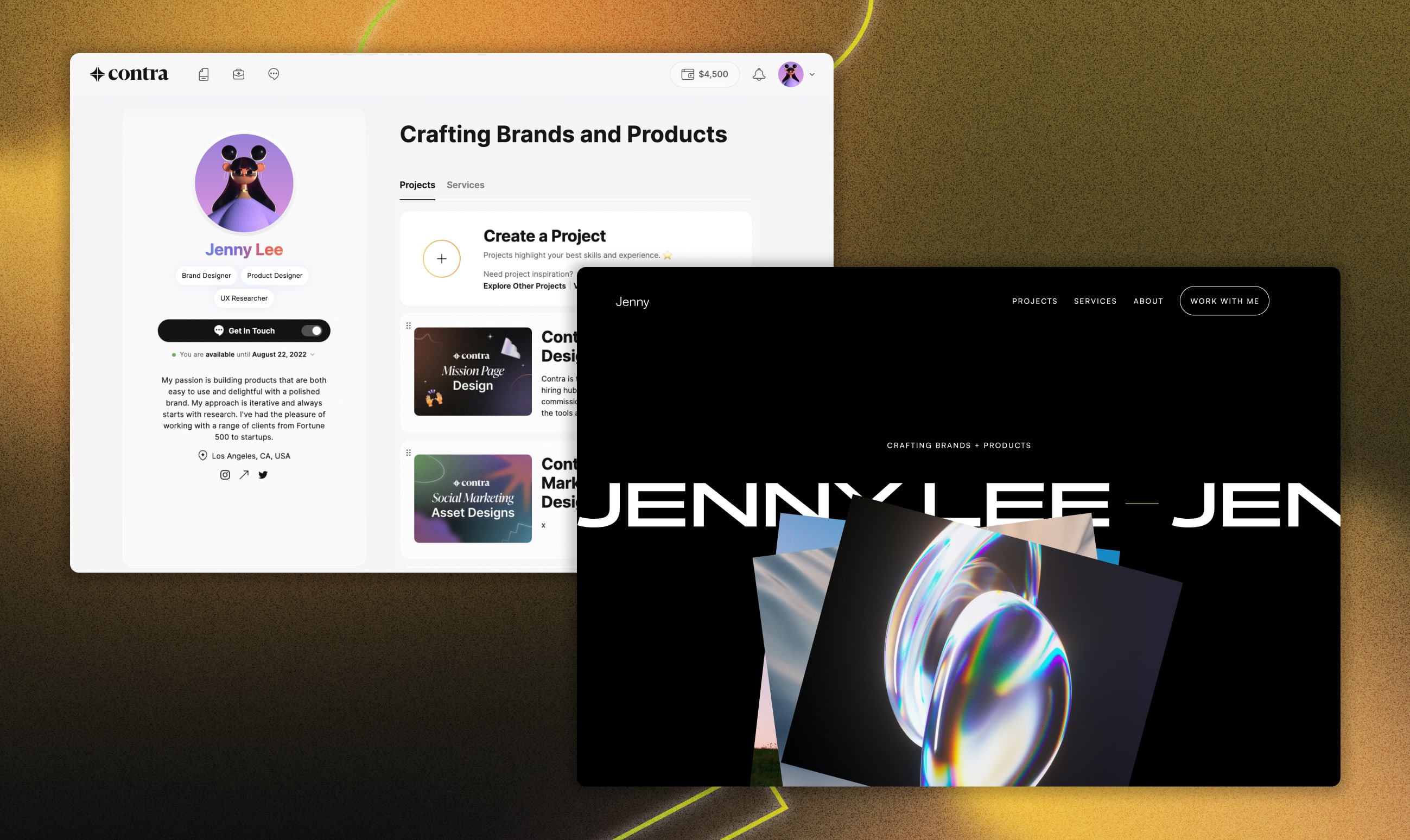 Optimize your LinkedIn profile 🚀
Hiring managers‌ and recruiters will run a Google search on your name before hiring you. Your LinkedIn will rank pretty high. When hiring managers look at your LinkedIn profile, is it clear that you're available for hire?
Optimize your LinkedIn account by adding keywords to your headline and updating your skills section. Write a summary that highlights your freelance experience. Show off a professional headshot. It'll take a little time, but cultivating a professional LinkedIn will attract high-paying clients.
Take an inventory of your social media profiles 👀
Along with LinkedIn, you need to take a look at your overall online presence. Your social media profiles represent who you are, and if you are using them for professional reasons, they need to look professional. Again, potential clients will see your social media platforms when they Google your name.
Start using social media platforms to your advantage. Get active:
Use the same professional profile pictures across your social media accounts

Post valuable industry insights or insider tips

Share your work and share that you're looking for freelance work

Respond to other people's posts with helpful advice and insights

Link to your portfolio in your bio

Look for

freelance jobs


Create a profile on freelance job sites 🎥
As you get started freelancing, freelance job boards are where you'll find a lot of opportunities. In fact, a 2022 Payoneer reports found that 71 percent of freelancers find the majority of their work through online job marketplaces.
You can set up a profile over on Upwork or Fiverr, but these sites are a real race to the bottom, and they charge you a commission fee on every freelance job you take on. You'll have to put a lot of work into bidding on freelance opportunities.
But don't you deserve to keep every penny you make? We think so. That's why Contra has a commission-free platform that only includes freelance opportunities that pay at least $250 (or a minimum of $25 an hour). Create a profile on Contra today to start applying to opportunities. We've also collected success stories from freelancers who have grown their business using Contra's platform.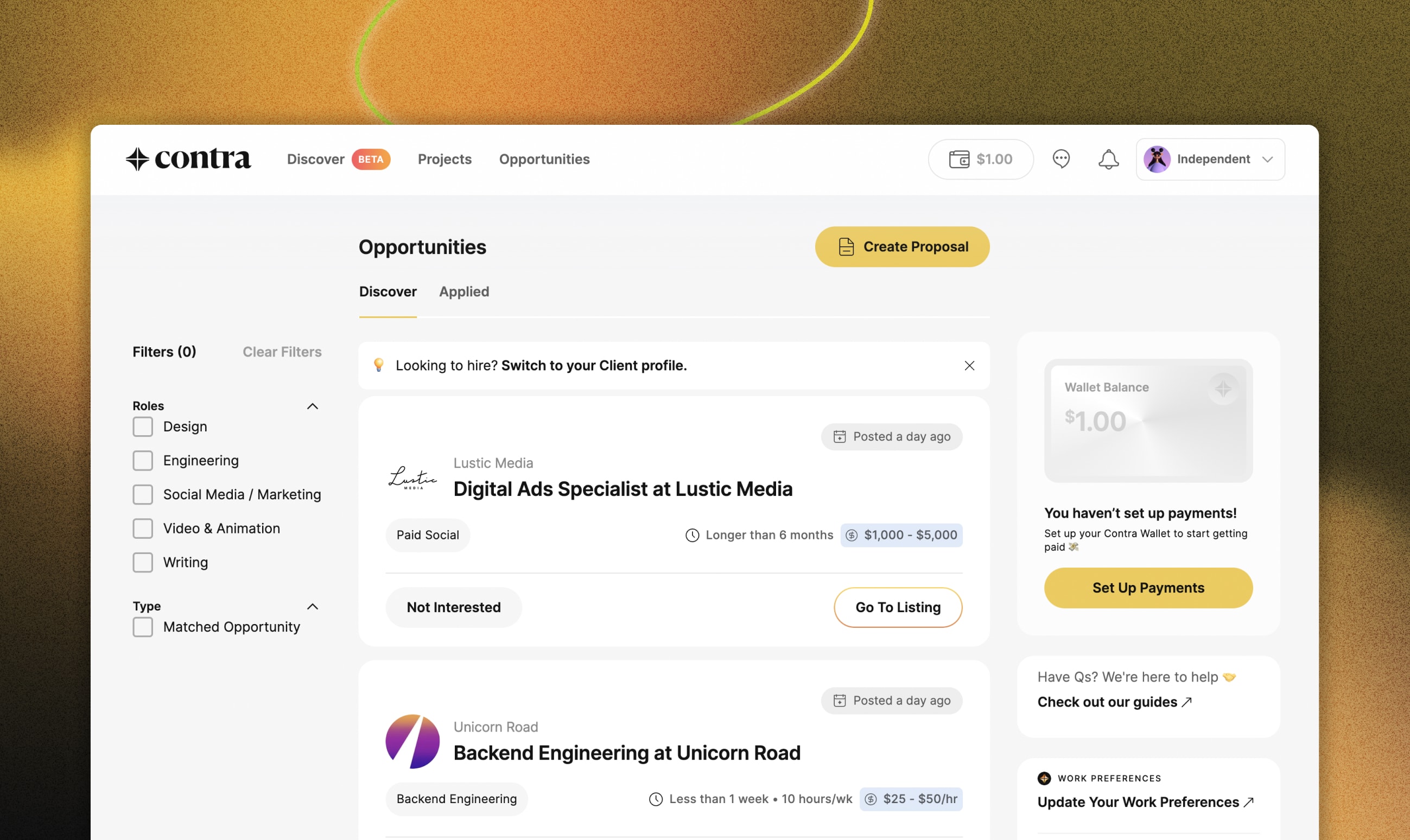 Join professional organizations and local networking events 👓
Networking online is one of the best ways to land quality clients, but you may consider how you can network in person. Consider joining local organizations or attending local networking events. Joining a coworking space can also lead to freelance clients as you get to know other entrepreneurs and remote workers in your community.
Even if you don't meet new people who need your services, they may know companies who do. 🥂
Network with other freelancers 👉🏿
Other freelancers aren't your competition. They're part of your community, and they may be how you find your next project. Freelancers will often refer work they can't take on to other freelancers.
Plus, if you're busy with your own upcoming projects, referring them to other qualified freelancers is a great way to provide value to your client and send freelance work to the right people.
It's a good idea to get to know other freelance contractors anyway. It's an amazing way to make new friends with freelancers and learn new tricks. You can always pair up with another freelancer with a different set of skills to deliver good results to paying clients.
Join industry-specific Slack communities 🏡
Slack isn't just for work anymore! Joining Slack communities is a great way to network remotely and find new freelance clients. Industry-specific Slack communities often have professionals looking for freelancers to work with.
Airtable and Slofile both keep lists of free Slack communities ranging from all kinds of industries like tech and marketing to general remote worker spaces. Check these lists out and try out a new Slack space or two.
Once you've joined a Slack community, do the following 👉🏽
Professionally introduce yourself as a freelancer looking for new clients.

Respond to other people's posts with helpful input when possible.

Keep an eye out for potential clients looking for their next freelancer.
After you create a Contra profile, you'll get an invite to our Slack community that's 10,000 members strong. You'll see a lot of freelance opportunities posted there!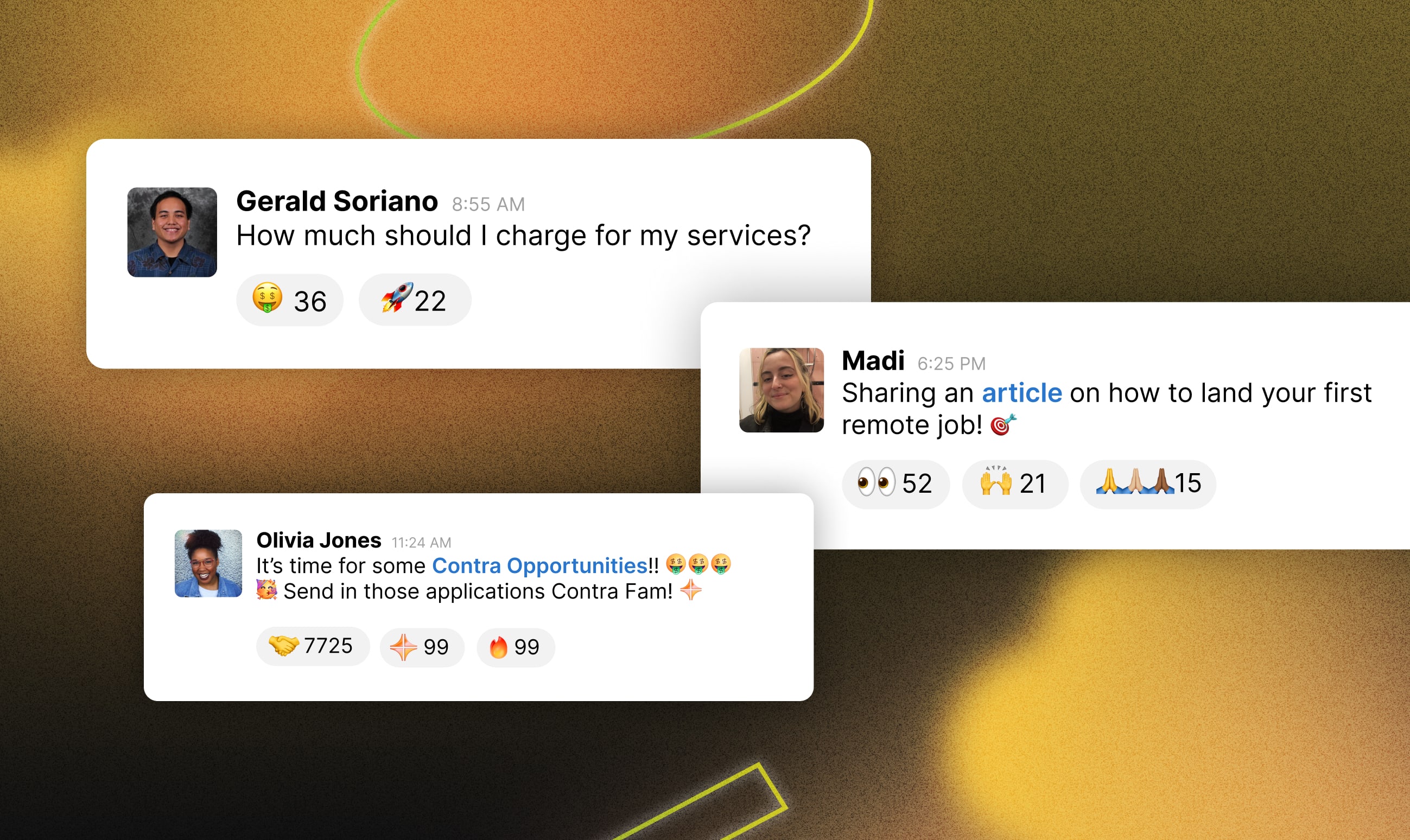 Send cold emails 👩🏽‍💻
Shoot your shot with potential clients by sending cold emails. These cold emails are letters of introduction to put yourself on the radar of hiring managers, editors, and managers you could work with. Your goal is to introduce yourself to potential customers and show your value.
Find clients you'd like to work with and do your research. If their email address isn't publicly available, use Hunter.io to find it.
Cold pitching is a long-term strategy. You may not see results right away. Create a spreadsheet to keep track of the letters of introduction you send so you can follow up in the future.
Try our letter of introduction template:
Hi [Name],
I'm [your Name] and I'm a freelance [title]. Are you looking for freelancers?
As a freelance [title], I have experience providing [service 1], [service 2], and [service 3]. You can see a few relevant examples of my work here:
[link to work sample 1]
[link to work sample 2]
[link to work sample 3]
You can see more about me on my LinkedIn profile [link] and in my portfolio [link].
I look forward to hearing from you. Thank you for your time!
[your name]
[your email address]
Follow up on cold emails 👋
What's the point of sending a cold email if you never follow up on it? Maybe they didn't need your services before, but do now. Maybe they didn't have a budget before but do now.
Send a quick follow-up email to any prospective client you haven't heard from. Maybe nothing will come from it…but maybe something will! Remember to personalize your cold emails and to focus on their needs.
Follow up with past clients 💌
Reach out to clients you haven't heard from in a while. If a client needs freelance assistance, they'd much rather work with a freelancer they know they can trust than search for someone new. It's much easier to upsell former or existing clients than to find new clients.
Take this template for a spin:
Hey [Name]! I just wanted to let you know that I'm available for freelance work starting [date]. I loved working with you on X and would love to work with you again. Do you need any freelance help? Thanks! [your name]
Prove your reputation with recommendations 🙌
If you want to work with great clients, you need to show them why you're the person to hire. Boost your reputation with testimonials and recommendations from former clients and coworkers. Recommendations show prospective clients that you're responsible and reliable. 📚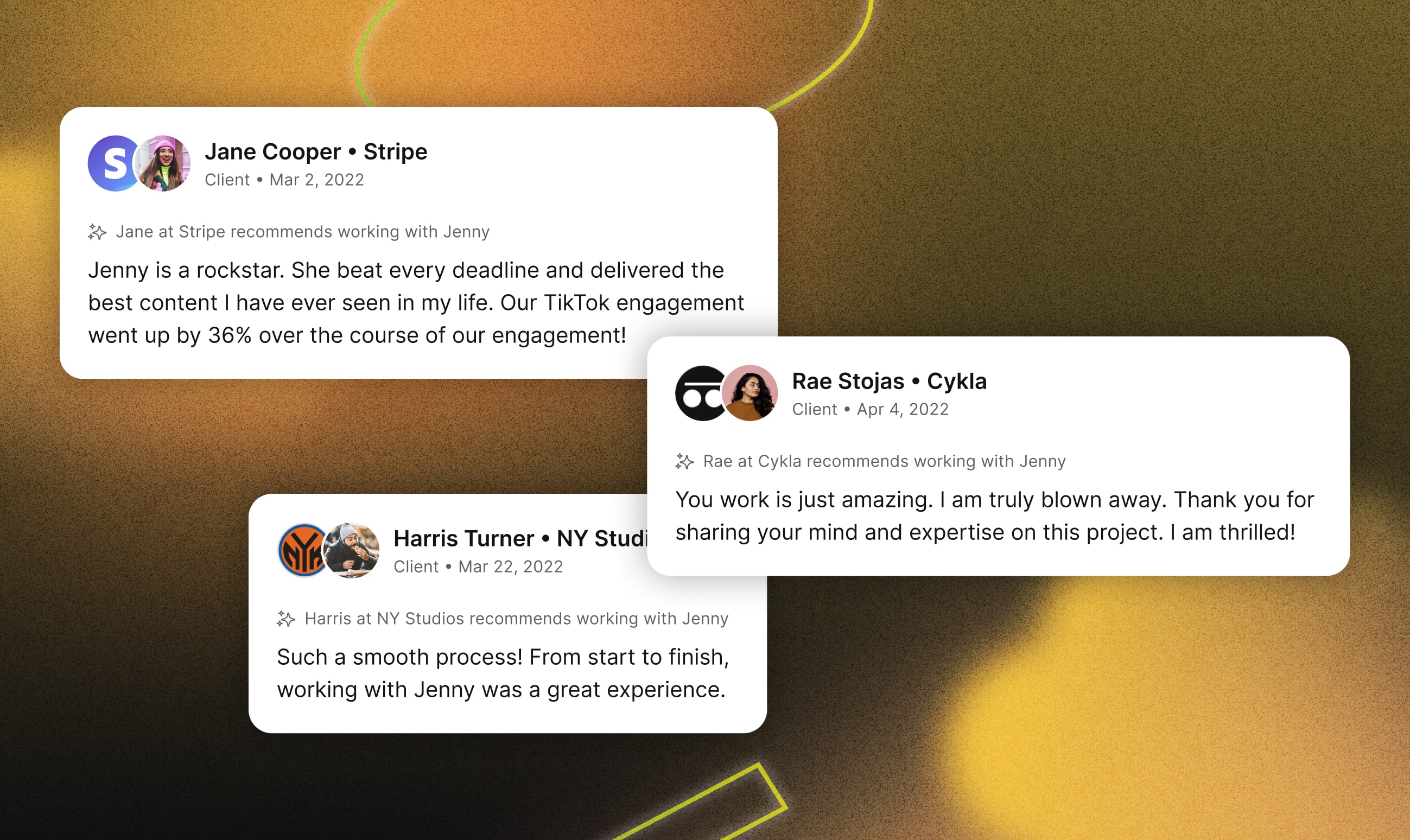 Let people know you're looking for work ☕
People like to work with people they know, so let everyone know that you're looking for work! Tell your friends, family, and fellow freelancers that you are looking for clients in need of your services. Tell your day job coworkers, former colleagues, and classmates that you're available for freelance work. You never know where your next client will come from!
Try saying something like this:
Hey! Hope you're doing well. I just wanted to let you know that I'm offering [service 1] and [service 2]. Please feel free to pass on my name to anyone looking for a freelancer. Thanks!
Ask for referrals 🎤
As you work with clients and grow your professional network, start asking for referrals. Referrals from your current client base can lead to high-paying clients that boost your freelance business.
Ask your current clients to pass your name on to anyone looking for freelancers. If you prefer a less direct way to ask for referrals, leave a note at the end of your invoices and email signature that you're open to referrals.
Realize that growing your client base takes time 🦾
Persistence is the most important skill for new freelancers to develop. Growing your freelance business and lining up ongoing work takes time.
There are so many different ways to find your next client. Cultivate a social media presence, do some digital marketing, and set up your freelance portfolio. Make searching for freelance clients part of your weekly routine. Whatever you do, don't give up.

I'm a full-time freelance writer specializing in writing features, profiles, and news stories. Every story matters. Let me tell yours. Contact me here or at kaitlyn.arford@gmail.com.