A Game Plan for Getting Clients 🔥
Remote Working & Freelancing
Marketing

Kaitlyn Arford
· 7 min read
Working independently doesn't mean searching endlessly for clients. Building a successful independent career requires a foundation of good clients, and marketing yourself online is the most effective way to do it.
A Game Plan for Getting Clients 🔥
As an independent, you need to get comfortable promoting your services. This means proactively reaching out to potential clients as an independent.
Back in the day, outbound marketing like this meant going door to door to see if people were interested in buying your vacuums. Today, it's a lot easier. It typically includes using one or more of the following methods:
How to Pitch Yourself ✨
First things first: before you reach out to potential clients, you have to know who you are, what you do, and most importantly, why people would want to work with you.
You need to prepare a one-line elevator pitch.
Who you are + the type of work you do + the types of clients you serve = your elevator pitch.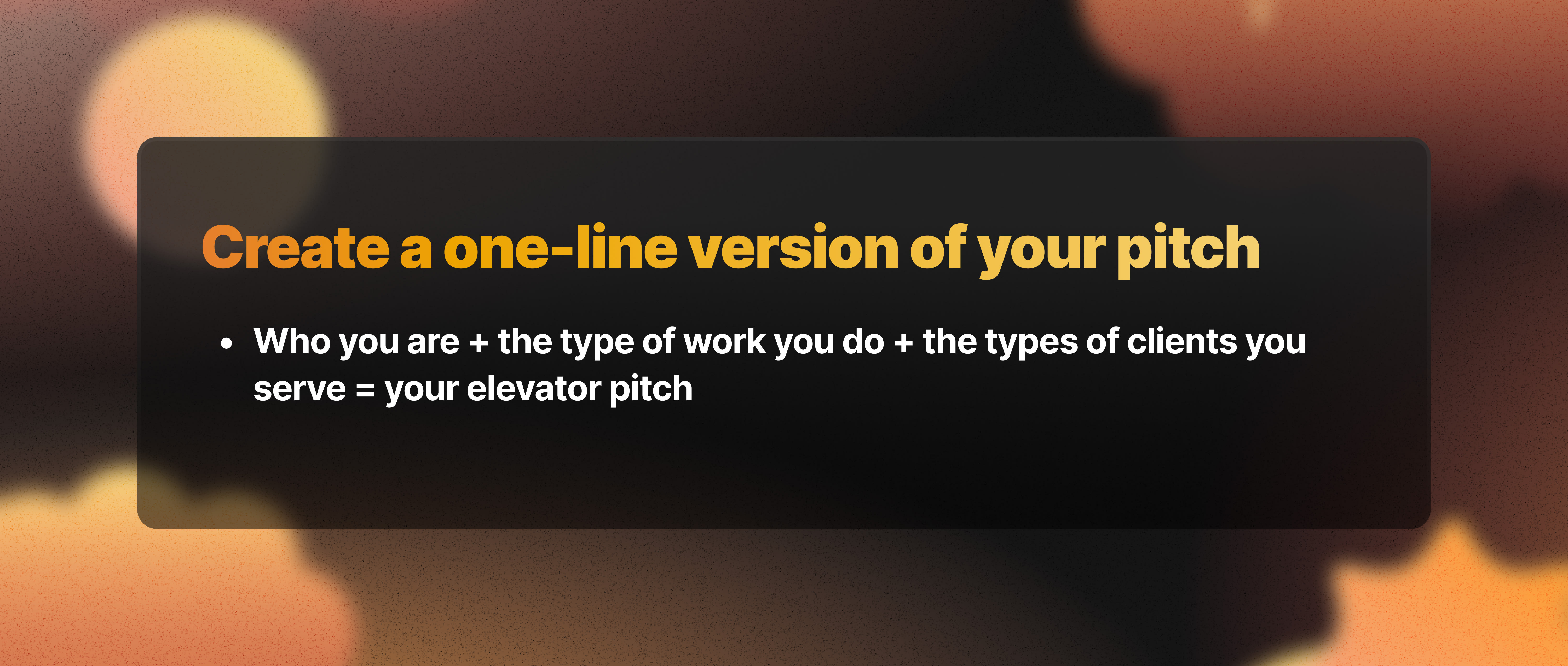 Here's two quick examples:
"I'm Kaitlyn and I write long-form blog posts for small businesses."

"I'm Sara and I design websites for women entrepreneurs."
A clear message like this will position you as a professional and help you stand out in a crowded market. You can use this elevator pitch in your social media bios, website, and when you're introducing yourself to potential clients.
Where to Pitch Yourself

📨
To give yourself the best shot at landing clients, you need to diversify where you pitch potential clients. Network in online professional groups to meet potential clients, and also invest in social media marketing. Don't overlook your personal network — someone you know (or someone they know) may have a lead for you.
Before you start reaching out, it's a good idea to add a few of your favorite projects to your Contra profile. Contra's platform makes it easy to quickly showcase your work and services in a portfolio — and it's a lot less daunting than setting up an initial website.
Creating a Leads List 📝
You can't start a freelance business without clients! Make a quick list of all the people you'd like to work with (or who might know people looking for independents). Here are a few sources to start with: 👇
Friends, family, and personal contacts 👪
Your friends and family may not be your ideal clients, but they might know people who need your skillset. Ask around and see if they know anyone in need of your services — or if they're willing to tell others you're available for independent work.
Referrals ⭐
Make a list of everyone you've worked with before: former coworkers and employers, or even classmates. These are the people who know what you're capable of and can testify to your abilities. Even if your former colleagues don't need your services, they may know someone who does!
Ideal clients 😍
Contra's State of Independence report found that more independents are choosing to put their energy into projects that fulfill them personally. One of the major perks of working independently is being able to pick and choose who you want to work with. So make a list of potential companies and brands (big and small) whose values align with yours. For example, if you're interested in sustainability, look for people and companies working on sustainability initiatives.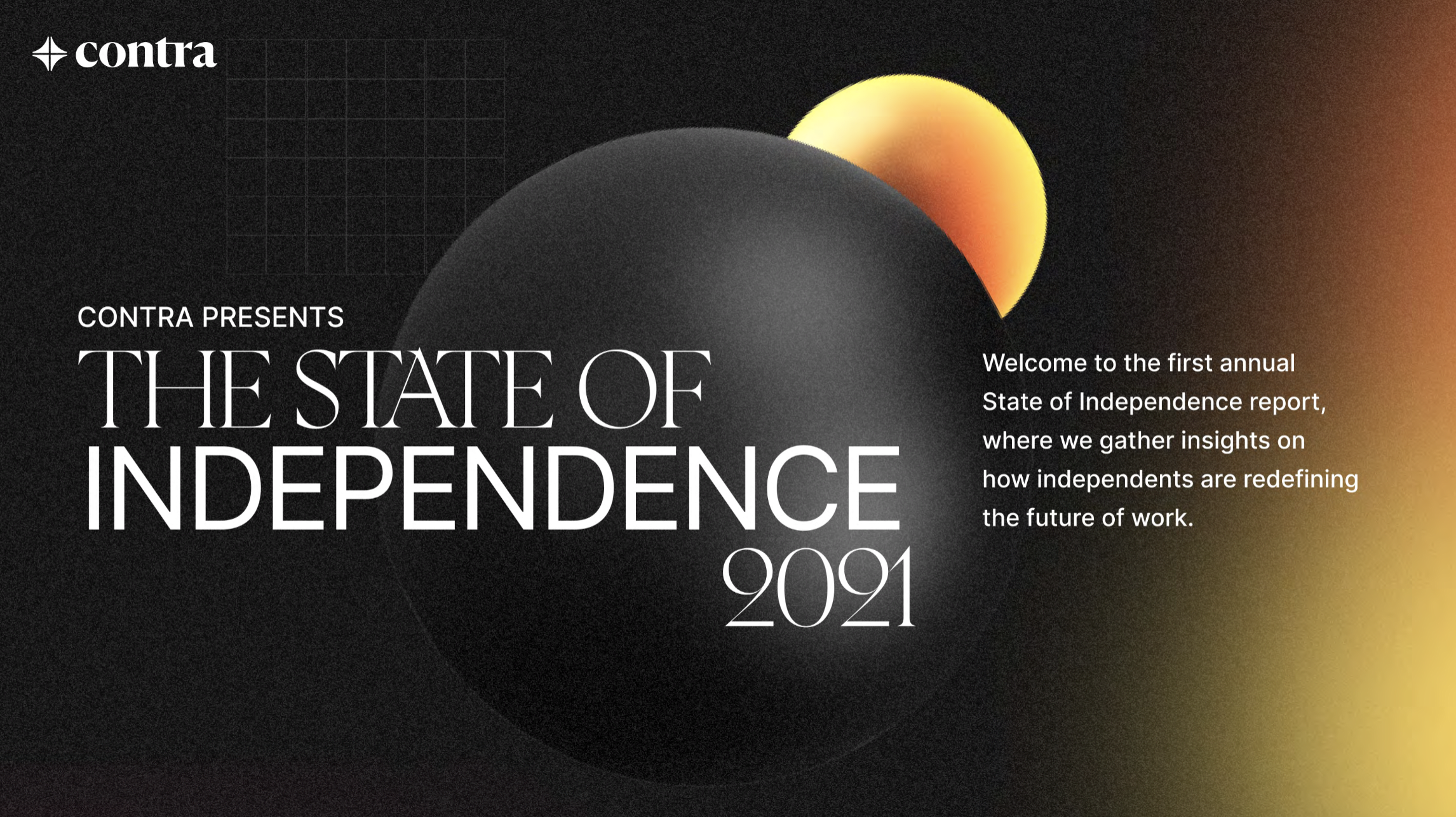 Reach out to potential clients on social media 💪
Just about everyone is on social media these days, and that means that it's easier than ever to discover and connect with potential clients in a more casual setting. Making authentic connections is key to successfully landing potential clients.
Here's a quick template you can use to reach out:
I love that your company focuses on [insert company mission]. I'm a [insert what you do] with [any relevant experience] and I would love to work with you.
[Insert elevator pitch]
Looking forward to hearing from you and hopefully working together soon!
[Insert name]
[Insert email and Contra profile link so clients can see your work at a glance]
Connect with potential clients
First, choose the right channel for you. You will burn out if you try to be active on every social network, and you need to consider where your target audience is. For writers and social media managers, Twitter is a good place to start, as many editors are active on the platform. For designers, Instagram is both a place to connect with other designers and show off your work.
If you find someone you'd like to work with? Start by interacting with them naturally. Add value to the conversation when possible by answering questions or sharing insight. This gives you the opportunity to flex your expertise, keep you in the client's mind, and ultimately open a door to potential independent work.
Companies and other independents will often post freelance opportunities on social media that you can't find elsewhere. If you see someone actively looking for creative help, slide into their DMs with your elevator pitch, and a link to your Contra portfolio, where you can continue the conversation.
Connect with other creatives 🤝
Don't be afraid to engage with other independents on social media — fostering authentic connections with other creatives may lead to paid opportunities. Independents will often sometimes refer other creatives to clients they're unable to take on or look for people to collaborate with.
Showcase your skills, work, and interests in social media posts, like freelance website designer Kylie Buss. Remember to include your elevator pitch, contact information, and a link to your Contra profile on your socials! 🚀 You never know who is paying attention to you!
With that said, you shouldn't invest all of your resources into any one social media channel. Social media companies can go offline, change their policies, and shut down at any time. That's why it's important to diversify your outreach methods.
Reach out to potential clients through Slack and professional groups 🖥️
Building your business means building your connections. Social media and lead lists are a good start, but joining niche Slack communities and professional communities can lead to more opportunities. Join relevant groups that relate to your target audience. For example, if you want to design websites for bakers, join online food groups. There's a niche community for every interest.
Additionally, join groups intended for independents and entrepreneurs like you. Connecting with fellow creatives is an important source of support, and may include opportunities not found elsewhere. Contra's Slack community is now 9,000+ people strong and filled with independents posting work opportunities.
Rejection is normal — and following up is key 😱
Landing your first client and then continuing to grow your client base takes time. Don't get discouraged if you don't see results immediately.
Keep track of every rejection attempt with a Notion or Google spreadsheet. Note the date you made contact with a potential client and their response. Then, make a plan to follow up. This could mean anything from scheduling a follow-up call to answer their questions to sending a casual email with an article relating to something they're interested in.
Time to take action 🚀
Now that you have a game plan, hit the ground running! Put together your Contra profile and start reaching out to potential clients. You got this!



About the author
Kaitlyn Arford is a full-time freelance writer specializing in writing features, profiles, and news stories. She believes every story matters. Check out more of Kaitlyn's writing on her profile!

Kaitlyn Arford | Freelance Journalist
Read more about the projects created by Kaitlyn Arford on Contra.



I'm a full-time freelance writer specializing in writing features, profiles, and news stories. Every story matters. Let me tell yours. Contact me here or at kaitlyn.arford@gmail.com.