How to Find Freelance Jobs on Twitter 🐦
Remote Working & Freelancing

Kaitlyn Arford
· 8 min read



Finding freelance work is a job in itself: sorting through listings on job boards, reaching out to potential clients, and hoping for the best. You may not realize it yet, but Twitter is a goldmine of freelance jobs — including freelance work you won't find elsewhere.
Ready to gain new clients just by using Twitter? Let's look at how to make the bird app work for you.
Take a look at your personal branding

💻
As an Independent, your brand is you. That means that sometimes the line between your business and your interests gets a little blurry. Even though Twitter feels like a casual hangout space, using it as a tool to get clients means maintaining a professional look.
It's okay to share personal opinions and show off your personality (in fact, 86% of consumers prefer honesty from brands on social media, according to Sprout Social study). Just keep in mind that your potential clients will probably browse your social media presence before hiring you.
Frankly, you never know who's seeing your content. Twitter lurkers (people who see your tweets but don't engage and rarely tweet) represent nearly half of all U.S. Twitter users. You don't know who all are following your work — and who may need your services in the future.
Optimize your Twitter bio and handle

✅
First impressions matter! Personal branding isn't just how you communicate with others, it's how others perceive you. Here's a few ways to set yourself up for success👇
Choose a professional headshot.

Use that same photograph across your different professional social media channels for a cohesive and sophisticated look.

Make sure your location is up-to-date

. Some professionals prefer to hire locally, or maybe looking for people in your area.

Choose a professional cover photo.

Create a professional cover photo to boost your branding. Some independent workers use basic cover photos with their logo, or even the logos of companies they've worked with.

Take a look at your Twitter handle.

Is your handle memorable? Choose a Twitter handle that makes sense for you and that's relevant to your work.

Don't forget a pinned tweet!

A pinned tweet is the first your audience sees when they visit your profile. Use a pinned tweet to show off your newest work, client testimonial, or your services.

Optimize your "About" section

by succinctly explaining what services you provide and including keywords like "freelance writer" or "freelance designer."

Include a call to action

with a link to your website or Contra portfolio.

Keep your bio accessible.

People who use screen readers or text-to-speech technology have a hard time interpreting emojis, emoticons, and fancy custom fonts. It's okay to use emojis in moderation, but try to stick to one or two.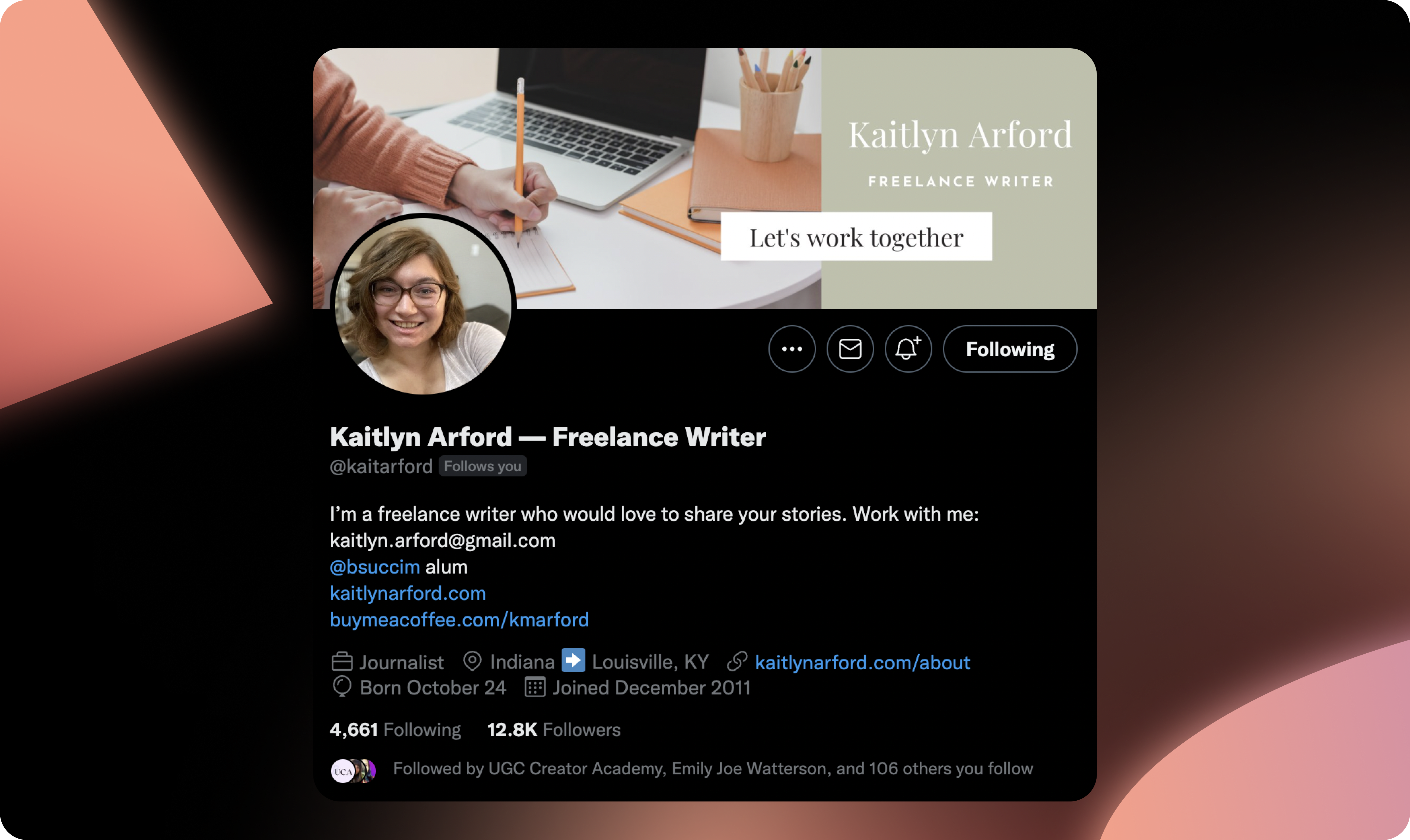 Genuinely connect with other freelancers, peers, and potential clients

🔥
The Twitterverse may initially feel like an intimidating void with its many members (450 million) but Twitter is a great place to connect with your fellow independent workers and potential clients.
People like to work with likable people! Networking with other Independents, creatives, and even potential clients can lead to paying work. Connecting with other independent workers will make working independently a little less lonely, and you may make friends with other creatives. Other creatives aren't your competition, they're your community.
Another perk of building relationships with other Independents? Independent creatives are often offered work they can't take on, and will choose to refer it to other Independents they trust. That person could be you!
If you're feeling intimidated, try starting with these simple techniques:
Share useful resources.

Sharing useful resources, like links to news articles, your blog posts, or helpful tips positions you as an expert in your field. These resources will make you more attractive to potential clients as it shows how you can help them.

Reach out with advice.

Twitter users tweet out questions all the time. Don't hesitate to share any resources, advice, or tips you have to share. People will appreciate your time, and you may make a new friend! Plus, if you show people just how helpful you can be, they'll think of you the next time they need a problem solved.

🤓

Leave kind and thoughtful comments.

See something you like? Leave a thoughtful comment under a tweet you enjoy. It's a nice way to get a conversation started. 👋

Don't focus on sales all the time.

The point of marketing your services on Twitter is to reach potential clients and hopefully help you build your business. Mix up your tweets by retweeting relevant content, sharing resources, and interacting with people, in addition to tweets promoting your work.

Give more than you receive.

Remember the number one rule of social media: give more than you receive. Offer value with every tweet you share.
Remember, this practice isn't about building your follower count or ceaseless self-promotion. It's about building authentic connections with other people.
Join Twitter chats and communities 🏡
Twitter chats are basically online watercooler breaks. They're an amazing way to connect with other people, learn new skills, grow your online following, and build your brand. Plus, they're a nice break in the workday! Participate in active Twitter chats relevant to your industry and experiences like:
Beyond Twitter chats, Twitter's new social communities provide a place for ongoing conversations in niche communities. Two active Twitter communities, Freelance Twitter and the #FreelanceChat Community, are private spaces you can join to ask questions of fellow Independent workers and find camaraderie.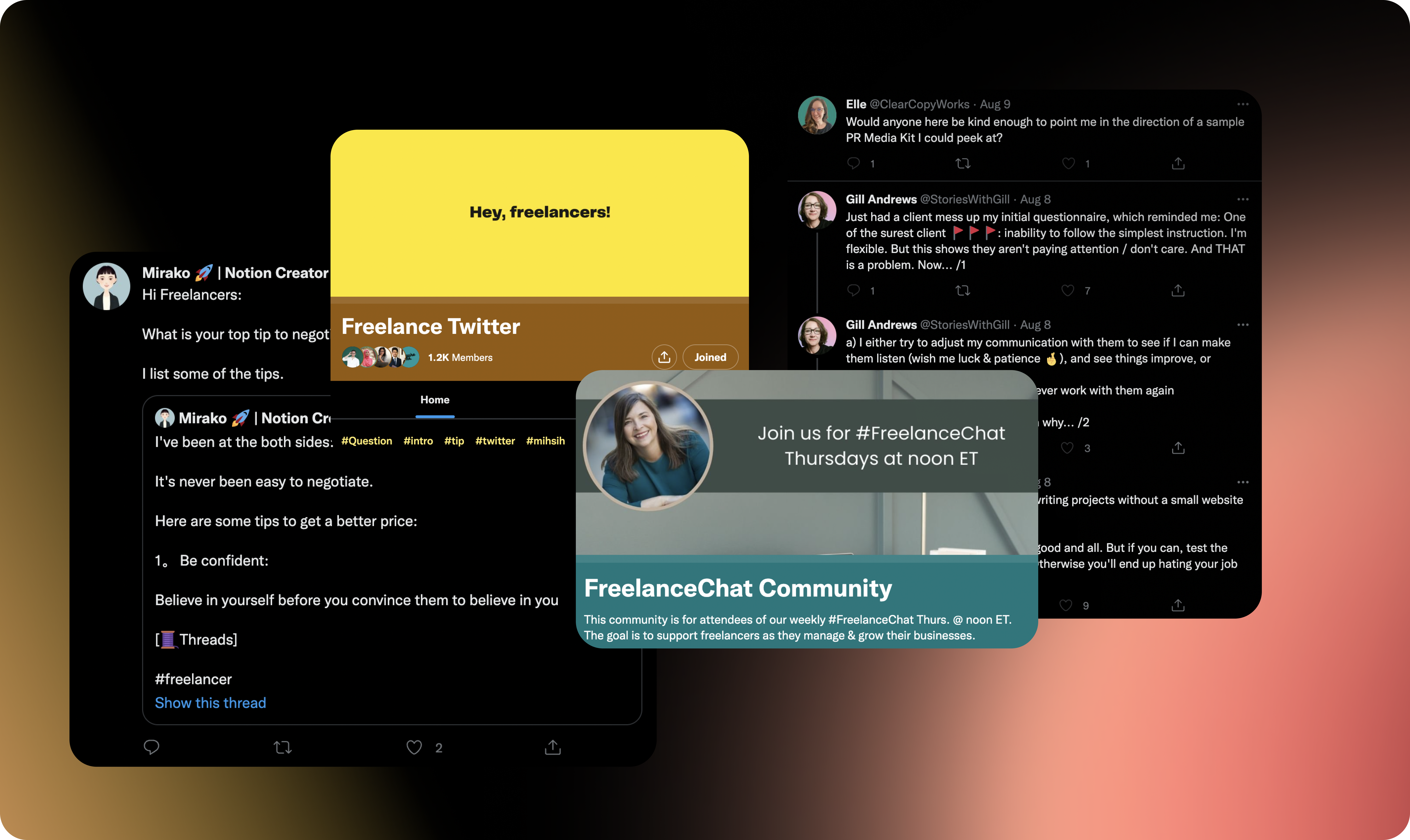 Follow Twitter accounts and hashtags that share freelance opportunities often 🤩
Editors, business owners, and other Independents will sometimes post opportunities on Twitter that aren't shared elsewhere. That means you can discover exclusive opportunities on Twitter with a little legwork! Search terms like "write for us," "looking for freelance," "hiring freelance," "pitch me," "pitch call" or "open to pitches." Of course, you can shave a little time off your search by following accounts that regularly feature opportunities:
Search popular hashtags to find even more work:
#journojobs

#writingjobs

#callforpitches

#freelancewriter

#journorequest


Shoot your shot when you see someone in need of your services 🎯
Let's say you saw a tweet from a small business looking for a logo design. Which tweet do you think will get a response?
Hello! I'm a freelance graphic designer with experience creating logos. I just sent you an email and hope to work together soon! Thanks for your consideration. [Portfolio link]

I'm interested.
The first one, of course! That's because you've added value to the conversation, and succinctly explained why they should consider hiring you. So when you discover an opportunity on Twitter, reach out professionally. Leave a note under their tweet with your relevant experience, contact information, portfolio, and a quick thank you. Take care to follow their instructions! If a client doesn't want to receive DMs, don't DM them.
Here's an easy template to follow, but don't be afraid to put your own special twist on it! 👊
Hi there! I'm a [freelance professional title] and I'm available to [perform desired service]. I have [X] experience, and I sent you an email. I hope to hear from you soon, and thank you for your consideration! [Portfolio link]

This may seem intimidating at first, but it's very normal Twitter etiquette. It's a great way to land more opportunities, and you'll get more comfortable marketing yourself the more you do it.
Shamelessly share your portfolio 📝
This is not the time to be modest! Sharing that you're available for freelance work can lead to paying opportunities! Be specific about the type of work you're looking for. Share your services, how people can reach you, and a link to your portfolio.
Try out a few of these scripts: 👇
Hello all! 👋 I'm available for freelance assignments starting next month. I offer brand strategy, social media graphic design, and logo design. If you'd like to work together, please reach out! [Portfolio link]

Always nice to hear good feedback from a client! 🙌🏿 [Include a testimonial or nice feedback here] Want results like this? I'm accepting new clients! [Portfolio link]

Does your small business need some help? I offer: SEO-driven blog posts, Social media management, Website development!

Let's work together! [Contact information and Contra portfolio link]
Send a proposal with Contra to your new client!

🥂
Using social media is a long-term strategy and you may not see results immediately. When your online relationships transition into business relationships, it's a good idea to put a proposal together!
With Contra, you can invite your new client to the platform by clicking the "Create Proposal" button. You'll add in your clients email and they will receive the invite! Just fill in the details about your project (including the deliverables you have to send and the deadlines) and the project fee. It's that simple!
Even better: We will never charge you a commission for using the platform. We're here to help you enjoy a better future of work! ✨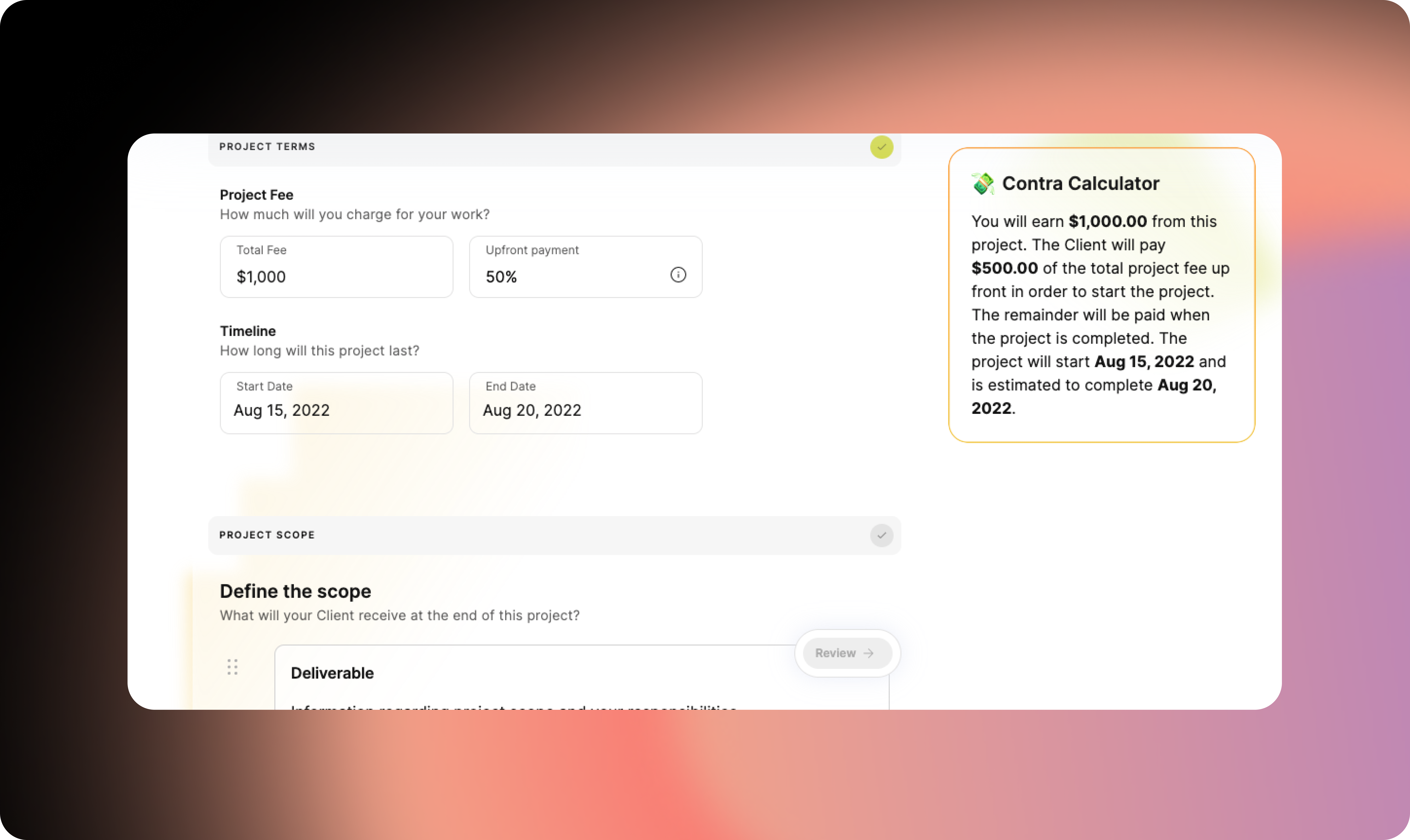 Contra is the Independent-first community and commission-free hiring platform shaping the future of work. We match Independents with flexible opportunities, and Clients with the perfect Independent for any project — from content creation to coding and more.



I'm a full-time freelance writer specializing in writing features, profiles, and news stories. Every story matters. Let me tell yours. Contact me here or at kaitlyn.arford@gmail.com.