Guide to Projects ✍️
Remote Working & Freelancing




Contra is a commission-free independent community that matches top talent with flexible opportunities. With projects on Contra, you can show off your best work and the things you do best instead of determining your worth and experience based on a resume. Think of your projects as case studies or a better, more collaborative version of your portfolio.
In this guide, we go over what projects are, the two different projects you can create, and how you can create them. There's no right or wrong way to create a project, so have fun with it and get experimental! ✨
What are Projects?
Projects are like puzzle pieces of your portfolio. Unlike the traditional, text based resume, clients are able to have a personal insight into who you are and how you work with each project you post on your Contra profile. ✨
What kind of projects can I post on Contra?
On Contra, you can post two different projects: Linked and "From Scratch". Linked projects allow you to link any project that lives on the web in under a minute, and "From Scratch" projects are ones that are created manually. They're both different, but the goal of them remains the same: to aggregate your fragmented online identity that lives across multiple platforms.
Linking

Your External Projects 🔗
Take the projects you've worked on that currently live on a variety of platforms and share them all in one place using Contra's linked projects. When a client asks to see your work, rather than sharing multiple links to your work on platforms like Instagram, Dribbble and Github (to name a few), you'll share your Contra profile which houses everything in one place!
You'll see example platforms, but keep in mind you can add any link, from any platform ✨
Description ✏️
To save you even more time, we pull the description from your linked project and add it to your project on Contra. If the project you linked did not include a description, then this is a great time to add something short and sweet describing what you contributed to this project.
Roles and Tools ⚙️
Adding roles and tools on your linked project shows what and how you contributed to the project! Not only does this show off your skills to a potential client, but it also helps you get matched with opportunities on Contra that were made for you ✨



Creating "From Scratch" Projects 🛠
Different from linked projects, "from scratch" projects are created manually. You'll have the opportunity to craft your project's story from scratch with our in-line editor with a variety of section headers, photos, GIFs, and embed videos. You can choose to create your project from the ground up, or select from three of our templates.
Project Templates ✍️
Creating a project from scratch can be a bit challenging, so project templates are useable templates in which all of the content is formatted! All you have to do is replace the content with your own! We currently have three different templates to choose from ⤵️
Success Story — This is a high level overview of your project: who you worked with, what the goal of the project was, a brief look into what you created, and what the experience was like between you and your collaborator. This is a great way for future collaborators to see what you've created and how the relationship between the both of you could be like.

Portfolio Case Study — This is an in-depth look into your project. What did you create? How did you get there? Focus on the processes it took to get this project to the finish line.

Capture — This is a high level overview of your project. How would you describe the work you did in under 150 characters or less?
Custom Projects 💭
There are six key components to "from scratch" projects ⤵️
Title 🔠
The title of your project gives a general idea of what the contents of your project will contain when someone views your profile. It should be exciting, enticing, and eye catching! 👀
Tip: Add the company's name that the project was for! (ex. Nike F/W 2021)
Project Description/Body 🔭
Set the stage for your work. The content you include in your projects should accurately display the project that you've created in a meaningful and stimulating way.
Some questions you can ask yourself while creating the content for your project:
What did you set out to accomplish?

What's the context of this project (brand/company, project owners, purpose of project)?

What problem(s) were you trying to solve?

How did you arrive at your solution?

What did you learn while working on this project?

Is there anything that you would do differently on the next project?
Provide some background on the project from a birds-eye view. This could be in the form of a case study or story that has a combination of high quality images/videos/GIFs and text that goes in depth about the project.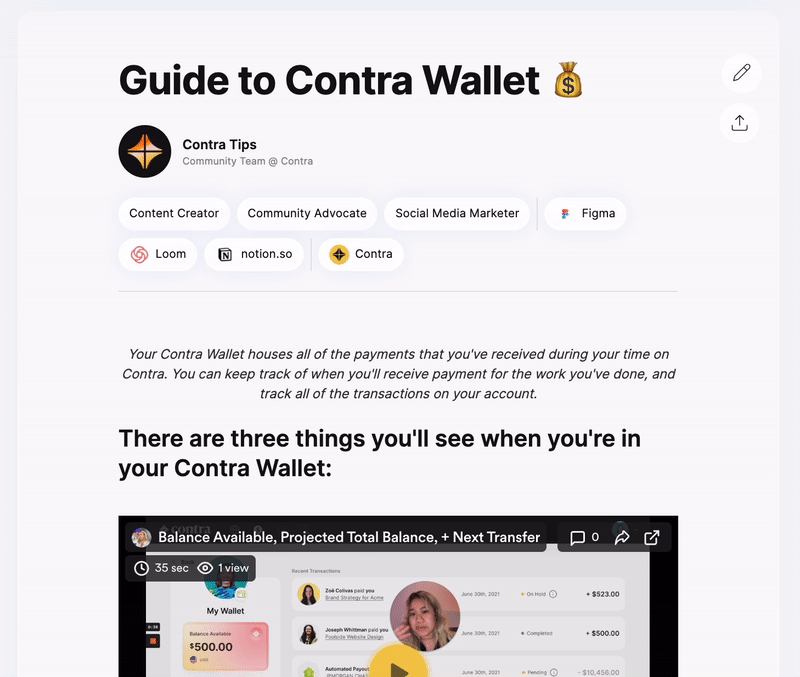 Remember: How you display all of your content matters! You never know who's looking at your profile (it could be a future client)! 🤩
Roles 👥
Roles showcase what you contributed to your project! Roles are different from your professional title, for example, if your professional title is "Product Designer", then your roles on a given project could be "Logo Design", "UX Research", and "Illustration Design".
You can list up to three (3) roles in each project, so choose wisely! 👀
Tools 🛠
List the tools or programs that you used while working on your project. Listing your tools is a great way for other independents to see what tools you're well-versed with!
Company 🏢
This is your chance to showcase the company you built this project with, and adding the organization is a great way to add credibility points to your project. If you don't see the name of your company, brand, or agency in our database, feel free to include their name, URL, and logo! 🧙‍♀️
Collaborators (Coming soon!) 👯‍♀️
Collaborators are other independents that you worked with during the duration of your project. These independents can be a wide range of individuals— the recruiter that connected you to the project, the project manager, designer, copywriter, or engineer— the options are endless!
When you add a collaborator, you'll include their role, and why you enjoyed working with them! Adding collaborators to your projects is the main way to grow your community on Contra.
🚀 ✨
And that's it! Now that you've learned about Linked and "From Scratch" projects and how to create them, it's time to learn how to monetize your skills with our Guide to Services!
Ready to set up your Contra identity?
Create your Contra profile
Start now



Janjira Sun
Copywriter focused on changing the future of work
journalist turned independent turned contrarian. currently working with contra to build the future of work 💗