Hiring Your Next TikTok Content Creator 🎥




As of 2022, there are at least 1 billion people that use TikTok every month. More than ever, brands are looking to hire content creators on Contra for this exponentially growing social platform. Hiring a content creator is a surefire way to create and promote the brand's little corner of the internet, and a great way to interact with the brand's audience on a more intimate level.
What's a content creator and why should I hire one? 👀
Content creators conceptualize and produce a series of videos and/or social posts that represent a brand while keeping the brand's mission, target audience, and goals in mind. It's a sure fire way to create and promote the brand's little corner of the internet, and a great way to interact with the brand's audience on a more intimate level.
Content creators amplify your brand's reach and speak directly to your target audience. They bridge the gap between the brand and audience, and give the audience a chance to understand the brand in an authentic way. Understanding the brand's mission, vision, and voice is crucial for creators to produce content that aligns the audience and brand.
Why should I start creating on TikTok?
With 1 billion people coming to use the app on a monthly basis, it's evident that TikTok is here to stay, and continuing to grow. With their in-app video editor, it's easier than ever for users to create multiple pieces of quality content without putting in hours of work. With the addition of duets, stitches, green screen features and more, it's a great way to gain traction and build an audience in a fun, yet meaningful way.
Considering all of the social platforms that are in a creator's toolkit, video creation takes time and effort, but is the most engaging kind of content. Watchers can directly resonate with it, humanize the brand by matching a face to a name, and can share the video with someone who can relate to it. If the content was created strategically, there's a chance that it'll go viral and appear on TikTok's "For You" page, a feature that showcases videos with users who interact with content similar to it (via tags, sounds, or view time).
What skills should I look for in a TikTok creator?
As an ever evolving platform, TikTok is always launching and implementing new features to better its user experience, which means the content creator should do the same. Here are a few key skills to look out for when hiring a content creator for TikTok (or any other platform!)👇
Video creation and editing
With knowledge in:
Storytelling

Community engagement

Content strategy
Here at Contra, it's easier than ever to locate your next content creator with the help of roles, projects, and services. Curious to know what kind of content creators you should look out for? Here's a consolidated list of some of our top independents in the content creating space.
What does quality TikTok content look like, and what are some things I should work on as a client?
For each brand, client, and creator, their version of quality is different. To answer this question, we reached out to expert independents, Ifeoma and Rachel, to get their perspective on what quality content looks like on TikTok and some best practices to follow when creating content.
When searching for your brand's next content creator, look for creators who produce work that feels authentic to your brand values and personality. If you and your team easily relate to their work, then it's more likely they're a match for your brand and can convey your mission.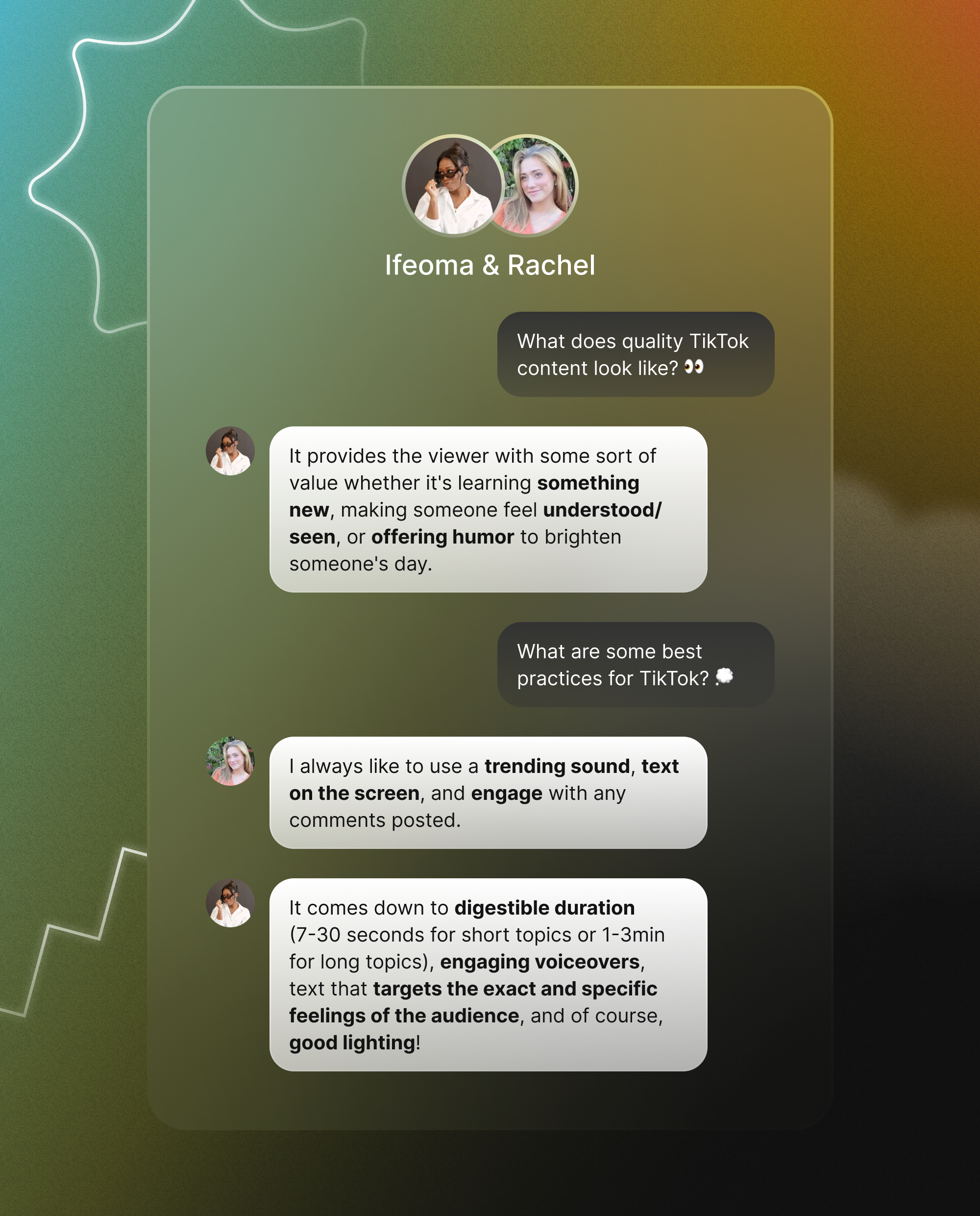 Just like an independent who's constantly learning from every opportunity they work on, clients also have a lot to learn! When working with an independent, it's important to remember that this is a partnership and collaboration— you're both working together to create something big.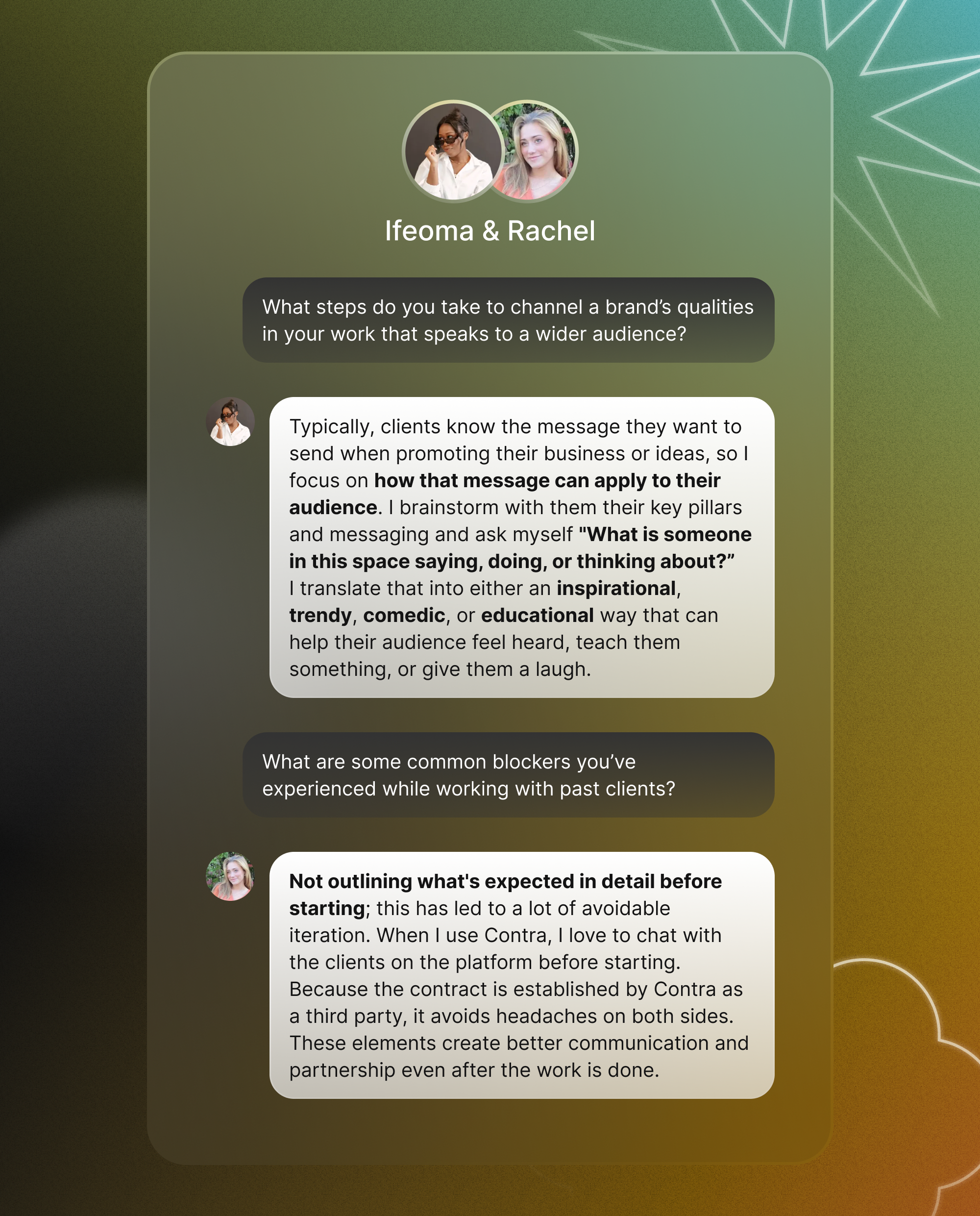 To help you out on your content creator search, we put together a list of questions based on Ifeoma and Rachel's answers for you to keep in mind 👇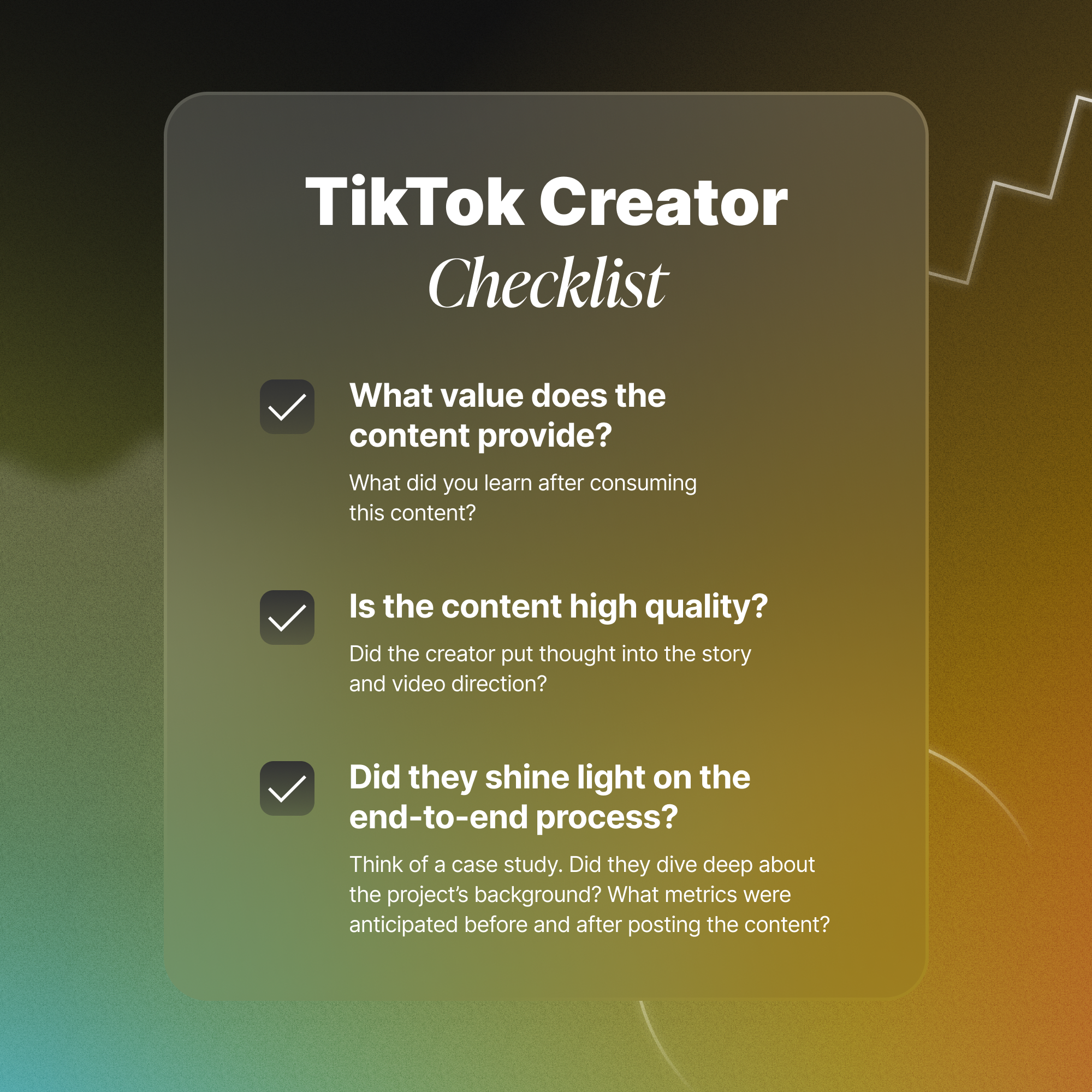 If you want to learn more about the common blockers independents have and make their independent journey a smooth one, check out this blog post from Remote Bliss.
🚀 ✨
How can Contra help me find a TikTok content creator?
Contra is a commission-free independent community that matches top talent with flexible opportunities. We're here to help bridge the gap between you and your next independent that'll collaborate with you on your next big project.✨
To get the ball rolling, head over to https://contra.com/hire to get matched with top independents for your project! If you need additional guidance, follow our guide on how to post a top-tier opportunity on Contra!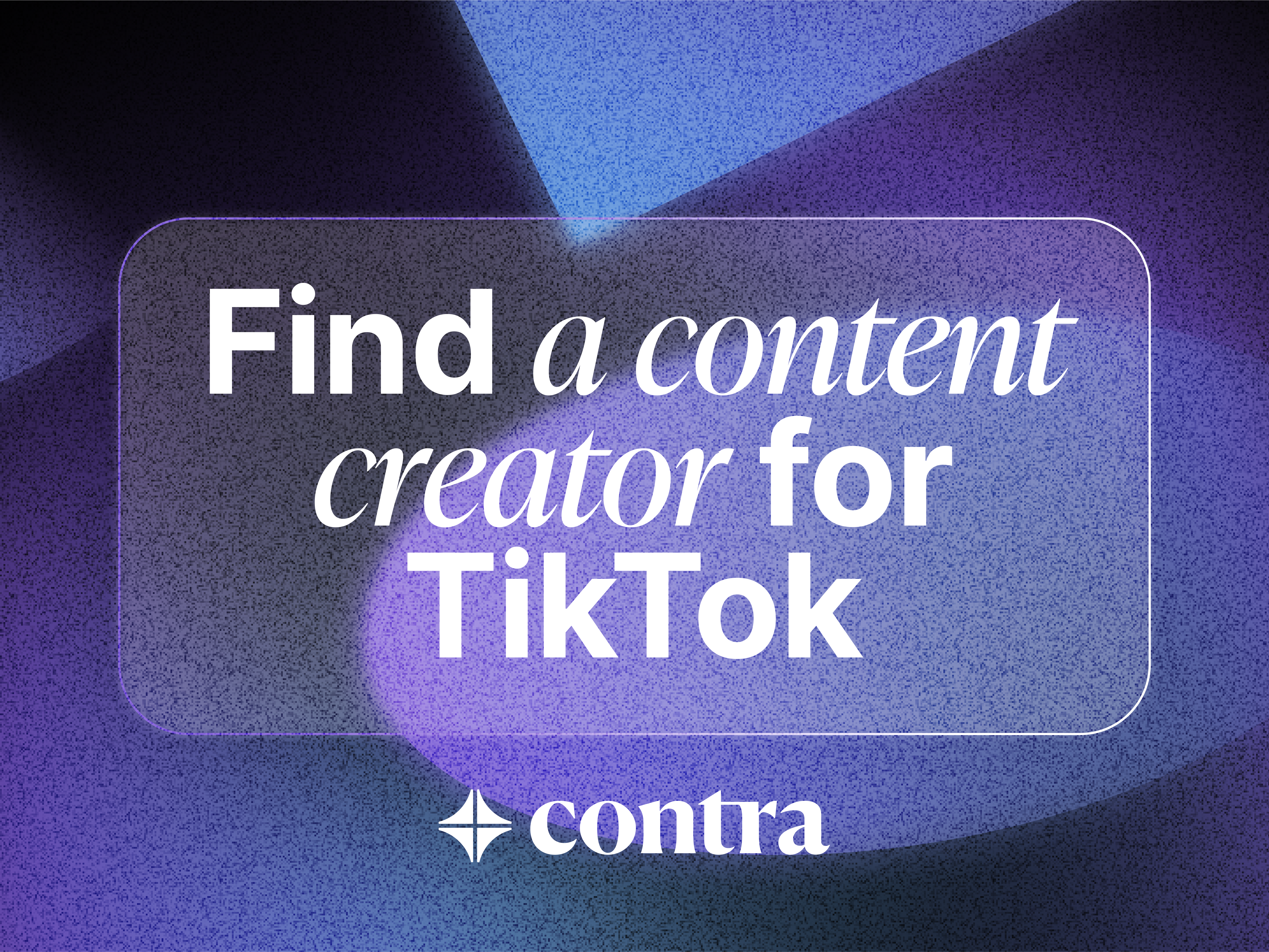 Janjira Sun
Copywriter focused on changing the future of work
journalist turned independent turned contrarian. currently working with contra to build the future of work 💗