Everyday Tools for Independents 💪
Remote Working & Freelancing

Shandice Stallworth
· 6 min read
Breaking up with the traditional idea of work to embark on an independent journey takes courage—a lot of it. And as a fellow independent who quit my stagnant marketing job at the beginning of our global pandemic, I know firsthand how scary yet thrilling it can be to hit reset and create an entirely new path.
Securing clients introduced me to a whole new world of invoicing, time tracking, and contracts that initially felt intimidating. The great thing about managing new clients through Contra is that they handle the boring and complex stuff like project terms and signing contracts. You can also use Contra to showcase projects and services, communicate with clients, and receive commission-free payments. Cha-Ching🤑🤑🤑
Besides the time-saving and empowering tools that Contra offers, If you are anything like me, having additional tools that make managing the day-to-day demands of independent work easier is a must! So here's a list of everyday tools to help you streamline the business and admin part of your independent journey (without breaking the bank in the process) 💰💰💰
Tools to keep you organized🗄️📁
Though going independent was the best decision I could have made for my career, I must be honest; it came with trial and error. It took me some time to figure out the best way to manage my workflow, onboard new clients, and organize my growing list of projects. Google Workspace (formerly G Suite) and Asana are two tools I swear by, they helped me develop an organized system and get my independent life together!
Google Workspace
A digital workspace and organization tool
Starting price: FREE
Google Workspace is my one-stop-shop for drafting client work on Google Docs, sending emails through Gmail, and hosting meetings on Google Meet. It's also a great tool for collaborating with clients, organizing documents, and receiving real-time feedback on projects. Though you can access most, if not all of the Google Workspace features like Gmail, Docs, and Drive by setting up a free Gmail account, purchasing a plan (starting at $6/month) increases your cloud storage and includes a custom business email which is a great way to start building your professional image as an independent.
Asana
Project and task manager
Starting price: FREE or $10/ month for premium
I track everything in Asana! Its easy-to-use interface has kept me on track with completing both personal and professional projects. I can color code my clients, track project progress, and assign tasks to freelancers I occasionally partner with on projects. Asana serves as both a daily to-do list and long-term project manager that includes free integrations with 100+ apps, including Slack, Outlook, Google Workspace, and time tracking apps.



Tools to keep you productive and professional✍
With freedom comes responsibility, and time management and professionalism are two skills that require intention and ongoing practice. With all the time in the world, and no one telling me what to do with it, I had to build discipline and challenge myself to a greater level of professionalism. Here are three tools that helped me maximize my time, produce quality work, and present myself in the best possible light.
RescueTime
Productivity and focus assistant
Starting price: $6.50/month or a 2-week free trial
If you constantly find yourself wishing there were more hours in the day or you are easily distracted online, RescueTime is a focus-coaching tool that sits in your menu bar or taskbar and literally watches your every move. It helps you block out distractions, protects you from overworking/burnout, and tracks where you spend your time throughout the day so that you can reclaim your hours and build better working habits.
Calendly
Meeting scheduler
Starting price: FREE with premium and pro pricing options
Calendly has saved me so much time when it comes to coordinating professional meetings. I can set my availability in advance, share my meeting link with clients and eliminate the back-and-forth. In addition, Calendly is connected to my Google Calendar, making it easier for me to keep track of upcoming meetings and ensure I'm never double booked. It also allows you to connect to third-party apps such as Zoom and Google Meet to populate links for video meetings.
Grammarly
Writing assistant and spell checker
Starting price: FREE
Grammarly checks your writing to ensure it is clear, engaging, polished, and, most importantly, mistake-free. I love the convenience of having the app installed on my phone and search engine for ongoing grammar suggestions whenever I am writing an email, word documents, or instant message. The free option provides you with basic grammar, spelling, and punctuation suggestions, whereas their premium package (which I use) includes the style, clarity improvements, and additional advanced corrections for $144/ year or $12/ month.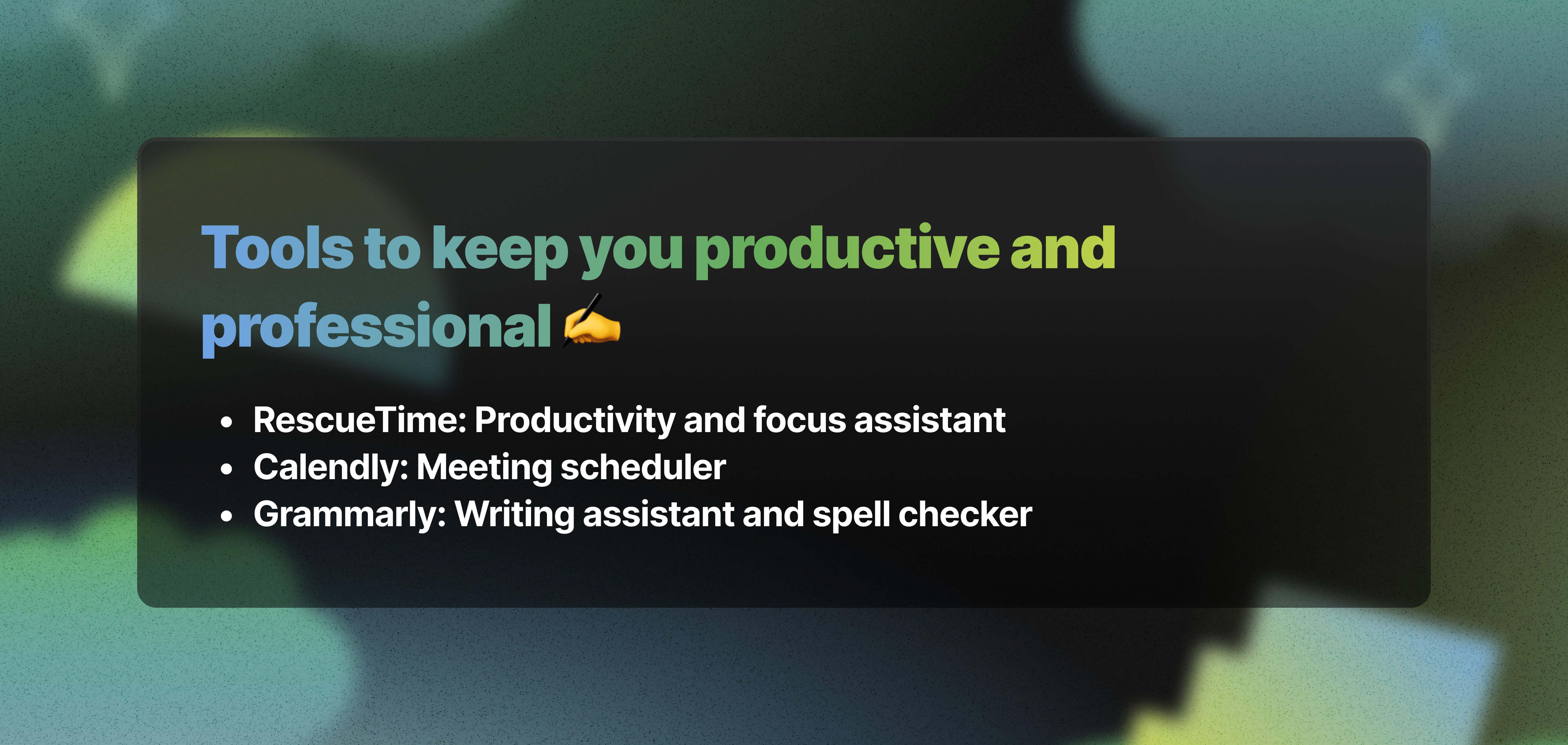 Tools to help you streamline the business side of things📈
Taking hold of our careers and working the way we want is a concept Millennials and Gen Z's are proudly embracing and making our own. The freedom to choose clients and projects that align with our skills and values while having the autonomy and flexibility to nurture our personal and professional goals are key benefits paving the way for the future of work today. While the idea of working for ourselves is freeing and filled with much excitement, when beginning your independent journey, maintaining your independent business can feel overwhelming, making it easy to drown in to-do lists and never-ending admin tasks. One tool that has kept my head above water and helped me swim above the waves is ironically called Wave, it's a tool for tracking income and expenses which makes filing taxes so much easier.
Wave Invoicing
Invoicing and accounting software
Starting price: FREE with paid options for monthly payroll services
Wave is an easy-to-use invoicing and accounting software designed to serve small businesses and entrepreneurs. They offer a free alternative to QuickBooks accounting which includes unlimited income and expense tracking, making this the perfect starting point for managing your business finances. Wave also provides you with educational resources for understanding and filing taxes as a sole proprietor.
As our independent journeys continue to evolve, so will the way that we work. The tools that I highlighted above have helped me streamline my day-to-day tasks and have empowered me to evolve at various points of my journey. As you begin to test new tools and find what does and doesn't work for you, I am confident you will steadily create a daily routine that enhances your work and gives you room to grow. One thing I will say is, give yourself room for trial and error, embrace the process and stay curious—without a doubt, you'll find what you are looking for, or maybe you'll create something better.
If you are curious, you'll find the puzzles around you. If you are determined, you will solve them. — Erno Rubik



About the author
Shandice Stallworth has a diverse background in media, marketing, and social science. She joyfully serves amazing clients who range from authors, small businesses, mission-based organizations to thought leaders and CEOs of dynamic companies. Check out more of her projects on her profile!

I joyfully serve amazing clients to create, refine, and present their most authentic message to the world. I currently partner with creative agencies, corporations, and non-profit organizations to offer strategic marketing services.