Why Freelancers Should Have a Scheduling Service
Remote Working & Freelancing

Kaitlyn Arford
· 8 min read
Your life as a solo entrepreneur is pretty busy: you're looking for clients, completing client work, and doing all the tasks that freelancing brings. How much of your precious time do you spend scheduling meetings? How often do you set up a remote meeting, only to realize that you have something else at that time? How often do you sign into a call only to realize that there's no one on the other end? 👻
Staying busy as a freelancer is great, but scheduling is a waste of your time. Instead, use appointment scheduling tools that are built to book meetings without a hassle. Let's dig into why these tools are worth your time and how you can start using them.





What is an appointment scheduler? ⏰
An appointment scheduler is an online booking page where prospective clients can schedule, cancel, and reschedule meetings.
These scheduling apps prevent double bookings or over-booking so you don't have the headache of carefully scheduling meetings. You'll be able to block out time when you're unavailable for meetings, so clients must book meetings that work with your schedule. Additionally, they'll send out appointment reminders and even text reminders so clients don't forget about your meeting.
You've got enough to do as a freelancer. Let an appointment scheduler take some work off your plate. 🍽️
Why you need an appointment scheduler 🛎️
Any business owner would benefit from using an appointment scheduler, but they're a must-have for freelancers. As an Independent, you are a business of one. Think about how an appointment scheduler can help you run your business:
Automation saves you time.

You don't need to use your valuable time to schedule client meetings. You have more important tasks that need your attention — like spending time with your family.

Book discovery calls easily.

If you're looking to expand your client base, you're going to want a way to book discovery calls. Sending potential clients a link to your appointment scheduling tool is a professional way to communicate with new clients.

No more back and forth.

With an appointment scheduler, you've eliminated the annoying back-and-forth that accompanies any appointment scheduling. All you have to do is

invite your client

to book appointments online.

No accidental double bookings.

You ever experience the anxiety that comes with realizing you booked two client meetings at the same time? Since appointment scheduling tools work with calendar apps, you'll never have to worry about overbooking or double booking again.

⚡

Improved client relationships.

When a client wanted to cancel a meeting in the past, they'd have to shoot you an email and you'd have to do some last minute rescheduling. With an appointment calendar, they can see exactly how much availability you have, and have control over changing meeting times.

Set boundaries around your availability.

Since you can set your own availability, use this time to reflect on when you want to meet with clients. Not into morning meetings? Only allow clients to schedule meetings with you in the afternoon. Don't want to talk to people on Friday? Set your availability to Monday through Thursday instead.

No more no shows.

There's nothing more frustrating than preparing for a meeting that never happens. Appointment schedules prevent prospective clients from forgetting important meetings with automated reminders.
What makes a great appointment app? 🔊
The absolute best appointment scheduling apps are professional, flexible, and easy to use. Look for appointment scheduling tools that include the following features:
Flexible appointment setter.

The appointment scheduling app you use should allow clients to easily book appointments or reschedule. New clients should be able to easily see your work hours and the time slots you have available.

Easy to use.

You're using an appointment scheduler to make your life easier. The scheduling app you choose should be uncomplicated and easy to use. Your clients shouldn't encounter any difficulties.

Mobile app.

Remote meetings can happen anywhere, so your scheduler should really have a mobile app for when you're on the go.

Buffer times.

Back-to-back meetings are no fun for anyone. Your scheduler should be able to have a buffer time in between scheduled meetings.

Affordable.

As an Independent, you know how important

pricing

is. The appointment scheduling app you choose should work with your budget. Most appointment scheduling apps (including the ones we recommend below) have a free option.

Integrations.

Scheduling apps should be able to work with your other tools like Slack and Zoom. 💻
Best Appointment Scheduling Apps ⌛
Here's our three favorite appointment scheduling software platforms that freelancers can get started with today for free:
Calendly
Contra users tell us that Calendly is their favorite, and it's no wonder why. Calendly is a popular scheduling tool that freelancers often use to set up discovery calls and client meetings.
Freelancers can create a Calendly account for free to start automating scheduling. It's easy! Click "Sign Up" on Calendly's home page. Then, just follow the sign up process. If you have a Gmail account, you can immediately connect your Calendly to your Google calendar. After that, all you have to do is customize your Calendly URL and set your availability.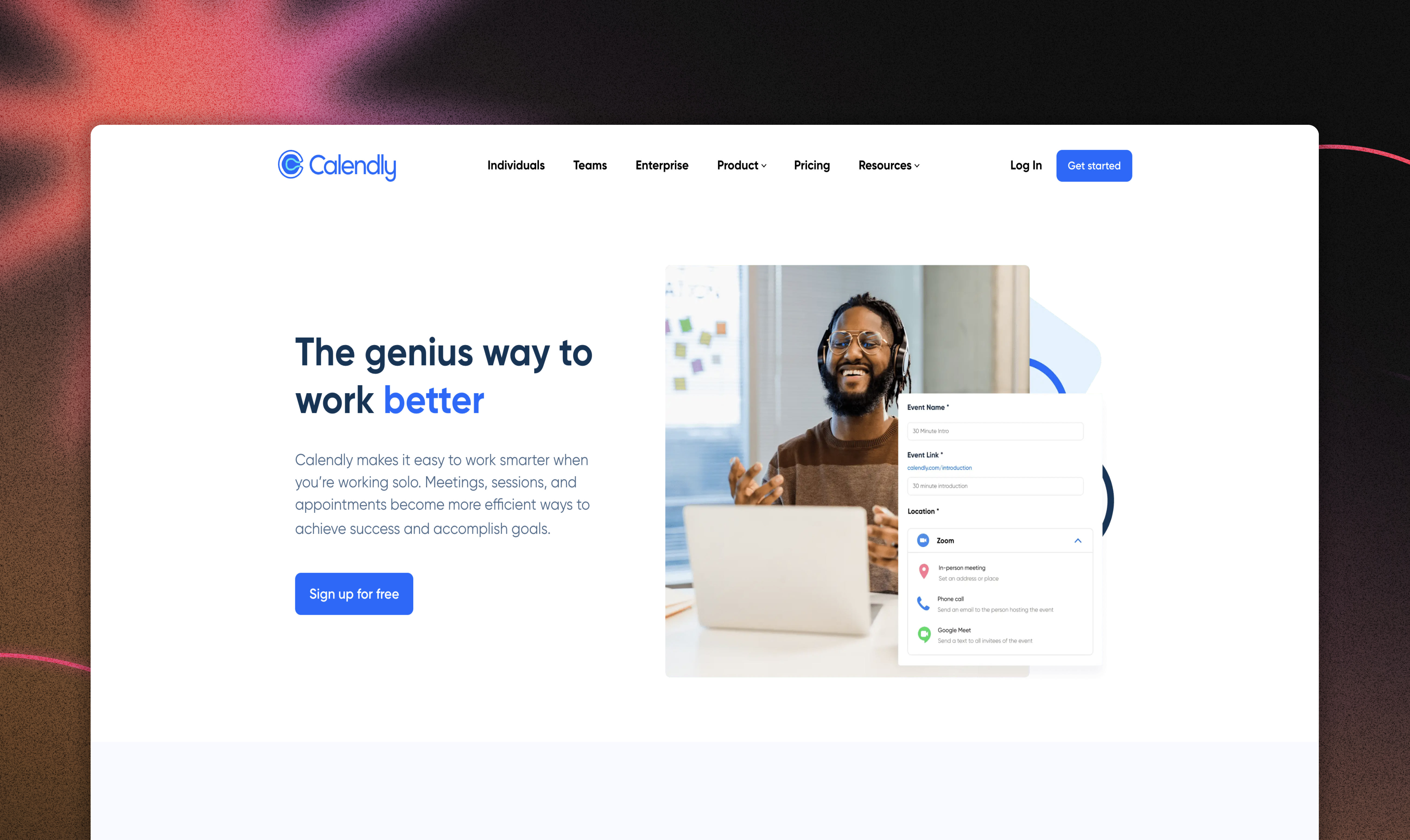 zcal
Zcal is a leading Calendly and Doodle alternative for a reason: it seamlessly integrates some of the best features of both scheduling tools.
Zcal is a free online scheduling tool that allows you to schedule one-on-one or group appointments and send meetings polls. Freelancers can easily personalize their meeting with an welcome video where they introduce themselves and their offerings. Zcal even lets you personalize booking links!
Zcal's free plan automatically integrates your preferred video conferencing tool (Zoom, Google Meet, or Microsoft Teams).
Set up a free zcal by signing up with your email. Set your username and time zone. Then follow through zcal's steps to add your location, bio, and social links (if you want). After that, set your default availability and you're good to go!


Doodle
Doodle is an appointment scheduling software that's perfect for planning meetings with large groups of people. You don't even need to pay to get started! Create an account and then choose to either create a group poll or set up a one-on-one meeting. Sending a group poll is best if you're meeting with multiple people. With a group poll, prospective clients to vote on a date and time that works best for them. Otherwise, set up a one-on-one meeting.
Doodle allows you to send automatic reminders. With Doodle, you have the option to give meeting participants a deadline to respond by — no more following up just to set up a meeting! 🎉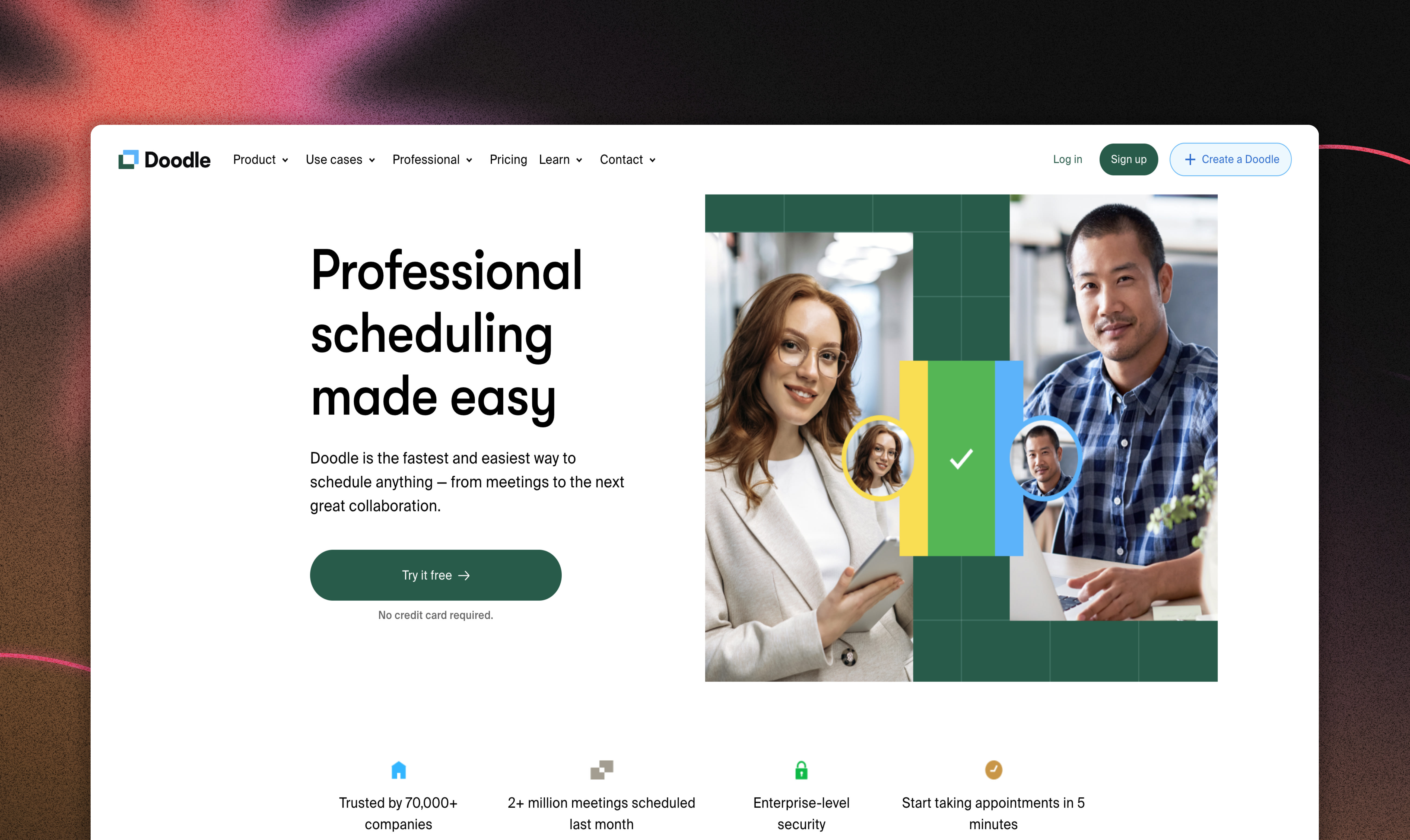 Connect your appointment scheduler with Contra chat 👓
Now that you've set up an appointment scheduler, you need to put it in action. There's no better to connect it than Contra. Clients on Contra may want to meet with you to discuss project details or to talk about working together.
To connect your appointment scheduler, click the "get in touch" button. You'll see a field for a calendar link. It's optional, so you don't have to have an appointment scheduler to send a proposal to a client or chat with them.
Enter your appointment schedule link into the "calender link" field. Now, clients can see your appointment scheduler directly in the chat. When they send you a project inquiry, you can accept or decline within the chat box.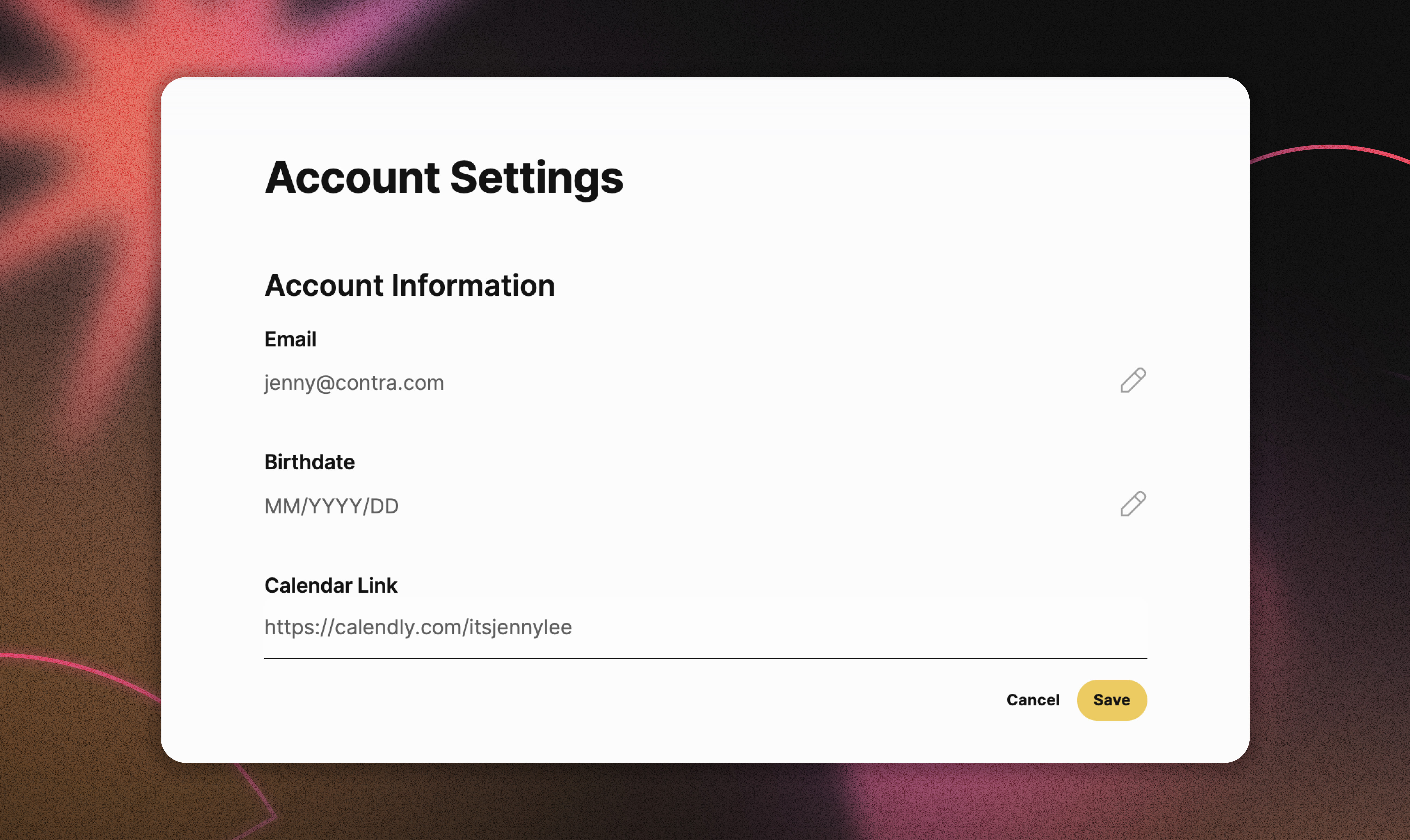 Apply to Contra opportunities with your appointment scheduler 🎯
Now when you apply to opportunities posted on Contra, you can send them a link to your portfolio and a link to your booking app. You never have to have an appointment booking app to land clients. However, having one will make you look more professional and will encourage Clients to contact you.
It's easy to add your appointment link directly to your Contra profile, if you haven't already. Click on your profile photo in the top righthand corner. Then click "settings." Scroll down to calendar link and insert your appointment scheduler link there. 🍾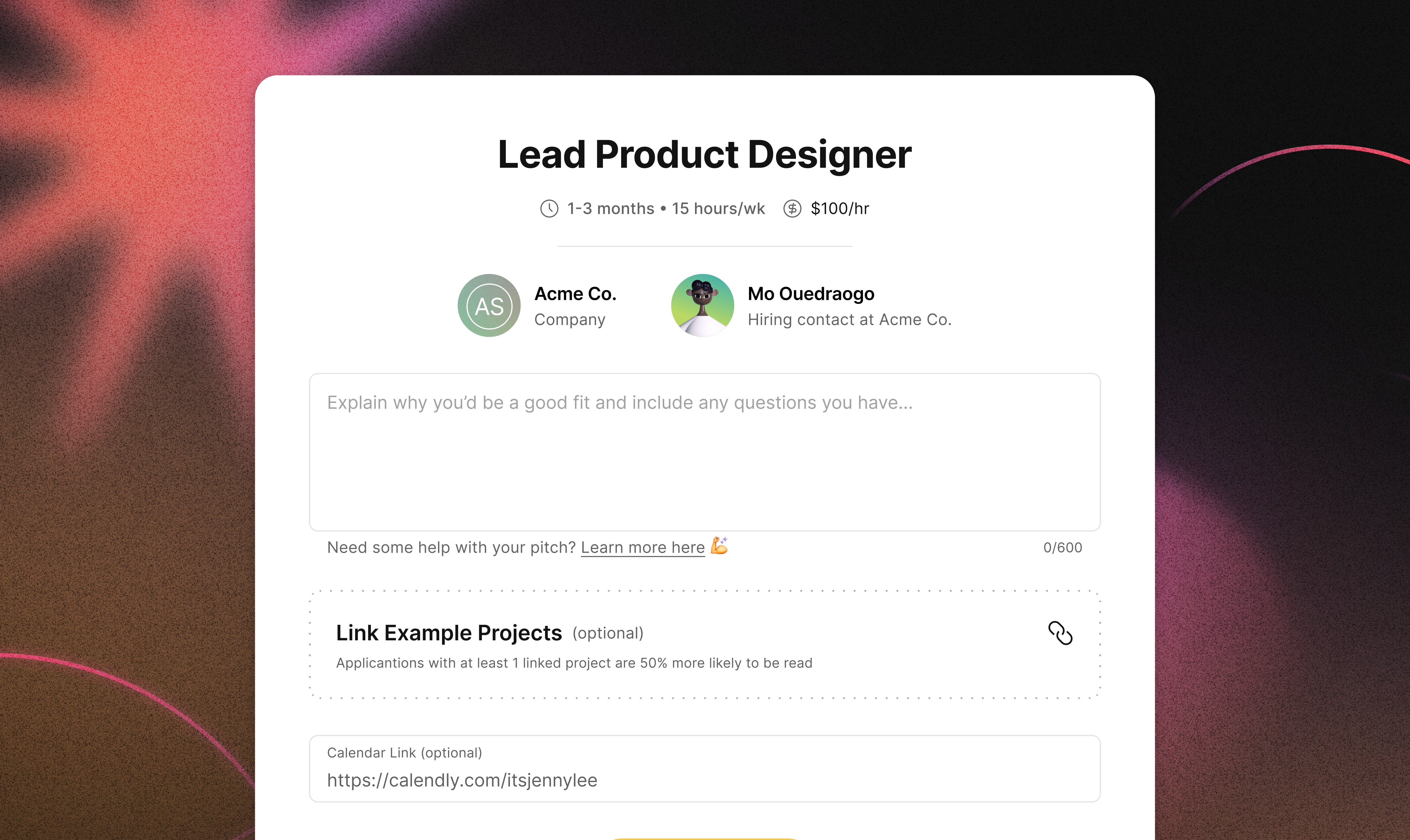 Set up your appointment scheduler today 📣
Using an appointment booking tool will help you manage your freelance business and make your clients happy. You'll reduce wasted time so you can spend it doing what you love with the people you love.
Setting up an appointment setter and connecting it to Contra should be pretty easy. But if you run into any trouble, we're here for you. Just give us a shout out at hello@contra.com.

I'm a full-time freelance writer specializing in writing features, profiles, and news stories. Every story matters. Let me tell yours. Contact me here or at kaitlyn.arford@gmail.com.