Freelance Rates: How to Price Your Freelance Services in 2023 💵
Remote Working & Freelancing

Kaitlyn Arford
· 10 min read
Understanding how to price your services is as important as knowing how to provide them. But figuring out what to charge as an Independent is confusing and frustrating.
We're here to help you sort through this murky subject. We dive into three types of pricing strategies: flat rates, hourly pricing, and milestones. Since structure is only one part of pricing, we've included other important considerations and resources



Choose a pricing structure 💸
Sorting through different pricing strategies is something every Independent struggles with. Should you charge hourly or by project? Should you include milestones?
Every freelance business is different. Experiment with multiple pricing models to see what works for you. Different pricing structures may work better for some services more than others.
Hourly rates ⏰
Charging by the hour is something most people are familiar with, and one that many freelancers start out with. Even if you don't charge by the hour, you'll want to know your minimum acceptable rate. Your minimum acceptable rate represents what you need to charge to cover your expenses. To calculate this, divide the number of hours you work annually by the amount of money you need.
For example, let's say that your living expenses come to $5,000 a month ($60,000 a year). Now let's say you add 25 percent to cover your salary, making it $75,000 a year. If you work 1,400 hours per year, your minimum acceptable rate comes to about $52 per hour.
This number is your floor, not your ceiling. It's a good guideline to start with so you have a ballpark of what you need.
That said, charging an hourly rate can cause issues:
Hourly rates penalize experienced freelancers.

As you become more efficient, you can complete high-quality work in less time.

Hourly rates don't recognize your value.

It's harder to account for the knowledge, skills, and value you bring to a client with hourly rates.

Projects may take longer than anticipated.

This could leave you in a lurch as you do a lot of unpaid labor.
Read our Guide to Flexible Projects for more!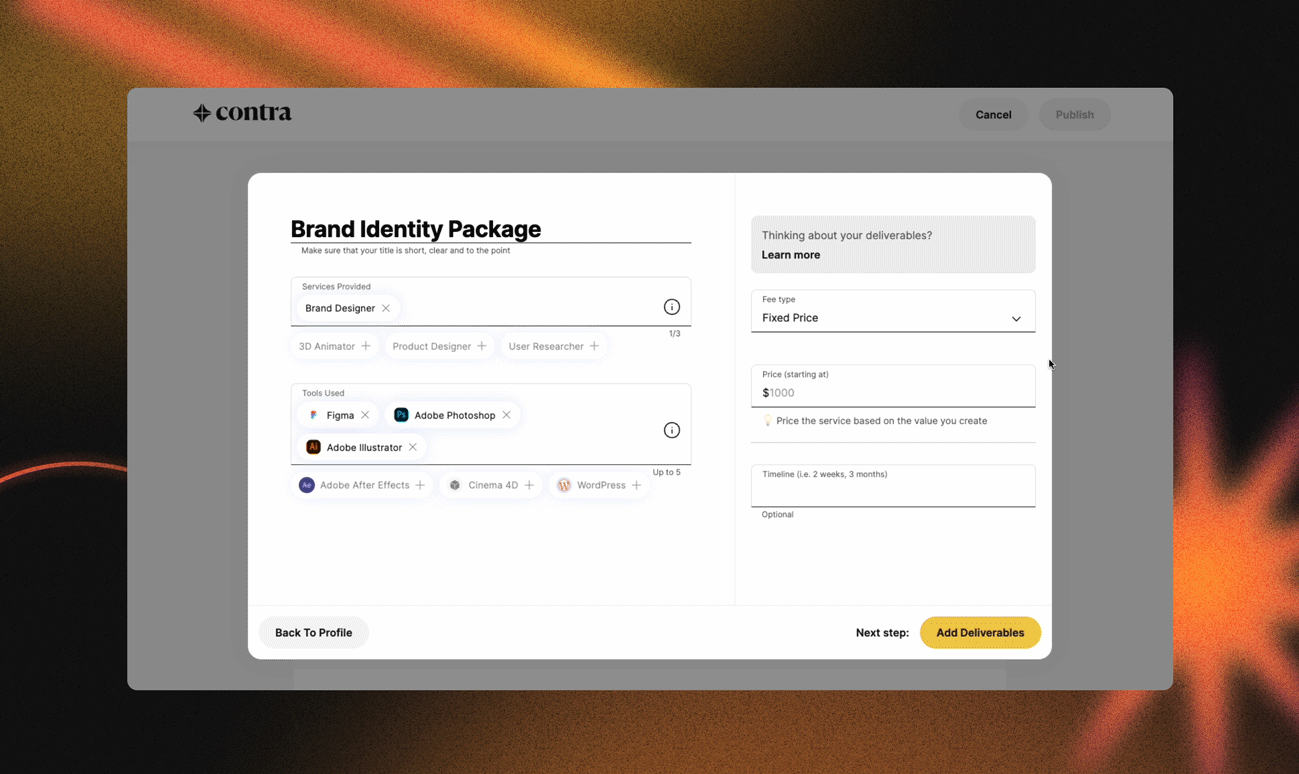 Project milestones ⌛
Milestones seamlessly integrate project-based pricing with important achievements. Instead of being paid at the end of a long-term project, you're paid at significant milestones that highlight completed work.
There's many benefits to using milestones:
Milestones break down long-term projects.

Milestones are ideal for large projects or clients you're working with over a long time.

Milestones create more cash flow.

Instead of waiting for one lump sum, you get paid as you go.

Milestones help you avoid scope creep.

Milestones are one of the best options for avoiding scope creep, as you can check in with your client through the development of a particular project.
These checkpoints allow you to be paid when you complete subtasks. However, figuring out how to break down a large long-term project can be hard!
On Contra, you can split your project into milestones complete with a description and an assigned payment. When you've completed a milestone, hit submit. Your client marks it as complete and you get paid!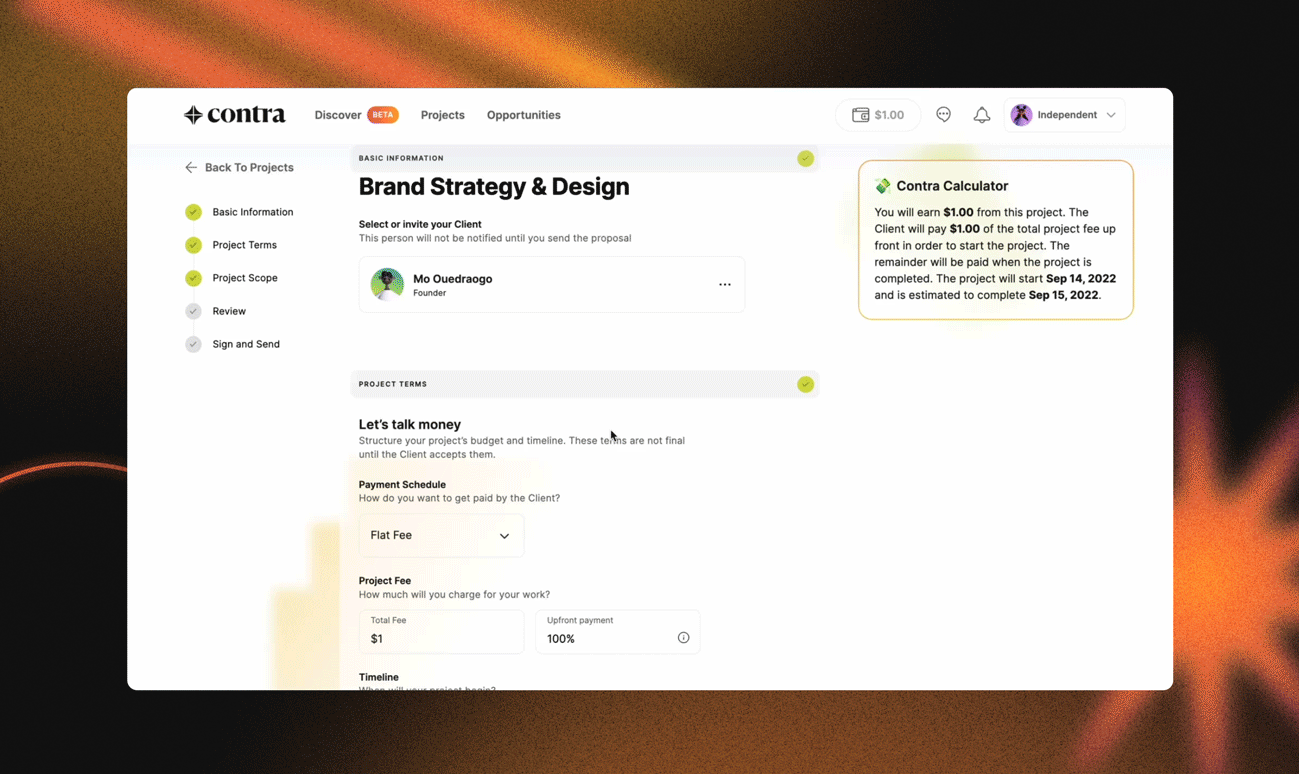 Project rates 📅
Charging by the hour or by milestone might not work for you. With a fixed flat rate in place, you and your client know exactly how much each deliverable is worth. Flat rates make it easy to accommodate your client's budget and creates a smooth workflow. There's many perks to charging flat rates:
Your rate doesn't depend on your hours.

With an hourly rate, you're making your best guess at how long a project will take you to complete. That can become a headache as you have to keep track of your hours.

Your pay structure is transparent.

Your client will know exactly how much to pay upfront and what they'll pay when you deliver.

It's easier to raise project rates.

If the scope of the project changes or your rates rise, you can raise your rates with a fixed amount.
For large projects, ask your clients to pay you a deposit before you begin work. It's easy to do this on Contra, where you can request an upfront payment in any flat rate project. Choose a percentage of the project's fee that you'd like to receive — 25 or 50 percent is normal.


Make it easy for clients to pay you 💸
Once you've priced your services, you naturally have to consider how you want to manage projects and accept payments.
You'll be paid fast and without a commission fee on Contra. It's easy:
Create a professional proposal complete with your deliverables. Include your milestone, flat rate, or hourly pricing.

Send the proposal with Contra's ready-made contract to your new clients.

Your clients sign the contract and load funds into the Contra Wallet. You don't have to worry about chasing down unpaid invoices.

Complete your project and submit it.

You're paid via direct deposit or Crypto!
If you have Clients or Independents outside of Contra, learn how to invite them to your Paid Projects here!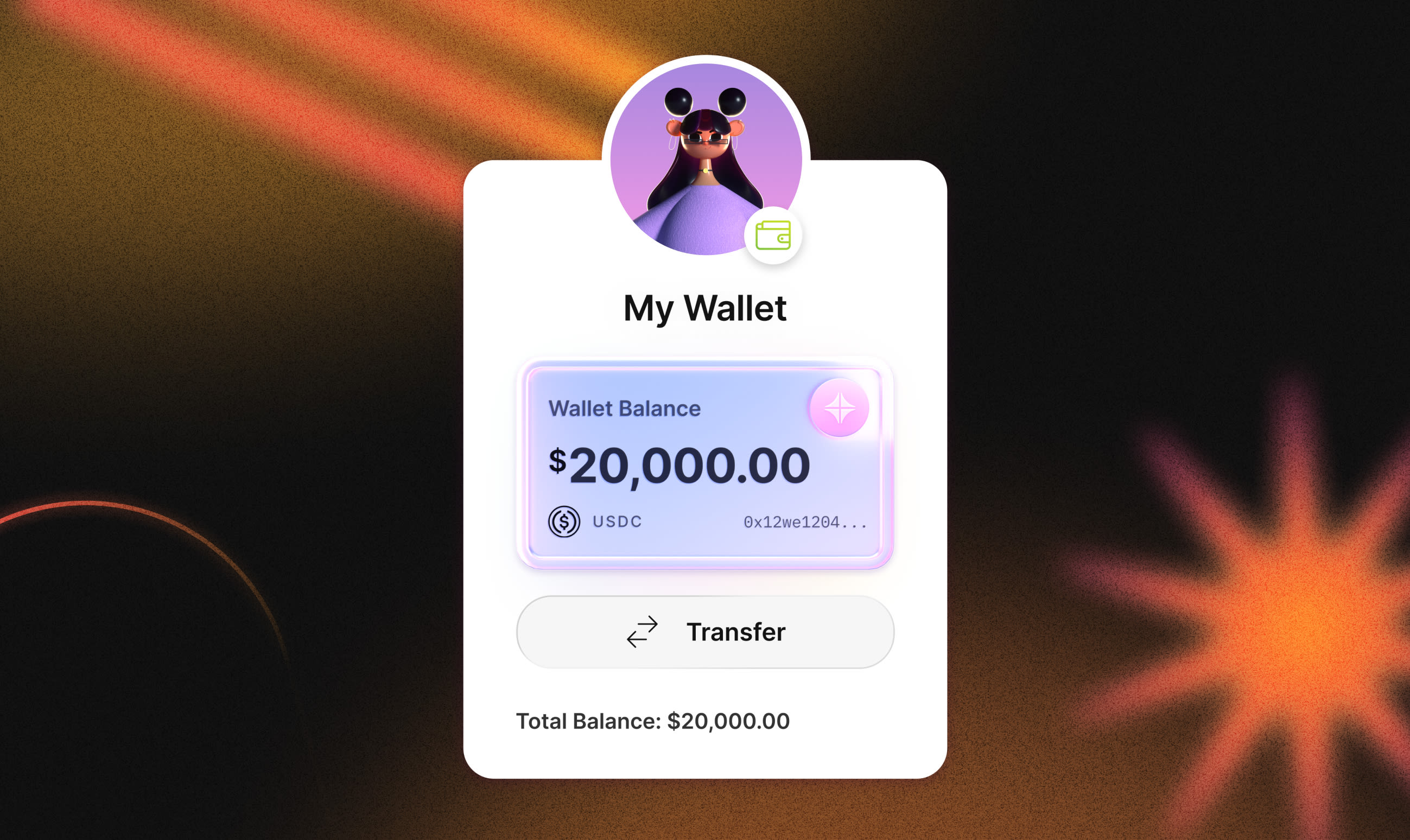 Do your research 🫣
Now, let's dive into other factors that affect your pricing: your monthly expenses, mindset, and knowledge of the freelance world.
Take a look at your living expenses 🤔
An important step of developing your pricing strategy is understanding your personal finances. Make a list of all your monthly expenses and any essential business expenses.
Consider your living expenses:
Food

Rent

Utilities

Internet

Phone plan

Health insurance

Car insurance
And think about the cost of running a small business:
Business-related subscriptions (like editing software)

Technology

Income tax

Accounting services
These costs add up, and you need to make a profit. Expect to set aside about 20 percent of your earnings for self-employment tax.
Speak about budgets upfront 🤑
Talking about money is one of the more uncomfortable realities of freelancing. While you have a freelance rate in mind, a client has a budget to stick to. There's many benefits to talking about a client's budget upfront:
Pay transparency helps everyone.

Talking about money is no longer as taboo as it once was. A transparent budget helps freelancers know that they are being paid fairly for the work.

It helps you evaluate project scope.

By understanding the budget, you can better understand your client's expectations. You can decide if you need to negotiate a smaller project scope or pass on the opportunity.

Knowing the budget saves you time.

If their budget is nowhere near your desired prices, you need to know immediately. Otherwise, you're wasting important time vetting the client and project.
Asking a client about their budget isn't something you need to be afraid of. Be straightforward:
"What is your budget for this project?"

"What have you paid for similar projects?"
On Contra, clients must include an hourly or project rate in any project they post. And low-paying work isn't allowed here: Contra projects must pay at least $25 per hour. Every opportunity has a transparent budget, so you can avoid this awkward conversation.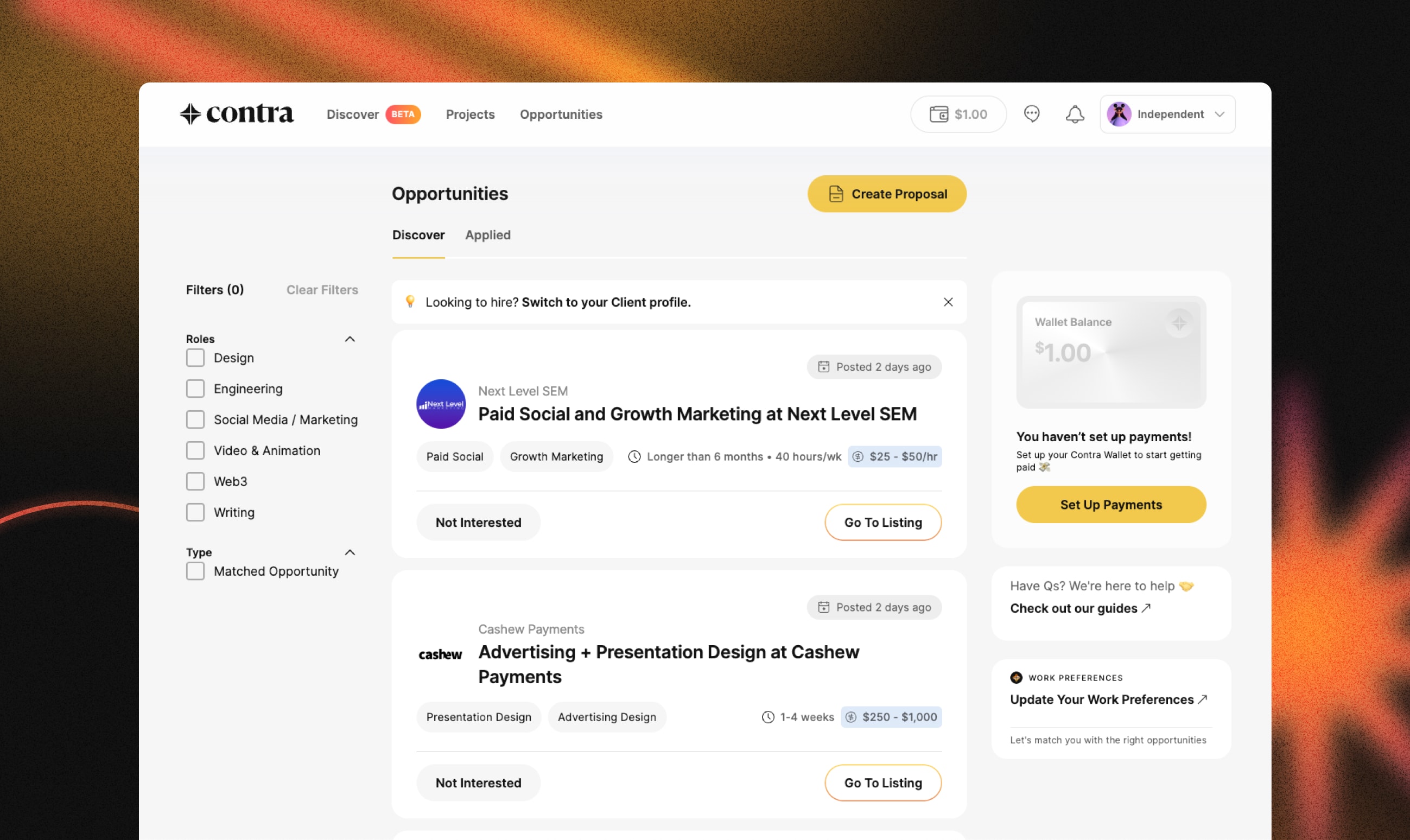 Consult resources on how to set your rates 📚
One of the most frustrating parts of figuring out your pricing is having no idea what it's normal to charge. You must do your research so you're not undervaluing your services.
Consider the following questions:
What do other freelancers charge for similar work?

What makes your services unique?

Is there an industry standard for this type of work?
Your rates will depend on your experiences, goals, and client base. However, there are lots of free resources you can consult, including:
Many freelancers are happy to share what they've charged for similar work. Connect with other Independents in Contra's Slack community or on Twitter.
Develop an abundance mindset 🔮
When you start working as an Independent, it's easy to consider accepting lower rates. You might see opportunities posted for low wages, or a long list of people who have applied for a gig.
This creates the perfect recipe for a "scarcity mindset." When you're obsessed with a lack of money or resources, it's difficult to move your focus elsewhere. You end up taking on projects that pay pennies or putting up with difficult clients. Charging below your worth is a path toward burnout. It will leave you doing a lot for a little.
Changing a scarcity mindset into one of abundance is difficult. Try practicing affirmations that counter your negative beliefs. Tell yourself "there's plenty of clients out there who will value my skills." Speak with a financial advisor or therapist to better understand your relationship with money.
Remember to increase your pricing
Sometimes you're going to need to increase your pricing. Here's how you handle raising your rates and charging for rush jobs.
Charge for rush jobs 💵
There are going to be times when a client wants to move up a deadline. For you, this could mean the difference between going out to dinner and working the weekend.
First, consider what it's worth to you. Are you okay missing the Kentucky Derby for a deadline? Will you have to push back other client work?
If you're okay working on a rush deadline, charge a rush fee. Your client will either decide to pay you more or be comfortable with the original deadline. Say this:
"I can have this to you by [date]. I charge a rush fee of 25% for this expedited timeline, and in this case the rate would come to [X]. Does that work for you?"
Raise your rates over time ⬆️
As you gain experience, certifications, and skills, you have more to offer your current clients. It's perfectly normal to raise your rates for any reason, but here's four specific signs it's time:
You're in demand.

If you have people knocking on your door, you can afford to be a bit more choosy. Why not ask for more money?

You haven't raised your prices in a year.

Full-time employees often get a raise each year. Small businesses raise their prices. Why shouldn't you?

Other clients are paying you more.

If you've inked a contract with another client at a higher price point, that's awesome! Quote this higher price point to other potential clients.

Your cost of living has increased.

Market inflation is a valid reason to raise your prices. Plus, business expenses increase over time, and you need to be able to make a profit.
If you find yourself hesitating out of fear, try out a higher rate with one client. Give them at least a month of notice before charging them the new rate. Many clients expect freelancers to raise their rates. Try out one of these scripts:
I'd love to work on this project. Is there any room in the budget for a higher rate?

I'd love to work with you, but that rate is lower than what I'm okay taking on. Is there any room in the budget for a rate around [X]? If not, we can discuss adjusting the scope of the project or I can refer you to another freelancer.

I raise my rate to account for my new skills and experiences that allow me to serve you better! As of [date], I'm raising my rates to [X]. I look forward to continuing to work together in the future!
Charge the way you want 🏆
Ultimately, whether you charge per project, by the hour, or through milestones is up to you. One specific payment structure won't work for every Independent or project. Work the way you want with Contra.



I'm a full-time freelance writer specializing in writing features, profiles, and news stories. Every story matters. Let me tell yours. Contact me here or at kaitlyn.arford@gmail.com.