Contra vs Upwork
Remote Working & Freelancing

Kaitlyn Arford
· 6 min read
As an Independent, searching for freelance work is just part of the job. Freelance sites like Upwork and Contra provide a straightforward way to discover opportunities that allow you to work the way you want.
These marketplaces connect hard-working Independents with clients who need their skills regardless of where they live. Deciding where to create a profile will ultimately depend on your personal preferences and goals.
As you consider the differences between Upwork and Contra, you'll need to understand how each site works, how these freelancing websites can help you land clients, and how you'll make money. Let's dive in.



How does Contra work? 👋
Contra allows anyone to build their digital portfolio, get discovered by clients around the world, and earn money commission-free. Here's how it works in four easy steps:
Create a customized profile.

On Contra,

you can build a profile

that highlights your favorite projects, best skills, and experience.

Look for clients who need your skills.

Use Contra to look for freelance opportunities directly through the platform.

You can also bring existing clients to Contra!



Apply to remote Job Opportunities:

Find an opportunity you're interested in? Great! You can see the client's budget, project deliverables, and company details all in one place before sending your application in. It's free to apply and always will be.

Manage your Paid Projects.

Whether you have existing clients or are starting from scratch, Contra can handle every step of the creative process with built-in contracts and

flexible payment options

. And we never take a percentage of what you make!
How does Upwork work? 📝
Once you create an account with Upwork, you have to complete a profile and a verification process before you can search for freelance work.
When you find a freelance job you'd like to apply for, you apply using a certain number of "connects" (virtual tokens that freelancers must use to bid on opportunities).
There's no upfront cost to using Upwork, but freelancers only get 10 free connects per month to submit proposals. To get more connects (which are needed to submit proposals to multiple clients), freelancers have to:
upgrade to the

Freelancer Plus

plan for $14.99 a month

buy connects for $0.15 each

earn a limited number of connects
In addition to looking for freelance work, freelancers can list services for sale, like website design or translation. If an independent worker finds a client on the freelance platform, they can charge clients through hourly or fixed-price billing.
Before freelancers transfer their hard-earned dollars into their bank accounts, Upwork takes a commission fee ranging from:
20% of anything under $500

10% of anything between $500.91 and $10,000

5% of anything above $10,000
Much like making a sale on Mercari, both clients and independent workers have to rate each other. These ratings are published on freelancer's profiles.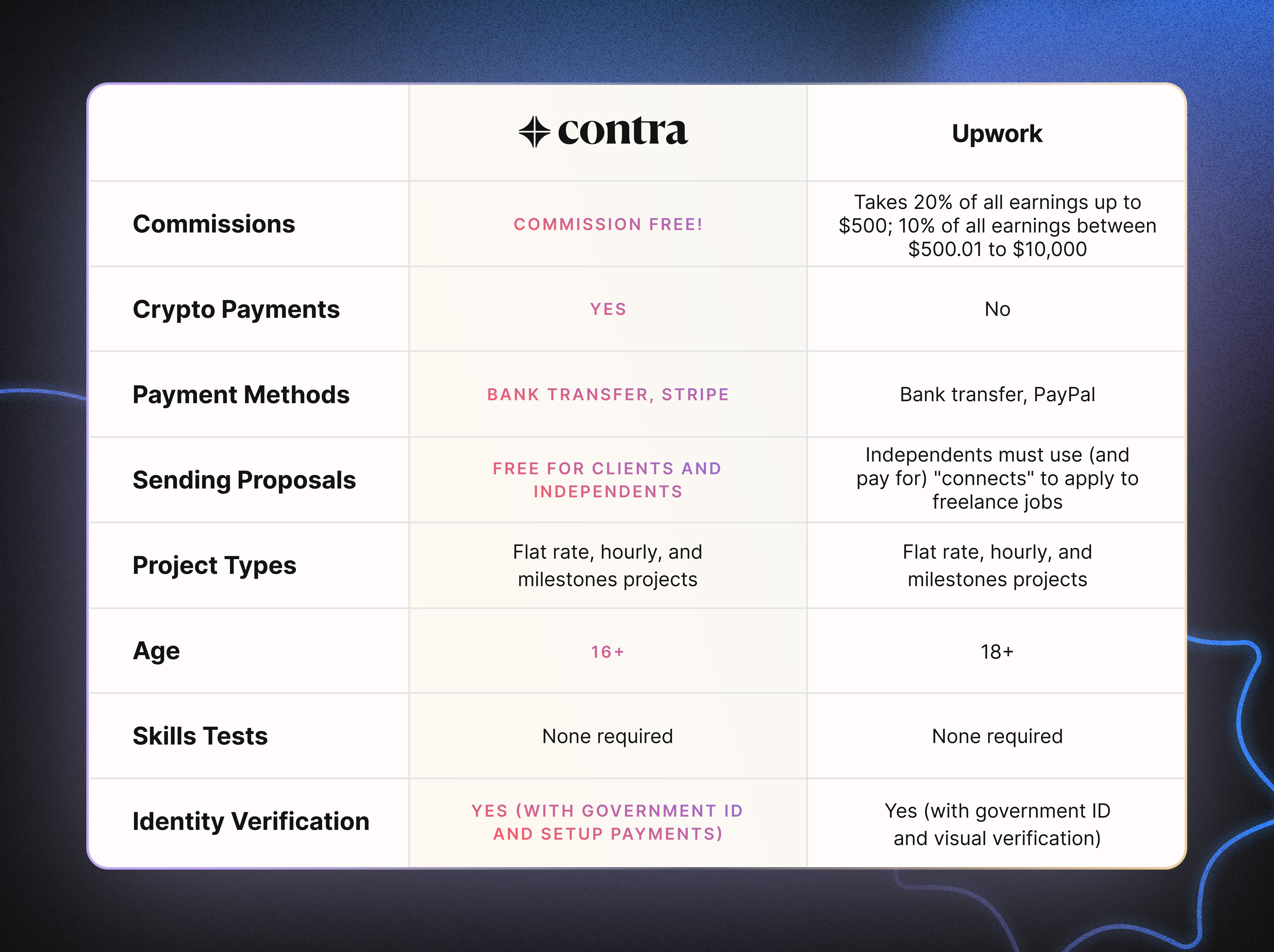 Important differences between Upwork and Contra 👇


Now that you know a little about how Upwork and Contra work, let's dig into a few crucial differences between them.
Contra vs Upwork: Customizing a profile 🤓
Creating a stunning portfolio is your first step toward landing fantastic clients.
Upwork profiles look more like a resume. You can add your job title, skills, work experience, education, and certifications there, but there's no way to truly customize your profile.
With Contra, your identity is front and center. Your profile starts with a little about you: a quick bio, your social links and the type of work you do. From there, clients can toggle between your work, services, and recommendations. Contra makes it easy to show off your best assets.
Once you create, or improve your Contra Profile, you have better chances of showing up on our Discover Feed.

Find Top Indepednents
Contra is the Independent-first community and hiring hub shaping the future of work — all commission-free. You bring the skills, we provide the tools and oppor…


Contra vs Upwork: Cost 💸
Upwork is an expensive choice for an independent who is just starting out.
Upwork makes most of its money by charging freelancers service fees, according to a 2021 SEC filing. Freelancers pay a commission on everything they make (ranging from 10% to 20%) as well as:
Purchases of connects

Foreign currency exchanges

Monthly membership fee (optional)
On the other hand, you can set up your Contra Profile for free. All paid features on Contra are "opt-in" that help you grow your Independent business. Otherwise, all Independents (freelancers) on Contra get paid commission-free.
Contra vs Upwork: Rates 💰
On Upwork, freelancers have to bid against each other in order to land a contract. Additionally, Upwork allows clients to post contracts that pay a minimum of $3.00 per hour. This can easily become a race to the bottom, and Upwork's own community is full of complaints of low-paying jobs.
Every opportunity on Contra is transparent about the scope of work and budget involved. Since Contra doesn't take commissions, the hourly or flat rate you see on the site is exactly what you'll be paid.
With Contra, you can take your money home through US-based bank payouts or Crypto payments (in most countries). Plus, Contra doesn't make any profit off of exchange fees. Contra is continuing to add more payment methods to serve you better!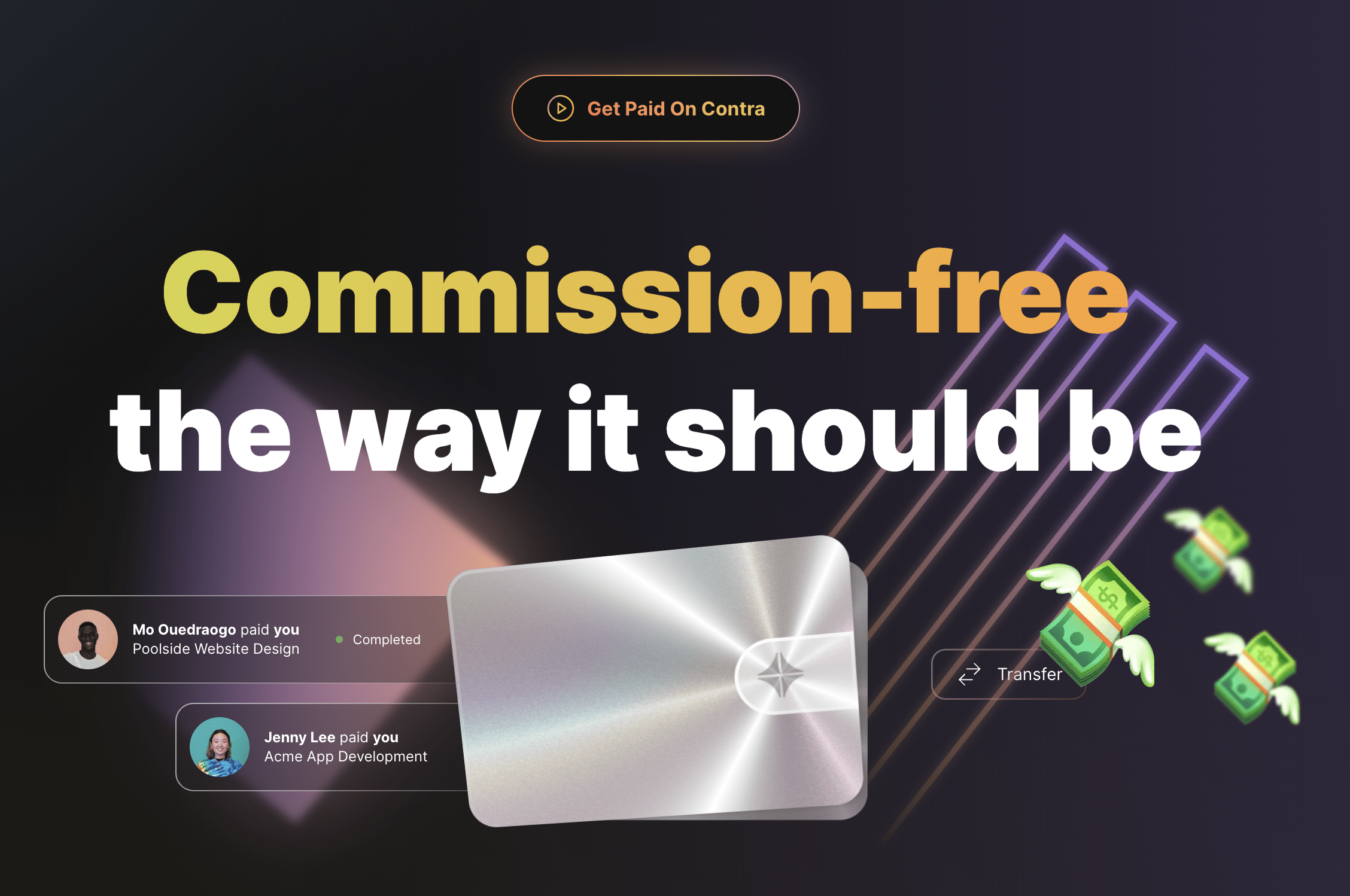 Types of Work 🎉
Designers, writers, developers, marketers, videographers, and other Independents can find work on sites like Upwork and Contra. Additionally, both freelance platforms allow independent workers to bring their own talent and clients into the mix.
Both Contra and Upwork support:
One-time projects

Projects with multiple milestones

Hourly projects
Contra Independents control how and where they work and the kind of rates they accept. Independents can filter through matched opportunities or the different types of roles available. Clients can even hire Independents for their services directly on the site!
On Upwork, you can search through 90 different categories to find work. Unfortunately, searching for freelance jobs on Upwork does mean wading through low-paying opportunities.


Be on the lookout for more

🚀
Like we mentioned before, Contra is built by Independents, for Independents. We're always adding new features to improve your experience.
For more information on how Contra works, check out our FAQs. If you still have questions, feel free to reach out to hello@contra.com or check out the rest of our guides on The Contrarian.







I'm a full-time freelance writer specializing in writing features, profiles, and news stories. Every story matters. Let me tell yours. Contact me here or at kaitlyn.arford@gmail.com.