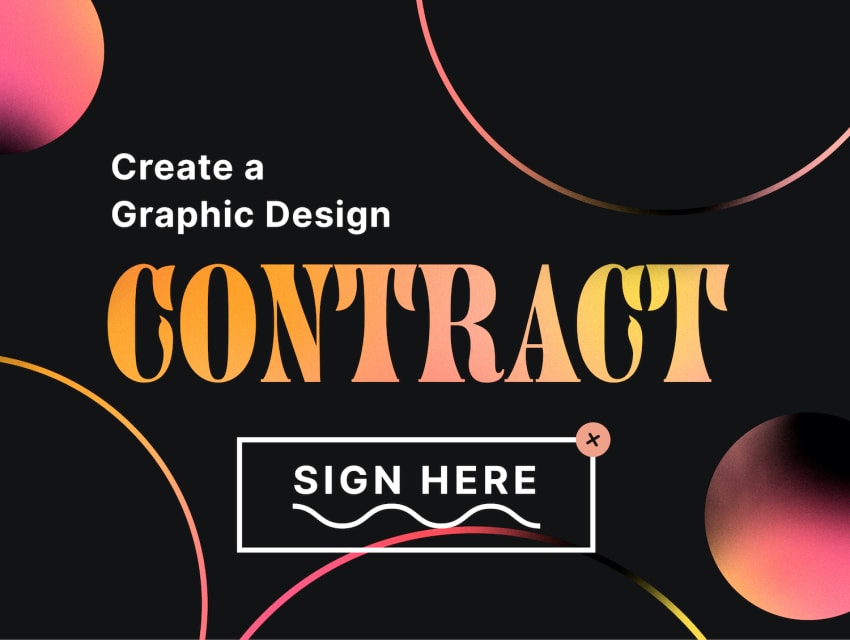 Anyone who's been an independent graphic designer for any amount of time can probably agree on one thing:
No two clients are the same.
Some will be a breeze to work with — answering messages quickly and trusting your instincts when it comes to graphics.
Others?
Not so much.
Unfortunately, there are also clients who expect endless revisions and expect them the moment they request them — even after ignoring your emails for three weeks and throwing the whole project timeline out of whack.
It's not that these are "bad" clients, it's just that they need to be educated on the best way to work with you to help projects go smoothly.
That's why today we're gonna educate you on how to educate them with the best tool at your disposal: The graphic design contract.
Why You Need a Graphic Design Contract
As we mentioned above, first and foremost, a graphic design contract is an educational tool.
It's a guide to the tasks you'll each need to complete and the best time and order in which to complete them to make sure the project — and relationship — goes smoothly.
Secondarily, a graphic design contract is a promise as well as protection.
It promises both parties what they can expect from the project and should also include language that protects each party (more on that in the next section) should anything not go as planned over the course of the project.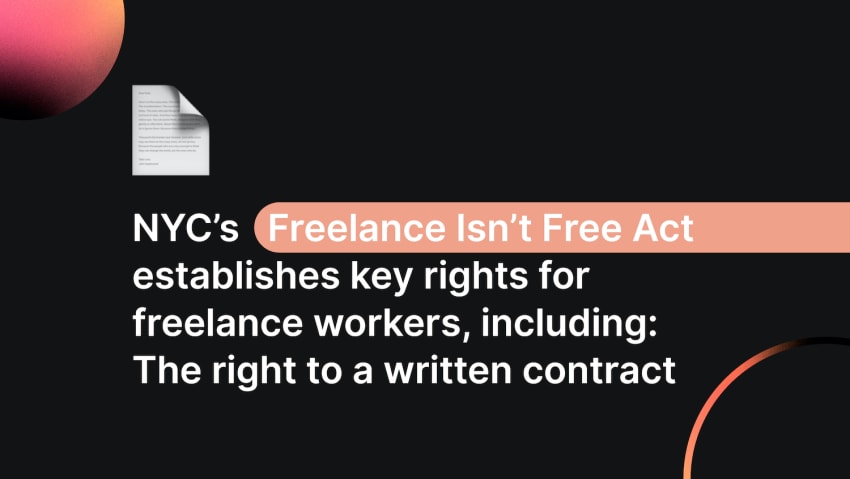 What You Should Include in Your Graphic Design Contract
While our overarching advice for this entire article is to make your graphic design contract your own, here are the key elements we think you should consider including in your contract:
Work Details
Yep, we're starting off kinda vague to make sure you don't do the same when it comes to your contact. We think it's best practice to start each contract off with a description of what the project is. This is mostly to make sure you and your client are on the same page about the project at hand and to help both of you avoid straying too far from the confines of that project.
The Deliverables
Deliverables are the items that will be delivered over the course of the project. For designers, deliverables include things like sketches, design files, etc. Be as specific as you can be when listing out deliverables. It couldn't hurt to also detail how you're going to deliver each piece — via email, via traditional mail, etc.
And while most contract advice only focuses on the designer's deliverables, we recommend also including the deliverables that you'll need from your client, if any. For example, outline the raw files, brand guidelines, color or font specifics, and anything else you need to get your job done.
Project Timeline
If you're working on a finite project with a client, it can be really helpful to include the deadline by which the project will be completed along with a schedule for each deliverable along the way.
Be sure to include a plan for how long you'll wait for feedback or other resources before adjusting the overall timeline.
While timelines are almost certain to flex over the course of the project, they can help both parties stay on track when working together.
For ongoing projects, such as designing graphics for a client's lively blog, you might still find it helpful to include a rough timeline for each deliverable over the course of your relationship.
Payment Details
Outlining the payment details is one of the most important functions of a graphic design contract. The basics you want to include are the total cost of the project if it isn't ongoing, how you'll charge for your work (hourly, daily, a flat rate, etc.), how payment should be made (PayPal, direct deposit, etc.), and of course when payment is due.
It's wise to ask for payments in clear increments and is becoming more accepted to even require the first installment upfront. Many independent workers prefer either three-payment installments (split into 40%/40%/20% or 30%/30%/40%) or two-payment installments (25%/75% or 50%/50%). Along with these installments, be sure to provide details as to when you expect to send each invoice (look to your timeline to inform this decision) and when it should be paid — same day, 7 days, 2 weeks?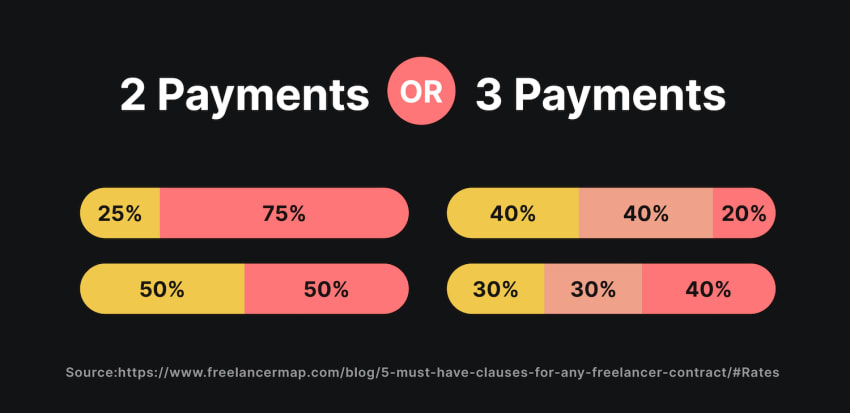 Revisions
Oh, revisions. As independent workers we've probably all got funny stories (in retrospect, anyway) about clients with, ahem, interesting requests for revisions.
We recommend outlining exactly what a client revision looks like, how many are included, and how long the client has to request and approve them. This of course shouldn't rule out their ability to request infinite revisions — it just puts you on solid ground to request payment for those extra revisions if they do.
Add Ons and Change Orders
Speaking of extra revisions, be sure to include a clause that allows clients to change or add services to your agreement for an additional fee. The benefit of this strategy is two-fold. It ensures you get paid for all the work you do and it also gives you the opportunity to market and "upsell" your design services.
Penalties
What will you do if your client pays you late? How about if their payment doesn't go through? Or what if they decide they want to cut the relationship short before the contract has played out?
Since you can't exactly pay your bills with "Sorry I'm late on payment!" emails, you need to make sure the penalties — aka the fines — are clear for clients who break the agreement they signed.
Whose Intellectual Property Is It?
The debate of who owns graphics completed for payment is a complicated one.
Do you own it because you created it? Or does the client own it because they paid you for it?
The American Institute of Graphic Arts provides several different ways to handle intellectual property ownership:
A

license for limited usage

enables you to keep ownership of and even reuse the final graphics as well as limit the ways your client can use them.

An

exclusive license

enables designers the same rights as above but says that they may not use the same deliverables with another client.

Assignment of rights

means you sign over your ownership of the product and the client is free to do with it whatever they want.

Work-made-for-hire

automatically gives the client full ownership of the work.
However you want to handle ownership of the final project, make sure it's explained in your graphic design contract.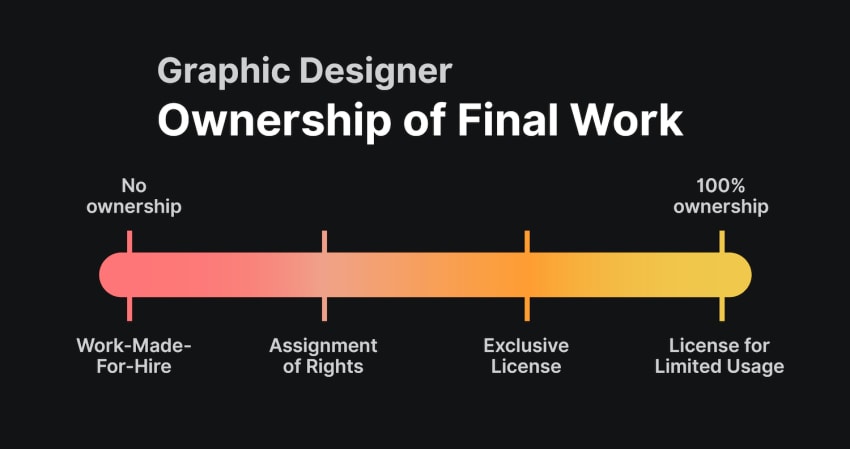 Promotions
No matter where you land on the intellectual property discussion, make sure you include a clause that allows you to use the work in your portfolio for promotional purposes.
And speaking of your portfolio, do you have a strong digital presence for your independent graphic design business?
If not, check out Contra: A modern platform for independent professionals to create profiles that highlight their work and their community in the freelance space.
You can start creating your identity as a skilled independent graphic designer in just minutes. All it takes is a visit to our Sign Up page where you can create an account and start building your profile, adding your favorite projects and collaborators, and laying out your services and rates.
Force Majeure
Finally, every good contract should include a plan for "force majeure" — which is a phrase used to define situations outside of either party's control that keep them from acting on the agreement as planned.
Force majeure could include a natural disaster in the client's country or your work laptop being damaged in a house fire.
The most important element of this section is outlining what happens if a contract has to be delayed or canceled? Will you cut ties cleanly, will the client get all their money back, or will it be a combo of both?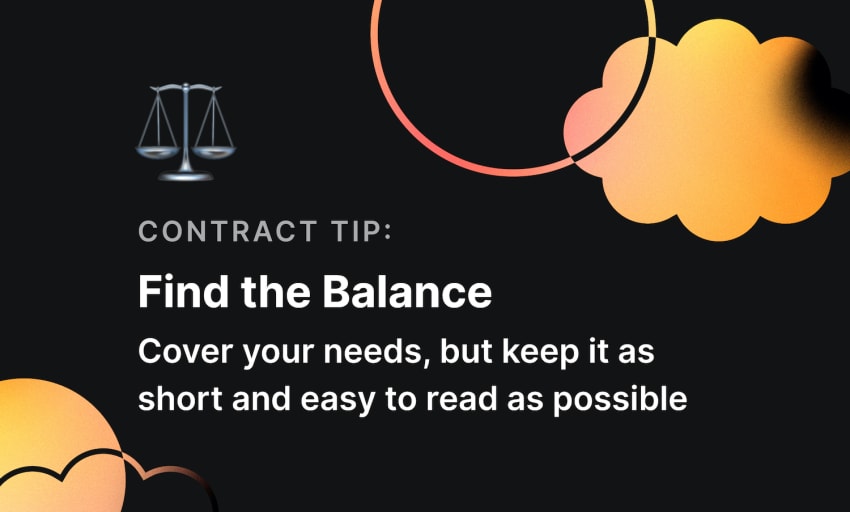 Options for Sending Your Graphic Design Contract
PDF contracts are the new gold standard for graphic design contracts — replacing the physical, paper contracts of old.
That said, we don't necessarily think they're the best option. Why? Because they require too much manual effort and too little security on your part.
What do we think is a good option? Electronic signature software.
With the right software, an electronic signature is just as legal as a physical one. Plus, the provider can often supply more secure storage options for your contracts than your computer desktop or Google Drive can. In addition, many electronic signature solutions may help you create contracts quicker with saved temples and get them signed quicker with automated signing reminders.
While you should of course shop around (this comparison page from G2 should help), the big names like DocuSign, HelloSign, and so on are trustworthy options.
Graphic Design Contract Templates for Independent Designers
Just like examples can be helpful when working with a new graphic design client, they can also be helpful when creating your first graphic design contract.
On that note, here are some examples and templates you can check out if you need help getting started:
If you do choose to work with a contract template or example, be sure to carefully review and customize any template that you choose.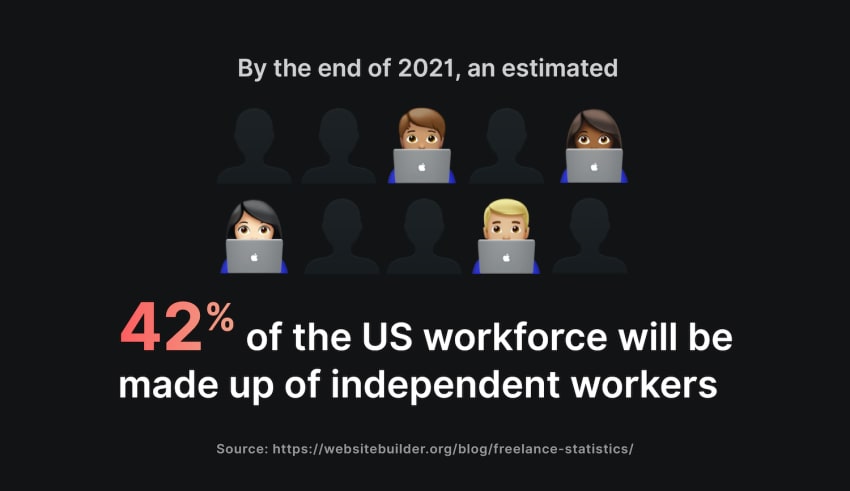 Is Your Freelancer Identity as Strong as Your Graphic Design Contract?
The tips above should put you on the path to creating a strong graphic design contract.
So what's next?
Finding more projects to use that contract on by building up your digital identity as an independent designer who does great work — and is great to work with!
In just a few minutes you can have a profile set up on Contra — a modern platform that blows resumes and quasi-professional social media channels out of the water by putting who you are as a freelancer front and center.
Sign up for Contra with a single click and see what the future of work will look like.