The Contra Guide to Creating a Unique Marketing Portfolio 👀

Discover how to create a standout marketing portfolio, land remote clients, and boost your freelance career with this comprehensive guide.
For freelancers, a marketing portfolio is the ultimate pitch asset — often in website format. It provides a window into your creativity, skills, and job experiences that make (or break) a first impression. Creating an engaging, well-thought-out portfolio with a superior design is your secret weapon. If you do this well, you're setting yourself up for success — and you might land the job of your dreams. 
If you're hunting for your first remote client, we've got a roadmap for learning how to create a captivating online presence, expert tips on the benefits of a strong marketing portfolio and we offer a glimpse at some inspiring examples made with Contra's Portfolio tool.



Why do you need a marketing portfolio? 🌟
For any Independent marketer seeking new opportunities in today's competitive job market, there's no better way to present yourself quickly and effectively to potential clients than through a personal website showcasing your skills, experience, and unique value.
A well-crafted and robust portfolio sets you apart from other candidates, no matter what you specialize in, by helping you:
Showcase your values and skills.

Highlight your core values when building your portfolio. Digital marketing skills should be front and center, alongside other principles and soft skills. Combined, these points should define your professional identity and give some indication about your personality, setting a tone for readers. 

Prove your expertise to potential clients.

A strong portfolio is evidence of your marketing knowledge and expertise — it gives potential clients confidence in your ability to take their brand to new heights. 

Spotlight your most successful projects.

A marketing portfolio demonstrates your education, training, real-world experience, and achievements by showcasing your best work.

Establish industry authority.

An attractive and cohesive marketing portfolio lends credibility and

power to your personal brand

. It helps position you as both a thought and industry leader because it displays your track record and ability to communicate your expertise. This isn't just useful for potential clients; it's ideal for use across industries and as a lead asset for any other possible collaborations. 
What should a marketing portfolio include? 📈
A well-rounded marketing portfolio should present your professional journey and showcase not only your best work but also your personality, integrity, and accomplishments. To create a stellar marketing portfolio, make sure you include the following six elements:
A short (but relevant) bio.

Craft a concise "About Me" section that covers your background, experience, and unique selling points. Include details about your interests outside work and add a headshot if you're feeling it — this is your chance to make a memorable first impression. 

Your past work.

Curate an all-star selection of your favorite, most impactful projects. Choose work that demonstrates the breadth of your experience to give potential clients a glimpse of your depth and versatility.

Contact information.

Include your email address, phone number, and social media links to make it easy for potential clients to find you online — where many people look first to learn more.

Successful case studies.

Delve into the details of your most successful projects, sharing the challenges, strategies you employed, and overcome issues to achieve results. To add to your work's emotional appeal, use images or videos and bring your case studies to life!

Testimonials.

Include your best testimonials from previous clients or coworkers to boost your credibility. Third-party proof, like a review, can be the deciding factor for potential clients — if someone else appreciates your work, they may too.

Awards and recognitions.

Showcase any awards, certifications, or pats-on-the-back you've earned to further solidify your status as a skilled and accomplished marketing professional. 
If you're early in your marketing career, it's crucial to demonstrate your potential in your portfolio since you might have limited experience. List relevant internship roles, personal projects, volunteer work, and academic achievements to promote your skills and knowledge. For example, consider including a hypothetical marketing campaign or use a past school project — detail the creative process, target audience, and proposed strategies to emphasize your drive, resourcefulness, and passion for marketing.
How to make a marketing portfolio in 8 steps 💸
Now that we've got the why, let's discuss the how. Creating a marketing portfolio requires thoughtful planning, content curation, and ongoing maintenance, but trust us; it's worth the effort.
Follow this step-by-step guide to create your own: 
Choose an online platform 🛒
Choose a user-friendly platform to create a customized personal website. Contra's Portfolio tool offers a custom domain and various marketing portfolio templates to suit your unique style and preferences. Other popular options include WordPress, Squarespace, and Wix.
Outline your site map 🗺️
Choose a template — if that's an option on your platform — and develop a clear outline of your portfolio's content and structure. Most marketing portfolio websites include 3–5 pages. 
Start writing the content 📜
Do your best to craft compelling, informative content and be concise. Make sure to write in an active voice, avoiding adverbs when possible, and pay particular attention to your bio; this is your chance to hook your potential client and convince them to continue exploring your portfolio. 
Choose your best projects 🙂
Carefully select your top projects that represent the diversity of your marketing skills, such as social media marketing, email marketing, and digital ad campaigns. For a clearer understanding of this work and to keep readers engaged, consider adding YouTube videos, graphic design, blogs, and website content. 
For each project example, include:
An image

A link to the campaign where it now lives (if possible)

A description of your role in the project

The results, along with descriptions of what you did to get them, using specific numbers 
Gather testimonials from former clients ✍️
Compile glowing testimonials that highlight your exceptional work. These prove your value, demonstrate your ability to work well with others, and be memorable. Also, reviews and references from former or current coworkers help round out your image. 
Place your contact details in various places 📱
Make it easy for potential clients to contact you by including your contact information in different places throughout your portfolio. Add a header that exists across all pages of your website, and put your information on a contact page. 
Test your website out 🖥️
Request feedback from trusted peers to ensure your site is polished, user-friendly, and communicates your professional strengths — ask what sort of impression they had after viewing, and ask for specific commentary on what you can change and improve on. To ensure usability across devices, don't forget to get them to review versions on both desktop and mobile.
Publish, promote, and analyze your metrics 🚀
Publish your marketing portfolio! Once it's live, promote it through your networks and track key metrics to gauge its performance, then, share it on social media and remember that it doesn't have to be perfect — it's a living document you can update whenever it occurs to you that something needs changing. 
4 tips for making an outstanding marketing portfolio 💣
Build an outstanding marketing portfolio using a few best practices to enhance your presentation and showcase your strengths. Here are some critical tips for creating a genuinely impactful portfolio:
Be concise.

When it comes to information, think of quality over quantity. Communicate your experience, skills, and accomplishments concisely without including excessive details. Brevity is your friend.

Be organized.

Arrange your ideas and content logically. This makes it easy for potential clients to navigate your portfolio and find what they want. 

Think like a client.

Design your website with the end-user in mind. Aim for a friendly, intuitive user experience, and remember to optimize for mobile devices. 

Keep it up to date.

Update your portfolio regularly with your latest projects, skills, and accomplishments. This demonstrates your commitment to continuous learning in the ever-evolving world of marketing.
3 marketing portfolio examples to inspire you ✨
To spark your creativity, let's look at three exceptional examples created with Contra's Portfolio tool. Each website demonstrates best practices in portfolio design:
Olivia Kelliher 🍬
Olivia's portfolio features a fun, minimalist design with a well-defined color palette that enhances her brand. This marketing and social media portfolio example immediately highlights her key skills, drawing in potential clients. The clean layout makes the information easily digestible and engaging.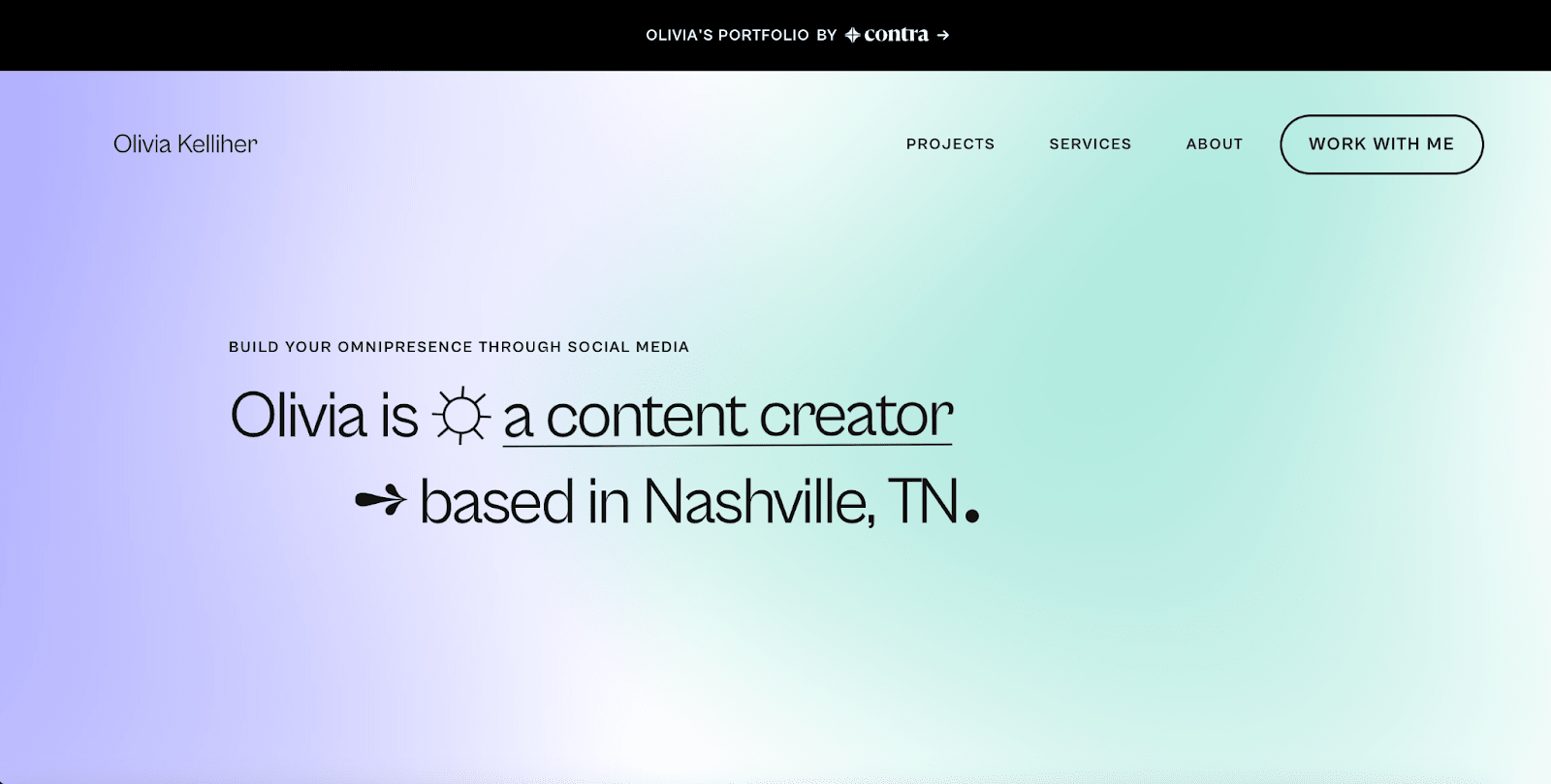 Hannah Woa 🔥
Hannah's portfolio showcases her creativity through dark, eye-catching backgrounds and typography. The dynamic color scheme creates an immersive experience that entices potential clients to explore further. Her site also features a detailed "Services" section with catchy titles. Remember to be memorable!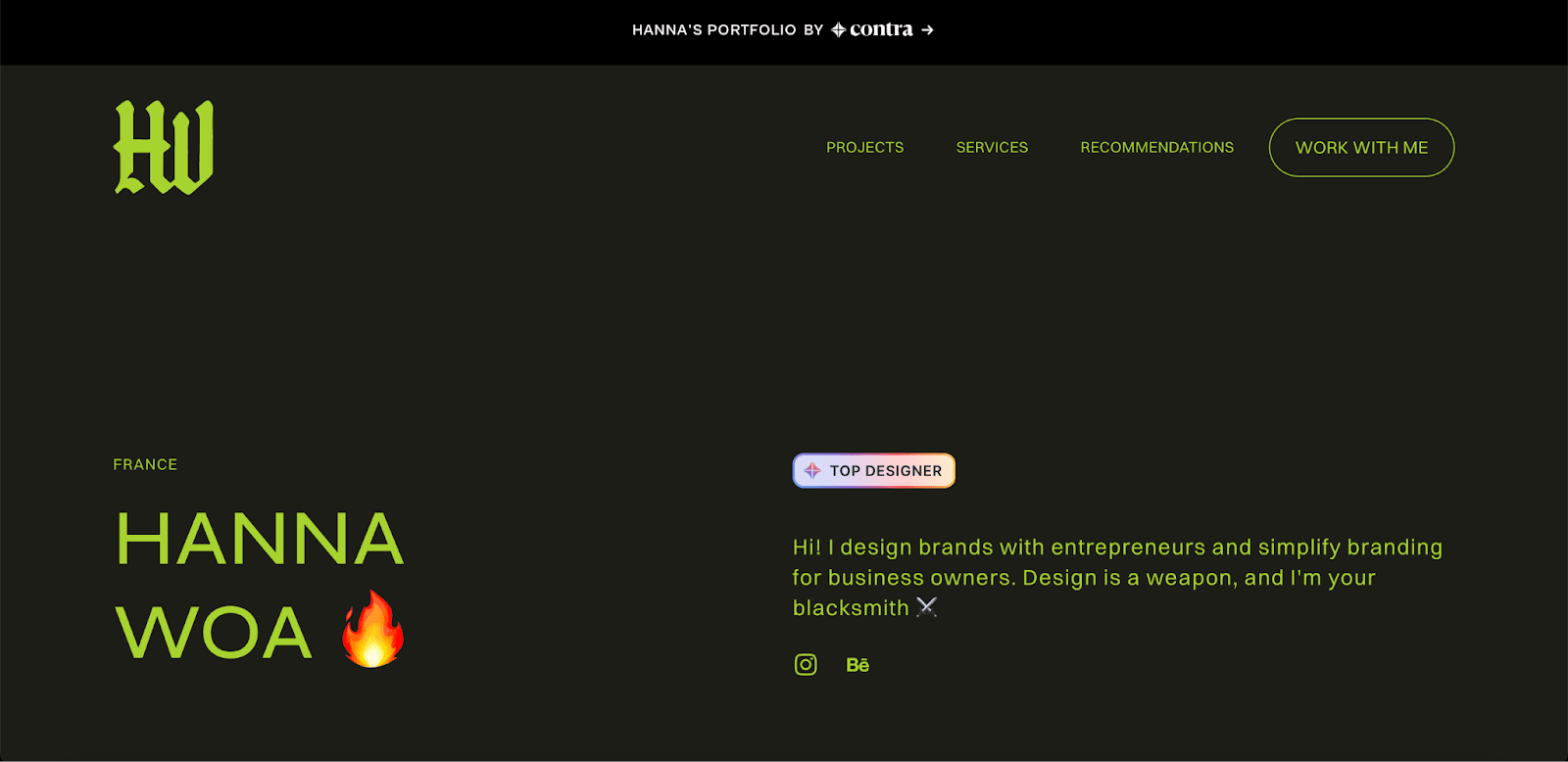 Jamie Wright 👁️‍🗨️
Jamie's portfolio is a prime example of how to tell a compelling story. The concise messaging on the homepage immediately captures the visitor's attention, and the portfolio section is visually appealing with labeled tiles, making it easy for potential clients to browse through the work.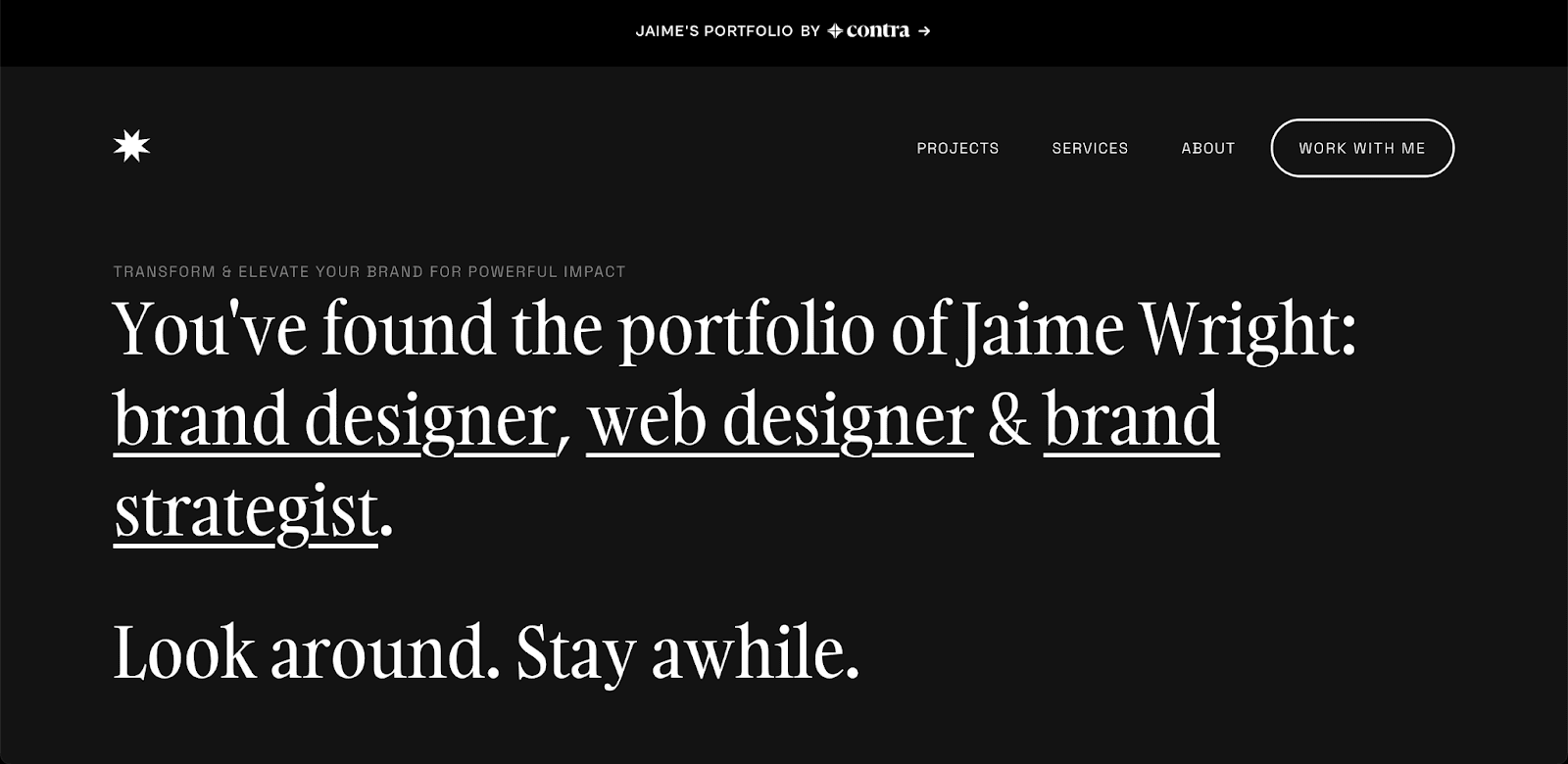 These three marketing portfolios demonstrate the power of effective design, storytelling, and organization that create a memorable experience for potential clients. Take inspiration from these examples and apply best practices to your portfolio to create a unique experience for your future clients.
Feeling inspired? 🪄
Elevate your freelance marketing career with Contra! The design of our commission-free platform helps you easily manage your business, offering a suite of powerful tools, including Portfolios. Contra empowers you to focus on what truly matters — landing clients and delivering exceptional results. 



Need some help? You've come to the right place. Here, you'll learn more about Contra and how we can help you with your journey.