Creating a Portfolio for your Freelance Career
Remote Working & Freelancing

Kaitlyn Arford
· 10 min read
As a freelancer, your professional portfolio is your best marketing tool.
Our newest feature, "Portfolios by Contra" gives you everything you need to launch, build, and grow your Independent career.
Let's talk about why your portfolio is valuable and how to create one that gets you hired!



The Importance of your Portfolio 💻
Your Portfolio is the first asset you'll share with potential clients, and the first thing they'll want to see.
Professionally present your worth.

Why should people hire you? Your portfolio is your chance to argue why

you

are the best candidate. Establish your expertise in one location so prospective clients will want to hire you.

You own your portfolio.

Unlike social media sites like Twitter or LinkedIn, you own your portfolio. Social media companies can change their policies at any time, but your portfolio will last forever.

Portfolios establish your credibility.

As an Independent, you want to show that you're trustworthy, credible, and professional. Clients are more likely to hire you if they think you're a pro!

Portfolios are easy to share.

If a client asks for your work experience, what do you send them? If you want to make a good impression, you better have a portfolio ready to go. Without a portfolio, your clients have to do a lot more work to get to know you — and many will move on.

Other Independents have portfolios.

Even if you don't want to put time and effort into a portfolio, Independents who offer similar services will have a website to show prospective clients. Most small businesses (71 percent) have a website, according to a

Top Design Firms

study. If you don't have a portfolio, you are shooting yourself in the foot.

Generate new leads.

Your portfolio serves as a sales funnel for new business, helping you passively attract new Clients! Portfolio by Contra are automatically hooked up to our built-in contracts, project management tools, and commission-free payments so you can turn any interested viewer into a new paying client in one streamlined funnel!
What to Include in Your Portfolio ✨
Your Portfolio is powered by your Contra Profile — aka: where your work experience, services, and recommendations live. With a click of a button, we automatically populate all of this information into a stunning new personal website.
Here's what you'll find on a Portfolio by Contra:
Your services.

It's one of the most important factors clients will consider before hiring you. Your services will narrow down the leads you get, so you only receive inquiries from Clients you're interested in.

Your past projects.

Clients are going to want to look at your

relevant experience

before they hire you! We know you have tons of work experience, but we recommend showing off your best projects that show off your expertise. Feature photos and links to your past projects. Add detailed information about your process. Highlight results achieved for past clients.

Recommendations.

Clients will want to know what people think about working with you. Visible testimonials clearly demonstrate your professionalism and add credibility to your name.

A call-to-action.

What's the point of posting all of this important information on your portfolio if you don't give Clients a next step? Tell your Clients to get in touch with you with a call-to-action statement. Every Contra Portfolio comes with a bold call-to-action "Work with me" button clients tap to directly contact you.

Contact information.

Make it easy for people to connect with you! Include your email address or social media accounts in your bio. If you don't want to, that's cool! Clients can reach out through your Contra call-to-action.

A short bio and tagline.

Introduce yourself! Tell everyone about who you are, who you work with, and what you do. This can be as simple as saying: "I'm an audio engineer who edits audio for narrative podcasts."

The right website layout.

Once you have your important components, you must choose the best website theme to show them off. Think about how your audience will engage with your information. Portfolios by Contra are the only portfolio website templates made specifically for freelancers. Every piece should be accessible and easy to scroll through 🚀
The Difference between Contra Profiles and Portfolios by Contra 📣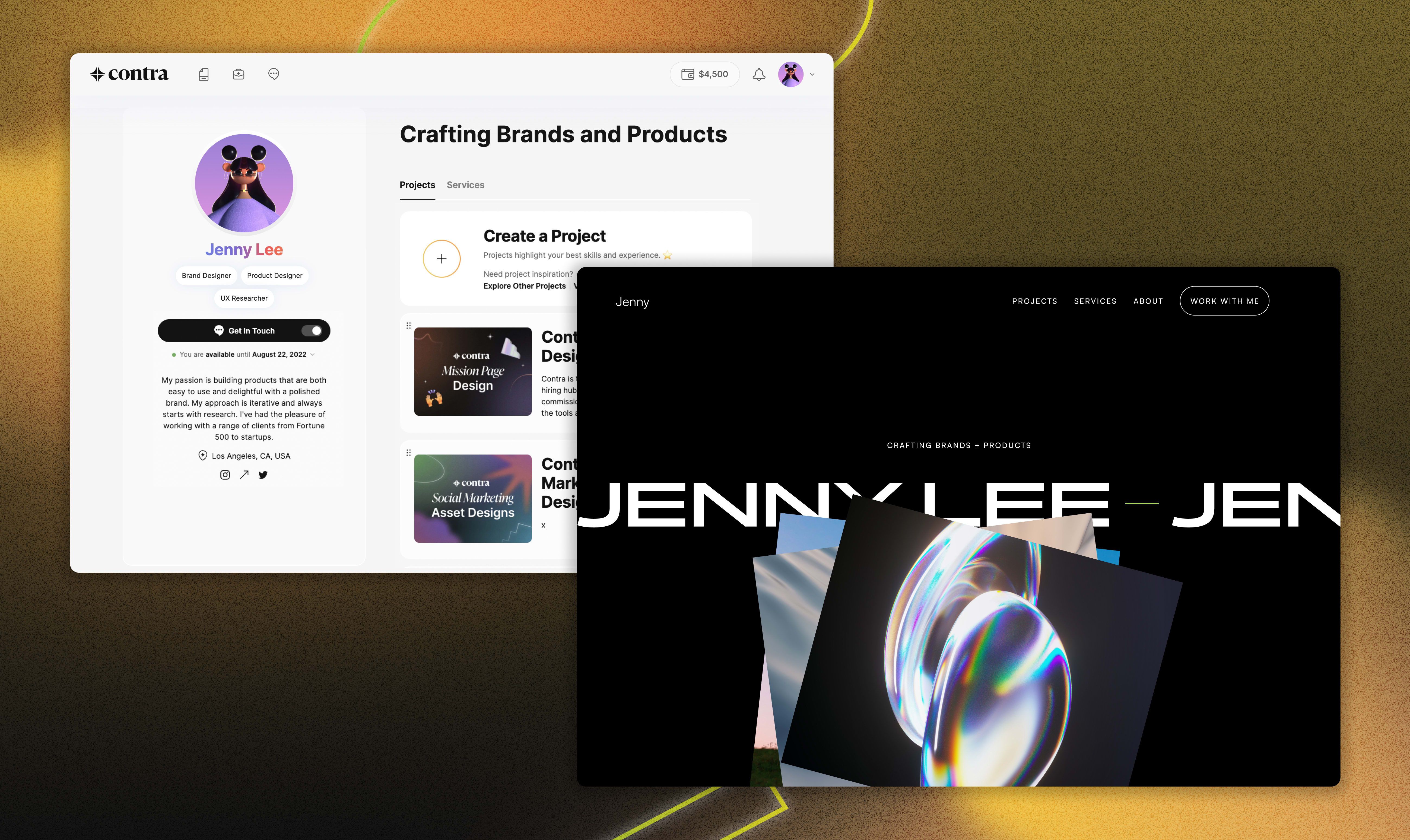 Contra's platform allows Independent workers to create project-based profiles that highlight their expertise! There's two ways of showing off your skills with Contra:
Profiles:

Every Contra user starts with a Profile. Contra Profiles are easily managed and highly customizable. Add your past work, services, and showcase any recommendations from Paid Projects. Profiles are always free to create!

Portfolios:

Portfolios by Contra are powered by your Contra Profile! Everything you wrote in your profile will automatically populate into a beautiful personal website with the press of a button. Plus, Portfolios can be hosted on your own custom domain!
You'll join the waitlist and wait for our team to review your profile. It is important to have high quality work presented to get off the waitlist! To learn tips + tricks on making your profile stand-out, check out our YouTube channel below. More specifically, this amazing event with Alex Fasulo 👇




Now that we've got that out of the way, let's talk about all the advantages that come with a Portfolio by Contra.
Contra Portfolio Themes 🎉
Many website themes cater to large and small businesses, but Independents have needs of their own. You need a website with easy user navigation, a design that highlights your work and what you do, and a professional (but welcoming!) tone.
Portfolios by Contra. Showcase your personal brand with the only portfolio website templates made for freelancers. Every theme includes a section for your services, projects, and recommendations. Homepages have a "work with me" button that prompts potential clients to reach out to you and acts as a direct funnel to Contra's built-in contracts and commission-free payments to make project management a breeze.
Each template offers a variety of theme options as well, so you can always find a design that reflects you best!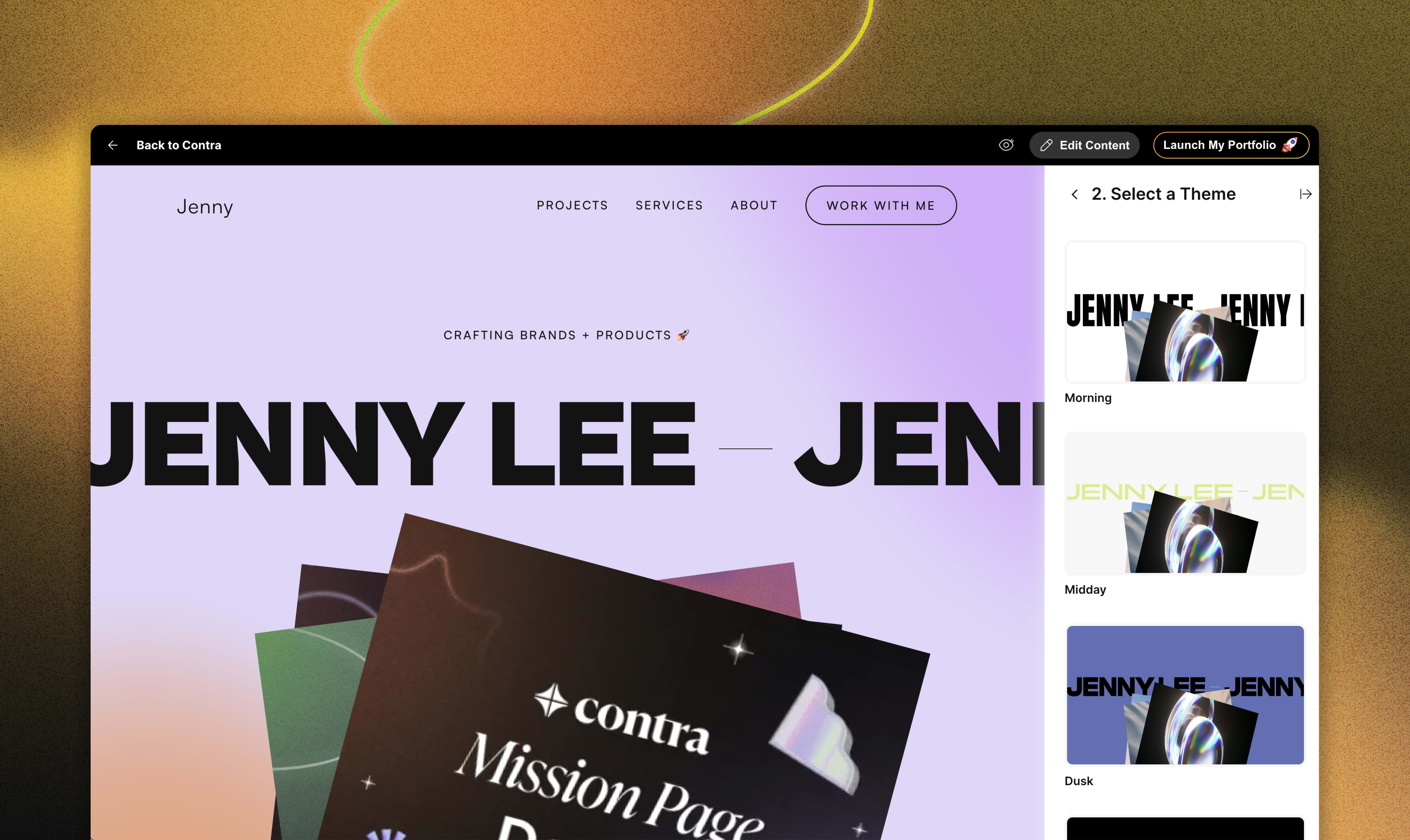 These website templates include:
Barcelona.

This clean, text-based

website

template is ideal for writers, editors, and journalists. Large typography and bold access colors build a stunning minimalistic design.

Los Angeles.

Your identity is front and center as the Los Angeles template cycles through your professional titles and clearly presents your tagline. This website template beautifully displays your projects in a grid so potential clients can browse your work with ease.

Paris.

Best for photographers, designers, and service providers, the Paris template shows off your visuals with animations. Its front page shows off your identity, expertise, and services all in one place.

Sydney.

With big and bold style, Sydney's website template shows off all the great content writers, journalists, and editors create. Prominent call-to-action text on the homepage invites clients to get in touch.

Tokyo.

Photographers, website designers, and graphic designers will love this modern Polaroid-style layout that prominently features their name and tagline. Tokyo's website template evokes the kaleidoscope of sophisticated flair the city is known for.

Madrid.

Perfect for any brand designer, engineer, or audio editor, Madrid's versatile template boasts a polished blend of style and substance.
Easy-to-Use Website Builder 🏆
Most of us aren't professional website designers. Even with drag-and-drop website builders, you still have to make a lot of complex decisions and will run into roadblocks as you create.
Your portfolio is the best investment you'll make in your freelance business. The platform you choose should be easy for you to use. Some platforms have incredibly complex content management systems that make updating difficult. Contra, on the other hand, makes building your brand easy.
Your Independent Portfolio is powered by your Contra profile. With the press of a button, you can switch your Contra profile into a stunning portfolio.
The templates we just discussed are easy to use, and you can switch them whenever you want. You can even connect your own custom domain!
Once you've launched your portfolio, any new and interested Clients have the ability to reach out via your "Get in Touch" button. Once the conversation has begun, you can use our built-in contracts to kickstart your Paid Project together. After this, you'll be on your way to getting paid completely commission-free.
Customize your Portfolio by Contra 🔥
Since your portfolio is a digital extension of your brand, you want to make sure your portfolio reflects you. After you've selected a theme, tap the "customize theme" button to truly make it yours.
Choose accent fonts and fonts for your headline and body content. Change the color of your fonts and your background by selecting a shade or typing in a color code. Adjust the background style to reflect different variations and shades of color and add a bit of personality. If you have a logo, upload it to your brand-new portfolio with the tap of a button. And if you're ever unhappy with your choices, all you have to do is hit a button to revert it to the default settings.
Built-in Business Management Tool 🛠
With Contra, you don't need multiple business management tools to manage your workload. Contra's commission-free platform allows you to communicate with Clients, sign contracts, and find new Job Opportunities. Here's how you can manage your small business with Contra:
First, look for opportunities.

Contra's opportunities tab has a ton of exclusive opportunities you won't find anywhere else!

Connect with prospective clients.

Send a proposal to prospective Clients on Contra. It's free to send a proposal and always will be.

Decide how you want to work.

We believe in the choice to work and get paid flexibly. With Contra, you can get paid (or pay Independents), through

Milestone

deliverables,

monthly/weekly recurring payments, by the hour, or all at once!



Send and sign Proposals.

A signed agreement protects your rights, spells out project deliverables and budget, and keeps you safe. Contra's built-in contract must be signed by both parties before starting work.

Submit work.

Once you've completed your work, send it to your Client through Contra! Include any comments, links, and a thank you note!

Get paid!

Once you've sent in your project deliverables, your Client has three days to approve the work. You get paid once they approve or after three days, whichever comes first. We will never take a percentage from Independents. Clients will be charged a small Stripe fee.
Discovery + Remote Job Tools 🫣
Unlike other website builders, Contra's commission-free hiring platform is designed to connect you directly with clients. There's two ways Contra connects you with clients:
Discover:

Since your Portfolio is powered by your Profile, your brand shows up in search results in Contra's Discover. Clients use the Discover tab to discover and explore Independents they'd like to work with.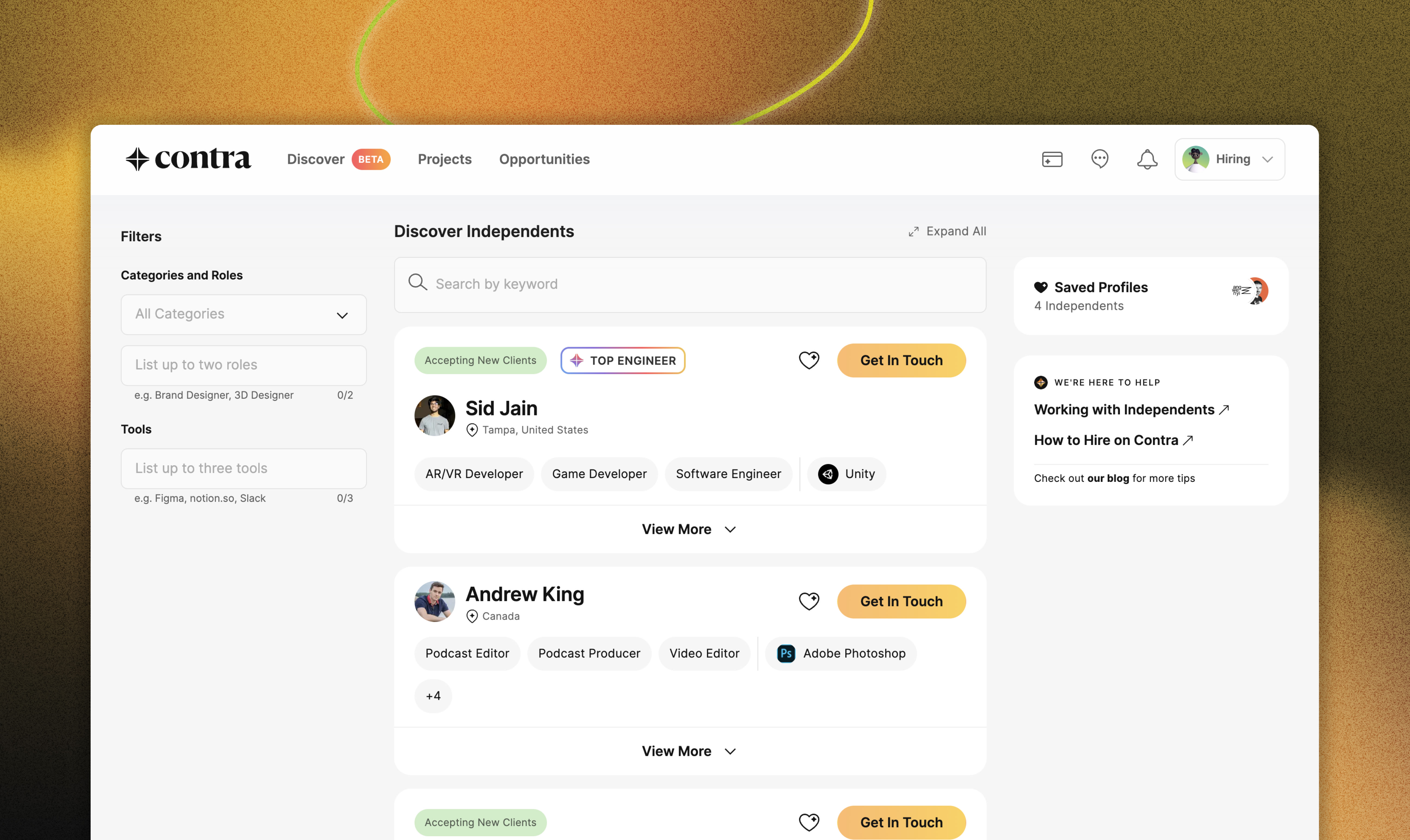 Opportunities:

Independents can search for Job Opportunities that need your skills with the Opportunities tab. If you find something, you can send in a proposal! Clients can also message you through the "Get in Touch" button on your Profile/Portfolio!


The Bottom Line 👇
Launching your portfolio is a non-negotiable priority as an Independent. A portfolio establishes your credibility, boosts your brand, and will help you land clients. With Contra's new portfolios feature, you can launch a portfolio and grow your business. If you're interested in hearing from freelancers who have used Contra to grow their business, check out these success stories.
Want to try our portfolio feature? Discover our new free portfolio template, Sydney
Launch a basic portfolio in minutes – Try it free 👀
You can now launch a Contra Portfolio for free. Meet Sydney, a portfolio template available to any Independent on Contra.


New to Contra? Sign up for free at contra.com to start your independent journey.

I'm a full-time freelance writer specializing in writing features, profiles, and news stories. Every story matters. Let me tell yours. Contact me here or at kaitlyn.arford@gmail.com.