How to Send a Winning Inquiry on Contra

Leslie Gonzales
· 3 min read



To send an inquiry to an Independent or a Client on Contra, hit the "Work With Me" button on their profile and complete the form. Contra carefully vets all inquiries before they're shipped off, so take a look below to see how to set your inquiries up for success💫
What's an inquiry? 💭
Inquiries on Contra are a way for Independents and Clients to start a conversation about a potential project 🤝 or to simply learn more about each others' expertise or needs 👋  It's a key first step to jumpstarting a collaboration and building your network on the platform.
How do I send an inquiry? 📤
There are ✌️ two ways to send an inquiry on Contra:
1️⃣  On a Contra profile, click the

Get In Touch

button (under the Independent or Client's profile picture)

2️⃣  On the Services tab, select the

Get In Touch

button (under the service you're currently viewing)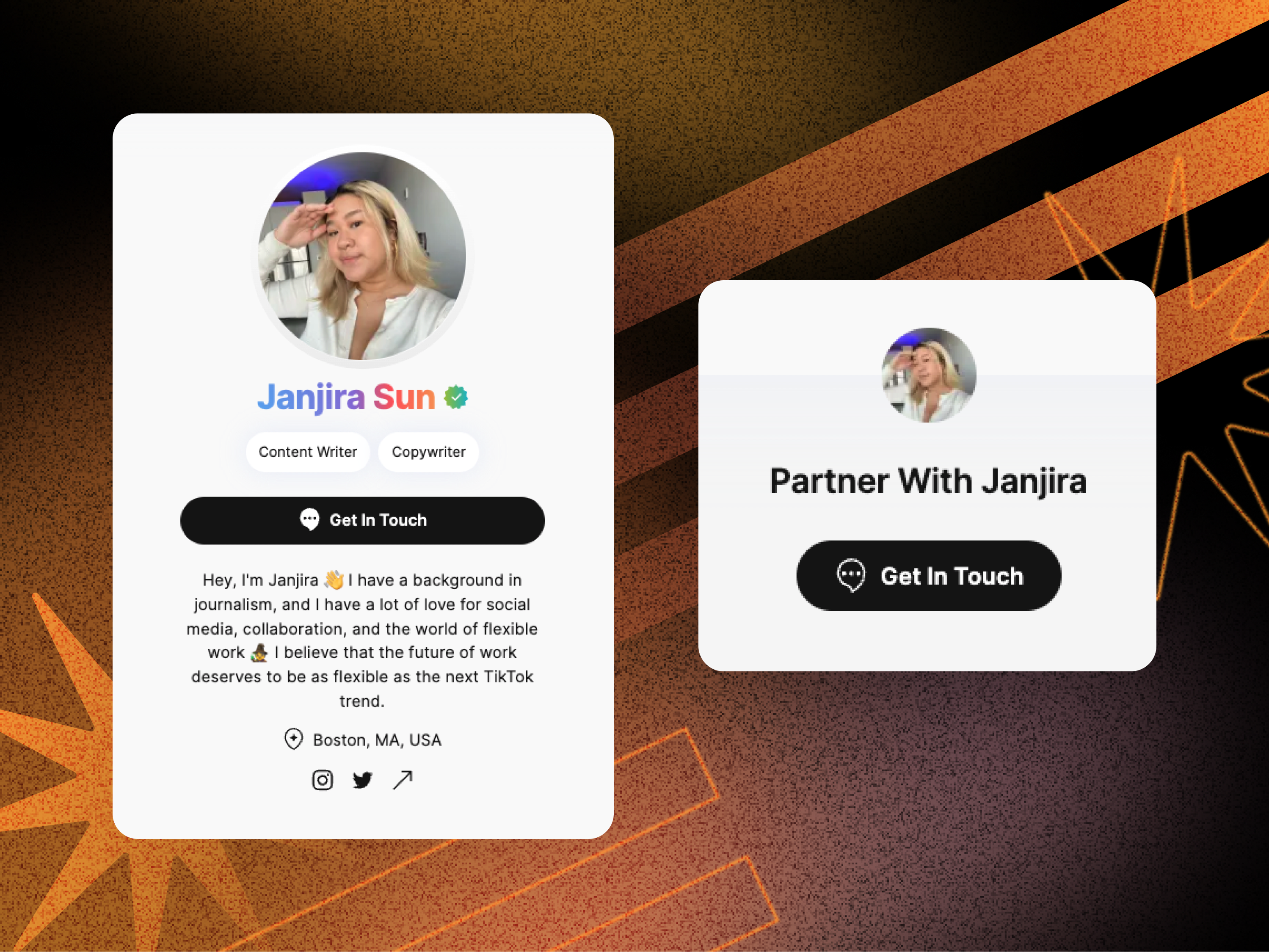 👉 You'll then be prompted with a form to fill in the necessary details. The more details, the better your chances of getting approved!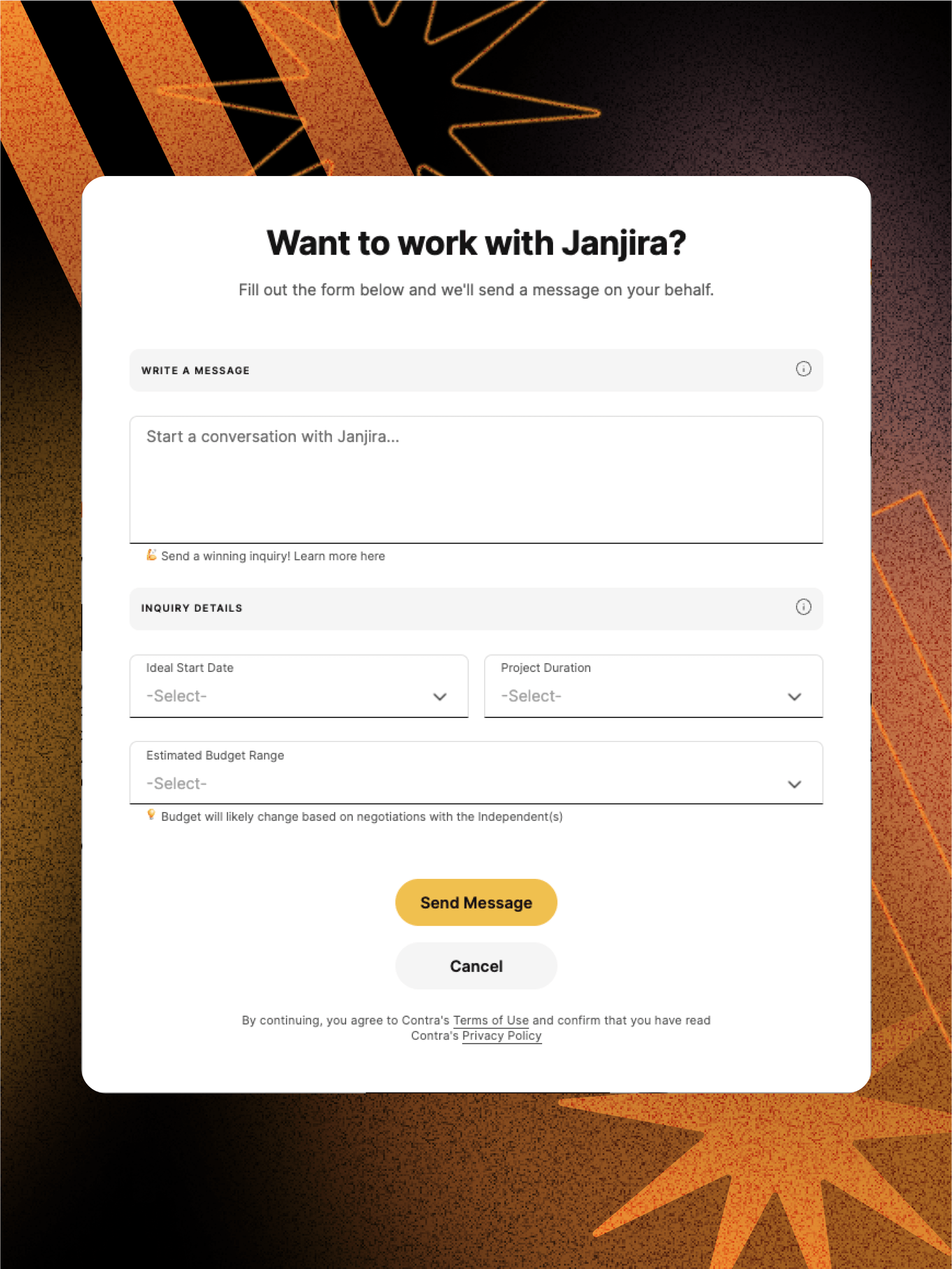 📌 The Contra team takes the time to review all inquiries before they're sent to the Independent or Client to ensure that all opportunities are high quality. For this reason, it's important to know exactly what makes a great inquiry! Here's how 👇


✅ What makes a strong inquiry 🔥
Here are some tips to ensure your inquiry is approved by the Contra team:
Your inquiry

is relevant

to what the Independent/Client offers
(e.g. A Client seeking someone to build a TikTok strategy with a budget of $350/hour reaching out to an Independent that offers $300/hour for a TikTok consultation would be a perfect match!)
Your

Budget

is equivalent to

$25/hour or more

(USD)

Your

Timeline

accurately reflects the length of the project scope

Your

Project Details

provide a clear picture of the:
👉 Scope of work
👉 Expectations
👉 Goals
👉 Bonus: Tells us more about you/your business ✨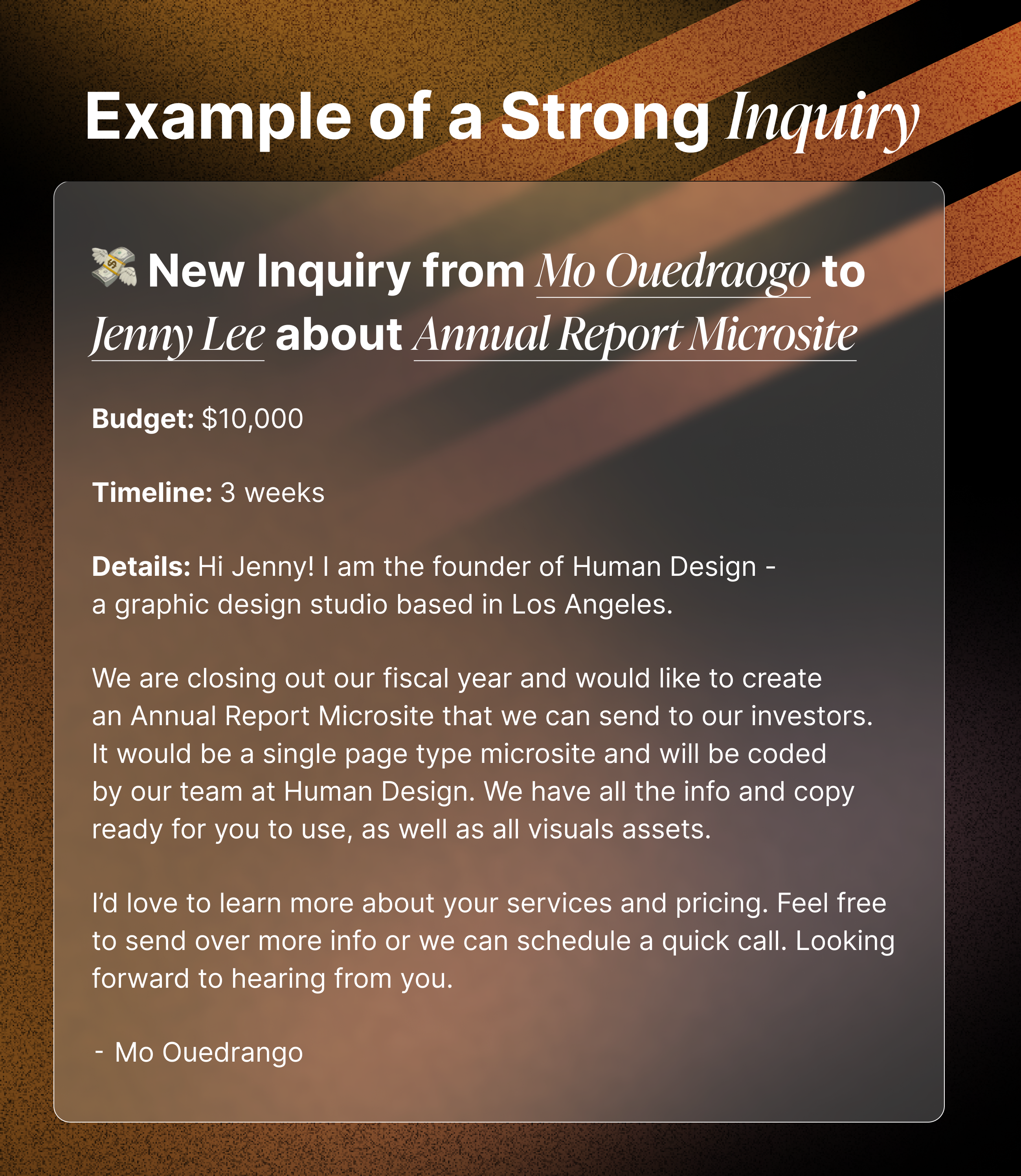 ➡️ What happens next? If your inquiry is approved by Contra, the Independent/Client receives your message and is asked to approve or decline your inquiry. You're all set! 🎉


❌ When your inquiry needs more work 🔨
Unfortunately, not all inquiries are worth sending on the first try. It happens! Here are a few reasons why your inquiry may have been rejected by our team:
Your inquiry was

not relevant

to the Independent/Client's services or roles

Your budget is too low OR asking for free labor

Looks like spam, trolling, obscene or inappropriate messages

Has a sexist, racist, explicit, hateful, or otherwise offensive tone

Infringes on the rights of third-parties
➡️ What happens next? If your inquiry was declined by Contra, you'll receive an email letting you know, and this means the Independent/Client you contacted did not receive the inquiry.
🔧 How can you fix this? Dust yourself off and try again 🎶 with the tips we shared above! Whenever you're ready, just hit the Send A New Inquiry button in the email you received from Contra. You got this 👊
Keep those inquiries coming! We love to see our community building new connections. 🤩 If you need any more assistance, please don't hesitate to reach out to us at hello@contra.com.
Find your next collaborator on Contra 🤝
Discover Independents
Start now
✨✨✨
Contra is the Independent-first community and commission-free hiring platform shaping the future of work. We match Independents with flexible opportunities, and Clients with the perfect Independent for any project — from content creation to coding and more.

An independent writer & PR strategist with a passion for collaborating with purpose-driven brands & entrepreneurs. Let's chat!