Contra for Clients

Kaitlyn Arford
· 8 min read
Hiring freelancers — or Independents, as we call them — can be a bit uncertain. What if they don't deliver great work? How do you decide who to work with? Where do you find Independents with the skills you're looking for?
But the advantages alone are worth the time it takes to hire a freelancer. You're spending your money on an expert with a specialized skillset, and avoiding the cost of hiring a full-time employee. You get to choose from a worldwide pool of talent, and you can collaborate remotely.
There's a lot of reasons why more than 45 percent of American businesses have started investing in Independent talent. With Contra, you can discover and hire top-notch talent, manage payments, contracts, and projects, and work the way you want.


What is Contra? 👋
Contra allows anyone to build their digital portfolio, get discovered by clients around the world, and earn money commission-free. For Clients, we provide everything you need to launch and complete Paid Projects while working with top-notch talent. As a Client, you can post remote freelance opportunities and invite Independents to work on projects with you. Here's a quick rundown of how Contra works for Clients:
Manage Contracts + Payments.

Create contracts, manage payments, and chat with hires — all for free. We give you all the tools you'll need!

Invite your Freelancers.

Already working with a freelancer outside of Contra?

You can easily onboard them in minutes.



Discover Vetted Freelancers.

Using our Discover Feed, you can search for freelancers who are the perfect match.

Communication in one Place.

Contra facilitates communication between Independents and Clients so that your expectations are aligned. Independents will submit deliverables directly on Contra.

Paying Freelancers with Ease!

With

Flexible Projects

, we allow you to kick-start your work and pay your Independent in a few different ways!
Creating a Contra Profile is a free service. It costs you nothing to sign up and search for Independents! In the future, we'll have premium features available that you'll have the option of paying for.
Work the way you want 🎬
There's three ways to work with Independents on your projects:
Hourly rate projects.

If you prefer to pay by the hour, you can do that on Contra! Just specify how much you pay per hour, and your budget for the project.

Flat-rate projects.

Flat rates are ideal for ongoing relationships or if you prefer to pay per project. Flat-rate projects can be broken into milestones. In the future, we'll offer flat-rate projects that are paid on a weekly or monthly cadence!

Milestone projects.

Milestone projects are long-term projects that are broken down into smaller deliverables or due dates. They're a great way to break down large projects into small cadences so your work is rolling out on time. Each milestone is funded individually at the beginning of the project and held in escrow. The funds for each milestone will only be released after you approve the deliverables for that milestone, or automatically within three days.

Guide to Flexible Projects
We believe in the ability to work flexibly, aka: you are able to choose how you work and when you get paid.


List your opportunity in 10 minutes 📅
Crafting the perfect freelance job post doesn't need to take all day! As long as you are at least 16 years old, you can post an opportunity regardless of your location. Here's a step-by-step guide of how to create and post an opportunity on Contra:
Select the role you are interested in hiring.

Choose from a dropdown menu featuring six types of services: design, engineering, social media/marketing, video/animation, web3, and writing.

Then choose your skills.

What type of help do you need? Once you choose your service, you'll see a list of specific skillsets. Select the specific skills you're looking for.

Set your project duration.

Tell us about the timeline for this project. Do you need an Independent to start immediately or in the future? Will this project last for one week or continue for longer than six months? You'll see a dropdown menu that makes inputting these details easy.

Tell us about your budget.

Pay transparency is important to Contra's Independents, so we ask that you include an estimated budget range along with your project details. Select either rate-based pricing with hourly pay or a fixed price. We highly suggest selecting rate-based pricing for ongoing projects or a fixed price for a one-time opportunity. We all have a budget to stick to, but Contra requires that projects pay a minimum of $25 an hour or a flat rate of $250.

Add a project scope.

Write a short project description and add what deliverables you're looking for.

Tell us about your company.

Next, quickly add information about your company, including links to your website and social profiles.

Add your billing information.

You must add a billing method to your profile before it's shown to Independents. Don't worry, we're not going to charge you for posting an opportunity! We ask Clients to add billing information to make sure you're serious about working with Independents.

Your opportunity is ready to go!

We'll let you know when your opportunity is live, and you should start receiving proposals within a few hours.
By the way, you can both hire Independents and apply to opportunities on Contra! Toggle over to the other side by clicking "Switch to Independent" on the profile dropdown menu.


Post a Job Opportunity
Finding your next freelancer doesn't have to be hard. Check out our 5 step process here!
Discover qualified Independents 🚀
On most freelancing sites like Fiverr or Upwork, freelancers lose somewhere between 5 to 20 percent of their total profit. On Contra's commission-free platform, Independents keep every dime they make — making Contra an ideal place to look for Clients.
Since Contra attracts skilled Independents, you're able to work with Independents who have the expertise you need. Contra's "Discover" tab makes it easy to identify Independents you'd love to work with.
There's three key ways to search for Independents with the Discover tab:
Sort by category and role.

Filter your list of Independents with broad categories like "writing," "design," or "engineering." Alternatively, find Independents with the job title you need by listing up to two different roles. For example, if you need help with TikTok, you could filter your results by selecting the "social media" category or by searching for "social media manager" roles.

Sort by tools.

Maybe you need a website developer who knows WordPress? Or a designer who understands Figma? Discover Independents who understand these skillsets by typing in up to three tools.

Browse our top Independent profiles.

Alternatively, simply scroll through a list of our best Independents. Every Independent profile includes their location, time zone, experience, and services. You can even see what other Clients have to say about working with a specific Independent by looking at their recommendations!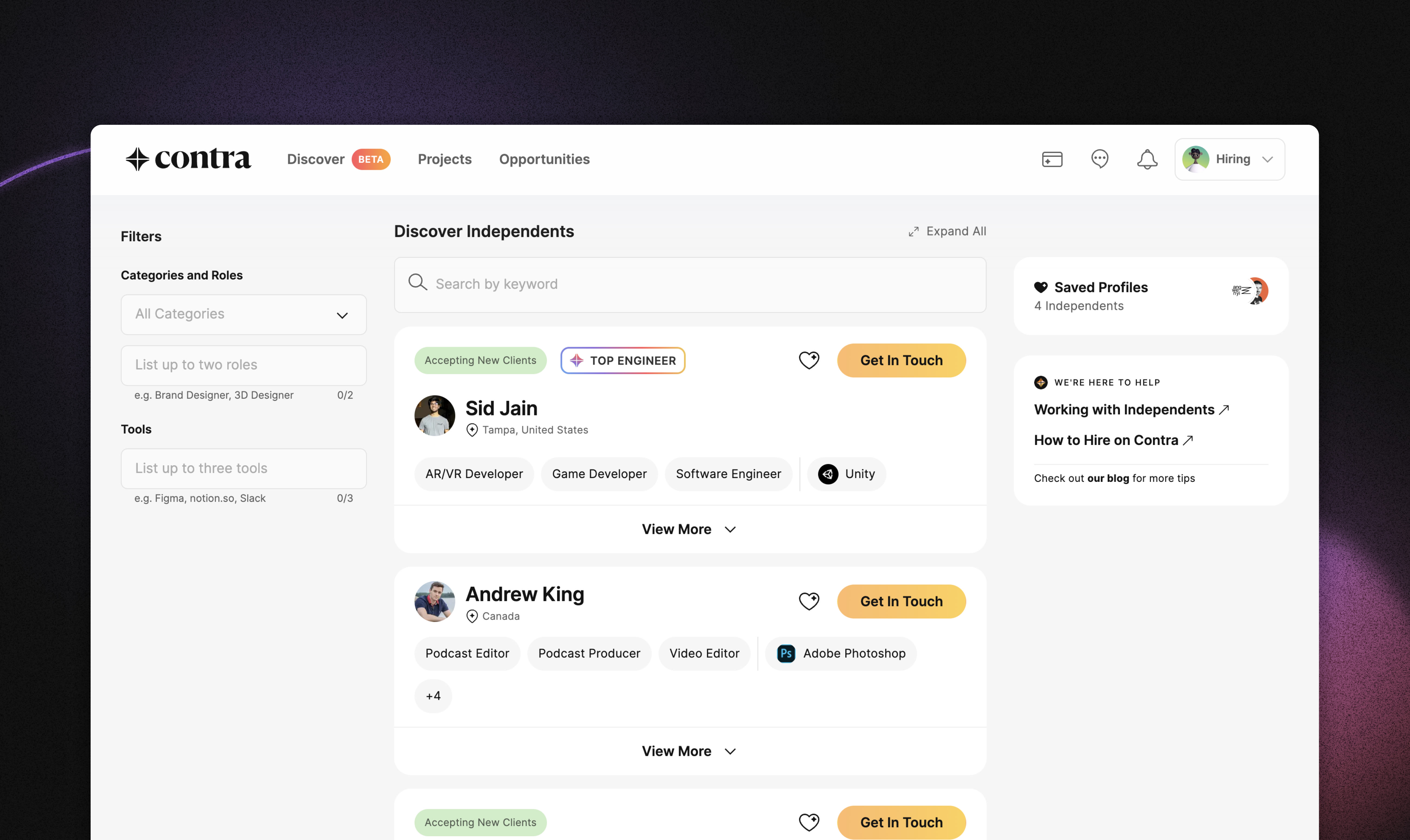 Invite Clients and Independents to Contra 👻
Once you've created your Contra account, invite your Client/Independent to work with you on the platform in minutes! Click the "Projects" tab on the homepage navigation bar and select "Create a Proposal." Sending a proposal on Contra is free for Clients and Independents.
The person you invite doesn't need to have a Contra profile! They just have to validate their email, and we'll create an account for them.
Make it official with a contract ✉️
Congratulations, you found the perfect Independent! Now you need to nail down how you'll work together and sign a contract.
Before you start working together, Clients and Independents can use Contra's Chat to discuss expectations and iron out any questions. This way you're aligned on expectations so Independents can deliver outstanding work on time.
Cement your partnership with a contract that legally protects both Independents and Clients. Contracts are invaluable as they specify exactly what deliverables Clients will receive and when, along with exactly what it will cost.
But writing a contract from scratch is complicated. Using Contra's built in contracts is just another way we making working with Independents easy.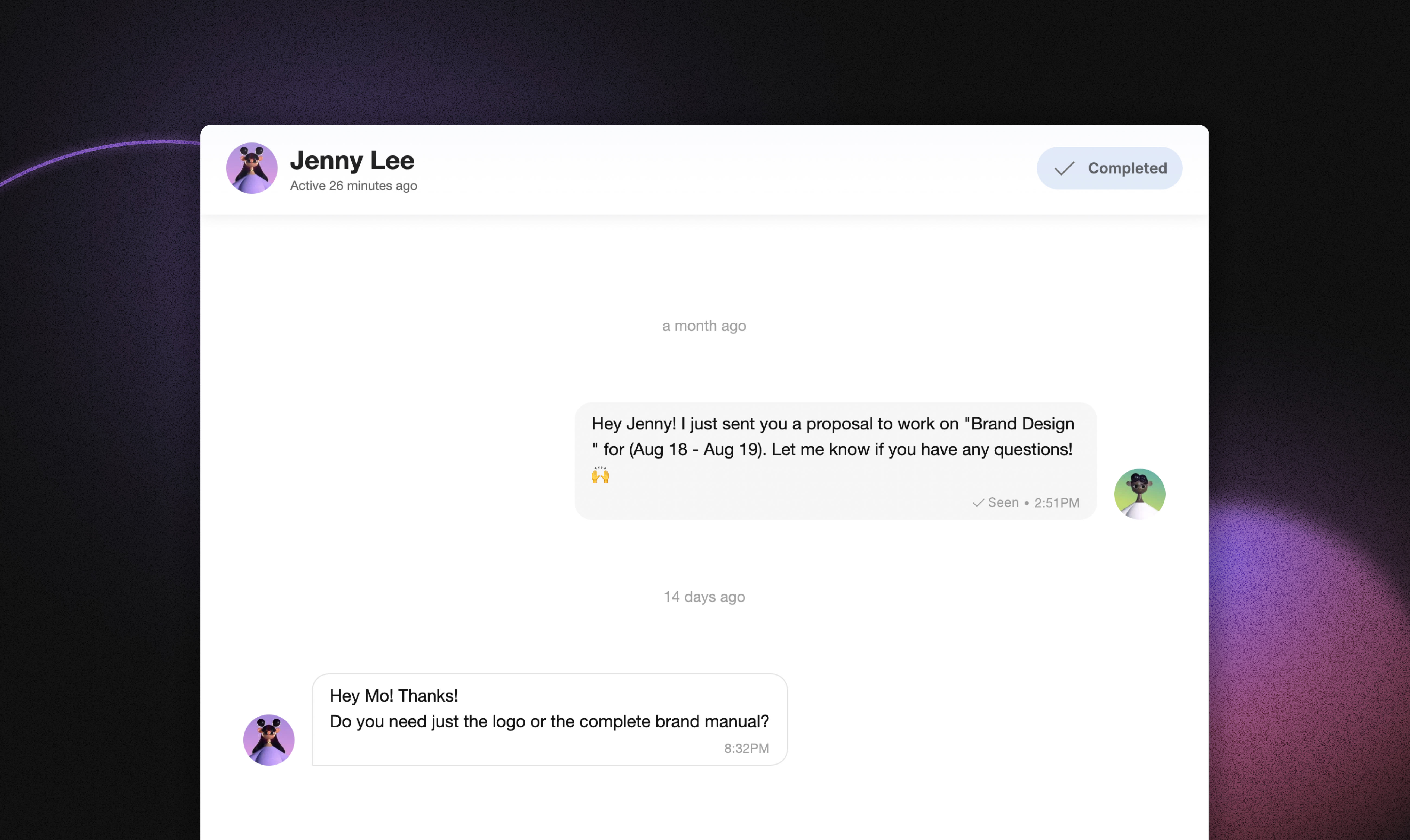 Pay Independents securely 🤑
Contra is 100% commission-free! However, Clients will be charged a Stripe processing fee for each payment. Credit card information is never stored on Contra as we manage payments through Stripe. To post and activate an opportunity on Contra, you must pay the Independent to kickstart the project. You can read more commonly asked questions from Clients here!
Your funds are held in escrow and will only be released to your hired Independent after the work has been completed and approved by you.
You can pay an independent with one of these credit cards:
American Express

Mastercard

Visa

China UnionPay (CUP)

Discover & Diners

Japan Credit Bureau (JCB)


Or Clients with a US Bank Account can pay via ACH (Automated Clearing House) to avoid potentially high credit card fees.


You're responsible for complying with your tax laws. Your payment history is recorded in your Contra Wallet. If you have any questions about payments, contact us at payments@contra.com.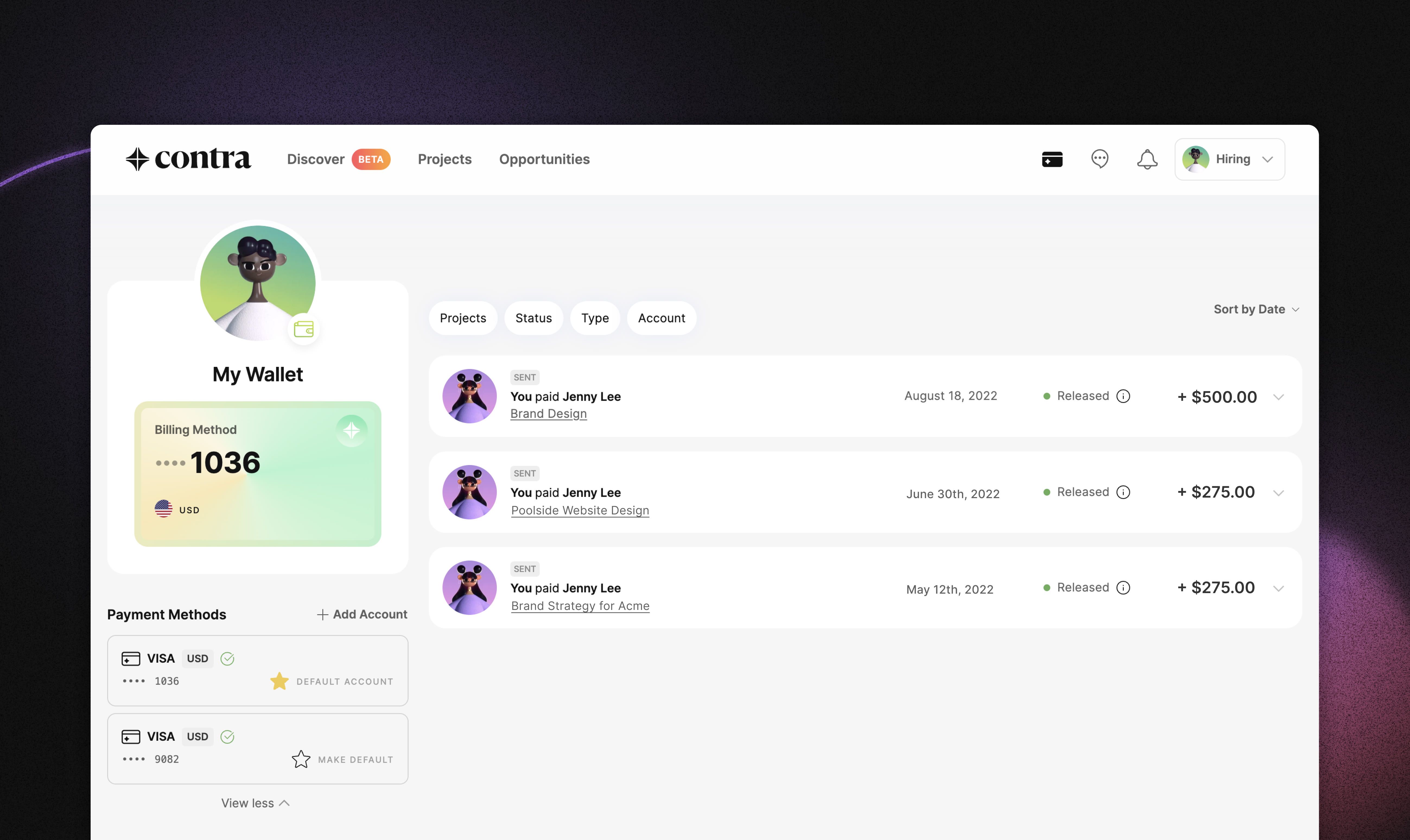 Let's get to work 📝
Contra streamlines finding, hiring, and paying Independents who can execute your projects expertly and on time. We make it possible to do everything in one place.
We're constantly adding features to better serve you. For more information on how Contra works, check out our FAQs. If you still have questions, feel free to reach out to hello@contra.com or check out the rest of our guides on The Contrarian.







I'm a full-time freelance writer specializing in writing features, profiles, and news stories. Every story matters. Let me tell yours. Contact me here or at kaitlyn.arford@gmail.com.