Guide to Milestone Projects

Samantha Taylor
· 2 min read
It's common for Independents to request payment while they are reaching milestones in their paid projects — this gives them more flexibility and security over the way they are compensated!
In this article, we'll go over how you can use Milestone Projects the next time you work on Contra!



What are Milestone Projects? 👀
On Contra, you can pay your Independent as they meet milestones, checkpoints, or phases within a projects lifecycle.
Milestones identify when a deliverable is completed, and each milestone contributes to the overall goal of a project.
Milestones are specifically used for projects that are $2,000USD+ — this makes payments smaller and reduces the overall risk for both parties involved!
For example, if your project is to create social content for three months, you can add in a milestone outlining what the Independent will deliver for each month.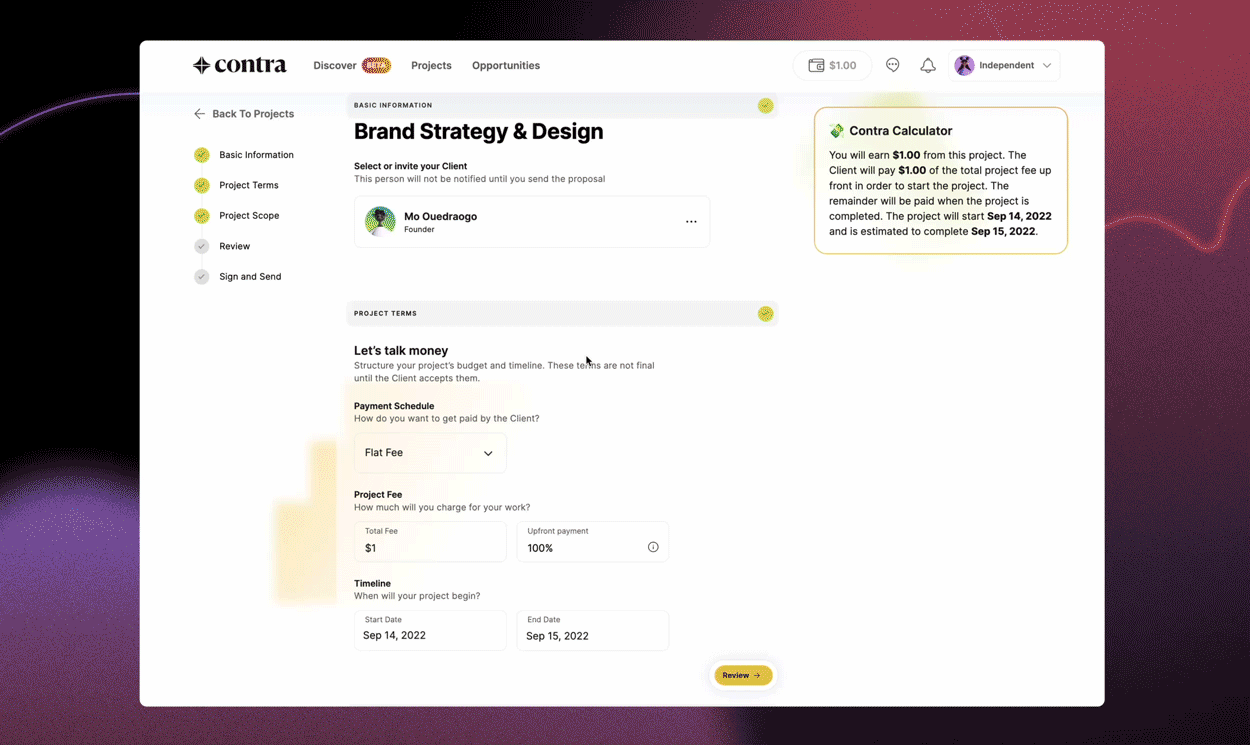 The Difference between Milestones and Deliverables 🤔
Here's a quick rundown ⤵️
Milestones — Checkpoints that are met during the duration of your project ✅
Deliverables — These are the items you want the Independent to deliver. You'll find these attached to every milestone. Learn more about deliverables here!


Using Milestones on Contra 🛣
Using Milestones is a great way to keep track of how far along a project is progressing!
Get Started 👇
Click the "Projects" tab in the navigation bar

Choose "Create Proposal"

Enter your Project Title + Add your Client/Independent

Under "Project Terms" navigate to "Project Budget"

Choose "Milestones"

Set your "Timeline" Date (how long the project will last)

Under "Payment Milestones" and in "Milestones"

These are the deliverables + the amount of payment that will be sent once the deliverable is complete

Define the "Scope of Work"

Click "Review"

Sign + Send
It's that Simple 👏
That's it! Remember: milestones are here to make your life easier, both as a Client and Independent.
Want to learn other ways you can kickstart your projects on Contra? Read our Guide to Flexible Projects here! 🚀





Hi, I'm Sam -- community builder 👋 My skills in community management, social media marketing, copywriting and influencer management can be the game-changer for your brand. Let's connect!