Setting Up Payments 💸
Remote Working & Freelancing




Getting paid commission-free has never felt better! In this guide, we'll be covering what payments are and how to set up your account to start getting paid! 🤑
What are Payments on Contra?
To get paid on Contra, you'll need to have your Contra Payments set up. After this, Clients will be able to pay you (completely commission-free). To get paid, you can either apply to opportunities on the Opportunities Feed, get matched to Opportunities, or bring your own work to Contra. 
How do I set up Payments?
Verify your identity with Stripe
After you've completed your profile and uploaded your projects and services, you're ready to enable commission-free payments! Follow the prompts on the screen to verify your information on Stripe, or click the Wallet icon at the top right of your screen and chose the option that best suits you.
Connect an account to receive payments (For Independents)
After Stripe verifies your information, you'll be prompted to connect a debit card, US bank account, or crypto wallet (coming soon!). Your funds will automatically transfer to this account on a weekly basis.
Connect an account to send payments (For Clients)
To send payments to other Independents, you'll be prompted to add your credit or debit card information. This can be different from the account your receive your payments on!
Clients with a US Bank Account are also able to pay via ACH to avoid potentially high credit card fees P.S. - When you verify your identity and set up your Wallet, you'll automatically be verified on Contra and will receive a cool checkmark next to your name in your bio to signify that you're legit. ✅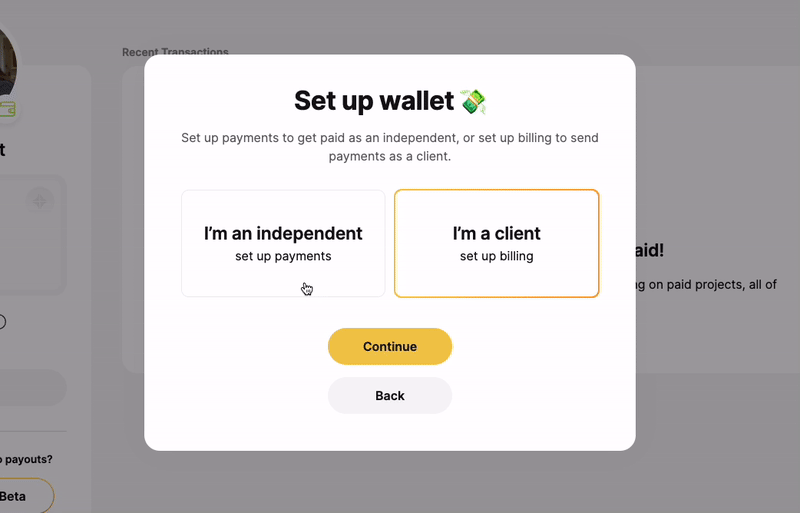 What if I'm not based in the US? Can I still use Contra? (coming soon!)
Not in the US? No problem! Reference our Guide to Crypto Payouts to learn more about how you can get paid ✨
And you're done! If you want to learn more about your Contra Wallet, click here!
Ready to get paid commission-free? 💸
Sign up with Contra
Start now



Janjira Sun
Copywriter focused on changing the future of work
journalist turned independent turned contrarian. currently working with contra to build the future of work 💗