How to Hire a Social Media Manager

Samantha Taylor
· 4 min read



Not to be confused with a Social Media Creator, who creates original content for different social media platforms, Social Media Managers analyze user data to fuel strategies, oversee content distribution, and sign off on creative ideas. Social Media Managers are crucial to building a brand's online reputation and in turn, growing their target audience.
Social Media Managers will amplify your brand outreach
It's crucial to build a community of dedicated users during all stages of your business! With the massive reach of social media platforms, you can bridge the gap between your business and your community to relay your mission, vision, and where you want to take them next. 🚀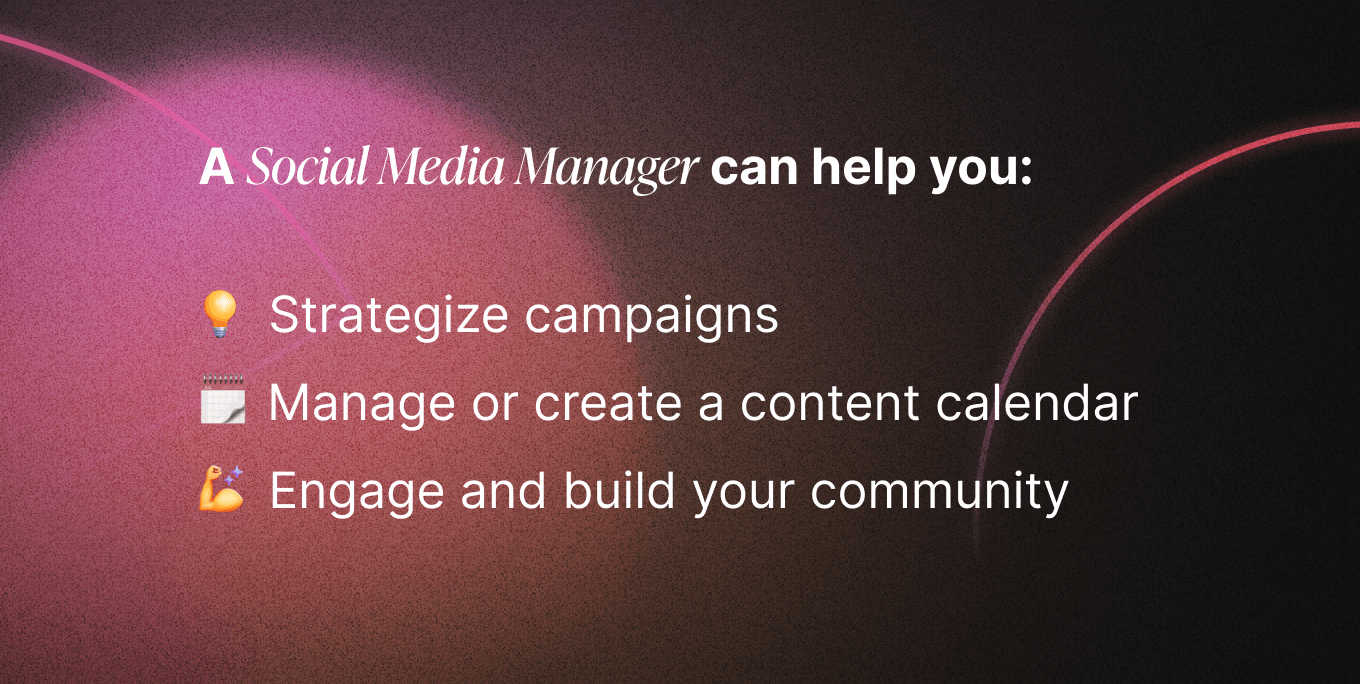 A Social Media Manager can help you:
Strategize campaigns

based on user analytics to improve your social media strategy,

Manage or create a content calendar

to post content on a regular basis to increase engagement, and

Engage with the community

to build a dedicated support system to help further your business.
Whether it be increasing the number of organic visitors to your landing page, or directing them to a new feature you've created, Social Media Managers can combine business goals with the content they create to push those goals to the finish line.
How a freelance Social Media Manager can help
If you're unsure about hiring a Social Media Manager full-time, don't sweat. Lucky for you, outsourcing this role to an Independent is a very common practice. With at least 4.62 billion people utilizing social media across the globe, creating a social media strategy is essential to building your reputation and gaining traction to get to your business goals.
Aside from strategizing and analyzing user data and competitors in your space, hiring an Independent Social Media Manager has its perks. ⤵️
Trendsetter

— They closely follow trends and make them applicable to your business. Check out this

TikTok from Contra

to see this in action!

They set the tone

— Social Media Managers work closely with

Brand Designers

, Strategists, and Copywriters to ensure that they create content that conveys your company's voice and tone to attract the right community. ✨

On the dot

— After analyzing the community, Social Media Managers will make sure to post content during the times in which your users are most active.
When to source a freelance Social Media Manager
Managing social media accounts while you have an entire business to run can be tough. Hiring an Independent Social Media Manager means you'll have a helping hand to handle the strategy, growth, engagement, and everything else in social media land. Here are a few other reasons why you may want to hire an Independent Social Media Manager ⤵️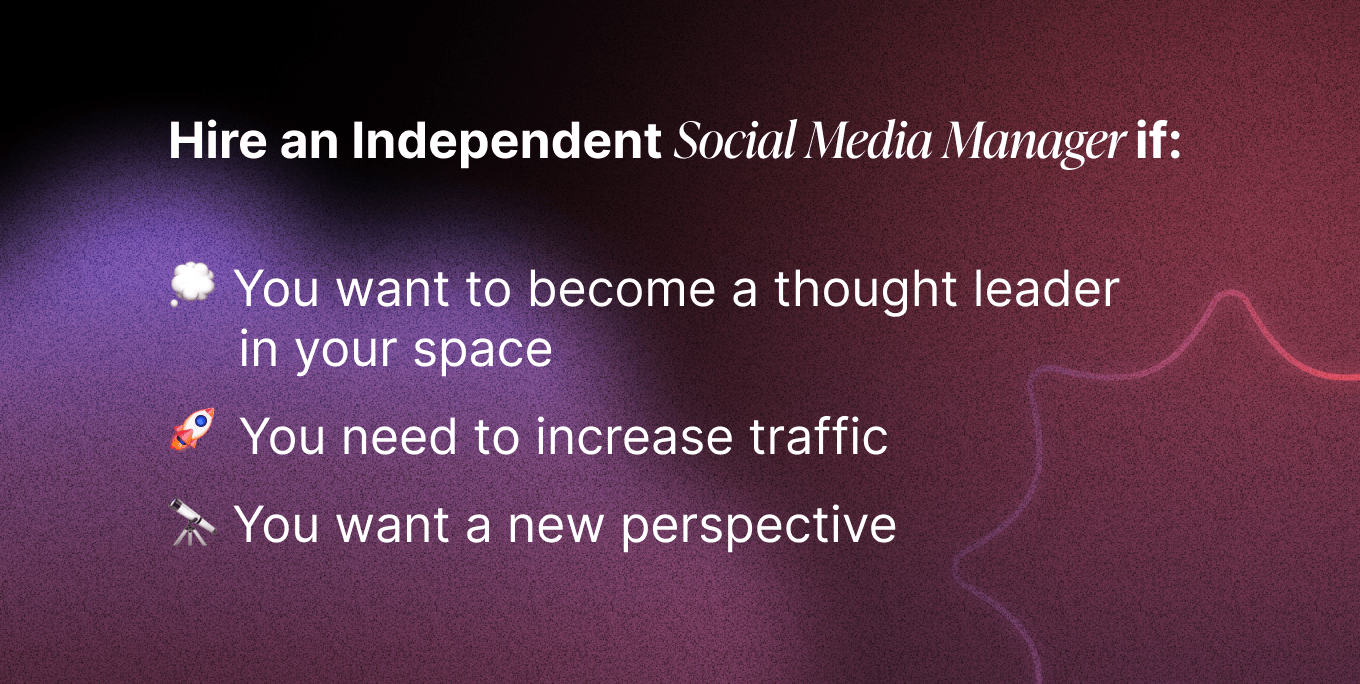 To become a thought leader in your space

— It's likely that there may be other competitors in your space, but this doesn't mean you don't know what you're talking about. With a Social Media Manager, they can help convey your mission to demonstrate your knowledge to your community during the early stages of your business.

If you need to increase traffic

— With an online presence, your business can grow exponentially. An Independent Social Media Manager can lay the groundwork for increasing your brand awareness, building trust with your community, and humanizing your business with the help of engagement.

For a new perspective

— With an Independent Social Media Manager, they can take a step back from your business. With their expertise with different brands, they can provide a fresh pair of eyes and analyze what your community is asking for.
To learn more about how to work with an Independent, check out our Best Practices guide. 🌟
Ready to hire a Social Media Manager for your brand?
Post an Opportunity on Contra
Start now
✨✨
Contra is the Independent-first community and commission-free hiring platform empowering the future of work. We match Independents with flexible opportunities, and Clients with the perfect Independent for any project — from content creation to coding and more.
To discover top Independents for your next project, visit contra.com/discover, or check out these top Independents in our community ⤵️

Lance Langel | Multimedia artist & social media manager
Howdy! I'm Lance, a visual artist based in Brooklyn, NY. I'm a passionate creative and beauty lover with an established background in social media management, content creation, photography, and brand strategy. Can't wait to work with you!🧃

Sophie Valery | Social Media Manager + Safe Space
Social media and marketing captured my attention at the beginning of the pandemic and I became obsessed! I'm now available to help YOU, brands with their content creation, social media strategy, and social media management!

Farah Aqrabawi | Hi there! Thank you for stopping by :)
Being a social media whiz in the constantly changing field of social media, my strengths lie in my adaptability within a changing environment, creative flair for problem-solving and results driven attitude. I have 4+ years of graphic design experience...



Hi, I'm Sam -- community builder 👋 My skills in community management, social media marketing, copywriting and influencer management can be the game-changer for your brand. Let's connect!