Contra vs Fiverr: What's the Difference?
Remote Working & Freelancing

Kaitlyn Arford
· 8 min read
Working Independently is becoming more and more popular. In fact, research suggests that half of the U.S. workforce will be made up of freelancers by 2027.
One of the biggest challenges facing Independents is how to find freelance opportunities. With so many freelance platforms and job boards out there, where do you begin? In this Contra vs Fiverr comparison guide, we'll break down how to find work, make a profile, and get paid. Let's dig into how Contra and Fiverr work so you can decide what works for you.


How does Contra work? 👋
Contra is a new platform designed by Independents, for Independents. With Contra, Independents can build their own custom profile and browse through freelance opportunities. If you see an opportunity you like, you can send a proposal over easily. It's really easy:
Create a customized profile.

On Contra, you can build a profile that highlights your favorite projects, best skills, and experience.

Look for clients who need your skills.

Use Contra to look for freelance opportunities directly through the platform.

You can also bring existing clients to Contra!



Apply to remote Job Opportunities:

Find an opportunity you're interested in? Great! You can see the client's budget, project deliverables, and company details all in one place before sending your application in. It's free to apply and always will be.

Manage your Paid Projects.

Whether you have existing clients or are starting from scratch, Contra can handle every step of the creative process with built-in contracts and

flexible payment options

. And we never take a percentage of what you make!
How does Fiverr work? 💻
On Fiverr, Independents are "sellers" while clients are considered "buyers." You can become either a seller or buyer on the platform, or both.
As a seller, freelance workers create packaged services that buyers can purchase. These packaged services are called Gigs. In some cases, Fiverr will require sellers to take a skills test to make sure they are qualified to sell a Gig. When a freelancer creates a Gig, they can add on customized extra services for an extra charge.
There are four seller tiers to Fiverr:
New Seller. New Sellers can create up to seven Gigs with two extra services and custom offers. They must wait 14 days to withdraw earnings.

Level 1. This level includes freelancers who have been active sellers for 60 days and completed 10 orders. These sellers must have excellent ratings and have earned $400. Sellers can create up to 10 Gigs with four extra services, but still have to wait 14 days to withdraw earnings.

Level 2. These sellers must have excellent ratings in addition to completing 50 orders and earning $2,000.

Top Rated Seller. This is the highest level on Fiverr, and only sellers who have earned $20,000 and completed at least 100 orders are eligible. Fiverr's editorial team hand picks which sellers get this recognition.
Some sellers can also respond to opportunities posted by buyers, but this option isn't available to every seller. Buyers can look through Fiverr's platform to purchase these Gigs.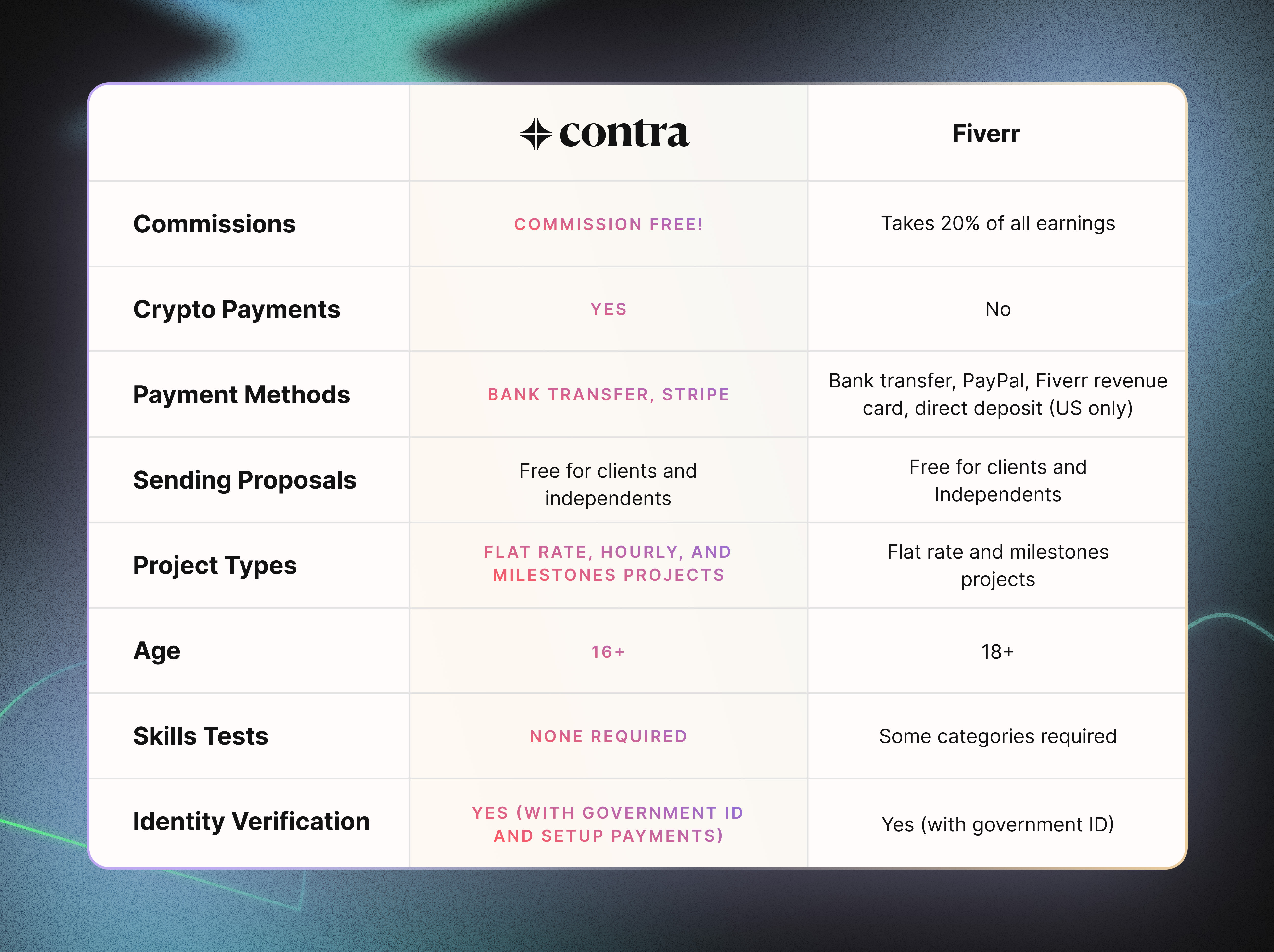 Important differences between Contra and Fiverr 👇
As you consider the advantages and disadvantages of Contra and Fiverr, here's a few crucial differences between the two platforms:
Fiverr vs Contra: Making a profile 🥳
You're in for a few hours of work when you decide to make a Fiverr profile. Fiverr profiles are made to prominently feature Gigs that freelancers are selling. So in addition to linking your social media accounts, and adding information about your education and skills, you need to immediately start making Gigs.
There's at least six steps to making a Gig. You describe your service in detail, and select which category it fits in. You need to have a graphic design or photograph attached to your Gig before you're allowed to list. Additionally, you have to make three versions of every Gig you offer ranging from basic to standard to premium. Depending on what Gig you're selling, you may have to take a 40-minute skills test to verify that you're qualified.
And if you feel you're not getting enough eyes on your Gigs, you can promote them, but you'll be charged for your ads out of your Fiverr earnings. Fiverr also offers the option to add badges to your profile to show off your expertise, but you have to pay one-time fees to Fiverr-specific courses ranging anywhere from $20 to hundreds.
All these features seem highly customizable but it's actually rigidly structured. What if you're just starting out and not sure what to offer? What if you don't know how to structure service packages? To be honest, Fiverr's process is a bit of a hassle.
The process of creating a profile on Contra is more straightforward. With a Contra profile, you'll have a hub for your client work and a special place to show off your services.
Sign up as an Independent with your email, Google, or TikTok account.

Fill out the "About" section. Since you already wrote a bio for your LinkedIn profile, feel free to use some of those details here. This is the time to describe what you do and how to reach you!



Showcase the best samples of your work

under the Work section. Include your best links, videos, and photos, and add how you made that project shine!

Add the

Services

you provide along with the tools you use and how you charge!
Learn how to improve your Contra profile here! Once you improve your Profile, you have better chances of showing up on our Discover Feed.
Contra vs Fiverr: Finding freelance work 👓
As a new seller on Fiverr's platform, it's impossible to look for freelance work. You're limited to creating Gigs as there's no way to browse freelance job listings. Creating Gigs may pay off in the future, but it's certainly not going to result in immediate work.
On Contra, you have the option to create a customized profile to show off your skills and services, and browse open opportunities. Independents can filter opportunities by the type of work they do (for example, writing, designing, engineering) or simply scroll. You can even change your Work Preferences in your settings so jobs that are recommended are aligned with your wants and needs! Every job opportunity posted on Contra is transparent about its budget and the scope of work needed. The best part is that it's really easy to apply to freelance opportunities by sending over a proposal.
Between the two platforms, Contra makes it easier for beginning Independents to get started and get discovered.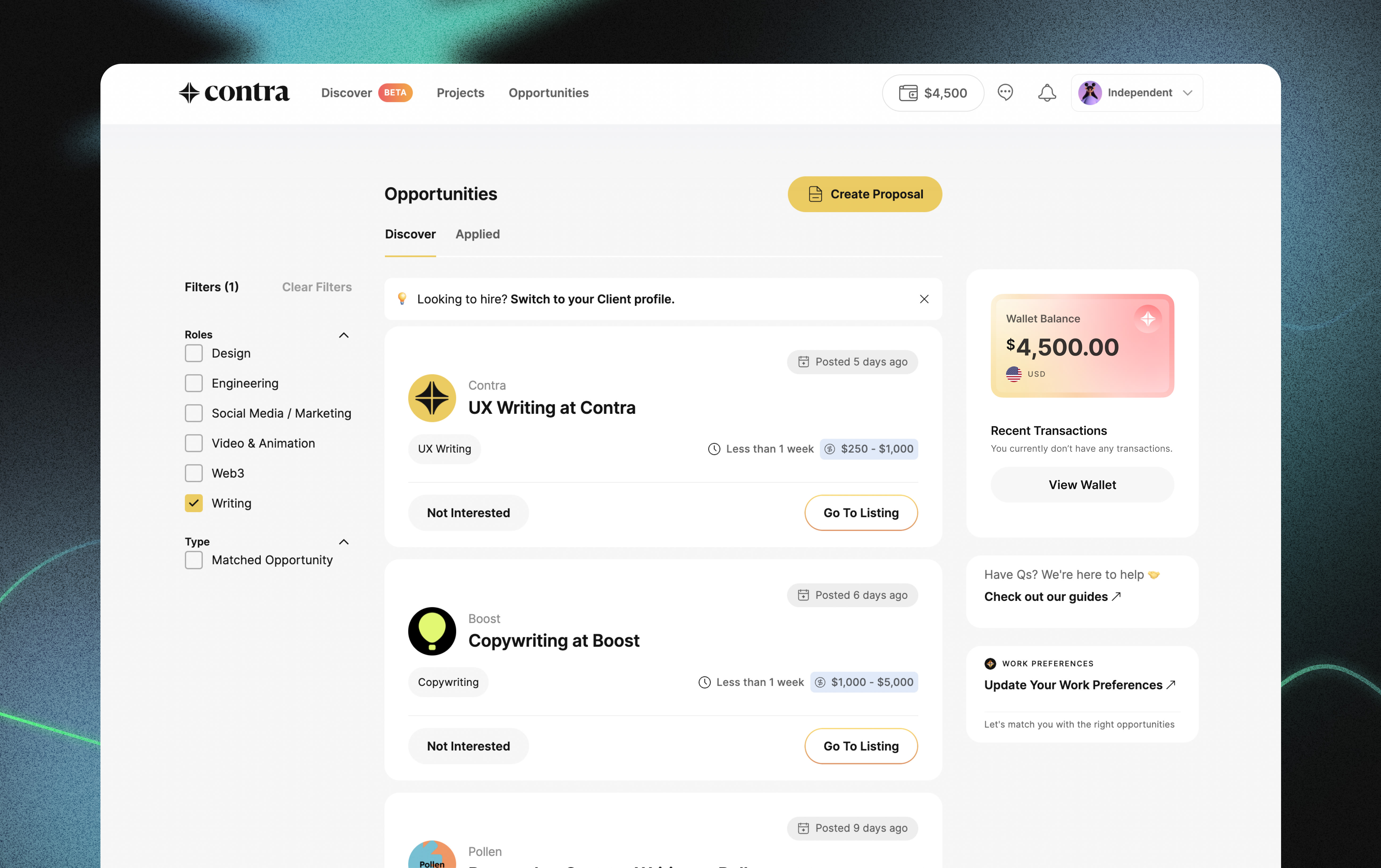 Contra vs Fiverr: Working with clients 🤓
Contra's system ensures that Independents and clients communicate before starting a project. Independents can send over a detailed proposal in response to a job listing. Clients can take a look through Independents' services and inquire about working together. With Contra, clients and Independents can flexibly:
Fiverr is more transactional in nature. Fiverr is designed to support one-time purchases. On Fiverr, clients can buy a Gig without speaking to a freelancer initially. That means if a freelancer is unable to complete the Gig for any reason, they're in the awkward position of cancelling a Gig. Buyers can only continue working with freelancers by adding Gig milestones or purchasing a Gig again.
It's a lot easier for Independents to vet potential clients with Contra. It's also much easier to find the type of opportunities that appeal to you.
Plus, if you already have Clients outside of Contra, you can bring them to Contra easily.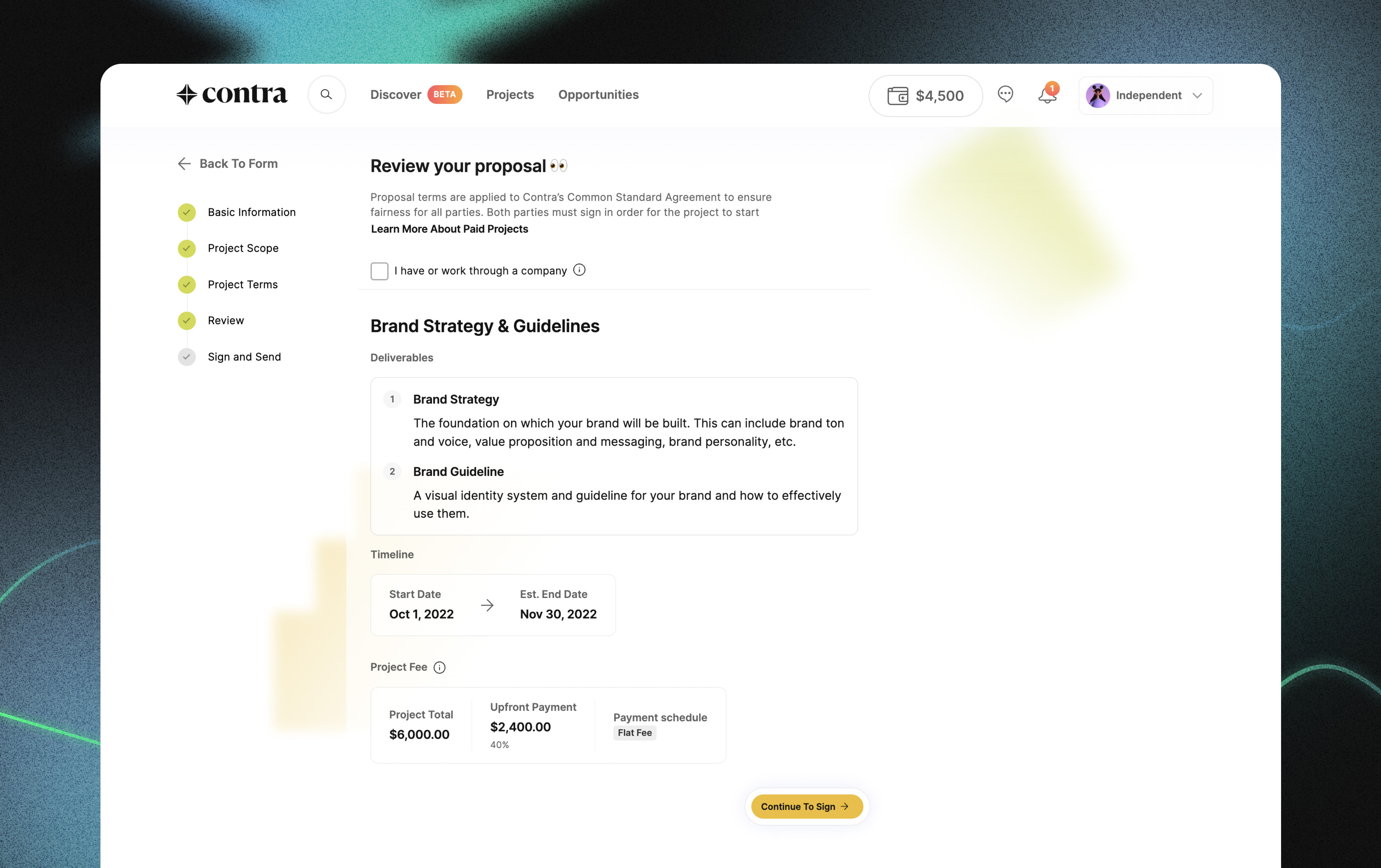 Contra vs Fiverr: Cost 💸
You don't have to pay an initial fee to create a profile or use Contra and Fiverr. The key difference between Fiverr and Contra is in the commission-fee. While Fiverr takes 20 percent of every paycheck you make, Contra never will.
Freelancers on Fiverr have the option of paying $29 a month for a membership. Additionally, freelancers can run ads to potentially get more clients, but the cost of advertising will come out of anything you earn.
All paid features on Contra are optional. If you want to see more detailed analytics to grow your freelance business, we've got you! But you can create a profile, search for opportunities, and work with clients completely for free.


Contra vs Fiverr: Getting paid 🤑
With Contra's workflow, getting paid is easy. When a Client accepts your completed project, your funds are in your Contra Wallet immediately. No more waiting for on delayed payments for work you've already completed!
On the other hand, you still have to wait to receive your funds on Fiverr. Most sellers must wait 14 days to withdraw payments, unless they are a top-rated seller, a Seller PRO, or pay for a Seller Plus account ($29/month). However, sellers still have to wait seven days for their payments even with these accounts.
Every project on Contra starts with a signed agreement between clients and Independents. Since we don't take a commission, the hourly or flat rate listed for each project is exactly what you'll be paid. And that's how it should always be.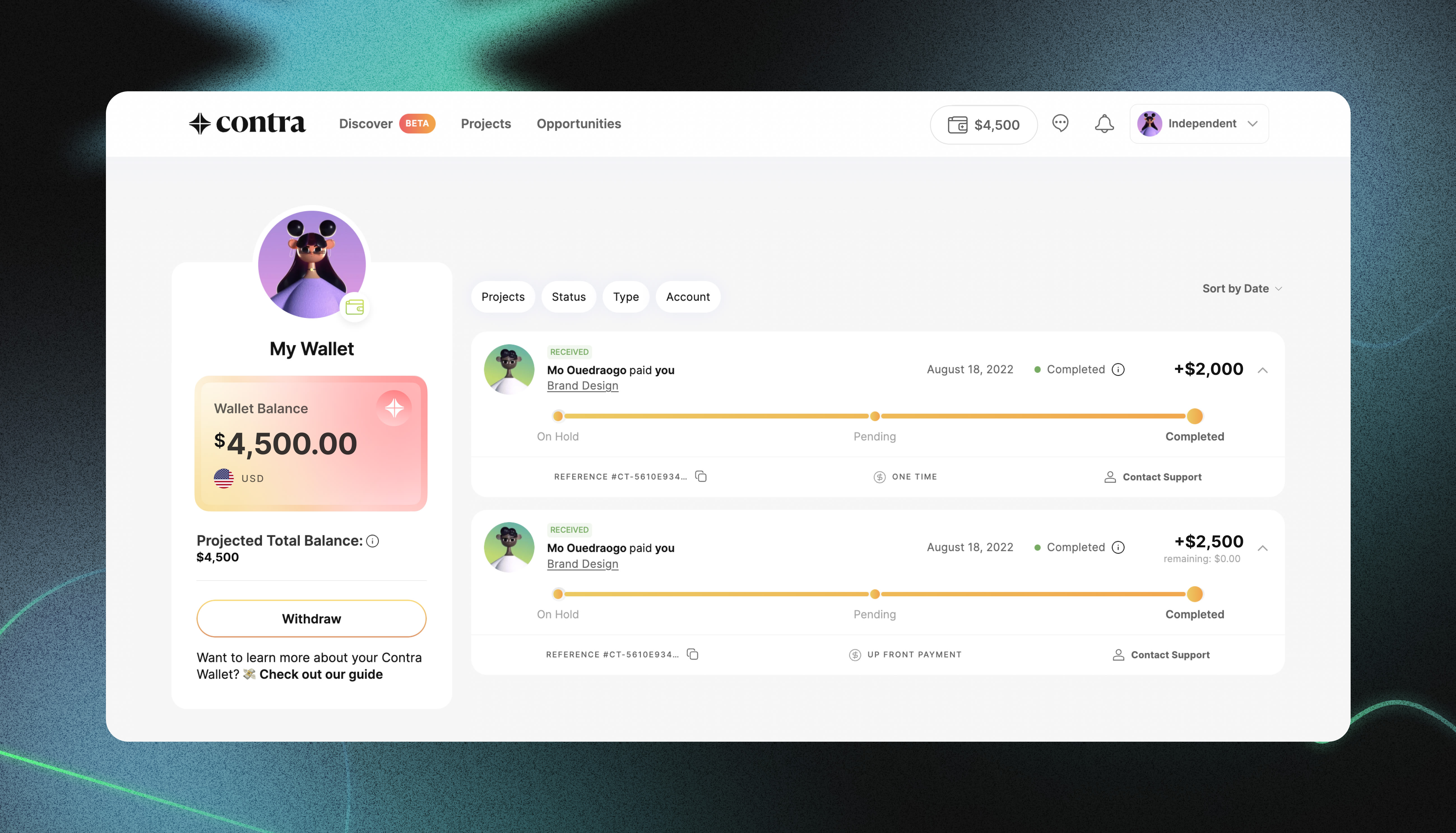 The bottom line 👇
Fiverr is a huge freelancer platform that's geared toward selling Gigs. Contra is a new community built by Independents for Independents that allows you to build a Profile, Portfolio, and search for Job Opportunities. The platform that works best for you will really depend on your specific skill set, goals, and desires.
For more information on how Contra works, check out our FAQs. If you still have questions, feel free to reach out to hello@contra.com or check out the rest of our guides on The Contrarian.



I'm a full-time freelance writer specializing in writing features, profiles, and news stories. Every story matters. Let me tell yours. Contact me here or at kaitlyn.arford@gmail.com.