Contra vs Wix
Remote Working & Freelancing

Kaitlyn Arford
· 5 min read
Professional portfolios are a huge investment in your freelance business. While the website builder you choose will ultimately depend on your preferences and budget, it should make running your small business easier.
Let's dive into the differences between Wix's and Contra's website builders and how they work!



What is a Contra Independent Portfolio? ⚡
Contra's mission is to empower anyone to work the way they want. Your Portfolio by Contra is designed to put your work experience at the forefront for potential Clients — all while connecting you to tools to help you grow your freelance business. Your portfolio will establish your credibility and show Clients why you're the person to hire. Your Portfolio by Contra includes:
Templates and Themes.

Your portfolio needs to load quickly, be easy to navigate, and have some pizzazz. Contra's website design templates are made specifically for freelancers, so your brand is front and center. More customization coming soon! 🚀

Your services.

Every theme designed by Contra displays your services with style, so it's really easy for Clients to browse. If you want, you can include

how much

you charge.

Your work.

Add projects that you've completed for Clients — this is where you showcase how you made them happen and the results you achieved. Before hiring you, Clients will want to take a look at what you've done before.

A call-to-action.

Contra makes it easy for Clients to get in touch with you. Every portfolio includes a custom call-to-action like "Work with Me" that Clients can click to reach out to you.




What is Wix? 📣
Wix is a cloud-based website builder. Wix offers website templates, domain hosting, ecommerce capabilities, photo galleries, and other applications. The main difference between Wix and other website builders is that Wix's editor allows users to move any element to any place on a page.

Wix Website Builder
Create a website with Wix's robust website builder. With 900+ strategically designed templates and advanced SEO and marketing tools, build your brand online to…


Important differences between Contra Independent Portfolios and Wix 👇
Now that you know a little about Contra Independent Portfolios and Wix, let's break down a few of the most important differences.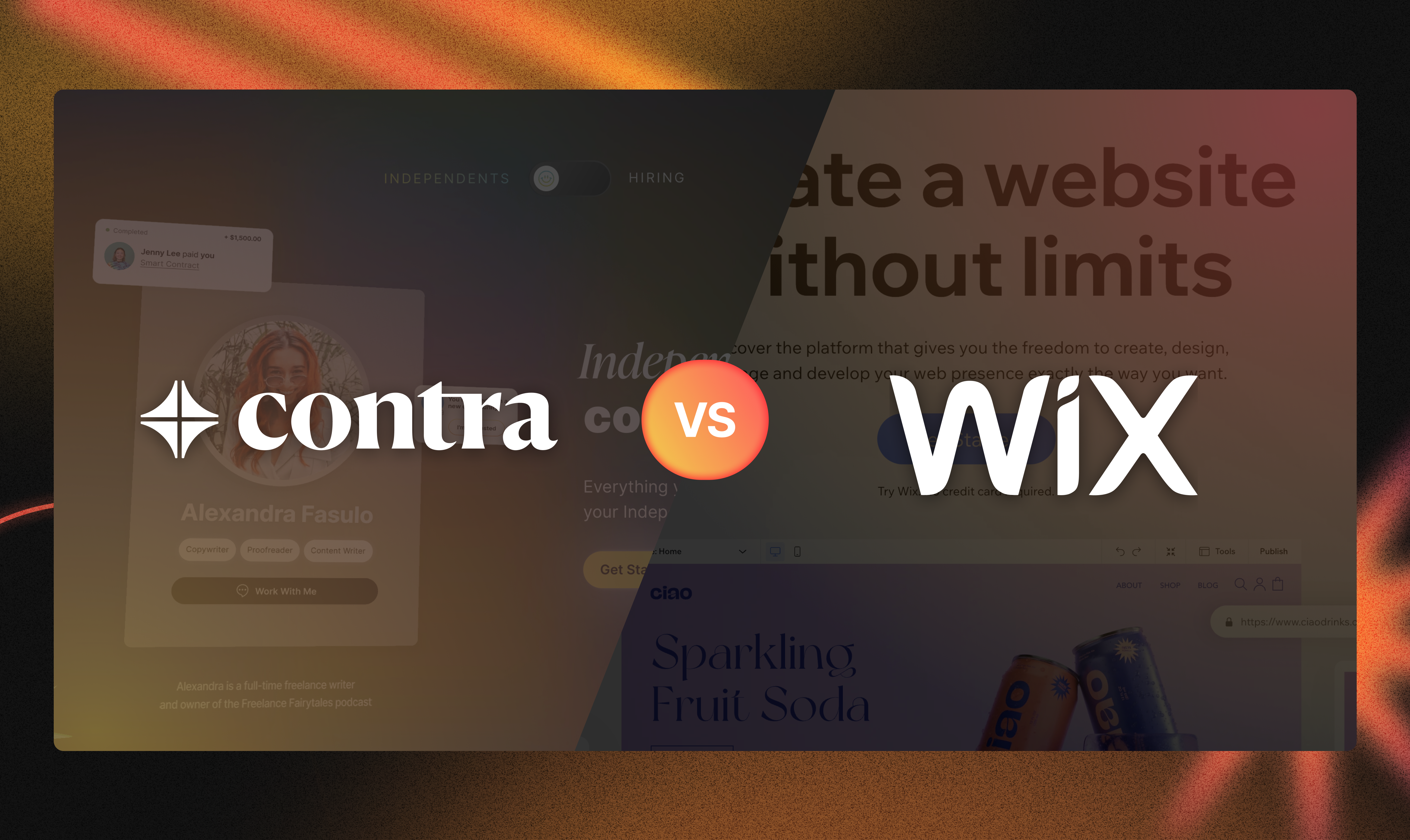 Contra vs Wix: Creating Your Portfolio 🎉
With Wix, you'll have to learn how to use all the customization tools before being able to build your personal website. On the other hand, Portfolios by Contra make it easy to turn your Contra Profile into a Portfolio with a click of a button. We are making things simple — you no longer have to stress about learning the tooling, or hiring someone to create your site for you.
Like we mentioned before, you can move any element anywhere on a Wix website. You can start with a template, but it's really easy to make elements unorganized. You may end up with a website that looks more out of wack than when you started. Wix also has extra featured apps that connect to your website, but many of these cost an extra fee, raising the amount of money you're investing in this site.
With a Portfolio by Contra, you get to:
Choose from pre-made design templates and themes.

Our themes are designed specifically for freelancers. Every website theme is made to show off freelance work, and you'll find one that's perfect for you! Plus, you can further customize your website theme by selecting between the color schemes that best fit your aesthetic!

Market your services to clients.

Independents get to show off their best work and services with Portfolios. Plus, every website comes with a call-to-action that prompts Clients to get in touch with you. You still have access to all the amazing

free

features that help you grow your freelance business — like built-in contracts and commission-fee payouts.

Save hours of your time.

No more spending time Googling how to fix a website problem, or figuring out how to customize a website when you're no developer. With the press of a button, your Contra Profile becomes your new personal website. Now you can focus on doing what you do best — building your freelance career.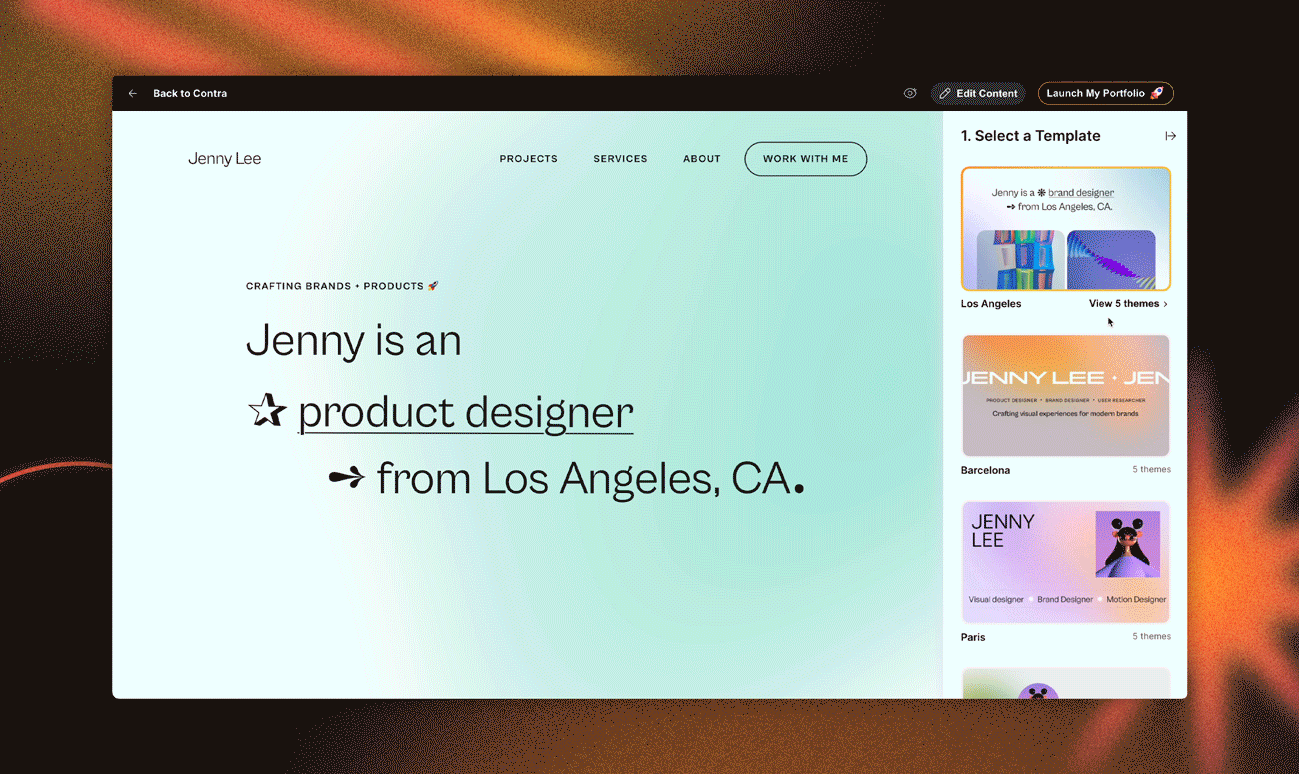 Contra vs Wix: Finding New Clients 🏆
While you can design your own professional portfolio on Wix, Wix isn't built to connect you directly with clients.
Your Contra Profile powers your portfolio. Your Profile allows you to both explore opportunities and connect directly with clients. There's two ways we connect you with freelance jobs:
Clients find you in the Discover Feed.

Clients explore the

Discover Feed

to find amazing freelancers who have the skills that meet the job!

Discover freelance jobs in the Opportunities Feed.

Clients list opportunities directly on Contra with a transparent budget and scope of work. All opportunities pay a minimum of $250 or $25 per hour. Plus, you'll keep every penny you ear: Contra is commission-free,

forever

.
Every project and service you add to your profile will help you look more professional and show Clients exactly why they should hire you.
Wix offers a Partner Program where freelancer web designers can earn "points" for every Wix website they design for clients. Wix doesn't offer paid opportunities for writers, editors, engineers, or graphic designers, but Contra is listing new and exclusive opportunities all the time.
Launch, Build, and Grow Your Business with Contra Independent Portfolios

🚀
Contra is built for Independents, by Independents. We understand the importance of your portfolio and are here to help you run your business smoothly. A Contra Independent Portfolio is more affordable than a Wix website, and much easier to create.
Create your Contra profile in minutes, and join the waitlist to get access to Independent Portfolios.
If you have questions, please reach out to hello@contra.com, check out the rest of our guides on The Contrarian or read reviews from fellow freelancers. We're here to help.



I'm a full-time freelance writer specializing in writing features, profiles, and news stories. Every story matters. Let me tell yours. Contact me here or at kaitlyn.arford@gmail.com.