Your guide to Contra's new shareable assets 📱
Remote Working & Freelancing
Social Media

Allison Nulty
· 2 min read
Landing new clients is a top challenge for freelancers. Aside from word-of-mouth, social platforms are the top channels to get discovered, generate leads, and form relationships with new clients. But that puts some pressure on freelancers: how do I put my best foot forward and show off my work, skills, and brand across platforms?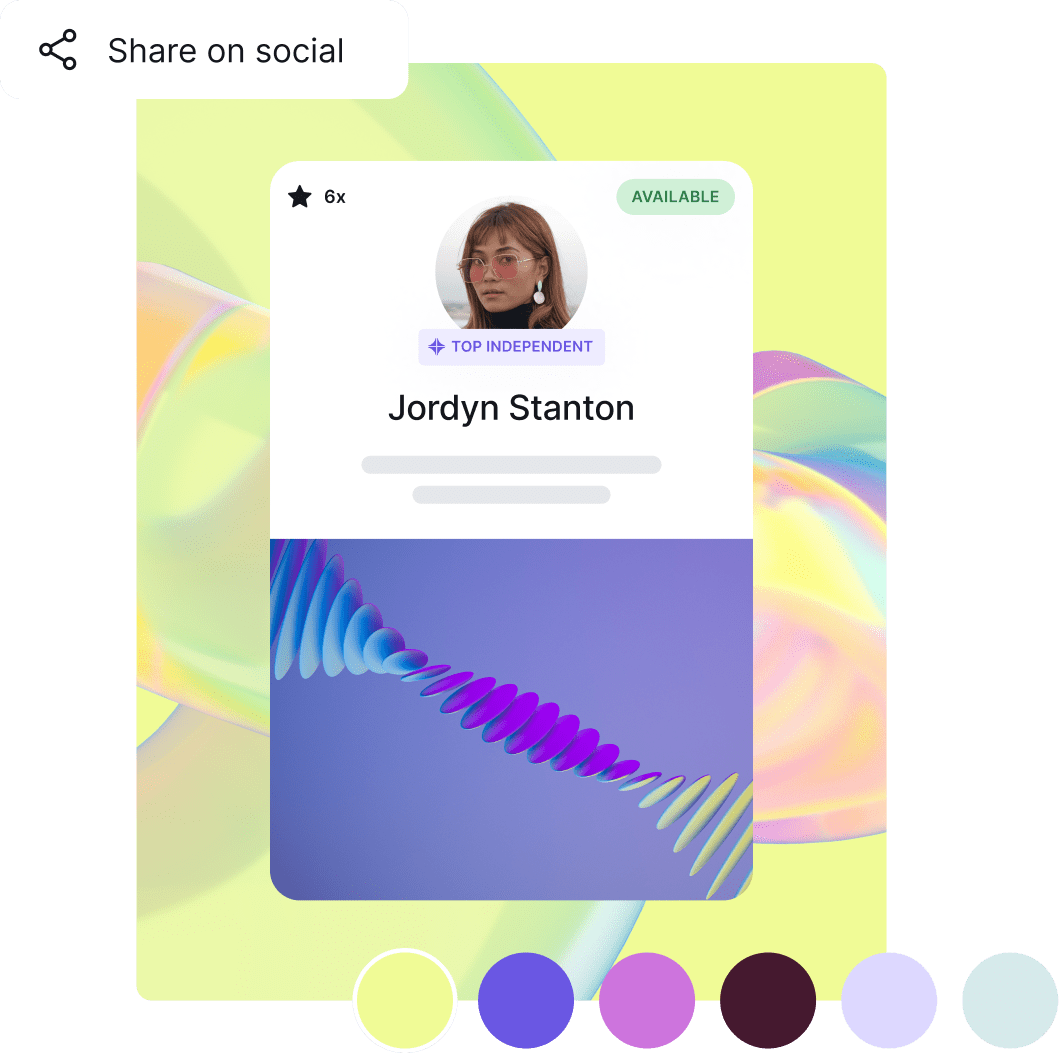 We're here to make that process much, much easier. You can now create social assets showing off your portfolio quickly and easily, then download them to share across key platforms. It's as easy as selecting the platform (TikTok, Instagram, X (Twitter), or LinkedIn), customizing colors and background effects, choosing a static image or video, then downloading.


🔑 Don't forget to include your portfolio link so that new clients that discover you can dig deeper into your profile and send you an inquiry to work together.
Here's how the new sharing feature works
✦ From your navigation bar, click the share icon.
✦ Select the channel you want to use the asset for, including TikTok, X (Twitter), LinkedIn, and Instagram posts, stories, and threads. 
✦ Make it your own—customize the colors and background effects, then choose between a static image or video asset.
✦ Download the asset, then update it to your favorite platform. Be sure to post a link to your profile or portfolio when you share so you can receive inquiries.


Why give it a try?
✅ All social assets are sized for the top lead-driving channels like TikTok, Instagram, X (Twitter), and LinkedIn.
✅ Make videos or images with one click, or customize the background colors and effects if you'd like to make it your own.
✅ Highlight your profile or portfolio—it's free for all Contra Independents.


Get started with the new sharing experience here.


Want to try Contra? Sign up for free at contra.com to start your independent journey.

Hello! I am a New York native, living in SF. I lead the product team at Contra and am always excited to bring our newest features to life. Have product ideas or something you'd like to see? Send me an inquiry and let's chat!