How to Download Instagram Reels: 5 Ways📱

Learn how to download Instagram Reels quickly on iPhones, Androids, and desktops with our simple guide. Download your favorite Reels to your device today!
Instagram introduced Reels in 2020, following the immense popularity of TikTok short videos. They drastically changed how users and companies showcased their creativity, content, and products on the platform.
A strong Instagram presence does more than promote your business; you can even sell directly from the platform. In this guide, we'll explain how to save a Reel to your camera roll, how to download a Reel without a watermark, and how to save a Reel with audio.



What are Instagram Reels? 📹
An Instagram Reel is a short-form video that can be up to 90 seconds long. Viral Reels are the secret to growth on the platform, as its algorithm prioritizes video content. Therefore, Reels are more likely to increase social media engagement by reaching larger audiences than regular posts and Instagram stories.
Instagram Reels has its own tab featured on the home feed navigation bar, making the feature easily discoverable. 
Why do Instagram users download Reels? ⬇️
Many users download their Insta Reels to use on different social media platforms, such as TikTok, Facebook, and LinkedIn. This allows them to share their content with more people and audiences to boost engagement. 
People also download Reels to repurpose for later content and use them as content inspiration or reference.
Can you download Instagram Reels?🤔
You can easily download your own reels from your account. For those looking to download someone else's content, Instagram recently announced that U.S.-based users can now download Reels posted by public accounts.
If you live outside the U.S. or don't have the feature, you must rely on other methods. These methods only work on public accounts; Reels from private accounts, including audio, cannot be downloaded. 
How to save a Reel on Instagram: 5 ways 📸
As the popularity of Instagram Reels continues to surge, so does the curiosity to download and save these captivating short videos. Whether you're using a desktop, the mobile app, or a third-party app, these methods will seamlessly download Instagram Reels from different platforms.
Instagram's built-in tool for mobile📱
You can use Instagram's built-in tool by opening the Reel, hitting the Share button, and selecting Download. Using this Instagram Reels downloader feature will save the video.
If you don't have this feature, you may want to try one of the following methods instead.
Via Instagram Stories 📖
A simple way of saving a Reel to your phone's gallery is downloading it via Stories. The steps are straightforward:
Open the Reel and select the Share icon.

Click on Add to Story.

If you wish to download the Reel in full-screen, pinch to zoom in.

Click on the three dots in the top right and tap Save to download.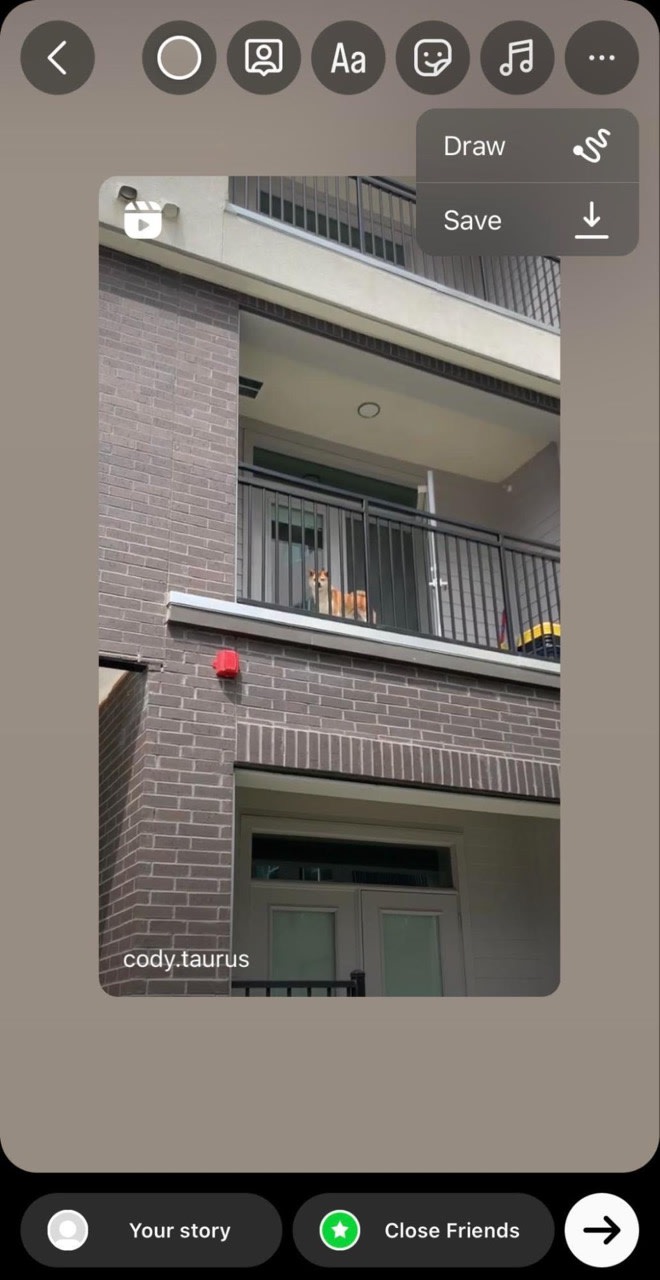 Screen recording 🔴
Another way to download Reels is to screen-record the video. Here's how to screen record on an iPhone: 
1- Ensure the screen record feature is on your iPhone's Control Center. Go to Settings > Control Center and tap the plus sign next to Screen Recording. 
2- Open Instagram and find the Reel you wish to record. 
3- Swipe up on your iPhone to access your Control Center.
4- Tap the gray Screen Record button. The screen recorder will begin after a three-second countdown.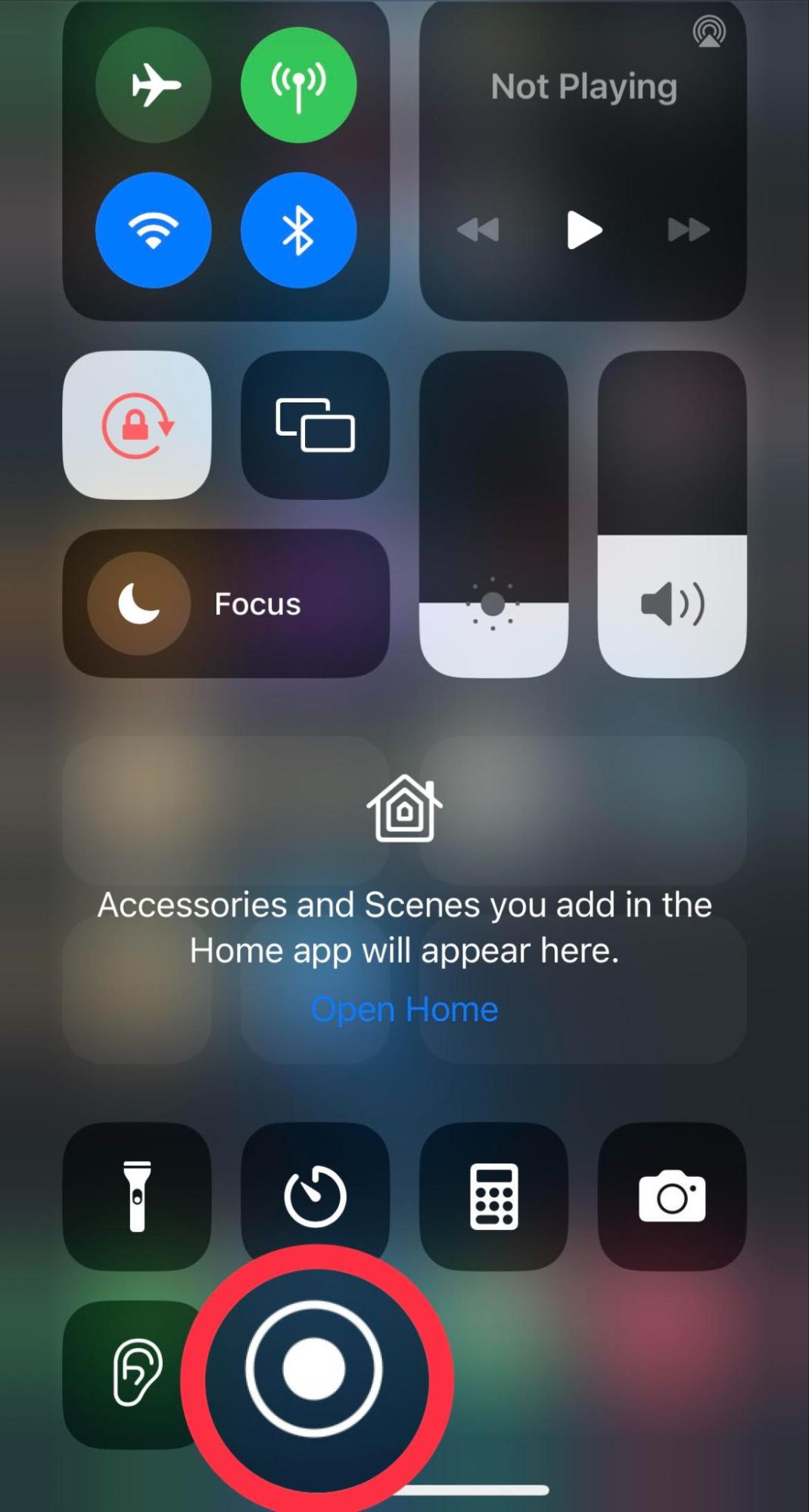 5- Play the Reel and end the recording by pressing Stop, tapping the red bar on the top left.
6- The video is now saved in your gallery. Trim the video to isolate the Reel footage. 
Here's how to screen-record an Instagram Reel on an Android:
Find the Reel on Instagram.

Swipe down from the top of your device to locate the screen record button and tap it. 

When the video is over, tap the Stop button. The recording will be saved in your gallery.  
Third-party apps 💾
Another method to save a Reel to your phone without screen recording and trimming videos is via a third-party app. 
Here are popular iOS Instagram Reel-saver third-party apps:
InSaver: Repost for Instagram

InstDown

Instant Save
Here are the steps to download Reels using the InSaver: Repost for Instagram app:
1- Download and set up the app
2- Select the Instant Saver option in the app and tap the Instagram launching icon on the top left.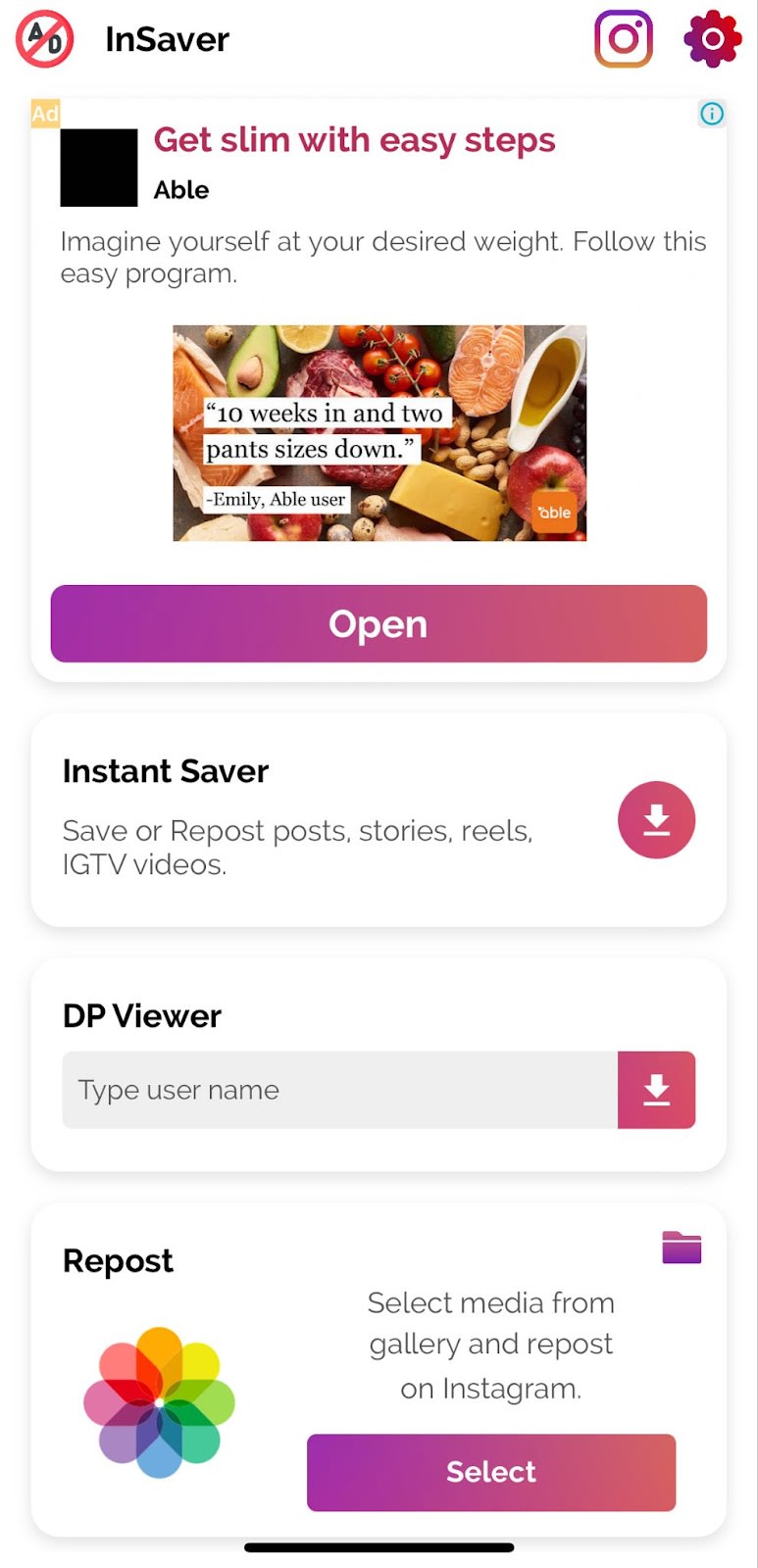 3- Clicking this will require you to log on to your Insta.
4- Once in the app, go to the Reel you want to download, tap the three dots icon > Share button > Copy Link. 
5- Return to the Insaver App; it will automatically paste the link after you click Allow Paste. The video will then download.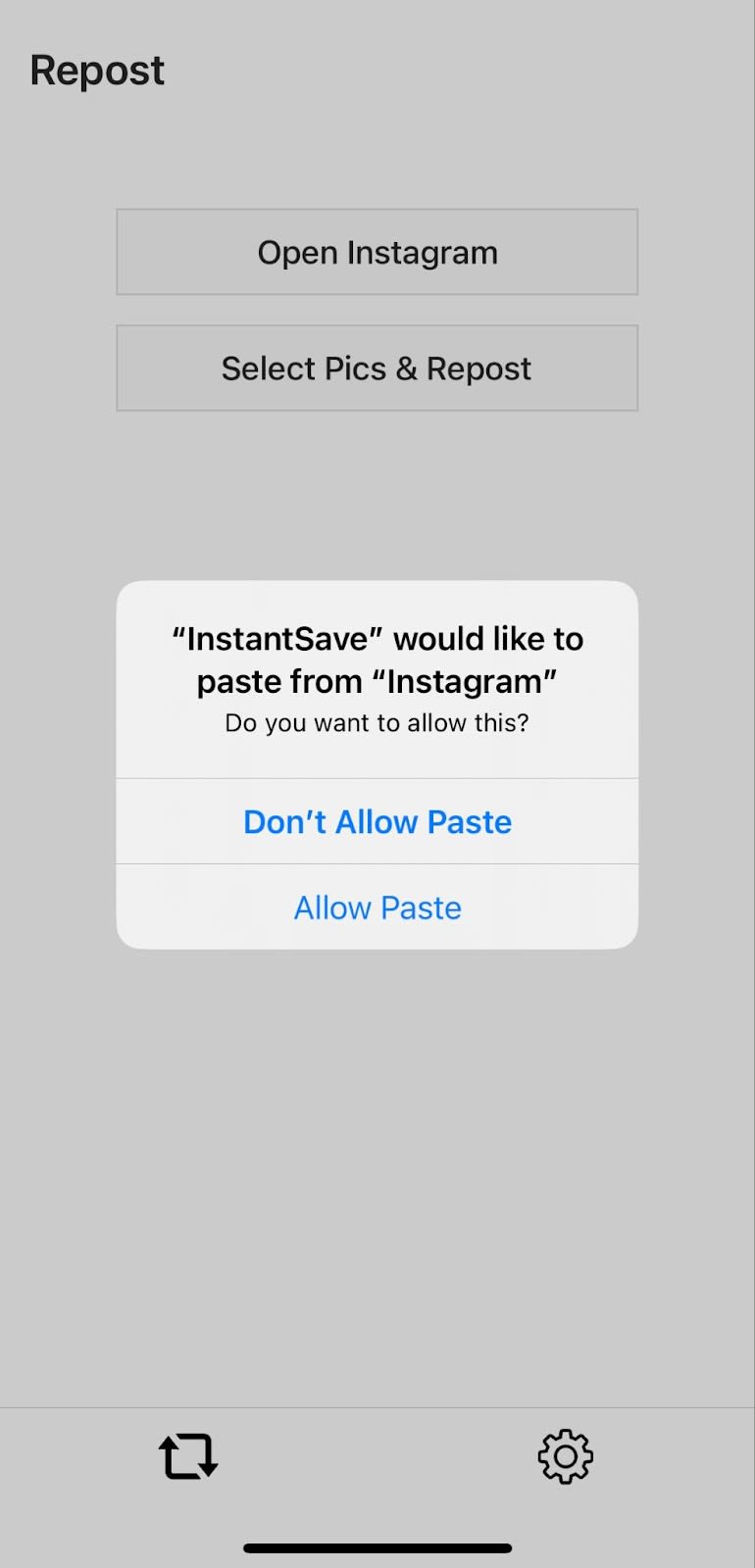 6- Tap on Save to save to your Gallery.
These are the most popular Android third-party apps:
ETM Video Downloader

Video Downloader for Instagram - Repost Instagram 

AhaSave Video Downloader

Reels Video Downloader for Instagram
AhaSave Video Downloader is one of the best Instagram Reel downloaders. Here's how to use it:
Download and open the app. Click on the Instagram icon. 

Open Instagram, go to the Reel, and select Share. 

If you tap Copy Link: Paste the copied link in the AhaSave app and hit download to save it.

If you tap Share To: Choose the AhaSave app from the Share To apps. The Reel will then automatically save to your device. 
How to download Instagram Reels on a desktop 🖥️
If you want to download Instagram Reels on a desktop computer to edit with more advanced software, you will need a third-party screen recording app such as OBS Studio (free, open-source) or Snagit (paid app). 
For Mac users seeking to download Reels without a third-party app, you can screen record using the iOS QuickTime Player. 
Other apps that can help you download or screen-record Reels to your desktop include Camtasia and Loom. Alternatively, you can use websites such as iGram.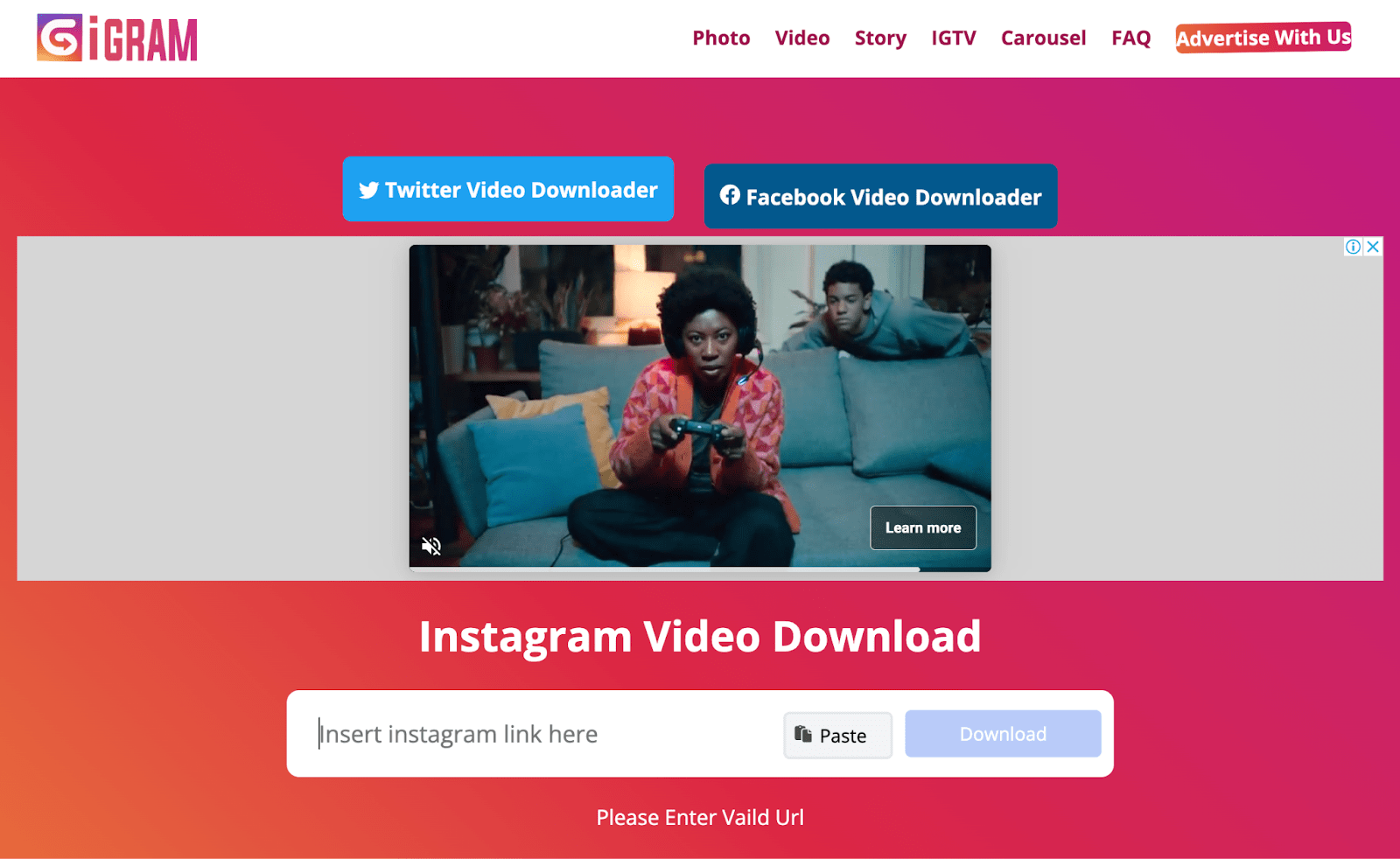 How to download your own Instagram Reels 🤳
Instagram does not automatically save your reels; you must manually download them to keep them on your device.
Here are the steps:
Open Instagram > Your Profile > Reels tab. 

Open the Reel you want to download and select the three dots icon.

Tap the Save to Camera Roll option; a copy of your Reel should be saved.
If you wish to save a Reel before you publish it, select the Download icon on top of your editing screen.
How to save Instagram Reels on the app 🔖
If you want to save a Reel to watch later without downloading it on your phone, you can bookmark it on the app by following these steps: 
1- Open the Reel you want to save and select the three dots icon on the bottom right. 
2- Tap the Save option.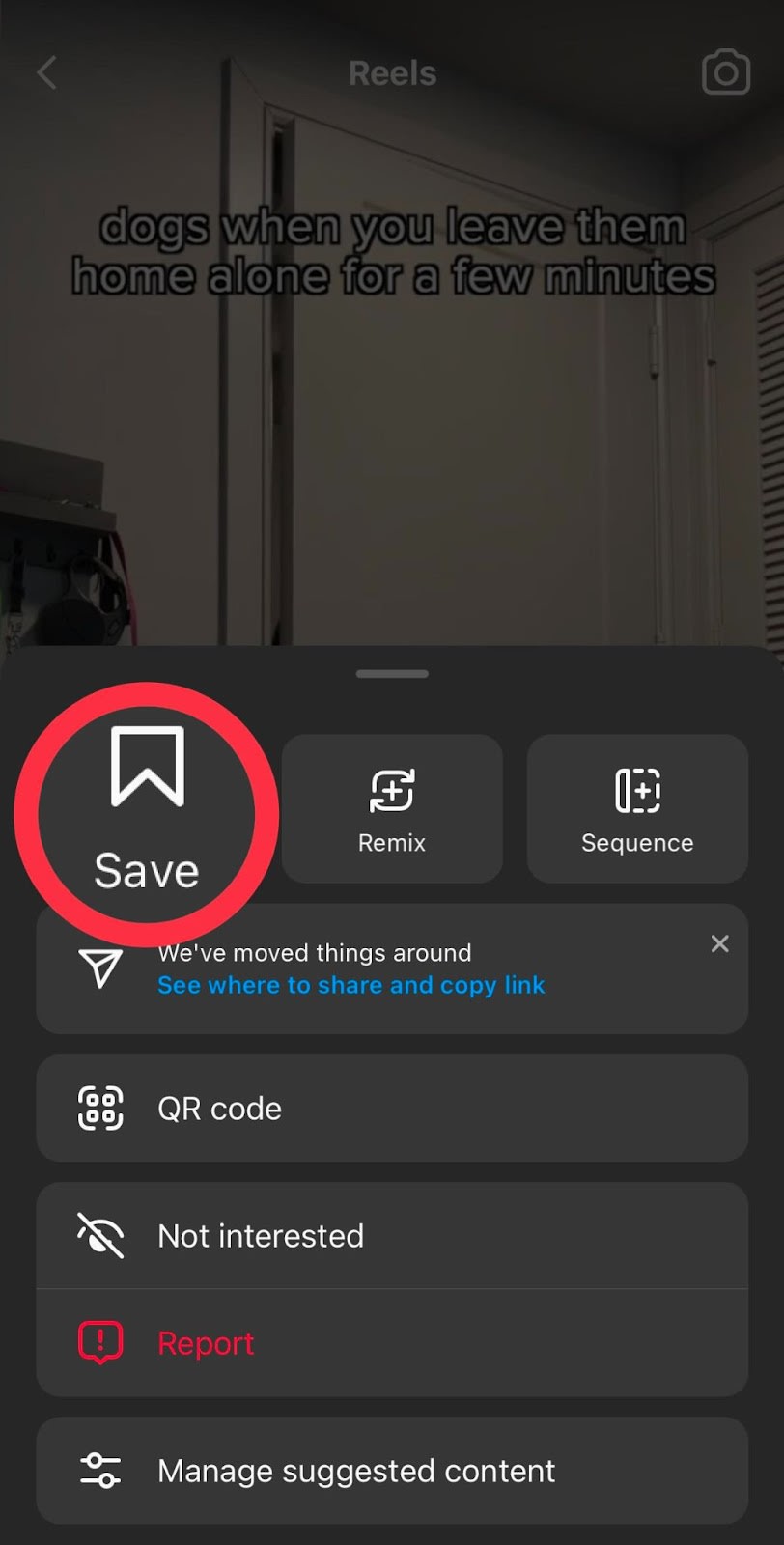 3- To return to the saved Reel, head to the Instagram home screen > your profile > tap the three-line icon on the top right > Saved.
Here, you'll find your videos in the All Posts folder.
Connect with digital marketing professionals on Contra ⚡
Contra is a freelancer-first community that offers the perfect opportunity for creative Independents to promote their digital marketing services commission-free. Clients can also match with a freelance digital marketer suited to their needs.
We're all about helping Independents and clients find the perfect fit! Sign up today to find out more.

How to Start a Social Media Marketing Agency📱
Launching your own company might be daunting, but we'll explain how to start a social media marketing agency so you can embark with confidence.



Need some help? You've come to the right place. Here, you'll learn more about Contra and how we can help you with your journey.