How To: Freelance While Having a Full-time Job
Remote Working & Freelancing

Kaitlyn Arford
· 8 min read
Balancing a freelance career alongside a full-time job is no easy feat. Maybe you just want to supplement your income, maybe you're ready to get away from your 9-5. Regardless, you'll need to put a plan together to freelance with a full-time job without losing your mind.
Take the time to strategize why you're freelancing and how you'll balance your full-time job with freelance clients. The more consideration and planning you do now, the more success you'll create later.





Consider your skills and interests 📚
You may have to put up with tedious tasks at your day job but one of the perks of freelancing is picking what you work on and who you work with.
You have the opportunity to focus on what you're really interested in. For example, if you're an illustrator who wants to work on branding for small businesses, you could offer creative strategy as a service.
You get to decide what services you offer. Here's just a few ideas:
Social media management.

Offer TikTok execution, Instagram strategy, or create content calendars.

Graphic design.

Create motion graphics, animations, and illustrations. Build a creative strategy or design logos.

Writing.

Consider ghostwriting, writing blog posts, or copywriting.

Web design.

Offer front-end or back-end website development.

Marketing.

Consider offering email marketing, brand strategy, or virtual assisting services.


Manage your time ⏰
As a full-time employee, you already working for 40 hours a week. If you take on too many responsibilities outside of your full-time job, you may be working yourself toward burnout. If you start having problems balancing your day job and your freelance work, you may create problems with both parties. Figuring out how to balance your freelance side gig with a job is hard.
Carefully consider how much time you have to dedicate:
How much time do you have for freelance projects?

When do you have time to work on freelance work?

What sacrifices will you have to make?
Consider working with clients in different time zones 🏡
If you need to take meetings around the hours you work, use time zones to your advantage. It's important to avoid working overlapping hours — obviously, you won't be available for a call with a freelance client when you're working a day job.
Consider working with clients in different time zones. For example, it could be 8 a.m. in Colorado, but for your client in Kentucky, it's 10 a.m. You're able to squeeze in a meeting before work, and it works with their schedule.
On your Contra profile, you can note the time zone you're in and when you're available. Contra accepts many methods of payment, so you can work with Clients around the globe.
Always have a signed contract ✉️
It's possible to start freelancing with zero experience, but we don't recommend working without a contract in place. You're probably not a lawyer, and figuring out how to send a contract (and what to write in one!) is a waste of your time and talents. Instead, use Contra's built-in contract to send freelance clients a professional contract that protects both parties.




Set SMART goals ⏱
As you freelance alongside your full-time job, you must consider your future goals. Ask yourself these key questions:
Why do I want to freelance?

What is my long-term goal? Are you just looking to earn some extra money, or are you ready to jump away from your 9 to 5?

What types of freelance work do I want to focus on?

Do I want to eventually focus on freelancing full-time? If so, how many years will it take to get there?
Then set SMART goals (specific, measurable, achievable, relevant, and time-bound) to get where you want to go.
Take on different responsibilities at work 📣
You may be freelancing because you need extra cash, or because you're soft launching your freelance career. But don't disregard your workplace yet!
Before you start looking for your first client, look at your day job. Is there a way for you to develop new skills or create new projects within your workplace?
What new projects can you take on?

Can you use any of your work in your freelance portfolio?

Does your workplace offer resources for self-improvement, like access to online learning?
Take advantage of any resources or opportunities in your workplace. Use them to build a runway for your freelance business.
Create a freelance portfolio 🏆
Once you've identified your bandwidth, thought about your goals, and considered which services to offer, you need to create an online presence. Creating a website that features your work experience, services, and expertise will help you land freelance clients.
Your best move is to build your brand with Portfolios by Contra. You'll get a customized website that's built specifically for Independents and be able to quickly launch it. You need to maximize how you leverage your time, and Portfolios by Contra streamline the website creation process.
Your portfolio is powered by your Contra profile, so your website is optimized to help Clients discover your services. We recommend purchasing a domain name so you own your online brand and look more credible and professional to clients.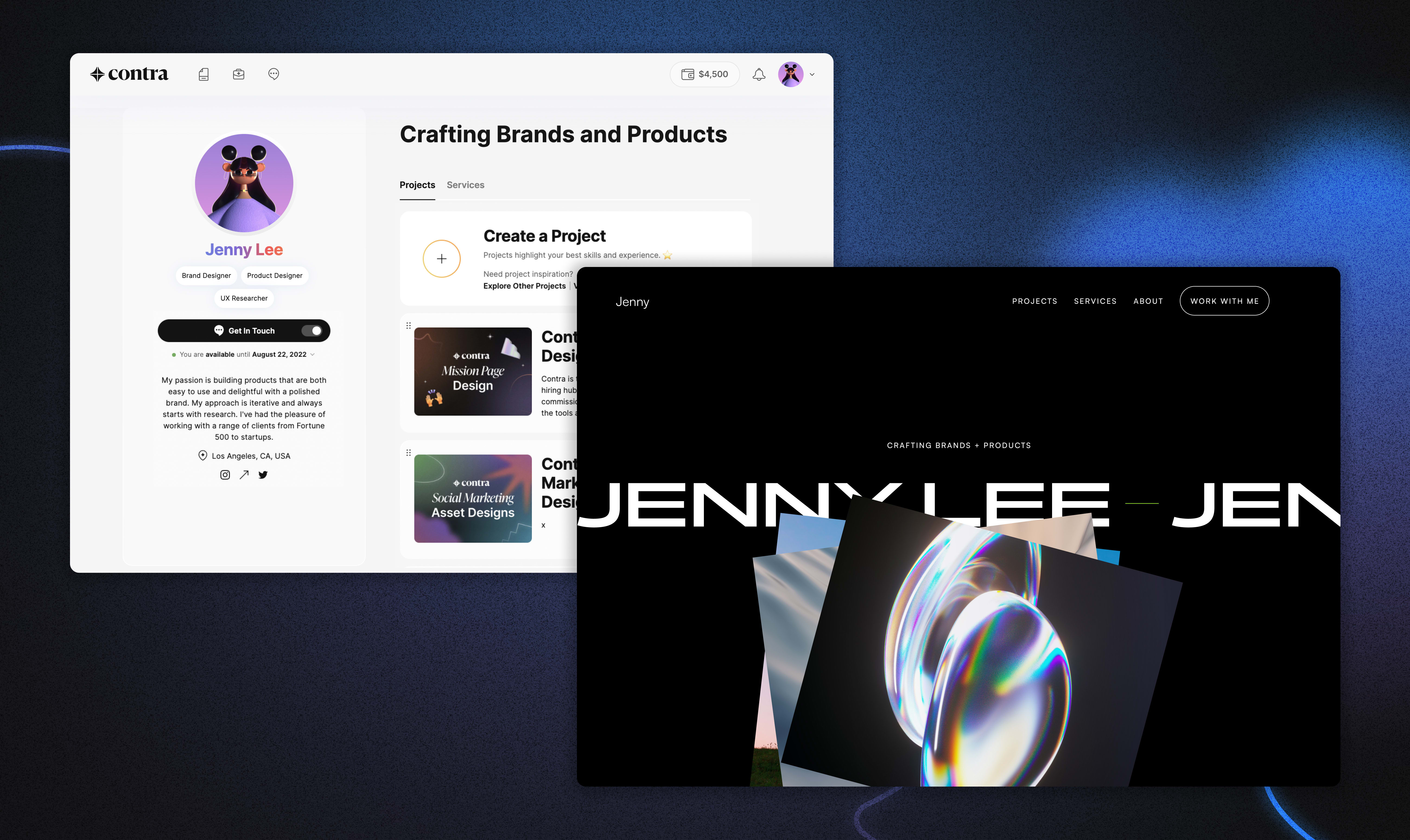 Set clear boundaries with yourself and your clients ✌️
Let your client know when you're available for meetings, which is probably around your normal business hours. Be honest and tell them you have a full-time job upfront.
Set a clear project scope.

Use Contra to set up

flexible projects

with your clients and work the way you want. Work with your clients on an hourly or rate basis, or get paid through

milestones

.

Communicate when you are available for meetings.

Use a

meeting scheduler

to clearly demonstrate when you do (and don't) take meetings.

Tell your clients about how you can best work together.

Would longer deadlines help you exceed expectations? Ask clients to give you project briefs earlier, or push back deadlines. Communication is key when setting boundaries.
Finally, remember that your clients are not your boss. You are their partner and a trusted asset. That means that they can't control your work hours or when you're available for meetings.
Create and refine your processes ☕
You're in the beginning stages of running a business. In order to carefully balance your time, you need to create systems to stay organized.
Choose tools that help you manage projects and streamline the administrative side of your freelance business. You don't have time to hobble together a legal contract or chase down unpaid invoices. But with Contra, you can onboard clients, manage freelance projects, and get paid commission-free all in one place.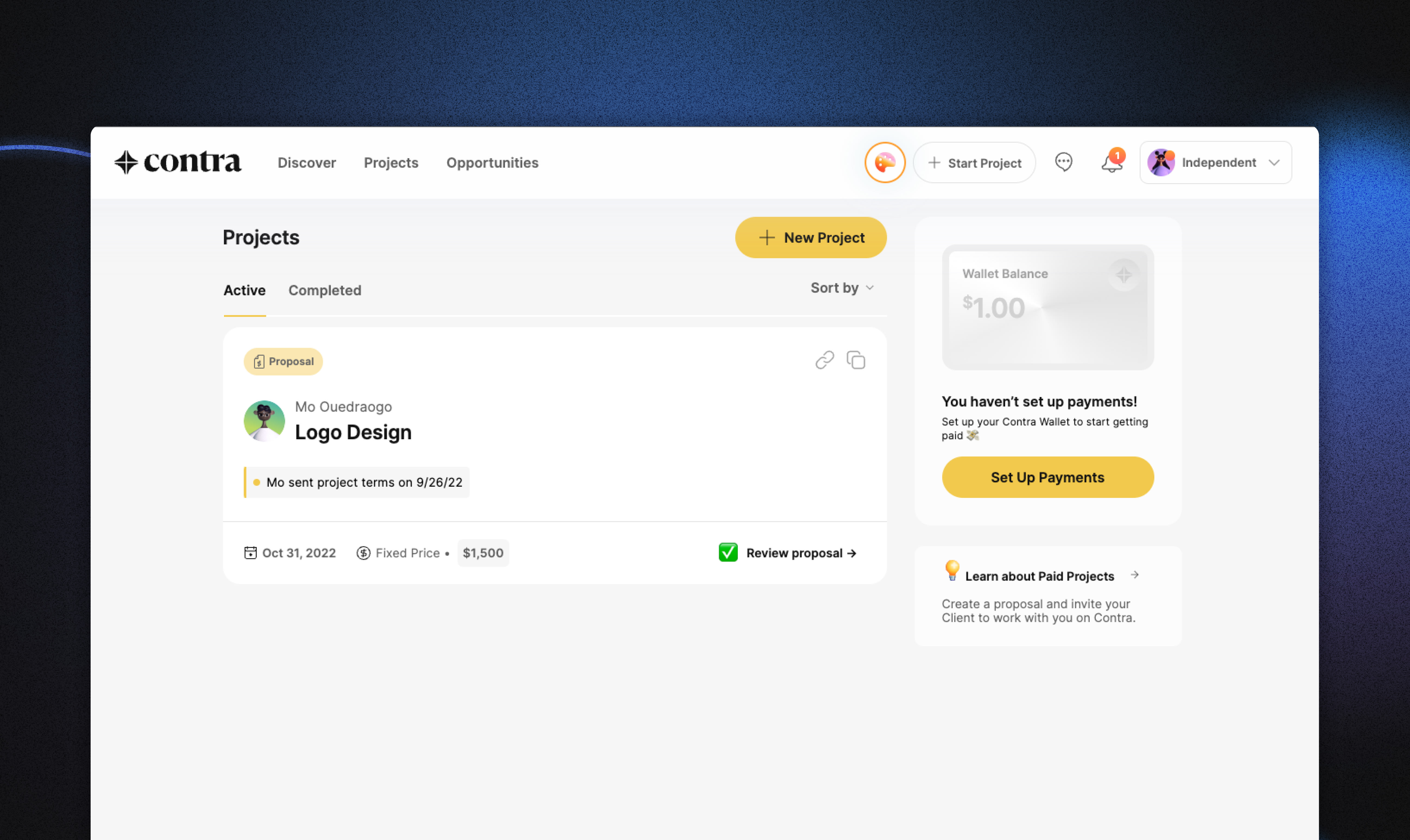 Turn down freelance projects 🤔
It's very tempting to accept every project that comes your way as an Independent. However, some freelance projects just aren't worth it if they aren't interesting, don't pay well, or are hard to fit into your already busy schedule. If your gut is telling you that the work isn't for you, say no.
Part of being a professional independent worker is knowing when to take on freelance projects and when to pass. In fact, a 2022 report found that 57 percent of creatives say that saying "no" is an underrated skill. So while it might seem counterintuitive, turning down freelance projects will serve you and your business in the future.
If you're connected with other independent workers, refer the work on to them. There is no shortage of freelance work out there. Other work will come.
Prevent burnout with time management ⌛
Working full-time and freelance at the same time leaves you at risk for burnout. You may also be balancing parenting, caretaking, and other responsibilities. Symptoms of burnout include anxiety, depression, loss of sleep, and irritability according to Eastern Washington University.
Do what you can to prevent burnout by balancing your time and managing your needs:
Avoid overbooking and undercharging

Take breaks throughout the day

Exercise regularly

Seek out personal connections

Take time away from work
Give your full-time work your attention 🤓
You need the stability of your full-time job as you build up your freelance business. Even though you're excited about working independently, you still have to meet your deadlines, show up to work on time, and fulfill your responsibilities. You need the income and benefits of your full-time job so you can safely say no to bad clients.
If you're having a hard time doing that with your freelance workload, it's time to take a step back and reassess the time you have to contribute to freelancing.
Check your employment contract for any legal limitations 🛑
Always check your employment contract before you start looking for freelance work. Some employers forbid employees from taking on any kind of freelance client, or from working for competitors. If a freelance job may result in your termination, you'll need to consider that. Check with your HR department if you have any questions.
Launch your freelance business with Contra 🚀
Manage your freelance business in one place with Contra. Beginning to freelance with a full-time job may be overwhelming at times, but using Contra as a hub to handle your project management, contracts, and commission-free payments reduces administrative work on your end.
Ultimately, you need to put systems in place so you can maximize the time you have to spend on freelancing. Many of Contra's employees have worked independently, so we know the challenges you're facing. If you ever need more help, feel free to reach out to hello@contra.com.



I'm a full-time freelance writer specializing in writing features, profiles, and news stories. Every story matters. Let me tell yours. Contact me here or at kaitlyn.arford@gmail.com.