End of the Year Freelancer Checklist
Remote Working & Freelancing

Kaitlyn Arford
· 11 min read
December has two speeds: "it's December already?" and "oh no, please slow down."
For freelancers, December is especially hectic. You're frantically finishing up client work, or worrying over whether you'll have work to return to in January. You're handling the behind-the-scenes bookkeeping and communicating that it takes to survive the final month of the year.
Your head is spinning, so it's easy to forget important year-end tasks. That's why we've created the ultimate end-of-the-year freelance checklist so you have one less thing to worry about. Take a breath, and get to work.





Communicate with existing clients
First things first, you need to communicate with your clients, complete any outstanding work, and ask for recommendations.
Close out projects 📚
Let's begin by reviewing your final client projects. Turn in any final deliverables to your clients. Delivering high-quality work on time means a lot to your clients who depend on you. Want clients to return next year? Hit deadlines, do good work, and communicate about any issues. You'd be surprised by how far this takes you.
Send a short thank you note with your final deliverables:
It's been so fun to collaborate with you! Thank you for your input and sharp edits. I would love to continue working together next year.

Thank you for your organization, input, and communication. It's been amazing to work on this project, and I am so excited to see what's in store for the future. Working with your team has been a dream, and I'd like to continue our partnership.
Contact clients you've worked with 💌
Make a list of the clients you've worked with. Clients will have a brand-new budget to spend next year, and they will need your services!
Get in touch with Clients so they know you're available. Try this template:
Hi [Client!]
Hope you're been well since we worked together last. I'm available for new [type of work] projects now.
I'm happy to help you with:
[Type of service]

[Type of service]

[Type of service]
You can see more about my services on my portfolio [portfolio link].
Of course, always happy to chat more over a call! I'm ready to hit the ground running and would love to work with you again.
By the way, please feel free to share my name with anyone in need of my services. Referrals are always welcome!
[Your name]
Ask for recommendations 📣
Your reputation is crucial to landing more freelance work. A track record of testimonials and recommendations from happy clients will go a long way toward securing more work.
When you send in a completed project to a client, ask for a short testimonial. Your testimonials can live forever on your website and you can share them across your social media channels.
One of the best parts of working with a Client through Contra? You don't have to nudge your Client to leave a recommendation. We do that for you by automatically prompting the Client to leave a recommendation. 👇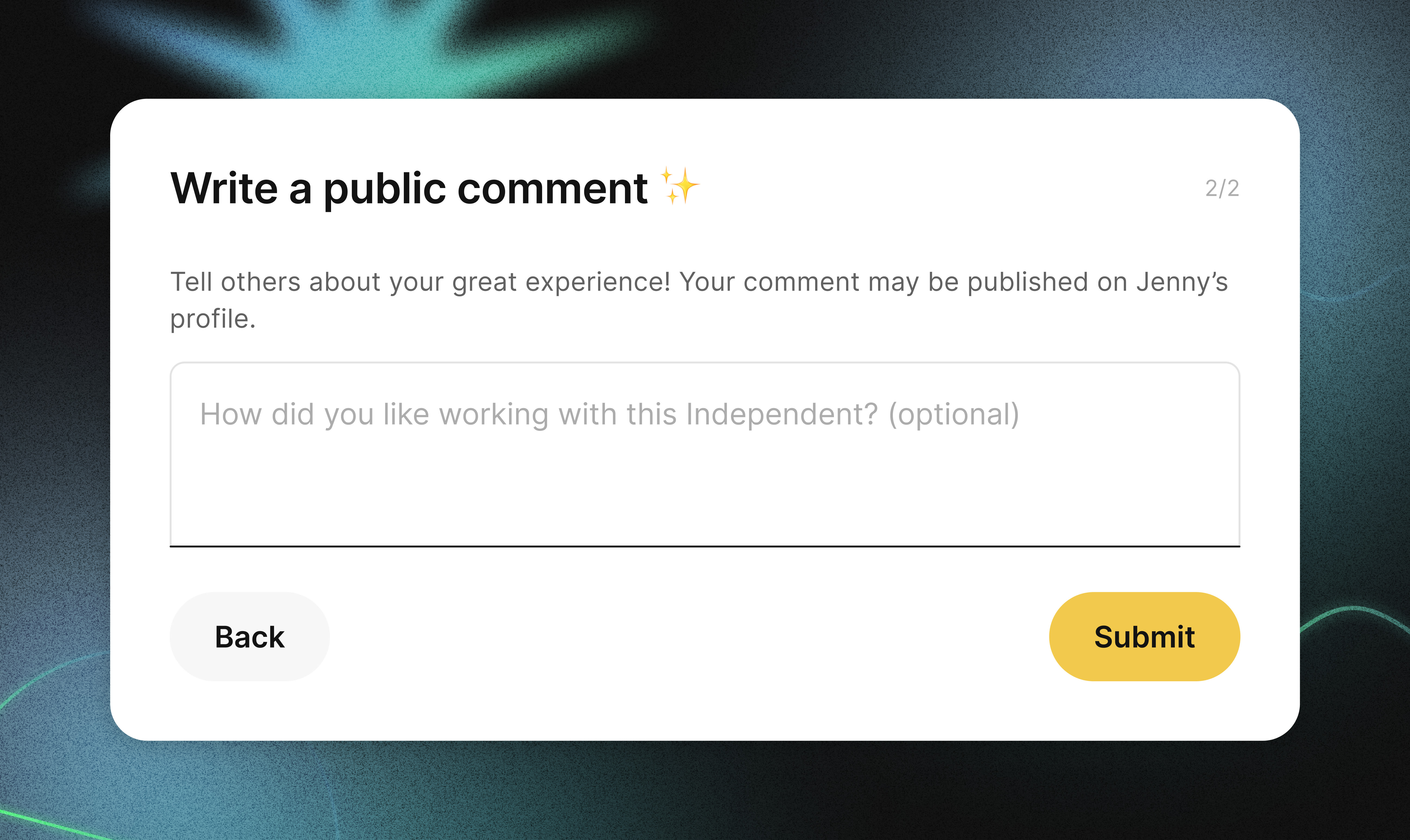 Create a stable foundation for next year
When you've wrapped up client projects, start creating a system for landing new clients in the new year.
Update your portfolio 💻
With everything you do as a freelancer, updating your portfolio is an easy task to put at the end of your to-do list. That's a mistake. Your portfolio is one of the best selling tools you have and it's one of the first things clients will want to look at.
Review your portfolio from the viewpoint of your future clients:
Does your portfolio feature your services?

Does your portfolio reflect your relevant skills and niches?

Does your portfolio include your best work?

Is it easy to contact you?
If you haven't yet launched your portfolio, make it a top priority. You could go with a builder like Webflow or Wix, but Portfolios by Contra are built specifically for Independents.
Building a portfolio isn't complicated, expensive, or time-consuming with Portfolios by Contra. Just take a look at some of our favorite portfolios from Independents:
It's also really easy to hook up your own custom domain to your portfolio.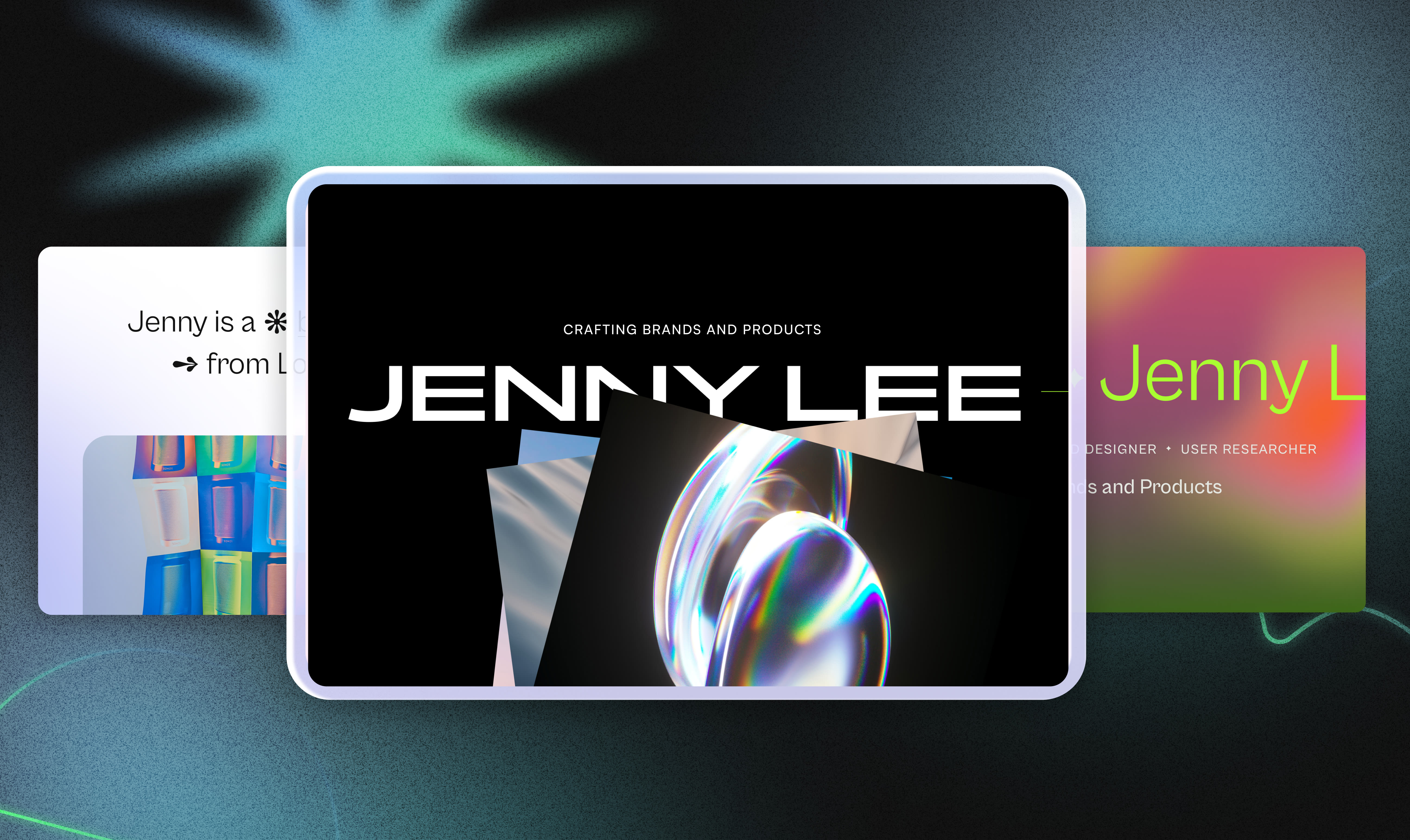 Review your workflow process and systems 🗓️
Next up on your to-do list: reviewing your process. Take a look back at projects you've completed for clients. Ask yourself:
How long did these projects take?

What administrative tasks did you spend time on?

How did you onboard clients?

What steps do you follow to complete client work?

What tools do you use?
Once you've jotted down your answers to those questions, consider how you can reduce unnecessary admin and streamline your process.
Identify tasks to outsource.

What work do you hate doing and can be given to a

virtual assistant

or another freelancer? Outsourcing frees up time that you can use on more important work.

Automate meeting scheduling.

Emailing back and forth with clients to set up a meeting is a waste of your time. Use a

meeting scheduler

instead.

Automate contracts.

Contra's built-in contract protects both Clients and Independents. No more frustrating legal jargon to figure out on your own!

Create templates for repetitive tasks.

If you have regular clients returning next year, create a template that includes any information you need. Create email templates for client onboarding or a master document with answers to questions you're frequently asked.
The more systems you put in place to handle client work and the nuts and bolts of your freelance business, the better. You'll save yourself a lot of time.
Improve your skills 👓
One way to level up as a freelancer: improve your skills. You'll gain a new skill set that you can use for your freelance business and your clients, and your new skills can help you earn a higher salary.
Think about your existing skills and what you'd like to add to your toolbox in the future.
What new skills have you learned this year?

What skills would you like to improve on?

What skills would help you in your business?

Where do you want your career to go and what skills do you need to get there?
Then check into ways to improve your skills. Enroll in conferences, workshops, and certification programs. LinkedIn Learning, Google Digital Garage, and SuperHi all offer online courses. Look at what your local library offers — many offer access to digital learning tools, ebooks, and audiobooks. Stay curious. Look for ways to challenge yourself.
If there's a skill you could use but don't want to learn, you may want to consider outsourcing it. It would take you years to learn how to use Procreate or Illustrator — but hiring a graphic designer to illustrate custom designs will save you time and put a qualified pro in charge.
Update your social media profiles 🎉
You never have to use social media to land freelance jobs, but it certainly helps. Many clients use social media to discover Independents, and you can leverage your accounts to attract new clients.
Plus, clients will search for your name before hiring you. Don't you want to be proud of what they find?
Optimize your

LinkedIn

headline

Look for freelance work on

Twitter



Link to your portfolio site in your social media bios

Share that you're looking for work with a link to your portfolio
Review your marketing efforts 💬
A huge part of freelancing is marketing your skills. As you begin building your freelance business, you must invest time in looking for clients and sending pitches their way.
Review how you've marketed yourself and your freelance business this past year:
What channels do you use professionally and what do you want to leverage in the future?

What marketing activities did you do this year? For example, did you send

inquiries

to potential clients? What results did you get?
Consider how you want to improve your marketing efforts in the future. Start with how you find clients. Our Opportunities feed is filled with companies looking for engineers, social media experts, writers, animators, and so many other kinds of freelancers.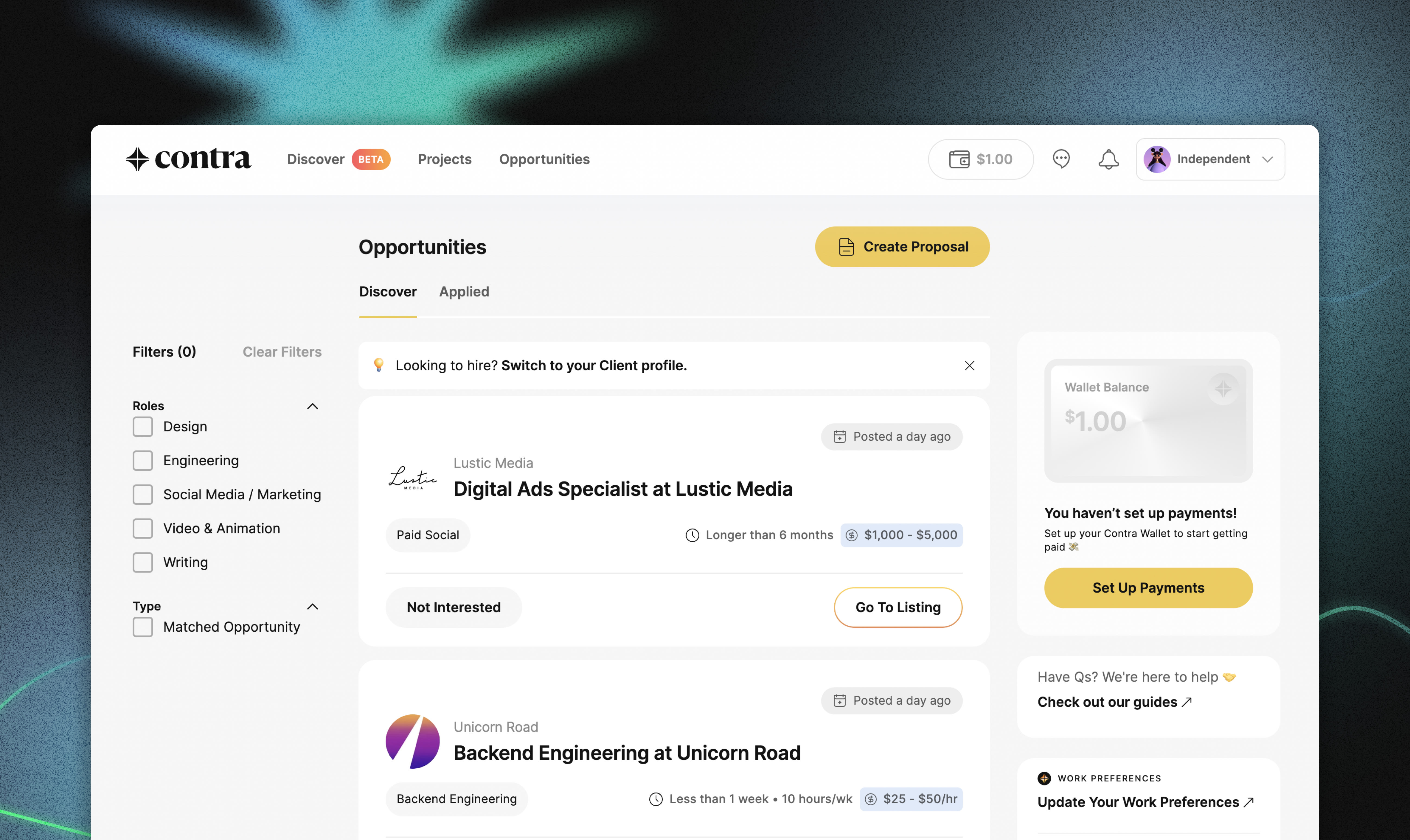 Realistically plan for a successful future ✨
Now's a great time to start dreaming. What do you want to do next year? What makes you happy? Remember why you do what you do.
Then create a freelance business plan for yourself. List out your financial and professional goals. List out your services, and describe how you solve problems for clients.
Setting your sights on becoming a six-figure freelancer may look good on paper, but if you've only ever made $40,000 from freelancing, this goal is unrealistic. Set SMART goals that are specific, measurable, achievable, realistic, and timely.
Review your wins ⚡
It's very tempting to reflect on your past year and mourn every missed opportunity, and regret not meeting every goal. Those days are over. Leave them behind you.
Record and reflect on what went right instead:
What went well this year?

What progress have you made?

What can you learn from this success?
Congratulations! Your wins (no matter how small) reflect your tenacity. Make a physical or digital list of them. Now, you'll have an artifact to refer to in the next year when meet that next hurdle or setback and you'll remember that you're capable of greatness.
While you're at it, screenshot nice compliments in your inbox or on social media. Save it to a compliments folder on your desktop. You'll browse this digital record when you're fighting off imposter syndrome or just need a boost on a bad day. Pull professional compliments to share on social media too — they're social proof showing you're the Independent to hire.
Take a look at your money
Now, let's dive into your finances, pricing strategies, and bookkeeping.
Review your rates 🤑
You are making a huge mistake if you are not raising your rates as a freelancer. Clients expect rate increases. Many companies raise their employees' salaries yearly, and the cost of living rises. It's normal for freelancers to raise their rates at least annually.
There's so many reasons why you should raise your rates. Ultimately, how you work and what you charge is up to you.
Think about when you get paid.

Do you want to take a deposit up front? Are your clients paying you on time? Are you charging

rush fees

?




Review your estimated tax payments 🤔
Taxes are never fun, but spending some time getting your ducks in a row now saves you a nasty headache later.
The absolute best call you can make is to an accountant or tax professional. They will walk you through the tax benefits available to your business and help you handle any specific financial requirements.
Depending on what you do, you can take a tax deduction on business expenses like:
Technology assets like computers, speakers, tablets, and printers

Business software and subscriptions

Website domain and plan

Utility bills

Office space

Business meals and travel
Review your expenses and revenue 💵
Update your business bookkeeping so you know exactly how much you're making and how much you're spending. Tools like Wave, Quickbooks, or a simple spreadsheet will do the trick. Whichever medium you choose, use it.
By the way, Contra Wallet shows a record of all your payments, so tracking that info down is super easy.
Once you've got your books up-to-date, you'll be ready to stay on top of bookkeeping next year. Use the knowledge of your spending habits and overall earnings to create a flexible budget.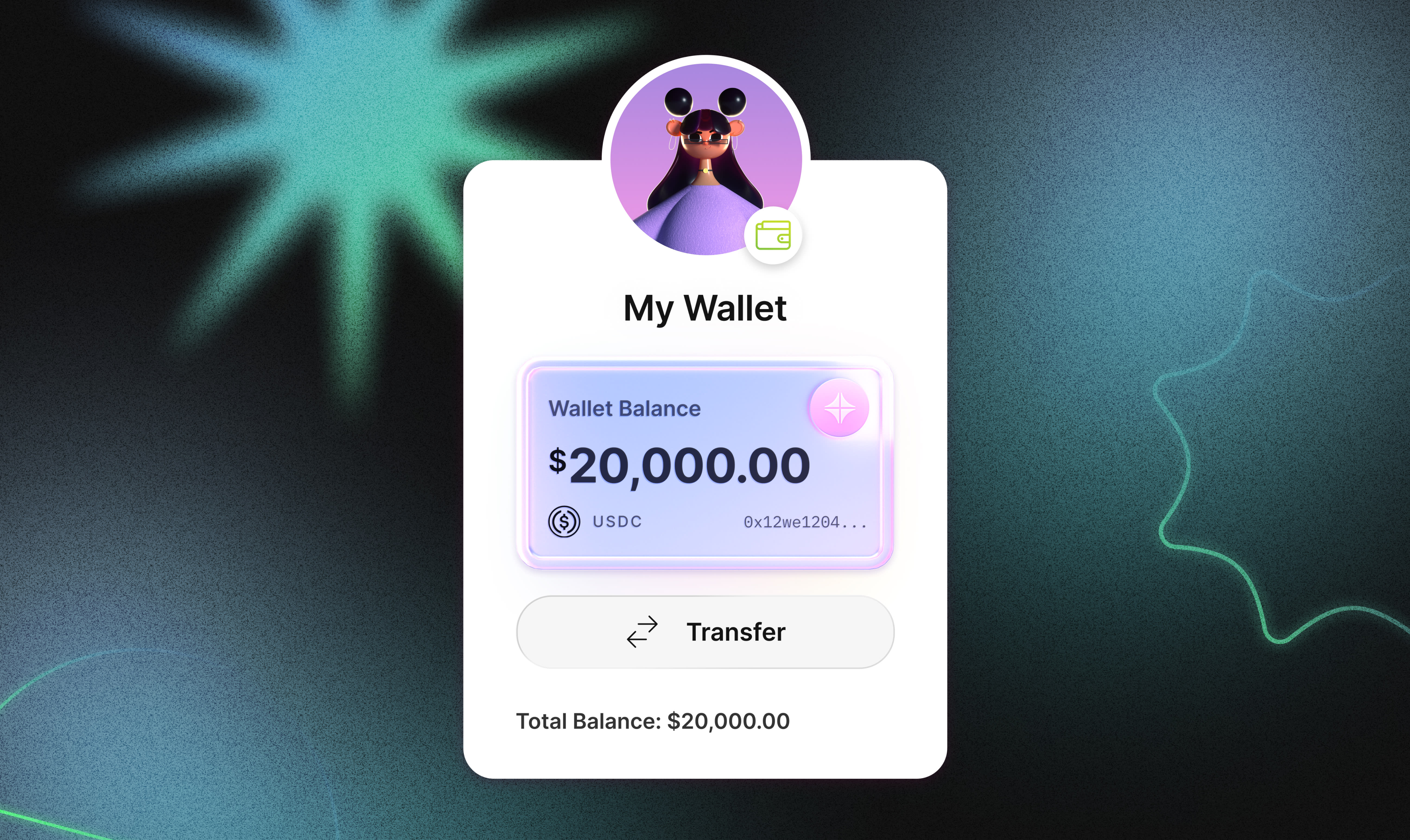 Follow up on your invoices ✍️
Following up on unpaid invoices is annoying but necessary. You're running a business and deserve to be paid for your labor. Unfortunately, the Independent Economy Council found that 74 percent of freelancers aren't paid on time.
So take a quick look at your invoices and ensure that you got paid for everything. If you have a client that routinely pays late, you may want to consider firing them.
The IEC report also found that only half of freelancers are satisfied with how they invoice clients. Save yourself the frustration of chasing down an invoice by collaborating with Clients on Contra. Work the way you want with upfront deposits, flexible projects, and know that once you've submitted your work you'll be paid on time.
Nail your end-of-year freelance checklist 🎯
Completing your end-of-the-year checklist ensures that your new year starts strong. Review your finances, check in with clients, and create a business plan.
We're here to help you find new clients and grow your freelance business. Just give us a shout at hello@contra.com.

I'm a full-time freelance writer specializing in writing features, profiles, and news stories. Every story matters. Let me tell yours. Contact me here or at kaitlyn.arford@gmail.com.