How to Post a Top-Tier Opportunity ⭐️

Samantha Taylor
· 3 min read



Signature to Contra's belief in collaboration, both Clients and Independents are able to hire on Contra. Whether you are posting on behalf of a company, or maybe you're an Independent looking to outsource work -- we have your back! 💥
Here's how you can find your next independent and how to post the best opportunity:
Hiring on Contra 💻
Hiring on Contra is a simple 5 step process. We ask you a series of questions about the role, duration, budget and more. Read through the process below, or get started now! 👇

Post an Opportunity
In a quick short minutes, post an opportunity on Contra for our team to review + match you with the perfect Independent!


Step 1. Posting your job 👀
The first step is choosing to create a new job listing from scratch, or to import your job posting. If you've already posted your job, choosing "Import your job posting" allows you to easily link your existing job and we'll import it for you!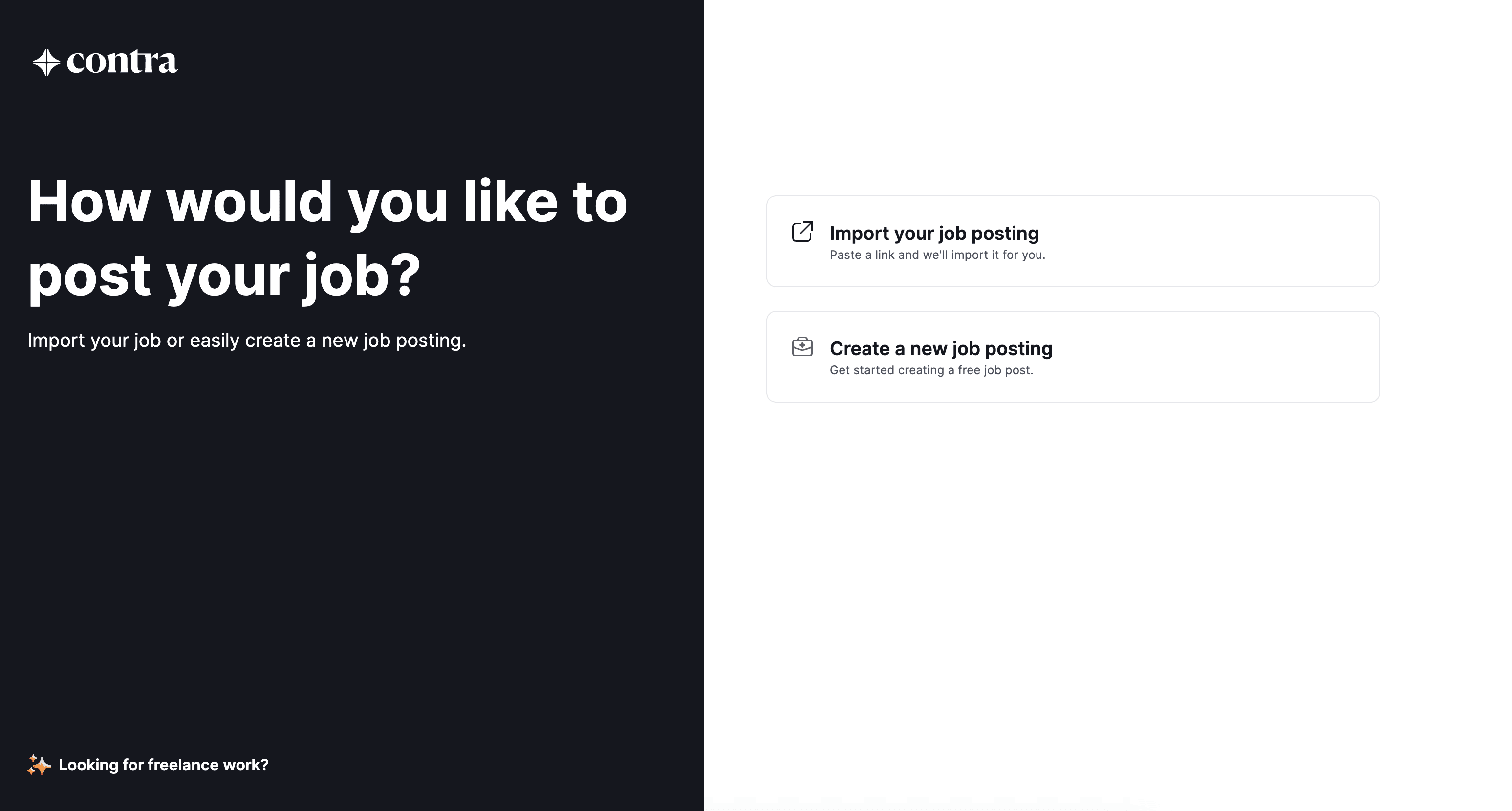 Step 2. Getting Specific 💪
Select the role you want to hire by choosing from our list of top freelancers on Contra. Next, add specific skills you want the freelancer to have!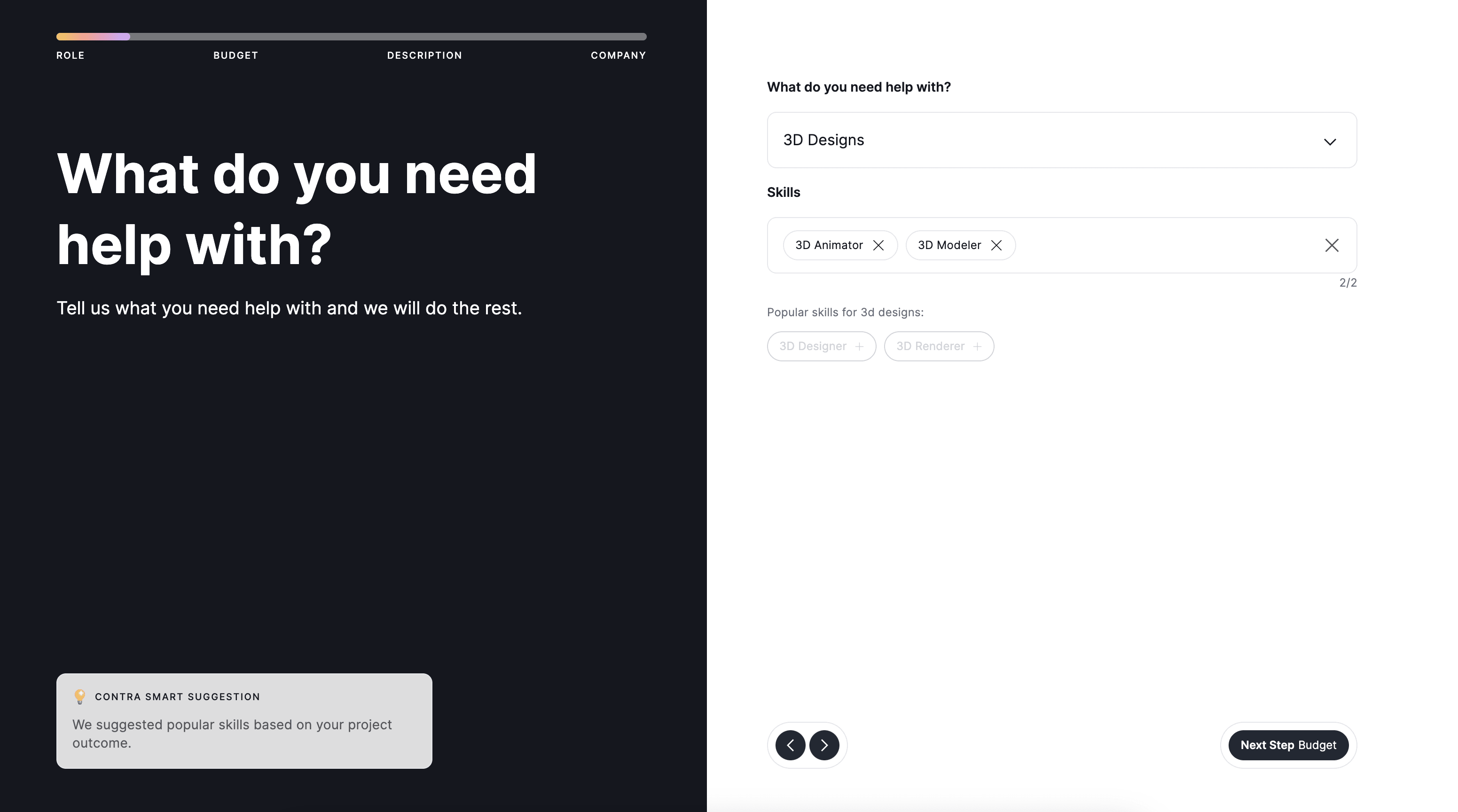 Step 3. Let's Talk Timeline + Budget ⌛️
In this step, you'll choose flat fee vs hourly rate (this is dependent on your preference). Next, choose duration: aka how long the project will last! Lastly, the budget - we've given you ranges to make it easier (ie: $25-$50/hour for rate based projects).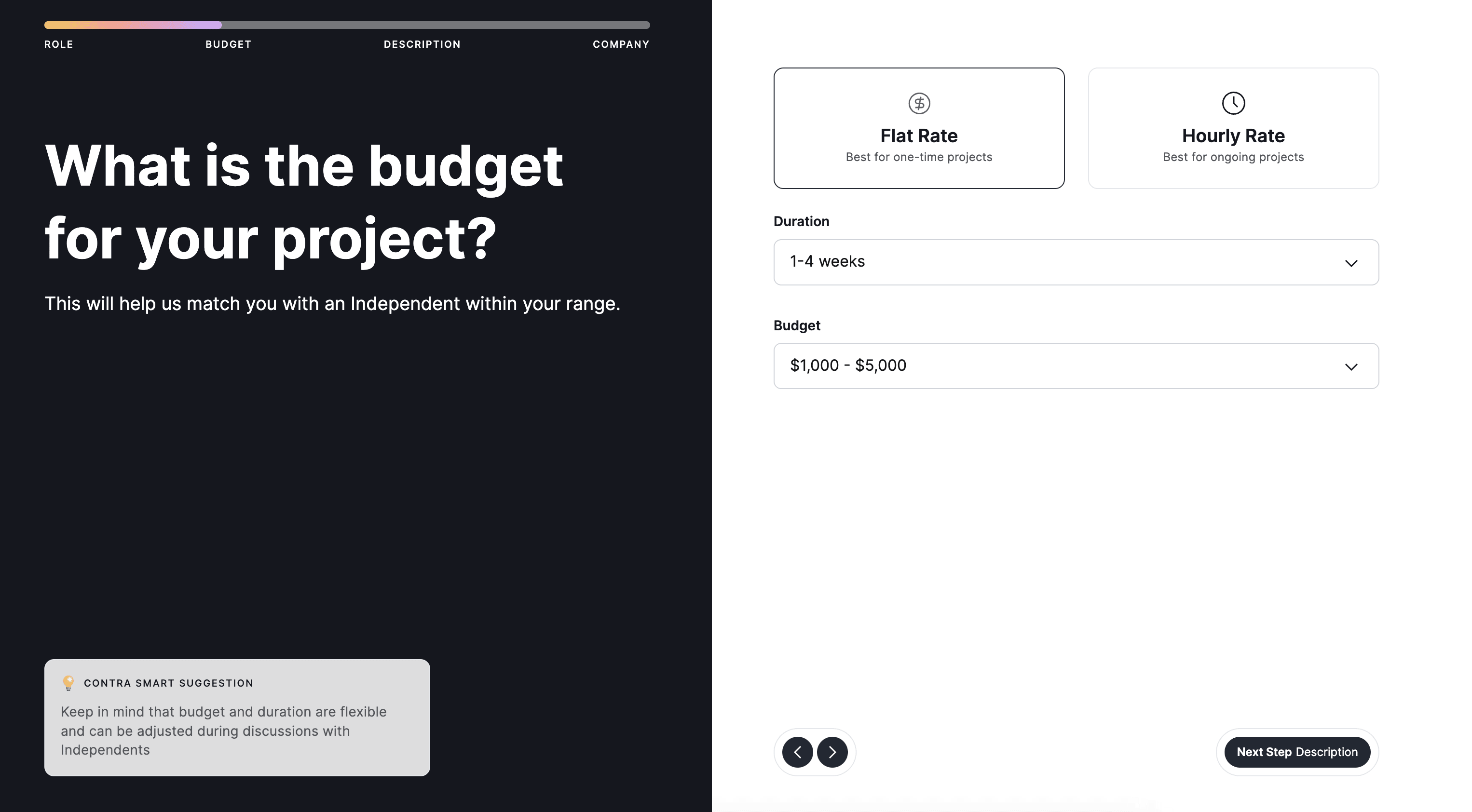 Step 4. Add Deliverables + Tools
This is where the magic happens: adding in the description of the role gives the freelancer a better idea of just what you are looking for. The more context you can provide the better. Here are some details you should include in this section👇
Details about the company/agency/project
Expected deliverables
Scope of work
Programs that will be utilized (i.e. Figma, Sketch, Adobe, Sanity)
Who the independent will be working with (if any)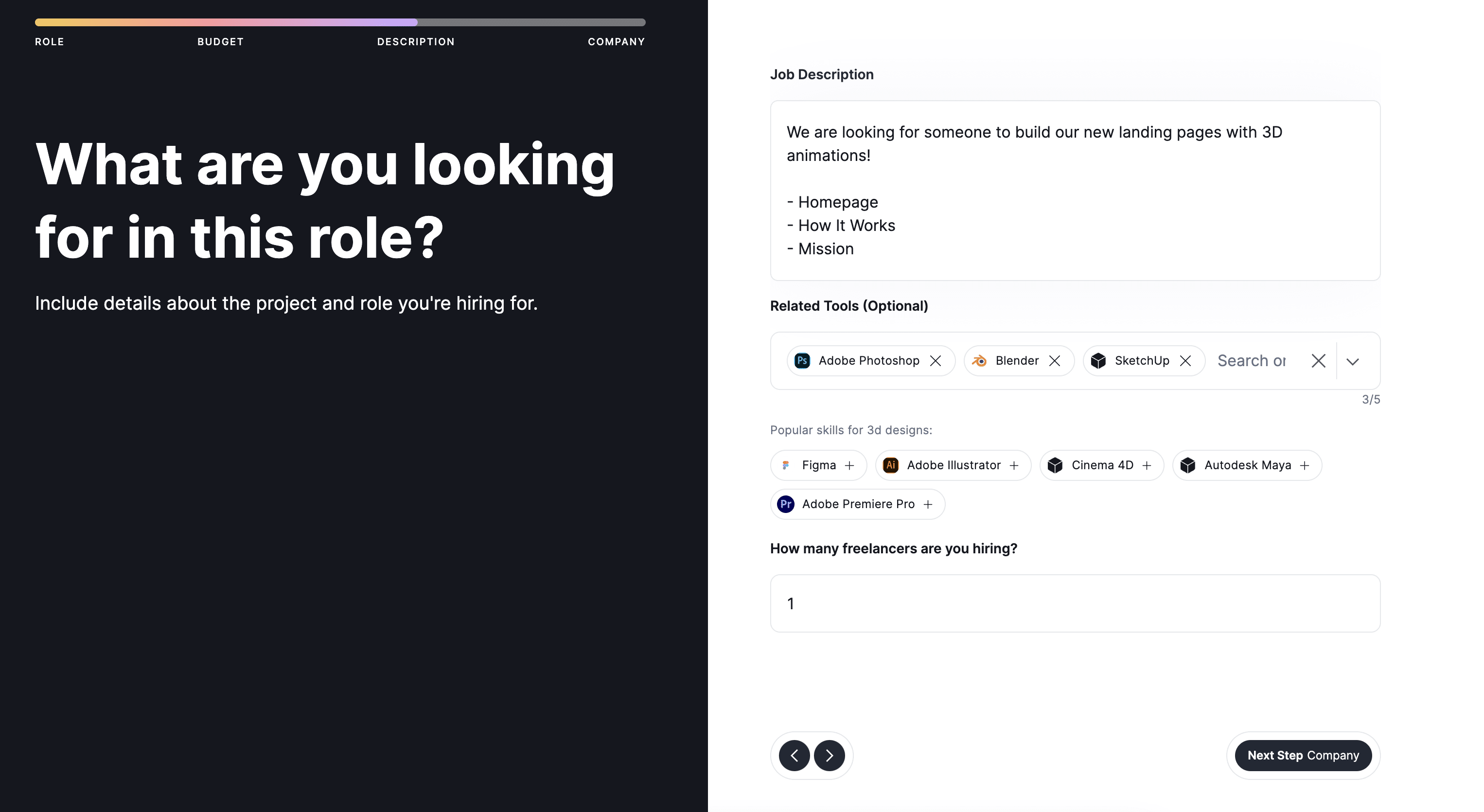 5. Add your Company 🛠
Next, you'll add your company details to wrap up the hiring process! This includes the company name, website, and description. Don't worry you can edit this later on your company profile.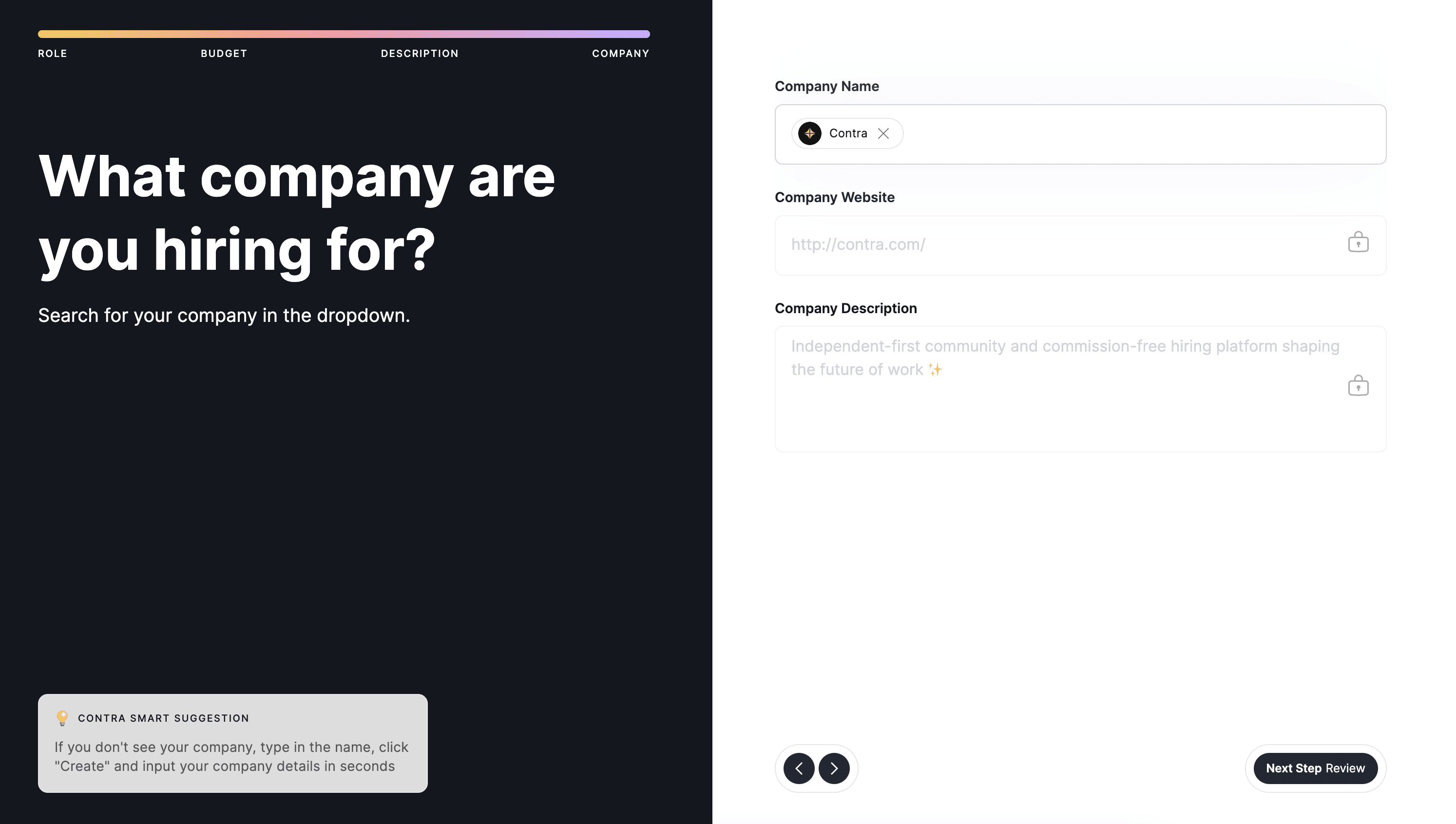 6. Review + Post 🚀
The last step includes reviewing your job opportunity and sharing. Our team looks over every opportunity before sharing to our community. If there are matches to your role, you will be notified through Contra! 💭
Note: If we don't have enough information about the opportunity, we'll send you an email to provide more details before your opportunity gets shared with potential applicants.
Discover Independents 👀
If you want to browse through Independents while you wait, you can check out our Discover page 👇 To reach out, simply navigate to their profile and choose the "Get in Touch" button to send an inquiry; learn more here!
🚀 ✨
If you want to learn more about Contra, check out these articles! 👇



Hi, I'm Sam -- community builder 👋 My skills in community management, social media marketing, copywriting and influencer management can be the game-changer for your brand. Let's connect!