Contra vs Squarespace: What's the Difference?
Remote Working & Freelancing

Kaitlyn Arford
· 6 min read
In this Squarespace vs Contra comparison, we're taking a look at how each software serves freelancers. Deciding where to host your portfolio is an important consideration, as they're a vital part of any freelance business.
As you think about website builders, you'll need to understand how they work and how they can help you land new clients. The decision you make will ultimately depend on your time, goals and preferences!





What is a Portfolio by Contra? ⚡
Portfolios by Contra are designed to build your brand as a freelancer. With the click of a button, you can turn your Contra Profile into a stunning Portfolio — aka your new personal website! Here's what your Portfolio includes:
Your projects.

Since we built Portfolios by Contra with you in mind, they're project-based.

The past work you've created for your clients will shine front and center.



Your services.

Your prospective clients are going to know what type of services you provide! List your services and any important details easily.

If you want, you can even add pricing information.



Verified recommendations.

Once you've completed a project on Contra, Clients can write a nice note to

recommend your services to others.

These recommendations build trustworthiness and will help you get hired in the future!

A call to action.

Every portfolio features a prominent call-to-action button. These actionable buttons tell prospective clients what step to take next.

Your contact information.

Add links to your social media profiles (like Twitter, LinkedIn, and Instagram) so clients just have to hit a button to see what you're up to. Clients can easily reach out to you through the call-to-action button or with any contact information you provide.

Your bio and tagline.

The short bio and tagline you write are the soul of your portfolio. Your voice should be professional and invite clients to collaborate with you.

Switch templates anytime.

If you want to switch up your portfolio's look, you can do that at any time! Just toggle between the available templates and themes and choose a new one.

Connect a custom domain.

It's really easy to connect your own custom domain to your Portfolio by Contra! More information coming soon 🚀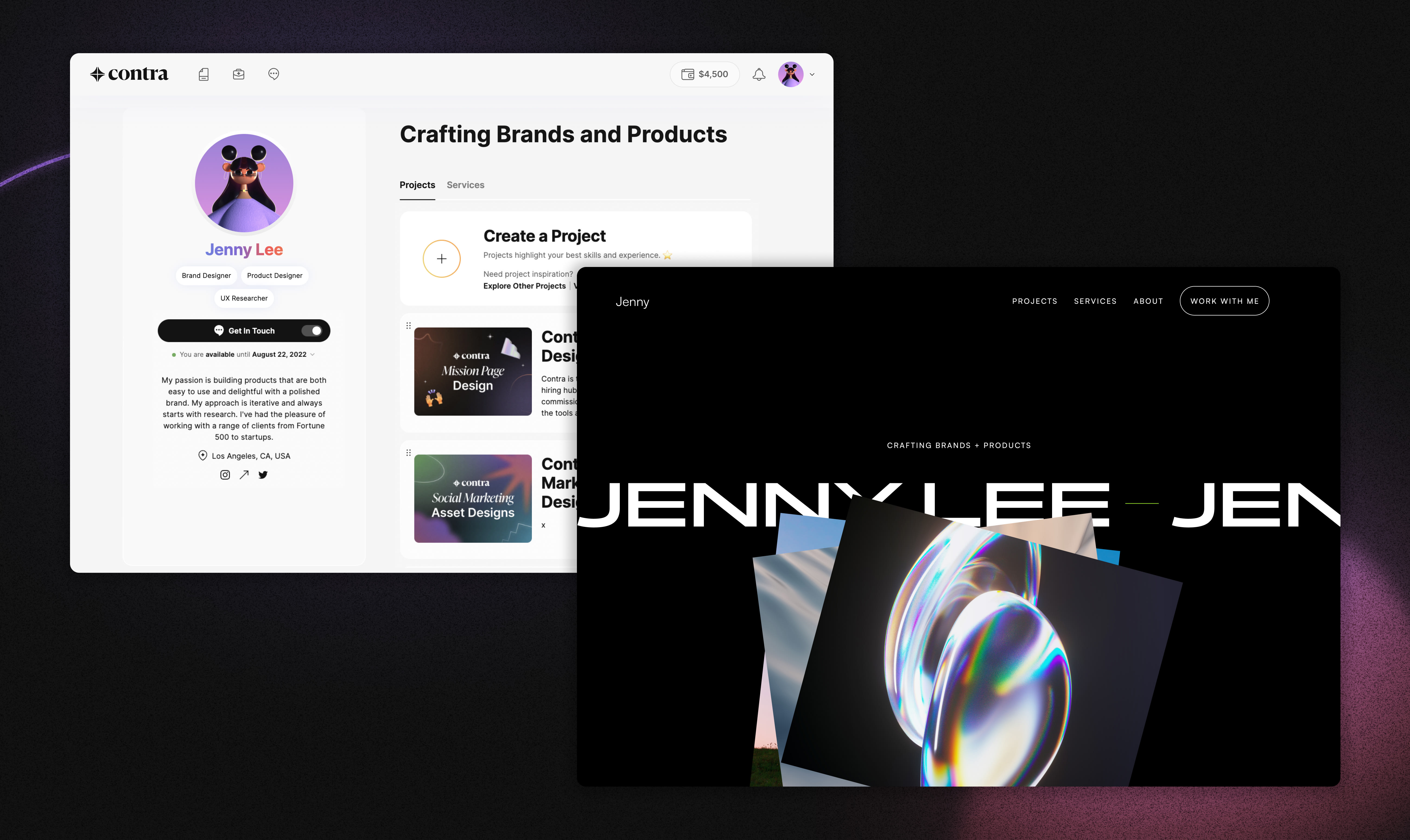 Contra Profile turned into a Portfolio
What is Squarespace? 💻
Squarespace is a drag-and-drop website builder that comes with e-commerce tools and blogging abilities. Users can use different Squarespace templates to build their own website and use their own custom domain.
Squarespace has a simple design. Though it features a drag-and-drop user experience, the included templates you can choose from are rigidly structured. You can't just move one element into position, you have to stay within a structured grid.

Squarespace Website Builder
Create a customizable website or online store with an all-in-one solution from Squarespace. Choose a website template and start your free trial today.


Important differences between Contra and Squarespace 👇
Now that we've discussed the basics of Contra and Squarespace, let's break down the crucial differences between the two.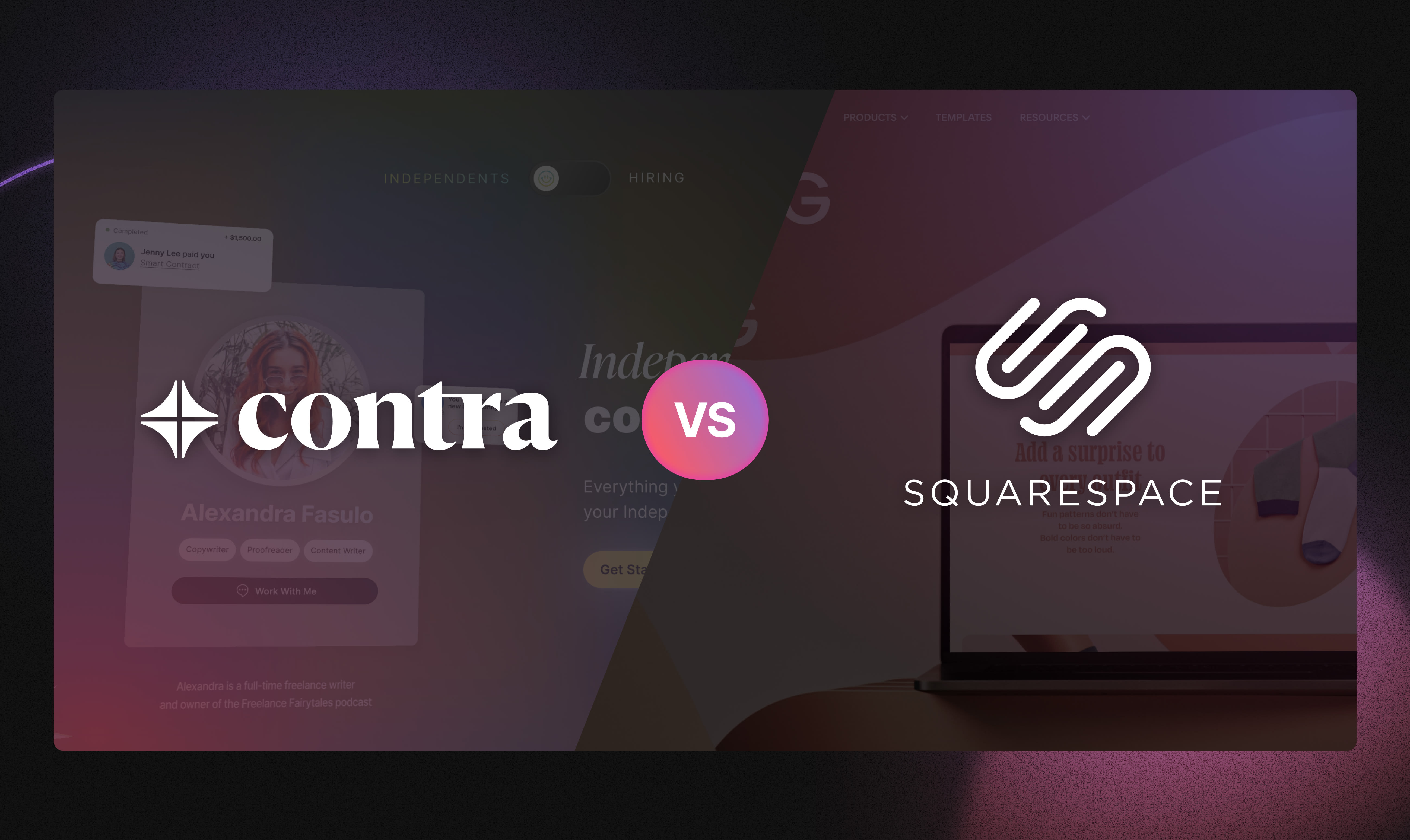 Obviously, the look and feel of your portfolio is important! Your website branding gives clients a little insight into who you are. Every website needs to be easy to navigate and have a consistent feel. Your professional identity needs to be front and center.
You can build a gorgeous website with Squarespace, but the process can be daunting if you are inexperienced in website creation. It can take hours to choose a template, drag and drop different elements, and figure out how to customize it. Squarespace also caters to a wide variety of professionals, so some themes are made for small and large businesses — not specifically freelancers. On top of this, if you aren't comfortable building your own website on Squarespace, you would then need to spend a chunk of cash 💸 hiring someone to do it for you!
On the other hand, Portfolios by Contra are designed specifically for freelancers. You still need to spend some time adding information about yourself, including your skills, services, and projects to your Contra Profile. Portfolios by Contra are powered by your free Contra profile, so it doesn't take any extra work on your part to launch a portfolio.
This is just the beginning — there are more customizable features coming in the future!
Contra vs Squarespace: Finding New Clients 💌
Your Contra Portfolio is powered by your Contra Profile. That means that everything you add to your Contra Profile — including new projects and services — gives you a better shot at showing up on our Discover Feed. Clients use the feed to explore Profiles of prospective freelancers and to connect with them!
You'll want to work with Clients on Contra:
Clients must be transparent.

Every opportunity posted on Contra includes a budget and scope of work.

We're all about pay transparency here.

Every opportunity is commission-free.

Unlike

Upwork

or

Fiverr

, you keep every penny you make. Contra is commission-free,

forever

.

Opportunities must pay a minimum of $250 or $25 per hour.

We don't allow freelance jobs that pay pennies here. To post an opportunity on Contra, clients must pay at least $250 or $25 per hour.

Clients pay on time.

Once you've landed a client and submitted your work, you will get paid within three days. You'll either be paid after your Client approves your work or automatically at the three-day mark, whichever comes first.
A Squarespace account does not come with any kind of discovery feature for freelancers. This means, you'll have to go on the hunt yourself outside your website. Another added layer of work added to your plate. 🍽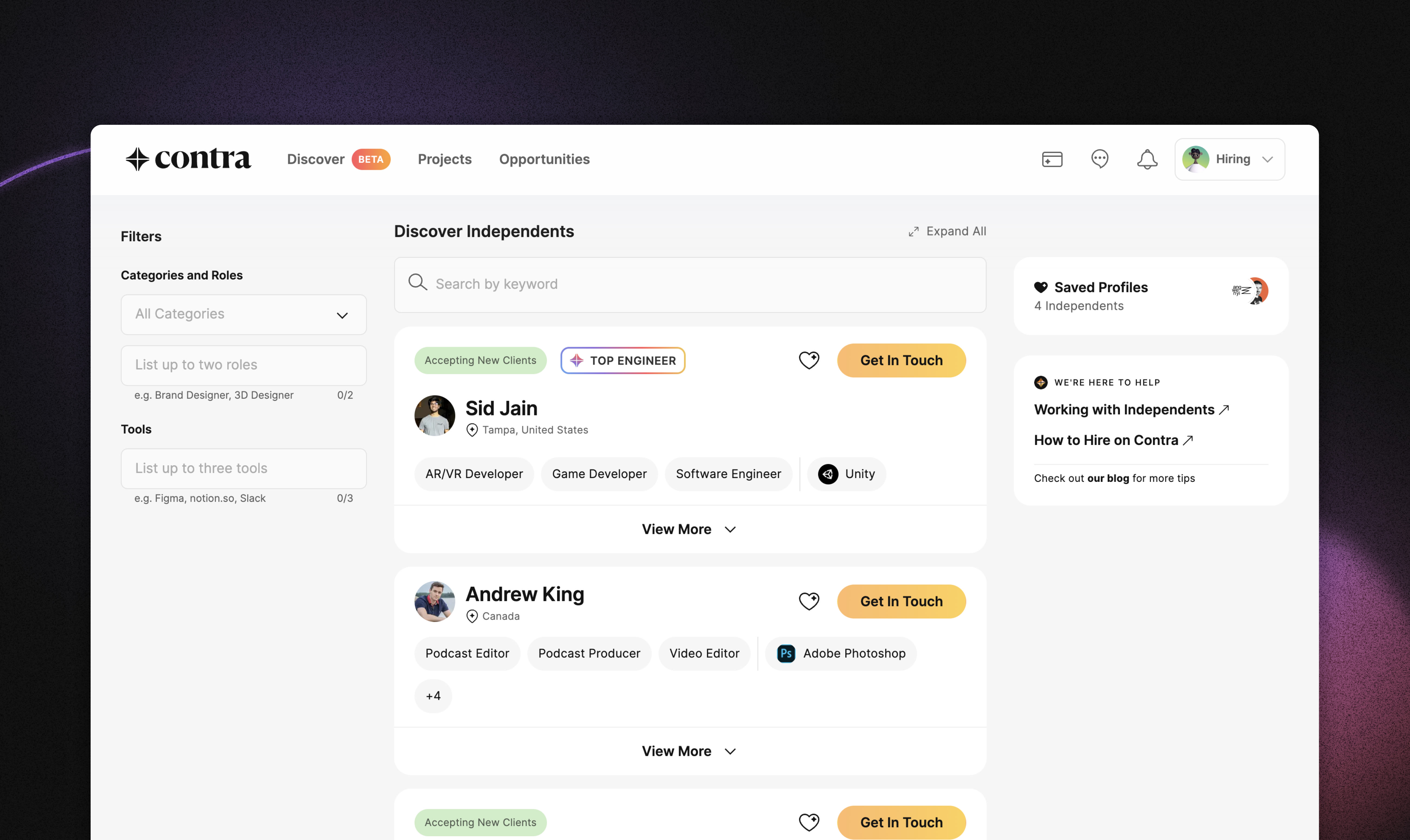 Launch, Build, and Grow Your Business with your Portfolio by Contra

🚀
Your portfolio is your gateway to a successful freelance business. Your portfolio on Contra gives your brand a personal touch, but still connects with you with our best features, like commission-free payouts. Our Portfolios are designed to help you build your Independent brand, and are streamlined so you don't waste your precious time.
Join the waitlist now to get access in late 2022. As an early adopter, you get free access and the chance to help shape the future of Independent Portfolios!
As Contra is built for Independents, by Independents, so we're here to serve you. If you have questions, reach out to hello@contra.com, check out the rest of our guides on The Contrarian or read reviews from fellow freelancers.





I'm a full-time freelance writer specializing in writing features, profiles, and news stories. Every story matters. Let me tell yours. Contact me here or at kaitlyn.arford@gmail.com.