Contra vs Webflow
Remote Working & Freelancing

Kaitlyn Arford
· 6 min read
If you're one of the more than 50 million freelancers looking for high-quality freelance opportunities, you're probably looking for new ways to get noticed. Creating a top-notch portfolio is an important step toward securing new clients, growing your freelance business, and building your brand online.
Choosing the right platform to create your portfolio on will depend on your goals and preferences. As you consider Webflow and Contra, you need to consider how easy they are to use, how they can help you find clients, and how they can help you grow your freelance career.
This Webflow vs Contra comparison guide will dive into the nitty gritty of these important considerations.







Portfolios by Contra are personal websites that feature your projects, services, and contact information. Portfolios by Contra are powered by your free Contra profile.



Mallory Dean, Digital Designer and Strategist | Portfolios by C…
Read more about the projects created by Mallory Dean on Contra.


Every Portfolio by Contra shows off the work you do. Your projects are front and center on your landing page — which is perfect, because your prospective clients will want to see what your past work. Portfolios by Contra include web pages that feature your projects, recommendations, and services (along with pricing, if you choose to include it).
Your portfolio is easy to adapt to your personal needs. Here's a few core features you need to know about:
The ability to connect your own domain.

Want your Portfolio by Contra to connect to a custom domain like

yourname.com

? All you have to do is purchase your domain and take a few minutes to connect it to your Portfolio by Contra.

Switch templates at anytime.

Toggle between Contra's different templates made with Independents in mind and choose what works for you. If you change your mind later, all you have to do is choose a new template or theme. Your information will move seamlessly between templates and themes.

Enjoy a responsive website design.

These responsive websites are already designed to look nice on mobile and web. You won't need to mess with a site's code or web design tools to make your portfolio look perfect!
What is Webflow? ⭐

Webflow: Create a custom website | No-code website builder
Create professional, custom websites in a completely visual canvas with no code. Learn how to create a website by trying Webflow for free!
Webflow is a no-code website builder that allows anyone to launch a completely custom website. But while Webflow doesn't require coding, it does require a huge learning curve. If you've never designed a website before, you'll find building one with Webflow to be a time-consuming process.
Webflow offers a variety of templates to choose from. Unlike Squarespace or Wix, Webflow doesn't support drag-and-drop features.
Important differences between Contra and Webflow
Now that you know the basics, let's break down the main differences between Contra and Webflow.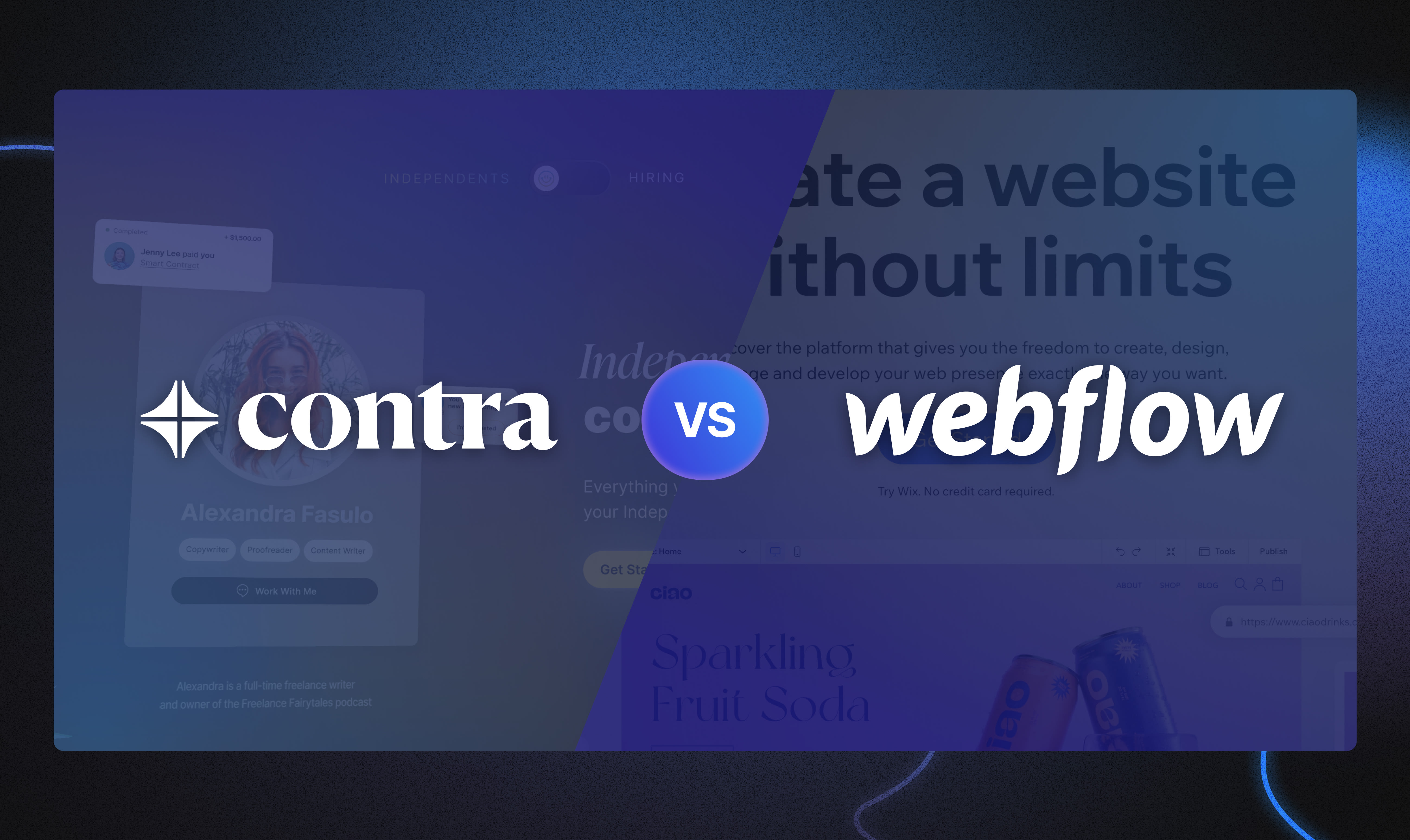 Contra vs Webflow: Customizing a portfolio👇
To be honest, Webflow is intimidating. Webflow is not user-friendly to anyone unfamiliar with web design. To customize a Webflow site, Webflow users have to get familiar with its tools, elements, and design options. You can build a website with Webflow by either using its HTML CSS website editor or picking a template.
With Portfolios by Contra, you can launch a gorgeous website with ease. As Contra is built for Independents, we've designed portfolios that put your brand front and center. You're not going to have to waste time adapting a website template into one that works for your freelance business.
You'll have to spend time on the important stuff — like highlighting your value by adding projects to your Contra profile, and including your skills and services — but you won't have to waste your valuable time figuring out how to customize a portfolio from scratch. Your free Contra profile powers your Portfolios by Contra, so you won't have to spend extra time launching a portfolio.
One huge disadvantage to Webflow's templates is that you can't easily switch them out. That means if you built your portfolio with one template, but decide you want a new look later, too bad. You are in for hours of work and lots of headaches. On the other hand, Portfolios by Contra are made so you can switch between different templates and themes at any time.
Contra vs Webflow: Finding Clients 👋
With Contra, you can search for clients, find paying freelance opportunities, and send proposals for free. Here's how you can leverage Contra to expand your client base:
Manage your professional brand.

By making a Contra profile, you're automatically able to be found by clients looking for Independents.

Take advantage of the Opportunities tab.

Discover your next client with Contra's opportunity tab, where clients can post exclusive opportunities with transparent rates.

Send a proposal for free.

Send your information to potential clients with a customized proposal directly through Contra. As a freelancer, there's no fee to send proposals to clients through the opportunity tab.

Decide how you want to work.

Contra supports one-time projects, hourly projects, and projects with multiple milestones. You decide how you want to work, and if you want to accept payments upfront.
On Webflow, there's no way to find clients. And while you can share your Webflow website with clients, there's no inherent way to draw them in. Portfolios by Contra help you get discovered by clients worldwide and apply to paying opportunities. Webflow can't say the same.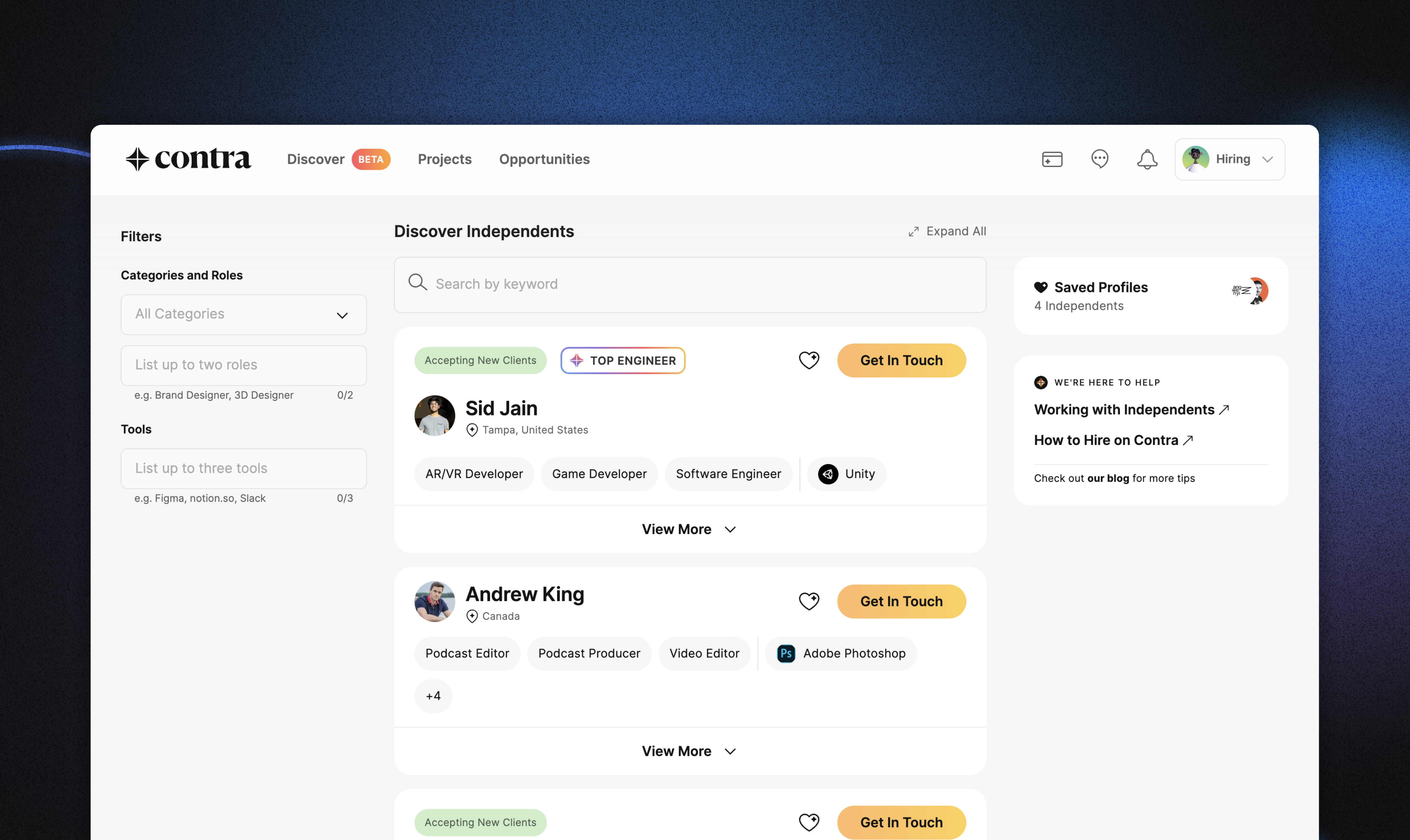 Contra vs Webflow: Project Management 📝
Contra makes project management easy with built-in contracts, upfront payments, and commission-free payouts. Contra's workflow ensures that clients and Independents are aligned on project scope and payments before a project begins. Here's how it works:
Invite your current and future collaborators to Contra.

Work with your next collaborator commission-free. You can

invite your collaborator

onto Contra as either a Client or an Independent.

Review project terms and rates.

To post an opportunity on Contra, clients must communicate payment information and project scope. Clients must pay at least $250 or $25 per hour.

Sign a built-in contract.

Before beginning a project, both clients and Independents must sign a built-in contract.

Get paid commission-free.

We think you should keep every penny you make. Once you've submitted your work, you'll be paid commission-free within three days. Contra will always be commission-free.
Webflow's all about website management. It's not designed to manage freelance projects at all. That means you'll have to do all your project management elsewhere. Who needs more tools and more work?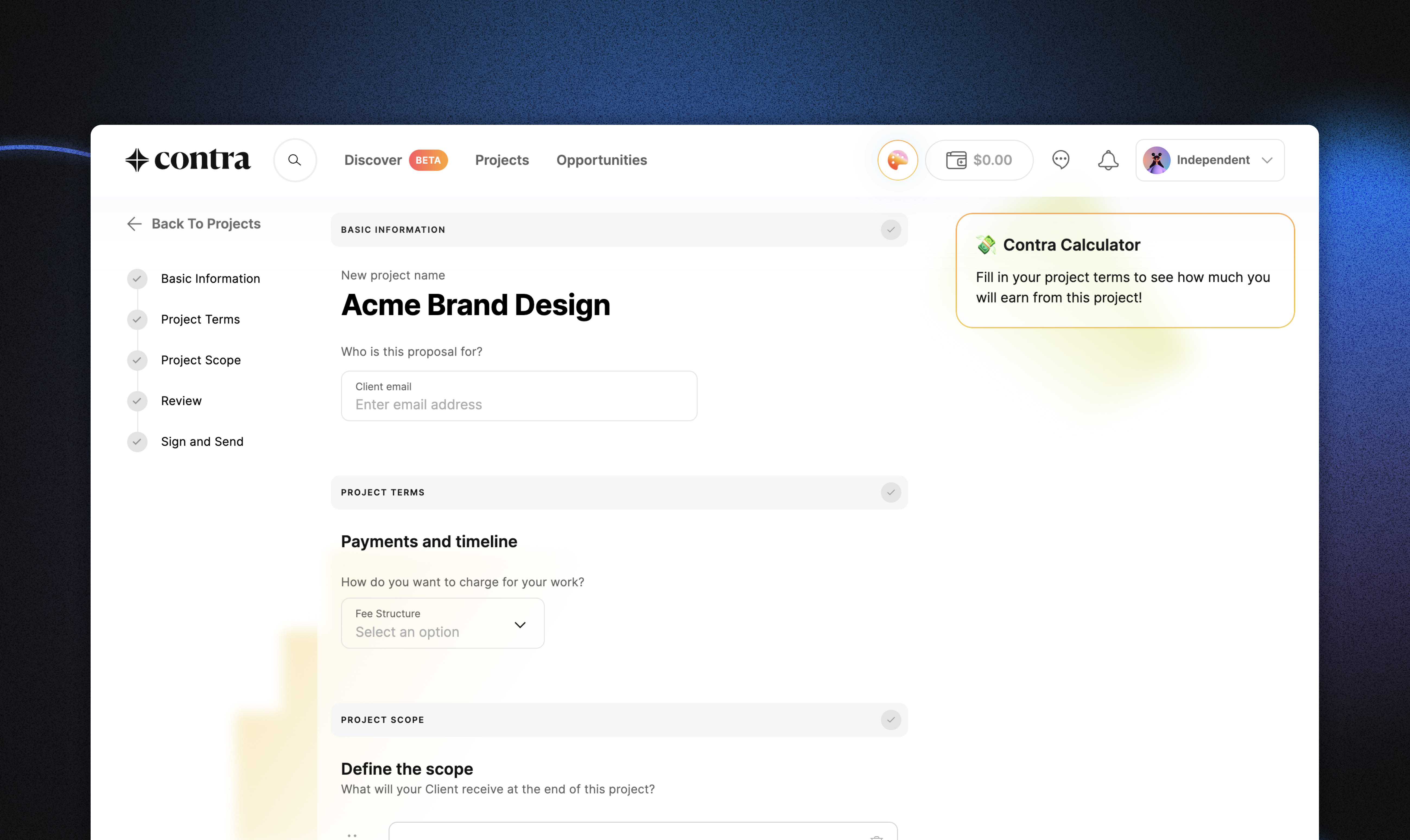 Level up your freelance career with Contra today 🚀
As a freelancer, you can use Contra to find opportunities with amazing clients, manage freelance work, and build an amazing portfolio. Contra is your gateway to building a freelance career — sign up today to see where Contra can take you.
For more information on how Contra works, check out our FAQs or read reviews from fellow freelancers. If you need assistance, reach out to hello@contra.com. Check out the rest of our guides on The Contrarian for updated information on all of Contra's features.

I'm a full-time freelance writer specializing in writing features, profiles, and news stories. Every story matters. Let me tell yours. Contact me here or at kaitlyn.arford@gmail.com.